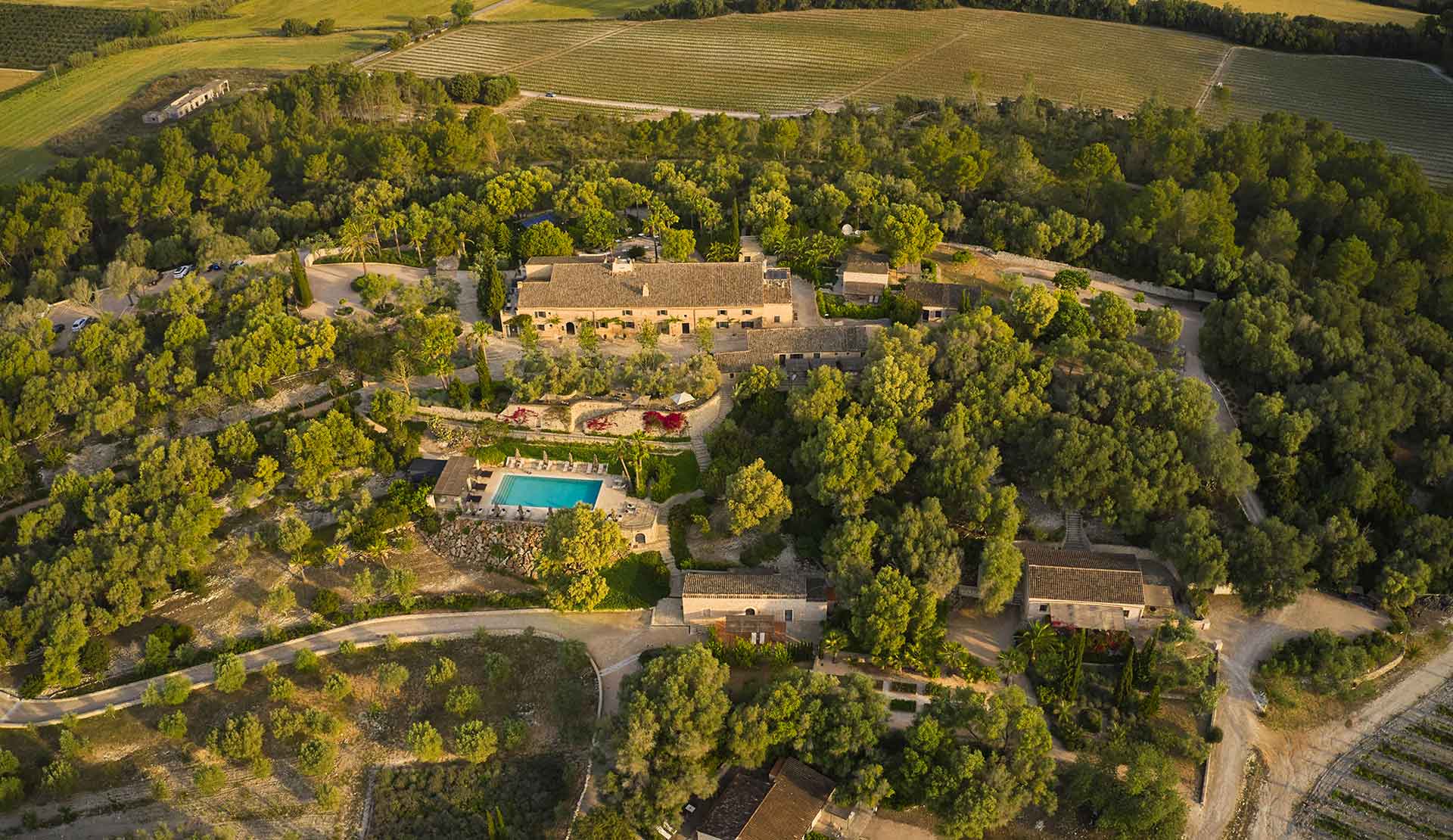 Spain is the #3 wine producer in the world, right behind Italy and France, miles ahead of everyone else. While that made it a top contender for this list, it was the bold mix of design styles at the country's vineyard hotels that truly sealed the deal.
In some places, you can't walk fifteen feet without tripping over another vineyard hotel. France and Italy, for example, are filthy with wineries linked to lodging, and otherwise overflowing with hotels surrounded by viticulture, even if they don't produce bottles of their own. Argentina, Australia, Austria — just a few more countries that have serious wine regions with serious wine hotels, and we haven't even gotten out of the "A's."
For today's purposes, we're skipping down the alphabet to the letter S. Like a cover band that only does '80s Joel, this list of vineyard hotels only does Spain. Now, we'll be the first to admit that Billy's back catalog has much more to offer beyond his doo-wop period, but sometimes you need to pick a lane, and when it comes to wine and hospitality, Spain's lane is as wide and worthy as any (and far less questionable than "The Longest Time").
One thing you'll notice about Spain's vineyard hotels is that they tend toward the modern, even when the bones are as classic as they come. There's a playful mixture of styles that you see a lot in regions like Mendoza or Marlborough, but not as often in places like Tuscany or Bordeaux, where there remains a perfectly reasonable fondness for old-world tradition. That's not to say the history of wine isn't taken as seriously here. Far from it. Spain has its ancient oenological burdens to carry, for sure. Theirs just seems to weigh a little bit less.
Finca de Los Arandinos
Entrena, Spain
Rising up on a hilltop in the Rioja wine country, the clean white lines of a modernist hotel stand out against the surrounding vineyards. Bodega Finca de Los Arandinos is a luxury hotel where the house wine is made on site and the interiors are just as striking as the architecture. David Delfin, the late Spanish fashion designer, dreamt up the industrial-chic aesthetic with its smooth concrete, blonde wood, and floor-to-ceiling glass revealing sweeping views of the famous landscape.
Finca Serena
Mallorca, Spain
Here, hidden away on a hundred acres of olive groves, cypress stands, lavender fields, and vineyards planted with endemic Mallorcan grapes — Premsal Blanc, Callet, Monastrell, Giro Ros — is a contemporary luxury boutique hotel that feels a world away from the busy beach resorts and the debaucherous nightlife of Palma. Rooms combine traditional architecture with contemporary design — you'll enjoy Finca Serena's mix of modern and antique-style furnishings as much as its wine.
Hacienda Zorita Wine Hotel & Spa
Salamanca, Spain
There's so much wine at Hacienda Zorita that the cellar, big enough to resemble the overturned hull of a ship, can't hold it all; the gorgeous Chapel of San Nicolás de las Viñas is full of oak barrels, too, right up to the altar. A drink in the tasting room — perhaps of the homegrown Tempranillo — accompanied by cheeses, olive oils, and hams from Zorita's organic farm, is as indelible as the skillful commingling of classic and contemporary in the rooms at this 14th-century property.
Abadía Retuerta Ledomaine
Valladolid, Spain
Built from the carefully preserved buildings of a 12th-century abbey, Abadía Retuerta LeDomaine is as historically evocative as any château in France — and, thanks to the work of architect Marco Serra, it's a first-rate contemporary luxury boutique hotel. It's set on a vast estate in Valladolid that's home to some 500 acres of vineyards, and it counts among its attractions a Michelin-starred restaurant. Tours of the estate's vineyards or the neighboring wineries are easily arranged.
Son Brull Hotel & Spa
Mallorca, Spain
A former 18th-century Jesuit monastery has been given new life as a rural boutique, farm, and vineyard. Acres of groves gradually give way to manicured gardens as you approach Son Brull, a charmingly stone-and-mortar edifice bedecked with flowering vines on the outside and touches of dazzling modern design on the inside. With a healthy variety of organic produce grown on site, as well as a satisfying house wine, it's no surprise that Restaurant 3/65 dazzles on the fine-dining front.
Hotel Mas Lazuli
Girona, Spain
Hotel Mas Lazuli is a 17-room boutique housed in a historic convent that dates to the 11th century. You'd barely know it from the inside, though. The hotel's old stone buildings are grand and romantic, set amid palm trees, vineyards, and olive groves, but its interiors are clean and contemporary; gleaming white walls contrast smartly with blonde wood furniture and flooring. Chef Pere Arpa's restaurant is a must-try.
Hotel Marquès de Riscal
Elciego, Spain
Hotel Marquès de Riscal is a pretty unmissable statement — a titanium-clad mothership, standing alongside charming 19th-century winery buildings. Designed by Frank Gehry, the Basque country's adopted son, it was originally intended just as a corporate headquarters for Marquès de Riscal, but the building proved to be too special for the winemaker not to share — so they opened it to the paying public as one of the most unique winery hotels in the world.
Hotel Viura
Villabuena de Alava, Spain
Hotel Viura is a precarious-looking cubist stack, an audacious modernist boutique planted in the soil of a traditional Spanish wine village in the Rioja Alavesa region. The contrast is only heightened by the fact that its next-door neighbor is an 18th-century church, and the surrounding countryside is stacked with vineyards. There are 43 wineries in Villabuena de Alava alone, including the hotel's own, and only 300 residents, so there'll be more than enough vino for you.
Palacio Tondón
Briñas, Spain
The Rioja wine country is known for its mixture of heritage architecture and contemporary interventions, and Palacio Tondón combines both on a single estate: this village-like 16th-century palace has been augmented by modern additions, a patchwork of weathered stone and brand-new metal and glass overlooking the Ebro river. A visit here isn't complete without a picnic in the Tondón vineyards and a trip to the wine cellar, with its vast collection of bottles from Rioja's best-known producers.
Valbusenda
Zamora, Spain
The province of Zamora, just upriver from Portugal's famous Douro Valley, is home to the Toro wine designation, and is also home to the impressive Eurostars Valbusenda Hotel Bodega & Spa. The modern structure contains 35 contemporary-luxe rooms, plus there are indoor and outdoor pools and a hydrotherapy spa. Naturally, it's laser-focused on good food and wine, with venues including a fine-dining restaurant and piano bar to go along with the on-site winery's tasting rooms and bodega.
Terra Dominicata – Hotel & Winery
Tarragona, Spain
In the 12th century, in the foothills of the mountains outside Tarragona, a group of Carthusian monks established a monastery and a farm, growing grapes, olives, and other fruits. The old monastery, now thoroughly updated, is open to travelers in the form of Terra Dominicata – Hotel & Winery. The style here is upscale modern elegance, with rooms that retain more than a little bit of rustic character, and the the estate's wine, as the name implies, is in plentiful supply.
Es Racó d'Artà
Mallorca, Spain
Es Racó d'Artà is something special: in the size of the estate — which comprises not just a farmhouse and nearly two dozen outlying casas and casitas, but also vineyards, an organic garden, and fruit and olive trees — as well as in the sheer excellence of its design, by the well-known local architect Toni Esteva. More than a hotel, it's a wellness-oriented retreat, complete with a spa, yoga, meditation, and a Mallorcan-style variation on the Japanese concept of "forest bathing."
Torre del Marques
Teruel, Spain
Between Barcelona and Valencia, on the side of a small mountain range, is Matarraña, home to the beautifully restored 18th-century tower that is the Torre del Marques. Today it's an 18-room luxury boutique hotel that offers a farmhouse-style escape, with views of olive groves and vineyards, as well as an environmentally friendly approach and a zero-kilometer cooking philosophy. The rooms are a perfect marriage of weathered traditional construction and contemporary interior design.