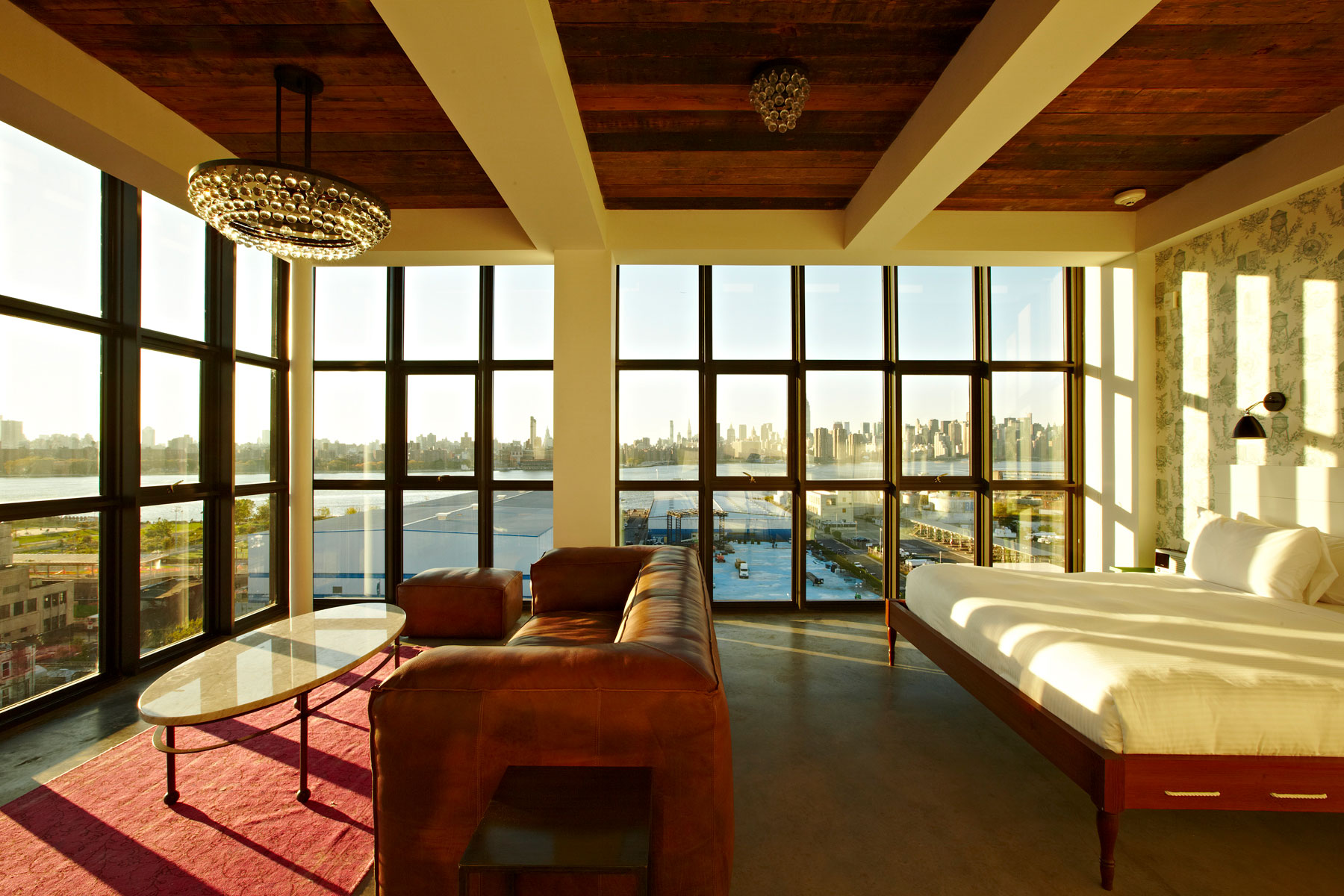 It's a great time to book a hotel in New York, and to dine in New York, and to be whoever you want to be in New York. The city is open for business and buzzing with excitement, and all visitors are welcome. If that's not enough, our editorial director has a few more reasons he'd like to offer.
New York City is our home, and it's open again to visitors. Hotel rates are at historic lows (as are COVID cases), outdoor dining is reaching European levels of ubiquity, and the vibe — to borrow from Bronx comedians Desus and Mero — is strong. The mayor even suspended the city's hotel occupancy tax through the summer. That means you basically save 6% on your hotel room just for showing up. Want even more discounts? Friend, we've got them. Want a Tablet hotel with a Michelin-rated restaurant? We've got those too.
We're probably not the first company that's pointed this all out to you, but we have more to say about it than simply encouraging you to spend money here. I have more to say about what New York means to me and, more specifically, what keeps me from leaving. Because every New Yorker thinks about leaving at some point. And plenty of well-meaning non-residents wonder what the appeal is — what could possibly justify dealing with all that, um, density?
I'm sure I speak for everyone at Tablet when I say that each of us from time to time has had our fill of NYC's small apartments and bulging rents. Nonetheless, we stay. We stay not just because we can walk a couple blocks and have our pick of global cuisines. We stay because when something big happens here — and big things are always happening here — there's no better place to be.
New York goes through a lot. It's a place of permanent ups and downs. It's always in flux, and it's never quite how it's described. One block can feel completely different from the next. The city's intensity doesn't come from consistency. It comes from the clash of crowds and cultures. New York is humanity on a massive scale, and its loudest critics are usually those who can't find in themselves the humanity it takes to live here.
That's not to say New York is for everyone, but it is for everyone. Every New Yorker interacts with a brilliant array of cultures and unique kinds of people. No matter how homogenous some may try to make their particular enclave, the diversity of the city permeates every pore. There's no private property on the sidewalks and streets. And when everyone you pass is a stranger, no one is an outsider. Of course we still have racists and people with appalling ideas about others, but it can only help that they're regularly exposed to lifestyles different from their own.
My daughter is two years old. We're choosing to raise her in New York because we want her to experience the city's variety when she walks out her front door, not just on field trips. It's an invaluable aspect of urban life that we're constantly weighing against the desire for more space. I can't promise she'll spend her entire childhood here. I can't pretend I've never longed for the elbow room of something more rural. I don't love that my oven door won't go all the way down because the fridge is in the way.
When I think about leaving, though, I think about what we'd be missing.
I grew up in southern New Jersey, and for the first fifteen years of my life New York City meant nothing to me. I was a die-hard Philadelphia sports fan and hating New York was a pretty important part of that. I was also a big Frank Sinatra fan. I went with my grandparents to one of his last concerts, on November 20, 1994. My entire interest in NYC started and ended with the final song he performed that night at The Sands in Atlantic City: "New York, New York."
Soon, though, the iconography of New York began making a bigger impression on me, mostly because of movies. It's hard to explain why, but I distinctly remember the names of the roads and neighborhoods seeming bolder and somehow more significant than they did in other places. I'd watch films like Raging Bull and Do the Right Thing and Saturday Night Fever and think how cool Pelham Parkway sounded, or Bedford-Stuyvesant, or the Verrazzano Narrows. And how could something called Hell's Kitchen not be awesome, or the Bowery? I didn't know the name of the street back then but I couldn't wait to drive under the same elevated train tracks as Gene Hackman in The French Connection.
Bob Dylan's 11-minute mafia epic "Joey" made me curious about Red Hook. When I finally moved to New York in my twenties (I'm in my forties now) I spent a lot of time there. I still do. The neighborhood's fading maritime atmosphere is unlike anywhere else I've been in the city. To this day, my favorite part of getting to Red Hook is crossing under another set of elevated tracks, this time at Smith & 9th, the corner in Goodfellas where Jimmy tried to give Karen those beautiful Dior dresses.
I currently live in Brooklyn, equidistant between the Barclays Center and Grand Army Plaza, two places that typically see the largest gatherings for protests, among other events. As a result, police helicopters frequently fly overhead. During the summer of 2020 their drone was near-constant. Instead of being an annoyance (like they were in Goodfellas), they reminded me how fortunate I was to live so close to where some of the world's most important social justice demonstrations were being held. It's hard to imagine walking away from that and from all the other major happenings that make this city so electric.
What does all of this have to do with hotel rooms? Maybe nothing. It's just how I see the city. Maybe it inspires you to come visit, which would be a nice bonus. Sure, New York's all-the-time energy is a cliché, so is the whole melting pot thing, but they're the kind of clichés that exist because they're true. Do other cities have a lot going on? Yes! Do we care? No. As far as we're concerned New York's liveliness is second to none, and bragging about it is our compensation for tiny bathrooms.
But that's only my New York experience. Ask someone a block over and you'll hear about a completely different one.
Mark Fedeli is the Marketing & Editorial Director at Tablet Hotels.
Tablet Hotels with Michelin-Rated Restaurants
Between the low rates and the tax holiday, it's a great time to book a hotel in New York City. One interesting way to take advantage is to stay at a Tablet hotel with a Michelin-rated restaurant, which, in the States at least, is an opportunity not available in too many places. You absolutely should venture out and sample some of those many aforementioned cuisines, and you should make a point to visit as many neighborhoods as you can. But also give yourself a night to get the total hospitality package: one of the world's great hotels and one of the world's great restaurants, all in one place.
And now, since they don't pay me to just wax rhapsodic about the Big Apple, let's get to the business at hand. Here are ten Tablet hotels with Michelin-rated restaurants in New York City.
The Greenwich Hotel
Tribeca
The Greenwich has a celebrity owner (Robert DeNiro), impeccable design credentials, and some truly obsessive construction, having something to do with thousands of very expensive handmade bricks. The prime Tribeca location places you roughly where hip and upscale intersect, minutes from more shopping and nightlife than any one neighborhood could reasonably need. As for the comforts, they're far more than adequate. Even the humble courtyard rooms are luxurious, and smart-looking as well, eschewing minimalism for a detailed and lived-in look.
Read about the restaurant: Locanda Verde
Ace Hotel New York
NoMad
There was a time when the Ace Hotels were strictly a Pacific Northwest phenomenon, and eyebrows were raised when they began work on a hotel in New York's once-neglected NoMad neighborhood. But now the Ace Hotel New York feels like the flagship of this often-imitated hip hotel chain. Not only has it put this stretch of Broadway back on the map, it's also got the kind of multi-purpose public space — co-working space by day, after-work drinking spot in the evening, and a full-fledged nightlife venue featuring DJs or live music as the hours tick by.
Read about the restaurant: The Breslin
The Lowell
Upper East Side
The Lowell saves the best for where it counts. Once you've stepped through the humble lobby — and off the equally humble elevator — and into your room or suite, you'll grasp the point. These spaces are stylish updates on the classic prewar Upper East Side residential template, plush but always dignified, full of creature comforts and steeped in Gotham romance. Suites far outnumber rooms, contributing to the Lowell's residential aspect, and more than a few of them have original wood-burning fireplaces, long gone from the vast majority of New York hotels.
Read about the restaurant: Majorelle
The Hoxton, Williamsburg
Williamsburg
The Hoxton occupies a modern building, but it's a loving tribute to the Williamsburg's industrial heritage — an attribute it shares with the home of the original Hoxton Hotel, in London's Shoreditch neighborhood. Thanks to the blank slate of a new building, rooms here are a touch larger than those in other Hoxtons — and thanks to the building's low-lying surroundings, it offers far-ranging views over North Brooklyn and the Manhattan skyline. Floor-to-ceiling windows and king beds bring a touch of luxury, and each room has a selection of books chosen by a different local artist or creative.
Read about the restaurant: Klein's
11 Howard
SoHo
At 11 Howard, contemporary Scandinavian design meets a more inclusive, less ostentatious version of luxury hospitality. It's the first independent hotel project for architect Anda Andrei. Produced in collaboration with Danish designers Space Copenhagen, 11 Howard avoids the sort of wall-to-wall bling that's sometimes synonymous with New York hotels. And this one puts a bit of money where its egalitarian ideals are, as well — they call it "conscious hospitality," which in concrete terms means passing on a share of revenue to charities like the Global Poverty Project.
Read about the restaurant: Le Coucou
The Dominick
Soho
F. Scott Fitzgerald may have said that there are no second acts in American life, but we can all think of plenty of exceptions. The Dominick may have had a troubled past, thanks in no small part to the involvement of our nation's most famously divisive real-estate developer, but the slate has been wiped clean — it's got some new owners, it's been given a new name, and now this Soho stunner is ready to be seen for what it is: a stylish, luxurious boutique hotel with a stellar Spring Street location and commanding views of downtown Manhattan and the Hudson River.
Read about the restaurant: Vestry
Wythe Hotel
Williamsburg
The Wythe is the hotel against which all future Brooklyn boutique hotels will be measured. Not because it won't ever be topped, necessarily, but because it's rare for a hotel to so completely exemplify the character of the neighborhood it calls home. Here in Williamsburg that means a location between McCarren Park and the gentrifying waterfront, in a 1901-vintage factory building that's been lovingly (but not too thoroughly) renovated. Rooms are comfortable, spacious by New York standards, and perfectly suited to the setting and clientele.
Read about the restaurant: Le Crocodile
Arlo Nomad
NoMad
New York real estate prices being what they are, you can see why a spacious hotel room can easily run you a month's rent back home. The flip side of this rule is that an affordable room is often laughably small. The Arlo NoMad, however, goes a long way toward solving the equation — through a combination of clever, compact layouts and the plentiful sunlight afforded by the full-length windows of a brand-new hotel building, its rooms manage to feel livable rather than laughable, in spite of their modest square footage.
Read about the restaurant: Lamalo
The Langham, Fifth Avenue
Midtown East
To call this one of Manhattan's more storied neighborhoods would be an understatement — that's the classic old Tiffany building just across the avenue — but Langham Place is more than up to the task. The rooms start out large enough, and are realistically apartment-sized once you get into the suites, with their kitchens and soaking tubs. The whole range is stylish, generously lit by full-length windows, and furnished in state-of-the-art Italian designer comfort. The bathrooms themselves come with more than a little spa-like decadence — though the actual spa covers the entire fourth floor.
Read about the restaurant: Ai Fiori
The New York EDITION
Flatiron
The latest addition to Ian Schrager's Edition family is in the old Metropolitan Life Tower, otherwise known as That Great Big Clock Tower in the Flatiron District. If you know Schrager by his earlier work you'll be surprised to see a relatively sober, subdued look on display. In fact it's something of an Edition trademark, and it's perfectly suited to the century-old backdrop. The public spaces radiate prewar prestige, and the rooms feel serious, substantial, with subtly modern furnishings providing the contrasting note to the classic lines and materials.
Read about the restaurant: The Clocktower