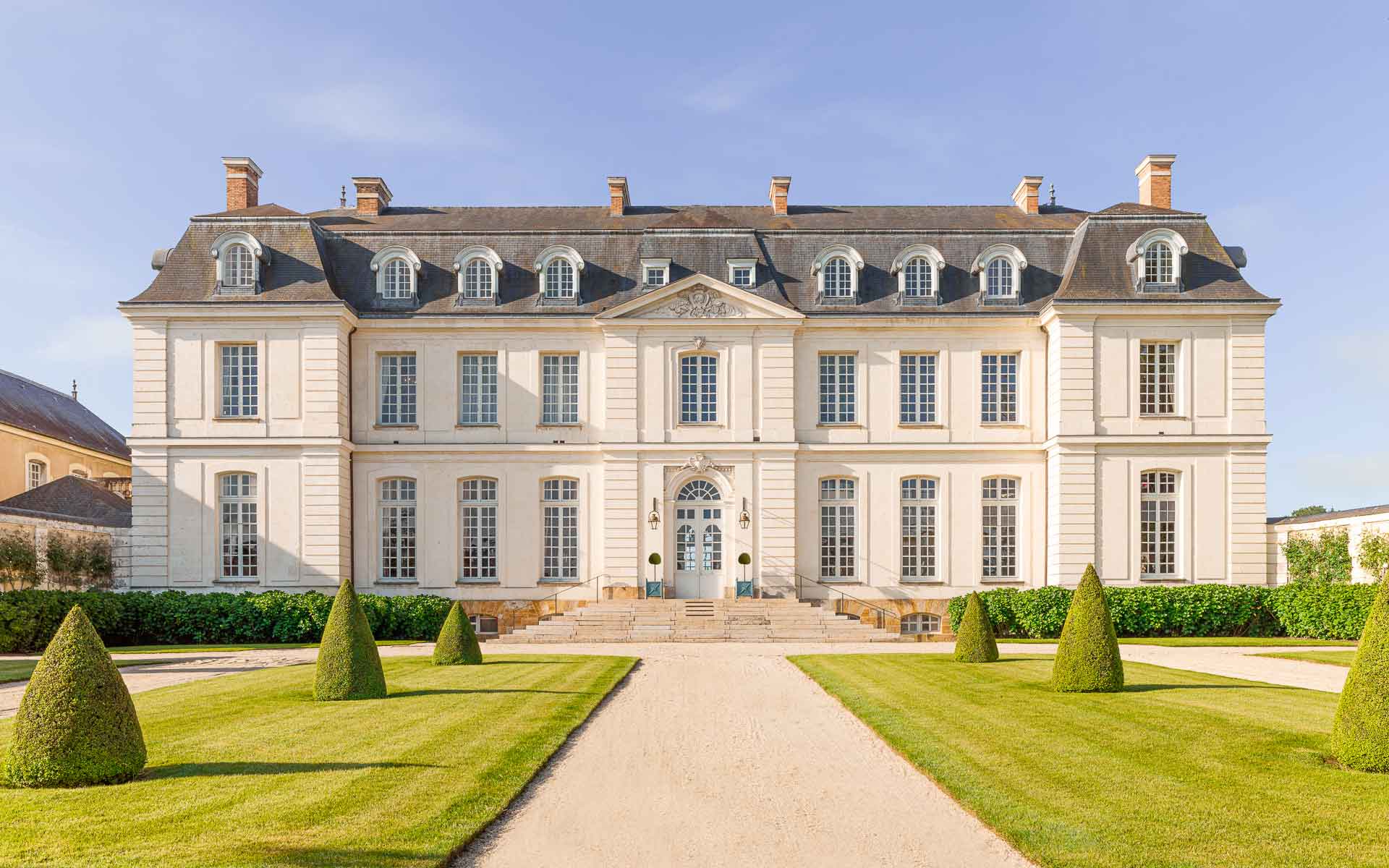 For the second entry in our "Staying Small" series, we turn to France, a country that's mastered the art of hotels that are both small and spacious.
Used to be that if you made decisions based on gut instinct and were proved correct, say, thirty percent of the time, you could rule the land. These days, though, data is king. And data tells us that, in the wake of COVID-19, Tablet clients are increasingly searching for smaller hotels. That's why we recently launched our Staying Small series — and in the first installment, we listed some of the best small hotels in Italy.
France is no stranger to impressive hotels that contain a modest amount of rooms. Cinematic châteaux and historic country houses dot the landscape, and a good many of them have been converted into luxury boutique lodging. While these buildings are huge by the standards of private housing, they're positively petite in the world of hotels, with each having fewer than 20 guest rooms.
Where France differs from Italy is the manner with which these manors have been maintained. Rustic charm is the name of the game for our Italian list, but for our French list, modern design and cutting-edge convenience are more likely to take center stage, along with a dash of the regal. Living like a 19th-century aristocrat is all well and good, until you consider that the 19th-century aristocrat was living on the forefront of taste and technology. So you'll do the same.
If you have questions about hotel availability or reopening dates, contact our Travel Specialists.

Domaine de Biar
Montpellier, France
In many ways, this lovingly restored estate is the bed-and-breakfast idiom at its best. Besides a guarantee of privacy — accommodations total just four rooms, a suite, and an apartment — there's an unassailable respect for peace and quiet on the premises. It's a remarkably self-contained whole; once you've partaken of the all-organic daily breakfast spread, you're free to ramble the more than 120 acres of bucolic meadows, farmland, old-growth trees, and vineyards outside Montpellier on France's Mediterranean coast.
Yndō Hotel
Bordeaux, France
You might imagine you know what to expect from a 19th-century mansion hotel in Bordeaux, but Yndō Hotel's unusual name might just be a clue that you're in for a surprise. The exterior of this hotel particulier remains as traditional as ever, oriented as it is around a quiet central courtyard. Once you've ventured into the interior of the house, though, you'll see what we mean — the architecture is still classic, but the interior design is totally contemporary, as is the hotel's art collection.
Château du Grand-Lucé
Le Grand Lucé, France
When an American designer bought this 18th-century neoclassical château and modernized it, French authorities mandated that its historical elements be preserved as faithfully as possible. It was a meticulous restoration, and the inhabitants of its 17 guest rooms are treated to what's easily one of the most impressive new hotels in France. Neoclassical grandeur is still the order of the day, though your hosts haven't been shy about complementing Jean-Baptiste Pillement's 1760s-vintage work with some 21st-century elaborations.
La Divine Comédie
Avignon, France
La Divine Comédie boasts the largest private garden in Avignon, which makes it an island of verdant tranquility despite its location in the heart of the medieval city center. It's a small hotel, comprised of just five suites, which is a perfectly heavenly scale if you like personal service, splendidly uncrowded public spaces, and a convivial country-house atmosphere. The suites are luxurious, eclectic, historically informed — how could they not be, in this beautifully preserved old house — but put together with a contemporary eye and a palette of rich, deep colors.
Château du Palanquey
Sainte-Colombe, France
The word "château" runs the risk of making Château du Palanquey sound more formal than it is. Here there are no turrets, no towers — just a stately house surrounded by vineyards in Saint-Émilion, one of Bordeaux's most storied wine-producing regions. This is a luxury boutique hotel that's dedicated to "slow life," on the analogy with the Slow Food movement — here you'll trade the frenzied activity of modern urban life for vineyard views, country air, rambling gardens, and plenty of the food and wine for which the French countryside is justifiably famous.
Château de la Resle
Montigny la Resle, France
On the outside, Château de la Resle is as classic as can be, its white-shuttered façade laced with climbing vines and standing above a perfectly tended garden, but inside it's a genuine contemporary art and design showcase, curated by a pair of collectors with a burgeoning high-end home furnishings business. The result is a French château hotel like no other, where the romantic atmosphere of a 19th-century country manor combines with the plush comforts and visual style of a high-end modern design hotel.
La Maison d'Ulysse
Uzès, France
The Provençal garrigue may be the finest scrubland in this or any world, its lime-rich soil supporting signature Mediterranean flora from oak shrubs to lavender and thyme. This sort of trivia becomes quite meaningful when you're staying at a fortified, luxe-rustic, 16th-century farmhouse like La Maison d'Ulysse — the views, the cuisine, and the architecture are all perfectly adapted to that picturesque backdrop. Apps and screens hold no power here. When you come to the south of France, you adapt to the rustic rhythm of life, not the other way round.
Château de la Gaude
Aix-en-Provence, France
Château de la Gaude's estate isn't new. What is new, however, are the Château's seventeen rooms and suites, spread across the various buildings of the charming, village-like property. The interiors retain an extraordinary amount of period detail — rooms in the Bastide, a registered historic monument, feature ornately figured moldings and carved stone fireplaces. And what's new here is very new: high-end contemporary furniture, modern fixtures, even some subtly high-tech comforts. The result is a state-of-the-art small luxury hotel with centuries of personality.
Maison d'Estournel
Saint-Estèphe, France
From the outside, the grand old 18th-century mansion that houses La Maison d'Estournel is an absolute period-piece classic, even as its interiors indulge in a little bit of idiosyncratic personality: first, with Indian antiques, courtesy of its original owner. And the rooms bear a pronounced contemporary-luxe influence, thanks to designer Alex Michaelis, of Soho House fame. Visually they blend classic opulence with modern focus, and in terms of the comforts they're state-of-the-art luxury-boutique rooms and suites — just fourteen of them.
Hameau des Baux
Paradou, France
Hameau des Baux is a verdant masterclass in southern France's bounty. Almond, fig, and olive groves flourish plentifully, matched in every direction by lavender window-boxes and, further, miles of tranquil vineyard. Here the hotel more or less is the village, a secluded clutch of limestone-and-shingle buildings huddled around a central square. As always, life revolves around the pétanque court and the table; in this case that means Cicada, the Michelin-starred fine dining restaurant, as well as a high-end food truck that's on hand during the summer season.
La Bastide de Moustiers
Moustiers-Sainte-Marie, France
Before it became a thirteen-room inn, La Bastide de Moustiers was chef Alain Ducasse's home in the country, a 17th-century stone house in a field of lavender dotted with olive trees. It still feels much the same as when he first arrived — homey, tranquil, a perfectly dreamy vision of low-key Provençal life — only now the rooms have been freshened up by Ducasse's designer friend Tonia Peyrot, and the garden and restaurant have been given just the sort of attention you'd expect at a Provençal inn run by one of the great French chefs of our time.
Domaine de Fontenille
Lauris, France
As a house, the Domaine de Fontenille, in Provence's Luberon Valley, dates back to the eighteenth century, and the estate goes all the way back to 1638. But in its current incarnation as a luxury hotel, it's more or less brand new. This might just be the best possible case for hotel guests, as you soak in an abundance of historical atmosphere, even as you benefit from a thoroughly modern approach to hospitality — in a new hotel, there's no such thing as "we've always done it this way."