Central California's undiscovered, undeveloped, unpretentious surf villages are a dying breed. And for the unfamiliar, they probably seem too good to be true.
I once heard some parenting advice that actually works. I think I saw it on social media. Essentially, when you find yourself getting irrationally annoyed with your child, imagine that you're 85 years old and you've been dropped back in time to this very moment, but only for five minutes. How would you react differently?
These days, I don't need to use the trick as much. Ever since Twitter was taken over by a guy who'd be the most annoying character on Billions, I've spent less time there and more time being present for my daughter. So I figured I'd try out the advice on something else I don't always appreciate as much as I should.
The beach.
I love being near the sea. I love eating food from it. I love the sight and smell of it. But I've got a limit on how long I want to sit there staring at it. My family is the opposite. They'd happily spend the entire day on the sand, which was absolutely one of their goals during a recent vacation up and down California's Central Coast. Another goal: see why a bunch of surf villages, just a few short hours north of Los Angeles, fashion themselves as being "undiscovered," "hidden gems," or more boldly, "the last great beach town."
The fulcrum of the trip was Cambria. Where's Cambria? Pull up a map and look for Los Angeles. Then start looking north up the coast, past Malibu, past Santa Barbara, past San Luis Obispo even. You see Hearst Castle? You've gone too far. But not that far. Cambria is just 15 minutes south of the spot where one of the world's richest people decided to spend his time. High praise.
Cambria's calling card is Moonstone Beach. Now this was a beach I could get behind, made of small, smooth pebbles that, unlike sand, brushed away obediently. Bleached white driftwood is everywhere along Moonstone, arranged into intricate shelters like ribcages left behind by beached wales. Jettison your cheap plastic shovels and build your own bone cave instead. Tidepooling. Sunsets. Surfing. A moody clifftop boardwalk. Moonstone was okay by me.
We split our time between two hotels: Cambria Beach Lodge and White Water. They both look out over Moonstone, with somewhat different perspectives.
The Beach Lodge is in the tradition of the great restored American motels. Stylish yet simple and unassuming, it has a surf-shack chic that matches perfectly the chill of this semi-secluded town. The highlight is the hotel's roof deck; the best position for watching Cambria's all-world sunset. Or looking for whales.
The second best position? From the lobby of the White Water. A half-mile up the road, it's as if you crossed a spiritual dividing line between the southern and northern halves of the state. Suddenly, the sunny surf town vibe down at the Beach Lodge gives way to a shadier, forested feel; Cambria's trademark pines hang over the property, reminiscent of the great wild woods up north.
White Water is a step up in amenities and design and does something that every hotel in the world should seriously consider. Take notes, competitors. Each morning outside your door, they leave you a comically large picnic basket filled with hot coffee, juice, and assorted pastries. Aesthetically, it's a little bit of Wes Anderson delivered right to your room. A small gesture that, along with fireplaces, solidified the hotel's place in my heart. And that lobby; already a lovely place to scan out over the sea, it's made better by a smart selection of wine, beer, and small plates, as well as White Water's legitimately fun staff. Seriously, they're a great hang.
From Cambria, you're not far from a few of Central California's top coastal attractions. We mentioned Hearst Castle, with William Randolph's wandering zebras and collection of Greek vases. A bit further north you'll find the elephant seals at Piedras Blancas. And just up from that, Ragged Point and the beginning of legendary Big Sur.
But it's back down south that our trip was primarily focused.
In Cambria, the main commercial stretch is set back from the beach, separate from the row of hotels and resorts that face directly onto the ocean.
In Cayucos, twenty minutes down the coast, it's all combined. Here, there's a more traditional beach (for which I had far less patience) and, only steps from the sand, a murderer's row of great shops and restaurants. Our pick for the premier accommodation in Cayucos is the impeccably designed Pacific Motel. A few minutes south, Morro Bay, with its giant rock and iconic smokestacks, is another of the laid-back Central California surf villages that, if you didn't know better, you might think only exist in movies.
Are towns like these a dying breed? We'll see. It doesn't quite add up that a state as well-documented as California would have hidden gems of this quality. While not exactly undiscovered, they give you all the beauty, activities, and hipness of destinations with exponentially higher name recognition, and they do it with a fraction of the tourism.
That's what we were looking for. My family and I might not share the same affinity for the beach, but we all love flying somewhere far away and road tripping out to remote regions. As New Yorkers, a ride from Los Angeles to Cambria qualified, the route packed with diversions:
Malibu: Follow in the footsteps of James Dean and Marilyn Monroe with a night in a bohemian bungalow at Hotel June Malibu, a quiet and tasteful little seaside hideaway in an otherwise hotel-starved location.
Ventura: Boat out into the Pacific to hike Channel Islands National Park and meet its endemic Island Fox. The ride is often accompanied by pods of dolphins — and, fair warning, some serious chop.
Santa Barbara: Settle your seasickness and get some much-needed rest at Palihouse Santa Barbara, with its perfect Mediterranean courtyard, delightfully idiosyncratic layout, and American vintage design.
Solvang: This is literally the most Danish town outside of Denmark. It's best you look it up for yourself.
Los Alamos: It's not the Los Alamos of Oppenheimer fame, but it's got the same middle-of-nowhere, desert stopover personality, with more fashionable places to eat and sleep (like the Skyview Los Alamos).
San Luis Obispo: A dramatic 250-year-old mission, a famous farmers' market, and a few first-class accommodations to choose from, including San Luis Creek Lodge.
We also spent time in Pismo Beach, Santa Maria, Los Olivos, Buellton, and others.
And that's just if you hew closer to the coast, or follow Route 101 — the historic El Camino Real — with its signature bells, used as mile markers to guide the way through a region rife with Spanish missions. A little further inland, multiple burgeoning wine regions, from Paso Robles to Santa Ynez. Vineyards, breweries, farms, plenty of great food and great hotels all prove that the land between L.A. and La Cuesta Encantada is well worth your time.
If you've read this far, you're probably genuinely interested in taking this trip yourself. Or, you're waiting to see if I had any change of heart about the beach. Let's just say I've softened slightly. Being forced to do something has a way of stripping off the fear. I don't think I'll ever fully come around, though. I still dislike any dining arrangement that makes you sit on the ground and eat from your lap. Nonetheless, I'm trying to remain open-minded. The last thing we did before heading to the airport? A picnic on Venice Beach. Who says irony is dead. ▪
Book Cambria Beach Lodge on Tablet Hotels.
Book White Water on Tablet Hotels.
Book The Pacific Motel on Tablet Hotels.
Book San Luis Creek Lodge on Tablet Hotels.
Book Skyview Los Alamos on Tablet Hotels.
Book Hotel June Malibu on Tablet Hotels.
Book Palihouse Santa Barbara on Tablet Hotels.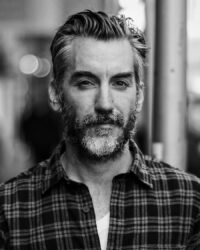 Mark Fedeli is the hotel marketing and editorial director for Tablet and Michelin Guide. He's been with Tablet since 2006, and he thinks you should subscribe to our newsletter.