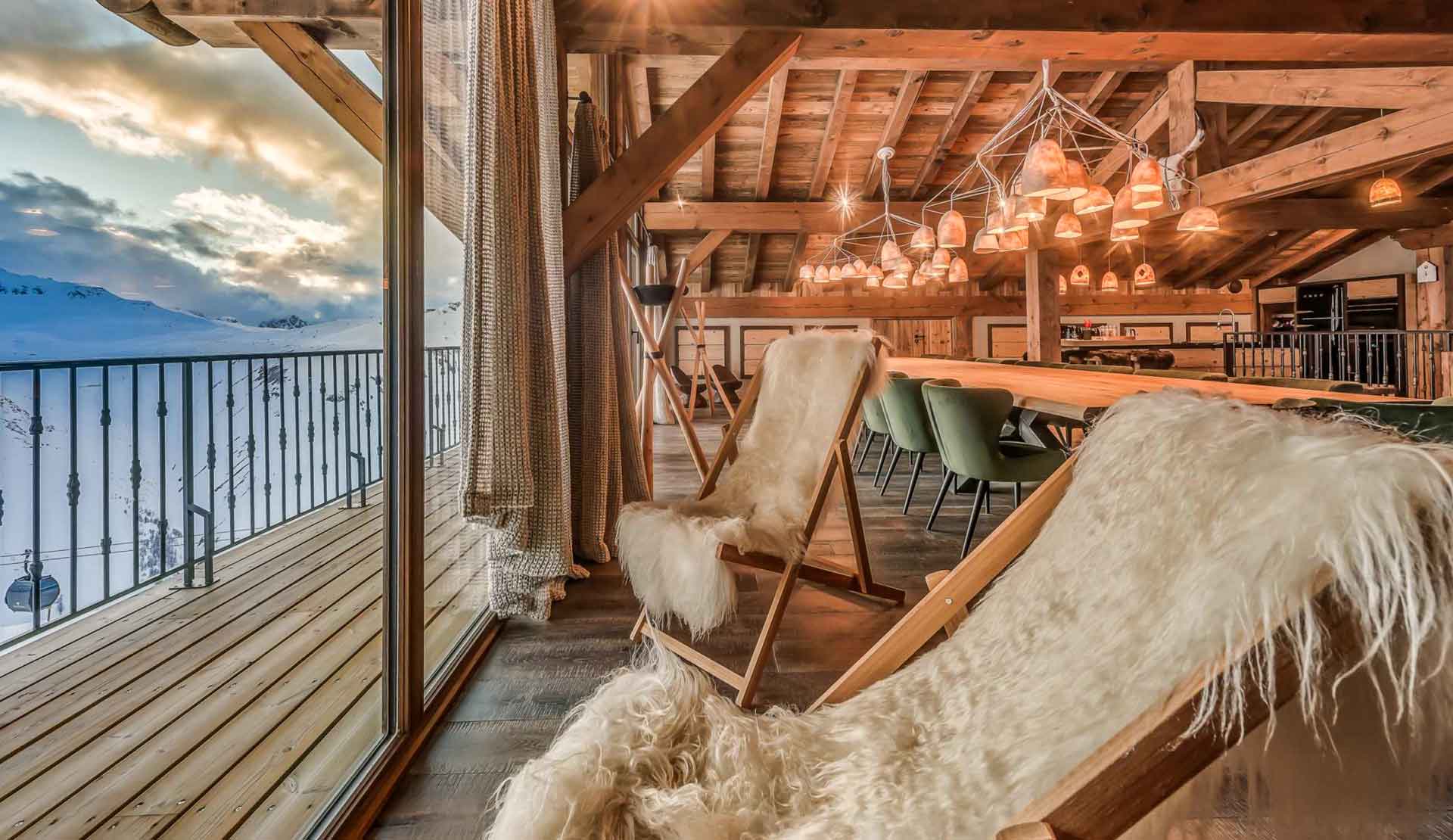 You needn't have ever stayed in a ski hotel to understand why they tend toward interiors that are cozy, warm, and intimate. Wrapped in wood with soft, sensual furnishings and dimmed lighting, they're like a womb welcoming you back from the cold white snow and blinding sunshine. After a long day out on the slopes, your eyes and body need a rest, even if your après-ski plans don't involve much rest at all.
In our search for ski hotels that most fully embody these traits, we haven't found a region that tops the French Alps. The hotels here have borrowed stylistic elements from all over Europe — Switzerland, Italy, and Austria most prominently — but their embrace of all-encompassing comfort and homestyle luxury is second to none. They aren't afraid of the dark either — in fact, some of them revel in it, careful never to upstage a roaring fire, the centerpiece of any Alpine lodging.
Le M de Megève
Megève, France
Le M fully embraces Megève's high-style Savoyard heritage, your classic ski chalet to its core. The 42 rooms and suites each come with a balcony overlooking the picturesque village or the majestic interior courtyard with mirror-smooth ponds. Beautiful though the blond timber and pristine mountain light are to behold, your sense of touch might be the most rewarded: Arpin fabrics and lusciously thick wall-to-wall carpets will render you forgivably barefoot and handsy in short order.
Zannier Le Chalet
Megève, France
Checking into Le Chalet Zannier feels like a special occasion. There are just twelve rooms — it's often booked in its entirety by families or groups — so you'll have to plan ahead. The reward is the alpine paradise of your dreams, lavish yet wonderfully cozy. The decor mixes minimalism with rustic chic: vaulted ceilings made with beams of rough-hewn wood, white linen sofas, stone fireplaces, hand-thrown pottery. The idea is that you feel like you're in your own private chalet, but with all the amenities you'd expect from a luxury hotel.
Refuge du Montenvers
Chamonix, France
Refuge du Montenvers was built in 1880 to house the first alpinists coming to visit the dramatically named Mer de Glace (Sea of Ice) that flows right below the hotel's windows. This sturdy granite edifice may seem somewhat imposing from the outside, but inside, dark woods and deep sofas radiate the same warmth and comfort as every other hotel on this list. Nearly 7,000 feet above sea level, Refuge du Montenvers is delightfully inaccessible by car — train or trek are the most common transportation alternatives. Refuge, indeed.
Le Lodge Park
Megève, France
If you're of the mind that the precious little chalets of the French ski country could use a rougher edge, you're not alone. No less a regional authority than the Sibuet family seems to agree. Just as their farmhouse hotels are a bit more rustic than most, their slopeside Megève hotels are more lodges than chalets — especially this one, Le Lodge Park, whose rough-hewn log-and-stone construction would look at home in the rugged Canadian Rockies. Here, amid the après-ski glamour of Megève, it's a distinctive look indeed.
Le Refuge de Solaise
Val d'Isere, France
Le Refuge de Solaise is located inside an old cable car station sitting high above Val d'Isère. Only accessible by gondola, the boutique hotel has accommodation options ranging from luxurious suites to dormitory-style bunk beds. Amenities vary widely — higher-end rooms have fireplaces, freestanding tubs, and glorious views over the valley — but the rustic-chic aesthetic is consistent throughout, with massive windows letting in abundant natural light by day and industrial lamps casting a warm glow over knotty wood-paneled walls at night.
Hotel des Dromonts
Avoriaz, France
It'd be difficult to miss the Hotel des Dromonts. Not only is the architecture truly eye-catching, but it's also, until recently, been the only game in town. Granted, it's not a large town, nor an old one: it's Avoriaz, one of a string of purpose-built ski resorts built in the French Alps in the 1960s. The quirky building, angular and pyramid-esque, was inspired by Le Corbusier's designs for economic urban dwellings, maximizing vertical space and providing great views from every room.
Aman Le Melezin
Courchevel, France
Even upscale European ski resorts don't usually come as elegant as Aman Le Mélézin. The location, in Courchevel 1850, could scarcely be more exclusive. The Aman's exterior, sticking to the lines of the original Le Savoy hotel, keeps one foot in the traditional — in the rooms, though, the group's trademark minimalism is on display. That doesn't mean the vibe is cold. With its rich cedar walls and ceilings (and the views of the snowy slopes outside) the Le Mélézin shares a pleasing amount of characteristics with the archetypal Alpine hotel.
Airelles Val d'Isère
Val-d'Isère, France
European ski resorts already lead the way in combining world-class winter sports with top-shelf luxury, but even in the context of the French Alps, Airelles Val d'Isère stands out. It's a proper ski-in ski-out resort hotel, but at the same time it's unusually refined, its architecture and décor combining classic Alpine-lodge warmth with a generous measure of Renaissance-era character — and the service, as in other Airelles hotels, is unusually devoted.
Hotel des Trois Vallées
Courchevel, France
Hotel des Trois Vallées was the first hotel in the postwar resort of Courchevel, and the look, marrying the exterior of a traditional Alpine inn with a cool modernist interior, epitomized the spirit of the times. Over years of use, though, as trends came and went, the original designers' vision was lost. Recent renovations, however, have restored the hotel's retro charm — much of the original furniture, by designers like Charlotte Perriand, Jean Prouvé, and Pierre Paulin, is back on the floor — and today's Hotel des Trois Vallées feels like a vintage film set.
Alpaga
Megève, France
We've seen some masterfully renovated Alpine chalets in our time on this earth, but nothing like Alpaga. Here no fewer than seven chalets have been stitched together into a sort of alpine-design hamlet, which in its entirety comprises one of the most luxurious hotels in the mountain town of Megève. The hotel's 22 rooms are a masterful blend of rustic texture and modern sheen. They've got balconies or terraces with views of the mountains, and under the knotty-pine surface they're as well equipped as any urban boutique-hotel room.
Le Cerf Amoureux
Sallanches, France
Le Cerf Amoureux aims to create the same warm welcome you'd expect from a family-operated chalet. It doesn't hurt that the hotel looks directly out at Mont Blanc, or that it's five minutes from a cable car connecting you to hundreds of miles of first-rate skiing. Not that you'll necessarily be in a great hurry to leave the chalet; the rooms are a stylish, comfortable, contemporary take on classic Alpine digs, with a minimalist bent that places them squarely in the 21st century.
Les Fermes de Marie
Megève, France
Les Fermes de Marie is Megève's most classic hotel, a collection of traditional farmhouses and chalets lovingly restored and converted into a truly grand luxury hotel. The style is rustic, the Alpine cabin-style rooms each fitted with a unique collection of Savoy antiques and modern conveniences. Here there's time to live the good life before and after hitting the slopes — it's no wonder many guests elect to spend the whole day at the hotel. There's a warm and cozy library, a charming and rustic bar, and a fitness center with an indoor pool.
L'Armancette
Saint-Nicolas de Véroce, France
What's remarkable about L'Armancette is the combination of classic luxury and modern boutique-hotel style that lies behind its classic Alpine-chalet facade. The 17 rooms are marked by a contrast between modernist-inspired furnishings and a backdrop of oak timbers and parquet floors. They start out spacious enough — almost all have balconies — and the Family and Duplex rooms and the junior suites are downright expansive. Not only that, but despite the mountain setting and the rustic-inspired atmosphere, they're unapologetically luxurious.