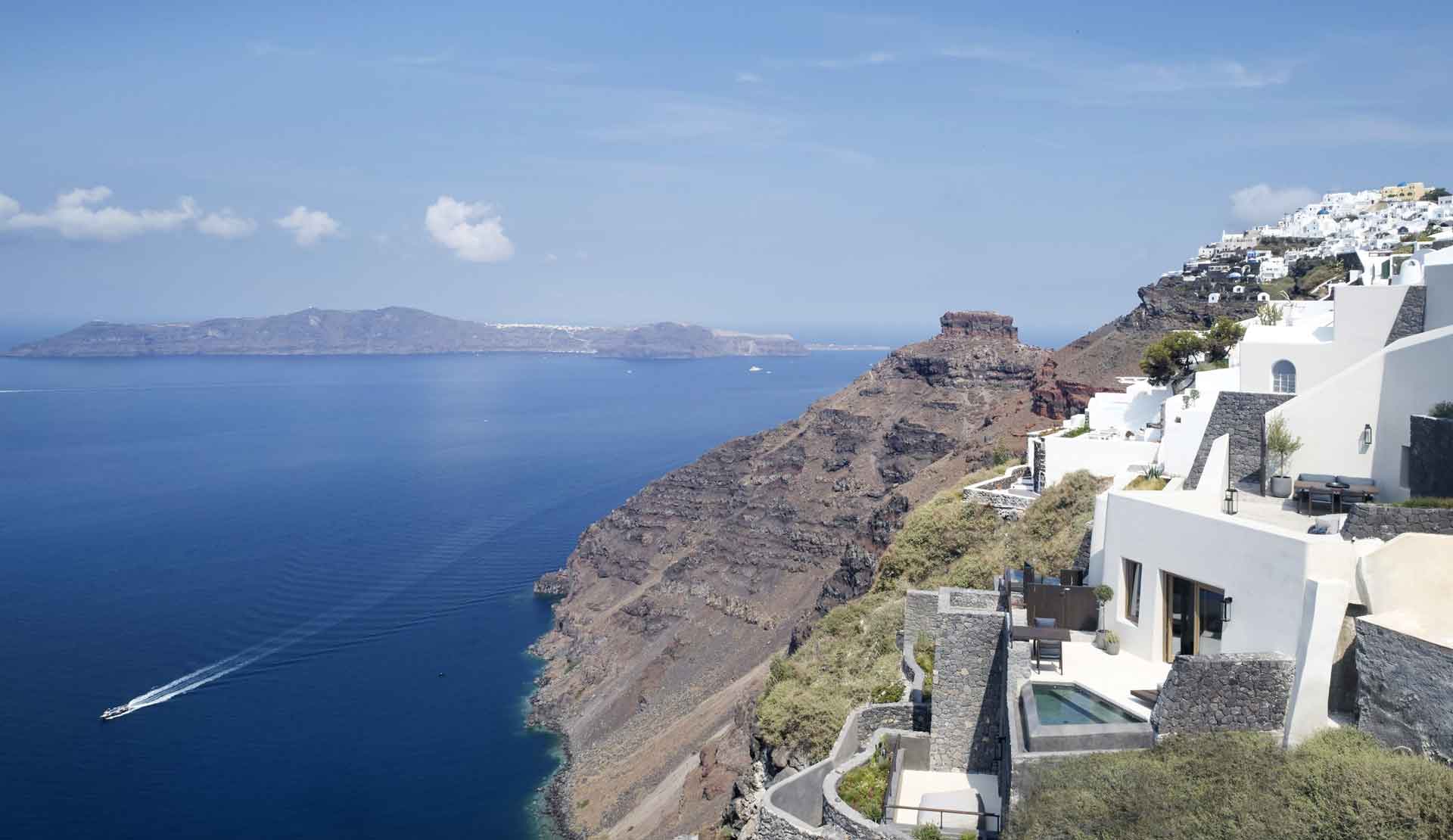 Just as the sirens of Greek mythology lured sailors toward their rocky shores, the hotels of the Greek islands attract travelers to their luxurious cliffside accommodations. The latter scenario is far more hospitable, but no less epic.
If there's a common word that describes the hotels of the Greek islands it's epic. The stereotype of a Greek island guest room is practically legendary: whitewashed walls, cave-like forms, and impossible views from cliffs overhanging the sea. It's one of the better formulas you'll find anywhere and, like the sirens of Greek mythology, it's an irresistible scene that has attracted travelers for decades.
It's also no longer the only game in town. As you'll see below, there's great variety to be found amongst the hotels of the Aegean and Ionian Seas. Not to worry, though. Despite some contemporary refinements made for modern tastes, even the newest Greek island hotels follow the philosophy that made the region such an appealing destination in the first place: architecture that complements and doesn't compete with the stunning surrounds.
Minos Beach Art Hotel
Crete, Greece
This stretch of Cretan coastline, heading north out of the town of Agios Nikolaos all the way up to Elounda, is home to more than a few hotels. And while Minos Beach Art Hotel isn't the biggest, the flashiest, or the most expensive of them, it still manages to stand out. It's long been a low-key favorite for high-profile guests who love its sense of seclusion — though not hard to reach, it's set on its own little peninsula and feels as private as can be.
Daios Cove Luxury Resort
Crete, Greece
A sprawling modernist complex carved into the hillside above a secluded bay on the island of Crete may seem like the sort of place a Bond villain hides out. But Daios Cove Luxury Resort, for all its sleek good looks, is a rather more welcoming sort of place. For one thing, it's family-friendly to a fairly extraordinary degree; an adults-only escape it most certainly is not. And life at Daios Cove is supremely easy. The ratio of rooms to pools is approximately two to one, and you don't have to be a mathematician to see that when your resort comprises some 300 rooms, that's a lot of pools.
Caesars Gardens Hotel & Spa
Rhodes, Greece
If you're looking for something grand and extravagant, there are plenty of hotels in the Greek Isles to fit the bill. And with a name like Caesars Gardens Hotel & Spa, you'd think this one might be among the grandest of them all. But it turns out that what makes Caesars Gardens special is its small scale, and its relatively humble ambitions — this is no imperial palace, just 23 rooms in a warm and inviting mod-bohemian style, set amid rambling gardens on a hillside overlooking the village of Lindos, on the east coast of Rhodes, Greece's easternmost island.
Vora
Santorini, Greece
A place as naturally scenic as Santorini isn't generally known for being on the cutting edge of design and architecture. It would be foolish to think you could compete with the legendary views of the volcanic caldera. But a hotel like Vora proves that there's much to be gained by a designer who's up to the task. Here the architecture complements the famous view, and the minimalist style and the traditional methods — Vora was built by hand, owing to its difficult hillside location — ensure that it meshes well with its setting and the surrounding buildings.
Parilio
Paros, Greece
Attempting to rank the Greek islands strikes us as something of a fool's errand. It's safe to say that any number of them would make for a perfectly beautiful place to hide away. Paros has its partisans, though, and from the vantage point of Parīlio, on the island's northeast coast, it's hard not to be won over to their view — in fact your hosts' previous hotels are all on Santorini, so you know they're a tough pair to impress. Parīlio isn't just an exemplary high-end, high-design boutique hotel, but an exemplary piece of Paros architecture, constructed in the local signature style.
Porto Zante Villas & Spa
Zakynthos, Greece
Even if you've got a working knowledge of the major Greek island destinations, you might not know Zakynthos. It's the next one down from Kefalonia, on the Ionian side of the Peloponnese — and, more importantly, it's a perfect little jewel of a place, featuring the ludicrously beautiful Navagio Beach among its dramatic landforms and seascapes. It's also the setting for an extraordinary hotel: Porto Zante Villas & Spa, a luxury resort just above a private beach, blessed with extraordinary sea views and all the high-end comforts you could wish for.
Mykonos No5 Suites & Villas
Mykonos, Greece
Set on a peninsula across the bay from Mykonos's town center, Mykonos No5 is perfectly placed for stunning sunset views — though, to be fair, there's not a time of day when the Aegean is anything less than spectacular. This hillside escape is familiar enough, its whitewashed cubes rising from rough-hewn stone walls on the hillside. But when you've got a formula as successful as the Cycladic one, there's no need for a stylistic revolution — just a thoughtful, confident execution, and No5 is certainly that.
Domes Miramare
Corfu, Greece
None of the Greek islands are particularly unsightly, but even among such gems, Corfu stands out. And equally easy on the eyes is Domes Miramare, a modernist hotel that was originally constructed in the Sixties for the Onassis family. And after a thorough yet sensitive renovation — its original mid-century style is perhaps more fashionable than ever — it's back in business under Mariott's Luxury Collection banner. It's also back to its status as one of Greece's most prestigious hotels.
Santo Maris Oia Luxury Suites & Spa
Santorini, Greece
There isn't a bad view of Santorini's caldera anywhere on the island, but Oia, on the northern branch of the island, is something special. Its elevation provides a stunning perspective, and its orientation makes for dramatic shadows across the water at sunset. It's also more or less the heart of Santorini's luxury hospitality industry — but from within the walls of Santo Maris Oia Luxury Suites & Spa it's possible to feel like you're just about alone on the island.
Anemi Hotel
Folegandros, Greece
The landscape of the Cyclades — stark cliffs, stark sky, stark sea — and its architecture — white walls, simple, squared forms — were minimalist before the concept had a name. And Folegandros, a relatively remote little speck of a place, offers up some of the most breathtaking emptiness in the whole archipelago. Here, Anemi's forty-four rooms are a studied (and decidedly modern) arrangement in spare luxury. The bright whiteness of the bedroom is offset only by large-scale artworks over your bed and the view of the bay of Karavostasis beyond your verandah.
Myconian Avaton
Mykonos, Greece
The Myconian Collection is a smallish, homegrown, locally owned hotel chain, and fully a third of its hotels happen to be located in the hills above Elia Beach, which ought to tell you something about how spectacular this place is. The Myconian Avaton Resort is the highest of the three, with the panoramic views and the relative seclusion that that implies. And its rooms, suites and villas are among the group's most luxurious — though, to be fair, that's drawing the distinctions pretty finely, as the others are not exactly rough.
The Townhouse Hotel
Mykonos, Greece
It's often the case that the hotels with the most unassuming names are also the most impressive ones. TownHouse Mykonos is no ordinary townhouse, but an 18th-century manor house in the island's old town, a listed landmark restored, renovated, and expanded over the course of three years into the adults-only luxury boutique hotel you see today. The rooms and suites combine whitewashed minimalism with hand-crafted textures, historical architectural elements, and luxurious touches.
Katikies
Santorini, Greece
On Santorini, the view's the thing, and there may be none better than that from the pool deck at Katikies, looking out over the island's submerged volcanic caldera and the sea beyond. This hotel is a feast for the eyes, not just a scenic overlook but a sparkling white modernist take on a traditional cliff dwelling, spilling down the steep hillside a hundred meters above the water. Guest rooms make the most of the hotel's position; even the standard rooms have private terraces, and the better suites feature loft bedrooms with picture windows overlooking the sea. Some even feature outdoor terrace dining rooms.