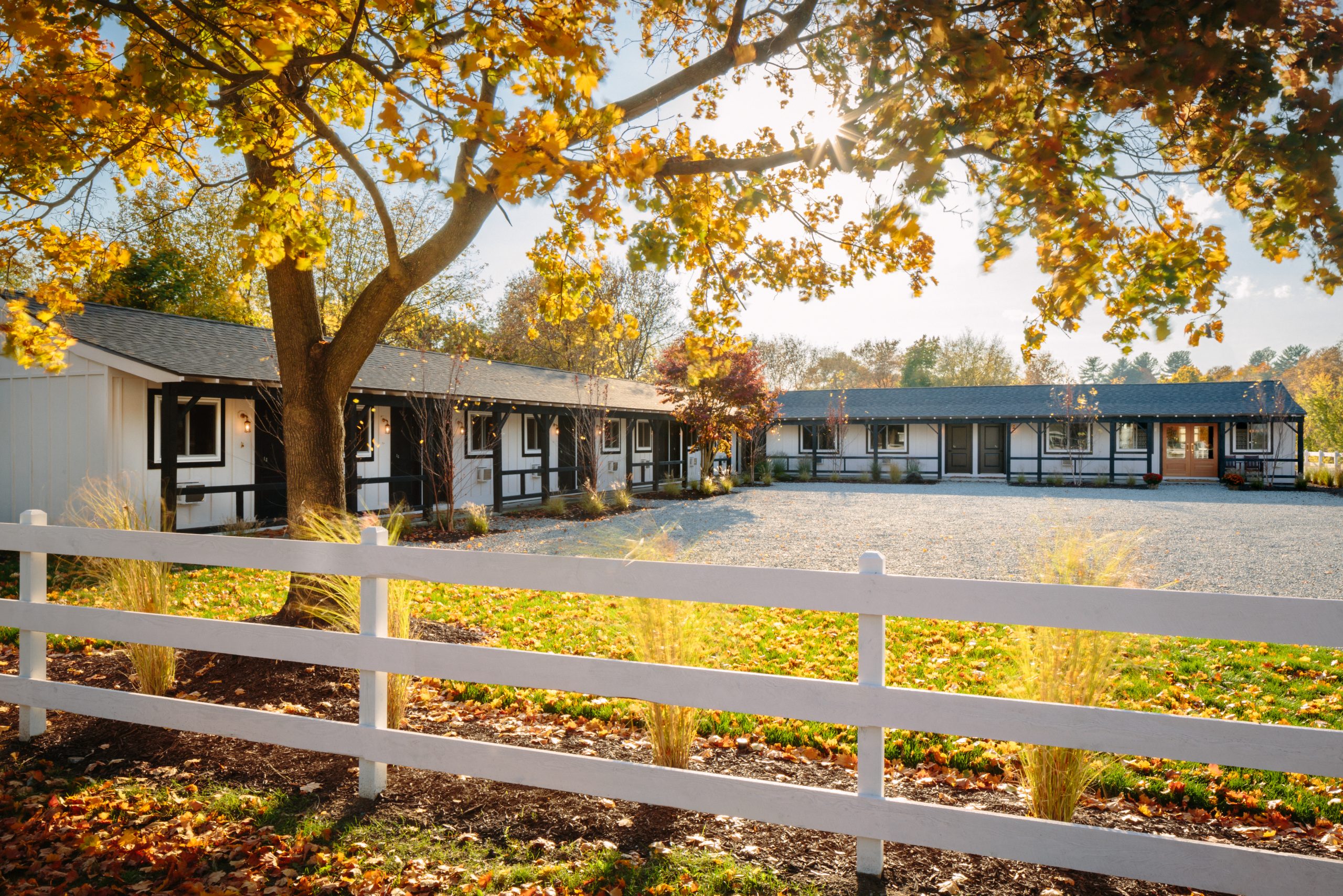 As Tablet clients have begun showing interest in traveling again, they've likewise shown a preference for staying in hotels that have a low room count. That means fewer guests to cross paths with, but it also means giving attention to hotels that might need it most. Smaller hotels tend to be independently owned, and with COVID-19's destructive effects on the travel industry, their futures are less certain than the massive mega-chains. That's why we created our Staying Small series, which gives a little love to some of our favorite hotels with 20 or fewer rooms. They're not all mom-and-pops, but they're all completely singular.
Volume #4 of the series leaves Europe and lands in the U.S.A., the country with the highest total number of COVID-19 deaths by a shamefully large margin. That sad reality might not seem pertinent to a story about hotels, but the coronavirus is thoroughly entangled with travel. Cases in America are surging again from coast to coast, sparking renewed talk of lockdowns and causing the EU to ban visitors from the United States. As for the travel industry, the latest spikes are another detour on its road to recovery.
Here in New York we've seen residents and businesses make the sacrifices necessary to flatten the curve and create the infrastructure that aims to keep it depressed. I'm proud of my city and I'm proud of my neighbors, who I've grown closer with as we've bonded together to beat back the outbreak. But not everyone feels that pride; not in NYC, and certainly not elsewhere in the country. Some Americans seemingly believe that masks are an oppression worthy of more outrage than systemic racism and state-sponsored murder. It can be argued how much of the economy needed to be shut down as we learned about the virus, but what can't be argued now is that masks are effective. And they aren't a true hardship.
"Which Side Are You On?" is a song written by Florence Reece in 1931 about the battle between mine workers and mine owners in Harlan County, Kentucky. The song, and the question, continue to be relevant. This country has a long history of asking its citizens to choose sides: between the Federalists and the Anti-Federalists, between the Union and the Confederacy, between labor and management, between civil rights and discrimination. In 2020, we're still fighting some version of those battles and a lot of others that never really seem to go away.
We go about our lives, but centuries of bigotry, inequality, corruption, and the hoarding of capital collide in a cauldron that boils just beneath the surface of our daily pleasantries. The stress has always shown, but the pressure is building: in the past couple of months, an unprecedented number of people and organizations have realized that it's time to wake up, speak out, and join the fight for justice. The cracks we normally step over are turning into canyons. Which side are you on?
A few weeks ago our co-founder and CEO sent an email expressing Tablet's support for the Black Lives Matter movement and our condemnation of police brutality. He also acknowledged where we can improve as a company, and stated our intention to be more vocal both within and without when it comes to issues of race and intolerance. Some of the replies we received were downright nauseating. We probably shouldn't have been, but we were surprised by the level of hatred. As a travel company, our entire premise is based on bringing different types of people together in different types of places. It's based on curiosity, openness, and empathy. It's based on sensitivity and appreciation of the world's cultures. That's what side we've always been on.
And so, on the week of Independence Day, in a story about American hotels, the editors of The Agenda are echoing our support for our CEO's letter. We've included this message along with one of our standard hotel lists because business as usual means something new these days. "Stick to sports," the catchall phrase for demanding someone keep their politics private, already feels as dated and ignorant as "separate but equal." Our commentary here is not political — because everything is political now. Every choice you make increasingly carries with it the ability to influence structural change and lift the lives of others. Every purchase you make, too. That's the price of progress, and we're happy to pay it.
If you have questions about availability or reopening dates for the hotels below, contact our Travel Specialists.

The Menhaden
Greenport, New York
Long Island contains multitudes, from Brooklyn and Queens (technically) to the Hamptons, and beyond. The relatively sleepy North Fork certainly qualifies as beyond — Greenport, once a fishing village, is now an upscale haven for travelers from the city, and the heart of the Long Island wine country. It's also, as you'll have noticed, home to the Menhaden, a stylish and self-assured 16-room boutique hotel, set right on Front Street, at one end of Greenport's compact main drag.
Kimber Modern
Austin, Texas
Amidst the hustle and bustle of South Congress Avenue, an oasis of therapeutic efficiency awaits even the most harried traveler at the Kimber Modern. Proprietor Kimber Cavendish strikes a balance between local and global, commissioning Austin-based architects to design the Zen-like structure and local artists to adorn its walls, finishing with understated international touches like Arne Jacobsen Egg chairs and Euroluce light fixtures.
The Paramour Estate
Los Angeles, California
This 1920s estate in LA's hip Silver Lake began its life as a Mediterranean Revival mansion for a now-forgotten silent-film star. When interior designer Dana Hollister bought it, she intended for it to become the kind of luxury boutique hotel that we're all familiar with. But the neighborhood had other ideas, and in the end, what it became is something much more unique: part film set, part event venue, part dream house for Hollister herself, and home to fourteen of the most unforgettably stylish rooms, suites, and cottages in Los Angeles.
Stonehurst Place
Atlanta, Georgia
With a gorgeous setting in a 19th-century mansion in Midtown, a charming urban neighborhood, Stonehurst Place gets off very much on the right foot. And though the recently renovated house is impeccably preserved, a careful look will reveal that it's kept pace with the times. The six rooms and suites are spacious and airy, with restored period woodwork and well-chosen furnishings. Though the service and amenities are first-rate the appeal of Stonehurst Place comes down to atmosphere — this is an elegant and romantic side of Atlanta that's hard to come by in the newer outlying areas.
Vandyke Bed & Breakfast
Nashville, Tennessee
Given Nashville's entirely deserved reputation as one of the nightlife capitals of the United States, it's easy to see why Vandyke Bed & Beverage's concept is perfectly tailored to its setting. The neighborhood, East Nashville's Five Points, is a little quieter and a lot hipper than downtown, and it shows in the Vandyke's stylish architecture and design. They're the kind of rooms you could easily shut yourself away in, were it not for the fact that you're in one of the most fun neighborhoods in the country.
Brentwood Hotel
Saratoga Springs, New York
Brooklyn design group Studio Tack bought this Seventies motor lodge and set about updating it in a way that's sensitive to its setting. Sitting just across the road from the paddock and stables of Saratoga Race Course, they replaced its dated roadside-motel vibe with a bit of genteel equestrian atmosphere and a whole lot of personality. At Brentwood, there's a sense that every piece of furniture in the 12 rooms, every shade of paint, every gilt-framed painting was chosen with the utmost care.
The Restoration on King
Charleston, South Carolina
The fifteen suites at The Restoration on King deal in a contemporary urban-reclamation style, all exposed brick and original hardwood floors, adding a welcome industrial edge to Charleston's classic elegance. Well-chosen antiques and artworks liven the spaces, and the creature comforts are legion, right down to washers, dryers, and kitchens that probably rival what you've got at home. And of course the Restoration's setting in the heart of the old downtown district places guests right in the thick of Charleston's booming restauration scene.
The Dwell Hotel
Chattanooga, Tennessee
The Dwell is a renovation of the century-old Stone Fort Inn, and its new owner, first-time hotelier Seija Ojanpera, has outfitted it with vintage furniture and modern artworks, and redecorated it in a bold and colorful mid-century modernist style. Every room is different, and each one's style is fully realized. Some have balconies, and every one comes with a rain shower and a separate soaking tub, while the suites, in addition to spreading out a bit, add fireplaces.
Farmhouse Inn
Forestville, California
Forestville lies some ways off the most heavily beaten path of the Napa/Sonoma wine country, partway from Santa Rosa to the Russian River town of Guerneville. As such it's something of an escape within an escape, a break not just from the city but from all the commotion on the winery-and-restaurant circuit. At Farmhouse Inn, you're still close enough to partake in all that you wish. But you're also comfortably ensconced in six idyllic acres, on an estate comprising of just eighteen rooms, suites and cottages.
La Serena Villas
Palm Springs, California
La Serena Villas is the latest transformation of a 1933-vintage Spanish-style hotel, and while its new owners have thoroughly updated it for the boutique-hotel era, they've kept its stylistic inspiration intact — in fact you'd be hard pressed to find a lovelier example of colonial-contemporary architecture and design. Despite its central location, just off Palm Canyon Drive, La Serena feels pleasantly private, a compound comprising 18 individual bungalows, each with a kitchenette and a private patio with an outdoor bathtub.
Eastwind Hotel & Bar
Windham, New York
With outdoor recreation more popular than ever, we knew the Catskills couldn't stay unfashionable forever. But it's a bit surprising just how quickly a place that hasn't been hip since our grandparents were kids has managed to reinvent itself. Eastwind Hotel & Bar is a case in point. It's co-owned by a German/Lithuanian couple who saw a bit of his own childhood in the landscapes and lodges of upstate New York, and who redesigned this 1920s-era lodge (and its outlying A-frame cabins) with an eye toward Scandinavian modernist style.
The Drifter Hotel
New Orleans, Louisiana
The vibe at the Drifter is like nothing else you've seen in New Orleans. It's a renovated mid-century motel, for one thing, the sort of low-slung two-story modernist building we've seen rehabilitated to great effect in towns like Austin, Texas. And while youth-oriented boutique hotels are not unheard of in this town, the Drifter goes one further: with its rotating selection of food trucks, its well-chosen craft beers, its third-wave coffee, and its charmingly hedonistic courtyard pool, it's tailor-made for young travelers with more taste than money.
The Rose Hotel
Los Angeles, California
If there's any part of the Los Angeles area that can still reasonably be described as bohemian, it's Venice, and as such it's a natural location for a low-frills, vintage-inspired boutique of the new breed. The sort of place that's curated, if you'll forgive the expression, rather than designed. The Rose Hotel springs from the minds of fashion photographer Glen Luchford and portrait shooter Doug Bruce, whose description of the place speaks for itself: "We never set out to create the perfect hotel; our walls are thin, and the building is wonky… But it's not like any other hotel."
Wm. Mulherin's Hotel
Philadelphia, Pennsylvania
It's been close to a century since Wm. Mulherin's Sons transacted any business from their whiskey-bottling plant in Philadelphia's Fishtown. For decades, all that remained was this 19th-century building, until it reopened as a fantastically successful wood-fired Italian restaurant. Wm Mulherin's Sons became a food phenomenon famous far beyond the up-and-coming neighborhood of Fishtown, and before long it was clear that a few bedrooms, to accommodate far-flung travelers, wouldn't go amiss.
The Cliffside Inn
Newport, Rhode Island
In Newport, Rhode Island's historic district, tradition isn't exactly in short supply. But with the Cliffside Inn, the New England–based Lark Hotels has transformed a beautiful Victorian house into a lovely 16-room boutique hotel. And not just any Newport Victorian — this one happens to have been the home of the painter Beatrice Turner, whose artwork adorns its interiors. Every room is different, though all are comparable in style after an extensive 2019 renovation, with eclectic Victorian-meets-contemporary interiors.
The Villa, Casa Casaurina
Miami, Florida
The old Versace mansion is back, this time as a luxury boutique hotel, under a new name: The Villa. This patchwork Italian-style palace is still every inch a monument to excess; the difference being that these days it's open to the public — or at least ten suites' worth of the public. A monument to minimalism the Villa most certainly isn't. The accommodations don't play it any safer than the hyper-ornate common areas; all the suites are intricately detailed, full of stained glass, mosaic tile and hand-carved furniture, along with everything a modern luxury hotel needs.
Hob Knob
Martha's Vineyard, Massachusetts
Martha's Vineyard is the kind of destination that can feel a bit closed off to outsiders. It's a place that's perhaps better known for vacation homes and vacation estates than it is for hotels. But there are some gems to be found, among them Hob Knob, a charming 19th-century house in Edgartown that's been converted into a small and intimate 17-room boutique-style hotel. It's a remarkably well-preserved piece of Gothic Revival architecture. The interior style is classic meets contemporary, traditional in character but all sparkling new.
Washington School House Hotel
Park City, Utah
The trouble with ski hotels, all too often, is that the majesty of the mountain setting seems to tempt hoteliers into taking the easy way out. You can't compete with nature, so why even try? The proprietors of Park City's Washington School House suffer from no such affliction. Here the natural environment, sublime as it is, is only complemented by a thoughtfully conceived built environment. Yes, it's a 19th-century schoolhouse, but rustic cutesiness is far from the dominant tone. These twelve rooms and suites vary in style, but they're all stylish, and all cleanly focused.
Argos Inn
Ithaca, New York
It may seem a more appropriate name for a cliffside resort in the Peloponnese, but Argos finds itself in a place with classical connections of its own — Ithaca, New York, home of Cornell University. This 1831 mansion was built as a private residence, and after a meticulous renovation, it's embarked on a new life as a hotel, with ten rooms and three suites that are classic in aspect, contemporary in style, and totally modern in comfort.
The Battery
San Francisco, California
If you're expecting a private member's club in today's San Francisco to be a sort of ping-pong playground full of app-pitching tech hucksters, then you'll be very pleasantly surprised by The Battery. And if the vibe, which is dark, moody, and bohemian, is more Hellfire Club than boys' club, then so much the better. The only way into the club is by nomination and acceptance by the board — or by reservation, which earns you one of 14 stylish, tastefully luxurious suites and rooms.
Caldera House
Jackson Hole, Wyoming
Some American ski lodges prize physical comfort above all else, and strive to be as inoffensive as possible in their aesthetics. Others focus most of their efforts on atmosphere and design, and go light on the kinds of extravagances that make a hotel a luxury hotel. What's rare is a hotel that does both — but Caldera House, in Jackson Hole, Wyoming, is exceptional in exactly this way.
Hotel Fauchere
Milford, Pennsylvania
It's often said that Pennsylvania is a microcosm of all of America — one big city on each end, and three hundred miles of farms, mountains and small towns in between. To look at the exterior of the Hotel Fauchère, in Milford, which looks straight out of American Gothic, you'd think you'd found the Platonic form of the rustic Pennsylvania farmhouse. But venture in and you'll find a boutique hotel that's a lot more contemporary and cosmopolitan than you'd expect, defying any concept of rural America as a somehow backwards "flyover country."