As Halloween nears, we turn to Hollywood for an intimate look at The Charlie. Built by Charlie Chaplin, filled with the whispers of his famous friends, it's now open to you as one of America's most distinctive hotels.
Let me preface this by saying that I don't believe in ghosts. I don't believe in haunted houses or clairvoyance or life after death. And no religion, too. But I do believe that the human mind is a vast, unknowable space capable of great mystery and misdirection. To paraphrase the Geto Boys, it plays tricks on us.
Such were my beliefs as I arrived at The Charlie in Los Angeles, prepared to spend a couple of nights in their Marilyn suite, named after Marilyn Monroe, who once resided there.
When we're deciding which hotels to feature in an individual profile like this, the main criteria we consider is uniqueness. We want to make sure you're seeing something you probably haven't seen before. The Charlie is as unique as it gets, and not only because of its celebrity backstory. Charlie Chaplin bought the West Hollywood property in the 1920s and built what stands there today: a collection of Tudor cottages surrounding an English garden — an homage to his native country.
We're suckers for any hotel that has an untraditional layout. The Charlie excels on this front, with 14 suites spread through 9 cottages, named for Chaplin's famous former guests. Betty. Marlene. Clark. Valentino. Marilyn.
All suites have full kitchens and washer-dryers. Many are two stories. Most have private patios. Some even take up an entire freestanding cottage. The Marilyn had it all. Our own little two-bedroom Hollywood bungalow for the weekend, carefully restored to its Golden Age glamour but tastefully updated to meet modern needs.
Marilyn's patio was ideal for morning coffee and evening cocktails. The wall of foliage that lent privacy included a kumquat tree and an orange tree. Growing elsewhere on the grounds were grapes, apples, and figs. The whole property is quiet and serene, with a residential vibe that was great for my family's short stay, but even better for long-term lodgers. Inside, the cottages don't overwhelm with self-satisfied nods to their own history. Subtle period details are left to speak for themselves. A leaded stained-glass window. A vintage sconce. A winding wood staircase with wrought-iron railing.
In addition to the full kitchen, the first floor of the Marilyn had a large living and dining room, along with a half bath tucked playfully beneath those twisting stairs. On the second floor, a full bathroom with a two-person shower that was perfect for taking a two-person shower; a smaller bedroom that was perfect for my young daughter; and the master, which was perfect for laying down to sleep with all my core beliefs about ghosts and haunted houses. To reiterate, I don't believe.
But I do believe in the power of imagination and the mind's ability to manifest whatever near-reality it desires. As I laid in the California king bed, staring up at the wide wooden beams and gothic chandelier, moonlight creeping through the dormer windows, I thought of all that might've happened in this house, and I wondered how much of it was filled with joy, and how much was pain. Monroe lived here in the 1940s, at the beginning of her acting career, when she had more failures than successes and struggled to stay under contract.
It took little effort that night to feel an eerie energy around me. After all, I wasn't just passing through this place, part of a queue, leaning my neck into a roped-off room. I was at my most vulnerable exactly where Marilyn had likely been at hers — in the bedroom, under the covers, wrestling with runaway thoughts in the long emptiness of the night. The floorboards creaked. Shadows shifted on the walls. I heard the chatter of guests and glasses downstairs. I heard playful whispers out in hallway, and howls of disappointment buried in the pillow. If I were so inclined, I'd say the house was haunted. But it wasn't. My mind was playing tricks.

Book The Charlie on Tablet Hotels.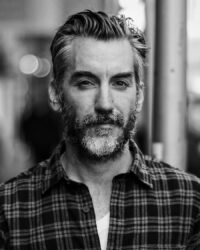 Mark Fedeli is the hotel marketing and editorial director for Tablet and Michelin Guide. He's been with Tablet since 2006, and he thinks you should subscribe to our newsletter.