New hotels keep opening in the Catskills, and they know why the people keep coming. The history of the region extends through their doors. So do the antiques.
My sprint through the Catskills began as far west as anything you could reasonably call the Catskills. Callicoon hugs the border of Sullivan County, one of four counties considered part of this famous mountain region north of New York City. But this far west isn't the Catskills that comes to mind for most. It's not the Borscht Belt — it's where the Borscht Belt sourced its meat. The landscape hits you like an agriculture-themed coloring book, a panorama of grain silos and farmhouses, more the feeling of heartland America than the mountains of upstate New York. But even here, driving way out in the countryside, I was seeing plenty of signs of life. Not metaphors, mind you. Actual signs. Beckoning me to follow their directions, and purchase their wares.
On New York City's streets, we have trash. But here, they had antiques — spilling out on the sides of roads, in the back and front yards, in tiny downtown storefronts. And at every turn a sign, a scrawled placard announcing an antique sale or a shop. I shouldn't have been surprised. The hotel at Seminary Hill & Cidery had brought me to Callicoon, and was itself something of an antique. Like nearly every hotel I would see over the following week in June, across the Catskills from the edges of Pennsylvania to Massachusetts, Seminary Hill was design-forward, a boutique hotel that didn't throw away its past, but spun it into treasure.
In the literal sense, the hotel had once been the doctor's residence and the small town hospital. But in concept, too, it took something others might have thrown away forever. The founders here, a married couple named Susan Manning and Doug Doetsch, made their lives in Chicago, but returned to the Catskills to follow generations of Doetsch's ancestors in making cider from their own land. And in welcoming air-starved New York city boarders to their own home. In the Catskills, I was just the latest in a historical stream of tourists.
The latest boutique hotels follow a well-trodden path, too. Tourism in upstate New York has always reflected the trends in the city. In this new moment in the Catskills, you're never more than a ten-minute drive from a serious hike through thick forest — and you're never a minute further from a trendy seasonal beverage. At Seminary Hill, I toured a state-of-the-art cidery, a magnet for environmentally conscious, farm-to-table–loving cider heads. At Hotel Lilien, in the central Catskills town of Tannersville, I planted boots muddy from the famous Kaaterskill Falls and ordered a seasonal mezcal mixed with green juice and jalapeno. On the other side of the state, straddling the border with Massachusetts, I took a walk through the gorgeous, chalet-influenced summer escape and ski haven Little Cat Lodge, created by the people behind buzzy city spots like Mile End Deli, Jac's, and Pebble Bar.
Suffice to say, professional design teams have had their say on the decor at all these places. But if there's one thing that defines this new wave, it's a taste for the antique.
Call it "woodsy chic," a kind of bold contemporary design mixed with soothing natural colors and furniture sourced from the seemingly endless antique shops and estate sales. At hotel after hotel, I found the transition between inside and out to be comfortably flattened by that style. This isn't the city, where the stark minimalism of your hotel room creates a refuge from the bustling streets. It's a different philosophy entirely in a place like this, where the feeling within doesn't need to be so strongly differentiated from the feeling without. You came to the Catskills for a reason. Even when you're inside a brand new boutique hotel — you still want to feel like you're here.
That means a sense of the region, but it doesn't mean the styles can't be bold. At Urban Cowboy, the maximalist patterned wallpaper nearly turns your eyes to kaleidoscopes. But it's brought back to earth, and to this place, by large picture windows that bring in the forest (obscured only by a sumptuous clawfoot bathtub) and an old-fashioned stove or wooden armchair in the corner of the room. I couldn't take a bath there — but only because I had to move on to Autocamp Catskills, another of the new wave's true delights that's antique at heart.
A glamping resort on the site of a former campground, Autocamp is a collection of vintage-influenced Airstream trailers, inspired by mid-century modernism and created specifically for the brand; designed to feel extra wide, and comfortable, like a little hotel room on wheels. Here, the thin line between outside and in is held only by your front door. Swing it open and find your campfire. When it rains, you can make your salted chocolate s'mores in the microwave.
Me, I bought Beyond Burgers in a lobby designed to look like a classic upstate lodge, watched the weekday warriors fire off emails and take Zoom calls in front of floor-to-ceiling windows, and thought about how the Catskills are a-changin'. I suspect it's why there are so many antiques available to begin with, as locals cash in or bail out on rising property values, and more businesses move in to scoop up the treasures left behind. This is a place that's gone through countless booms and busts, but what's perennial about it is still well preserved. The woods aren't going anywhere, and there will always be antiques.
Driving from town to town and hotel to hotel, I heard one refrain over and over — of guests who come to the Catskills not because it's new, but because it's old. Because it's where they used to come growing up. Where they summered with their grandparents. Those resorts are largely gone, but new ones have taken their place. When the city gets to be too much, it's still the place to go.

Callicoon, New York
Seminary Hill Orchard & Cidery, on the outskirts of Callicoon, New York, has drawn attention for its modern cidery structure, which takes the traditional barn-style silhouette in a modern and extremely sustainable direction. Just down the road, however, in a pair of houses renovated by local hospitality experts Homestedt, is what brings us to Seminary Hill: the Boarding House, a 17-room boutique hotel in a Shaker-inspired contemporary-classic style.
Tannersville, New York
The new wave of Catskills hospitality is less about resorts and more about boutique-scale hotels — in the case of Hotel Lilien, an 1890s Victorian mansion and estate in Tannersville, New York that's been transformed into an 18-room boutique hotel. It's the work of San Francisco–based designers, but there's nothing overtly Californian about the design. Instead, it's an eclectic survey of multiple styles and eras, including classic 20th-century modernist design pieces and a constantly churning collection of artworks by contemporary New York artists.
Hillsdale, New York
The Hudson Valley's Little Cat Lodge is named not for a specific little cat, but for Catamount Mountain, in whose shadow the town of Hillsdale, New York stands. This is a properly rural escape, make no mistake — but it's also within driving distance of both Boston and New York City, and attracts urban travelers with the promise of well-considered retro-Alpine style as well as a restaurant conceived by its hosts, who are also award-winning restaurateurs.
Big Indian, New York
More cowboy than urban, frankly; the first thing that strikes you about Urban Cowboy Catskills is that the rustic vibe, rather than being replaced with hard-edged minimalism or Scandinavian modernism, has been left intact, or even heightened. Sure, it's a contemporary, carefully curated, and very self-aware sort of rustic, but it's all the more likeable for it.
Saugerties, New York
AutoCamp are purveyors of luxe Airstream trailers and stylish freestanding cabins, set in adventure-ready locations beloved by experience-hungry young travelers. AutoCamp Catskills, just outside of Saugerties, brings the luxury-boutique camping experience to upstate New York; accommodations include the aforementioned trailers and cabins as well as upscale "X Suites" and summertime-only canvas tents.
Windham, New York
It's co-owned by a German/Lithuanian couple who saw a bit of his own childhood in the landscapes and lodges of upstate New York, and who redesigned this 1920s-era lodge (and its outlying A-frame cabins) with an eye toward Scandinavian modernist style. The result is a sort of high-design summer-camp vibe, with more than a touch of luxury.
Hudson, New York
The most successful boutique hotels make the most of the raw material they're given — in the case of the Amelia Hotel, in the small upstate city of Hudson, that's a 19th-century Queen Anne–style house on a quiet residential street a short walk from Warren Street, the town's main drag. It's undergone a thorough but very sensitive renovation, and has been updated with modern furniture and quietly chic design pieces, as well as pieces by some big names in modern and contemporary art.
Hunter, New York
Hunter Mountain, in the Catskills, is the setting for a Seventies ski lodge–inspired boutique hotel that's intended as a four-season escape from the city. The look is one part idealized retro summer camp and one part crisp contemporary design, and the comforts are luxurious but far from opulent. Hunter Tavern, the restaurant and bar, serves exactly the sort of hearty modern-rustic fare you'd wish for.
Kingston, New York
For a modern-day escape that's rooted in Kingston's history it would be difficult indeed to do better than the Hotel Kinsley. Its 42 rooms are spread across four restored historic buildings, including a stately old bank and a pre-Revolutionary War cottage. And alongside the stylish, luxe accommodations you'll find impressive New American fare courtesy of Restaurant Kinsley, a joint venture between a couple of highly regarded New York restaurateurs.
Callicoon Center, New York
The original house dates back to 1905, and by the '40s it had established itself as a resort, well in advance of the Catskills boom of the Sixties. It's always been known for its singularly laid-back, laissez-faire atmosphere, and the slogan "a friendly place for nice people" is as true now as it was then. And while today's Callicoon Hills retains its delightful throwback atmosphere, it's right at home in the boutique-hotel era of the 21st century.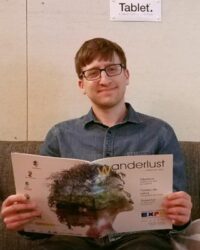 Mitchell Friedman is an editor and social media manager for Tablet and Michelin Guide hotels. He's been with Tablet since 2018, and wants you to subscribe to our newsletter.