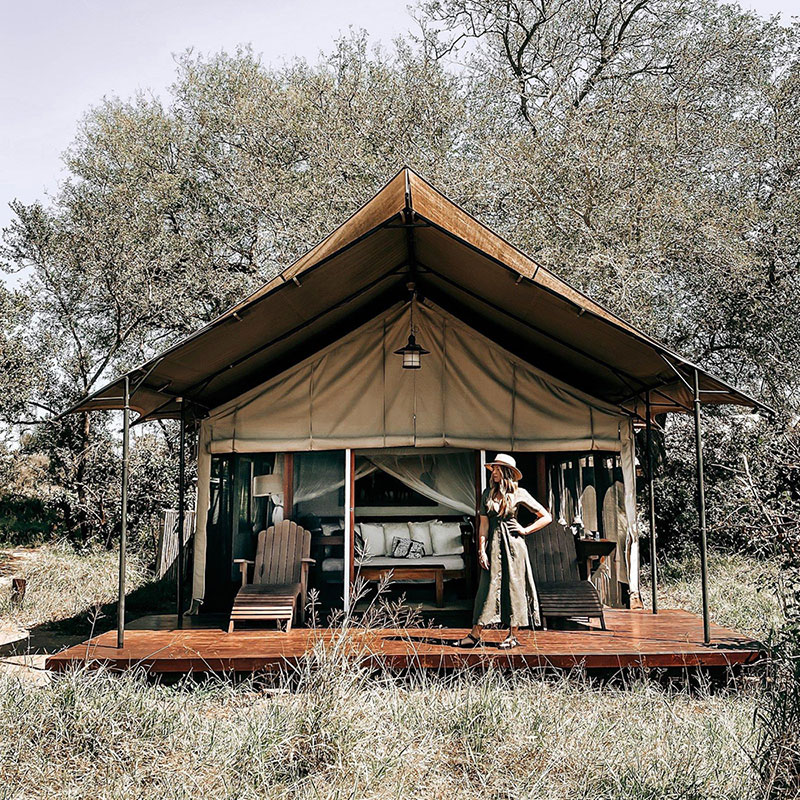 South Africa's parks and private game reserves are not only filled with the country's "Big Five" wild animals, they also boast some of the world's most respected and remarkable safari hotels.
The safari as we know it today was developed in Africa throughout the 1900s. But it was only toward the end of the century, on the land in and around South Africa's famed Kruger National Park, that the modern luxury safari began to take shape. That area, along with other game reserves in the country, are a haven for Africa's Big Five — elephant, lion, rhino, leopard, buffalo — and a breeding ground for the types of hotels we like to see protected and cherished nearly as much as those amazing animals: unique, purpose-built, slightly indulgent accommodations that exist best in the place they were born.
On a safari, you get up close and personal with exotic wildlife. How much you'd like to maintain that intimacy back at your safari hotel is entirely up to you. Intrepid travelers might relish being roused in the middle of the night by the rustling of leaves and the scraping of canvas as an unknown creature saunters by the outside of their tent. Others might opt for taking a few steps back from all that realness, preferring instead a less immersive slumber a little higher off the ground. You know what we're going to say next: On Tablet, we've got options to meet either taste.
Ladysmith, South Africa
The safari experience has changed in many ways since Hemingway's day. For one thing, you're here to photograph the wildlife, not bring it home. Perhaps most important, from the perspective of a lover of high-end hospitality, is that safari lodges are only getting more and more luxurious. Esiweni Luxury Safari Lodge is a case in point. Its setting, in the Nambiti private game reserve, is stunning, varied, wild, and chock full of animals. And back at the lodge, the living is easy indeed.
Barrydale, South Africa
Sanbona Wildlife Reserve, in South Africa's Western Cape, is not one luxury lodge, but four. Tilney Manor is built around the estate's original manor house, while Dwyka Tented Lodge offers a futuristic vision of safari-camp life; Explorer Camp's tents are closer to roughing it, though each still comes with a private deck and a heated Jacuzzi; and at Gondwana Family Lodge, a large swimming pool awaits and wildlife experiences are specifically designed with children in mind.
Sabi Sand Game Reserve, South Africa
Lion Sands is in the top tier of South African experiences. Four unique modern lodges and two private villas serve as guests' home base for unforgettable safaris along the Sabie River. This region is rich in biodiversity, and it's all for the benefit of those staying at Lion Sands — this is the only sanctuary located between the Sabi Sand Game Preserve and Kruger National Park. In addition to guided tours, where minimal human contact is promised, lodge treehouses — seemingly floating above an expanse of grassland — are reservable.
Grahamstown, South Africa
The six suites at Kwandwe Ecca Lodge offer an unforgettable view over a private reserve of thick vegetation and steep shale cliffs in southern South Africa. The suites are constructed in order to feel as close as possible to nature; natural light is plentiful, views expansive, and showers open-air, facing the lush foliage beyond. Game rides, fishing trips, walking tours, and other safari activities are available for reservation. And a South African barbecue class/meal offers a grounding in the traditional braai style.
Paterson, South Africa
Shamwari Sindile's nine freestanding tents are slightly elevated above the veld along the side of the Bushman's River, each one minimizing its environmental footprint while also paying tribute to the habitat of the solitary leopard. Tents or not, these are luxe accommodations, with Nespresso machines and indoor fireplaces as well as plunge pools and outdoor showers. From here you've got a front-row view of the Eastern Cape wildlife in the Shamwari Private Game Reserve.
Kruger National Park, South Africa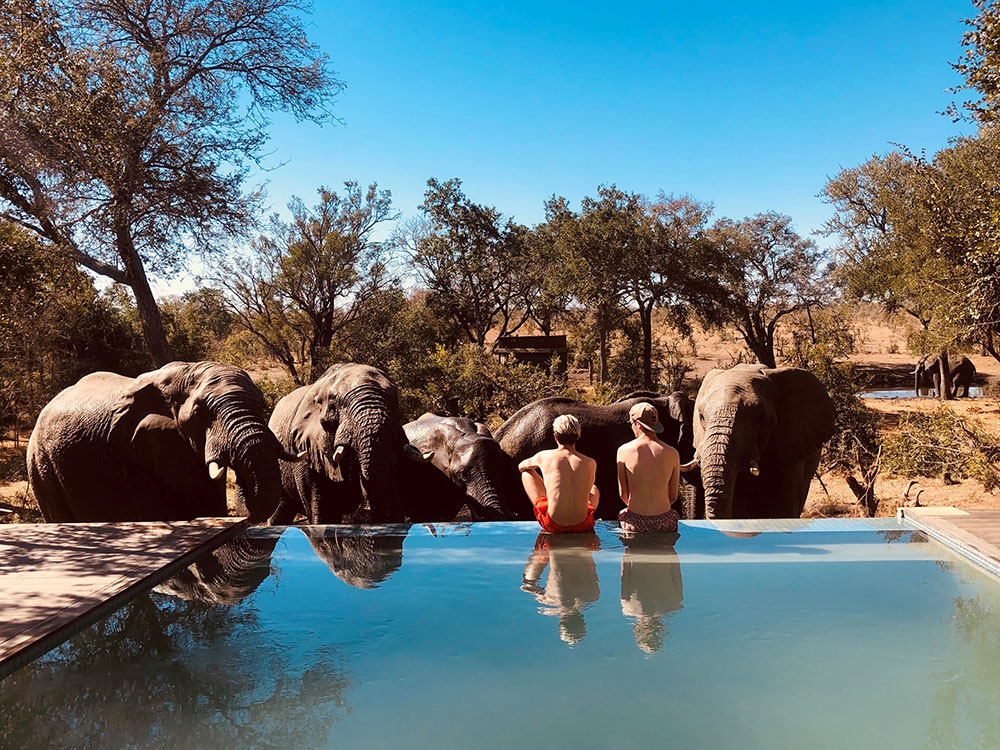 The Manyeleti Game Reserve encompasses nearly a hundred square miles of wild bush bordering Kruger National Park, and is populated by all manner of game, including the Big Five. It's home to some humans as well, namely the Mnisi tribe, who own and manage the lands, and guests of the Honeyguide Tented Safari Camps. The park is private, but within the camps there's a refreshingly egalitarian, community-oriented vibe — meals are taken communally, and there's every opportunity to indulge in a bit of camaraderie.
Hoedspruit, South Africa
Bordered by the Makhustwi River and opening out onto more than 60,000 acres of grassland and savanna, Makalali River Lodge is an immersive setting that puts guests in close contact with the continent's most unique wildlife. The lodge's private suites have raised viewing decks and thatched roofs, but rough and rugged they're not — sumptuous bedding, picture windows, and rich woods accent each suite, putting a spin on the safari aesthetic that is modernizing without being sanitizing.
Kruger National Park, South Africa
Some modern luxury safari lodges differentiate themselves by pushing against the boundaries of tradition. Others set themselves apart by pursuing the traditional concept of the safari camp to its logical conclusion. The sublime Royal Malewane, in Kruger National Park, falls squarely into the latter category: eight palatial thatched-roof suites, decked out in elegant colonial style, stand on stilts above the bush of the nature reserve, connected by walkways offering an elevated view of the surrounding landscape.
Moditlo Private Game Reserve, South Africa
The Vuyani makes its home in the Moditio Private Game Reserve, where it's the only place to stay. The Moditio is adjacent to the 36,000-acre Blue Canyon Conservancy, and Kruger National Park, itself one of the largest, oldest and most wildlife-rich reserves in the world. The safari-lodge charms of the Vuyani include two daily game drives led by expert local trackers, three over-the-top meals a day, accommodations that look rustic on the outside but contain such features as marble bathrooms within.
Hectorspruit, South Africa
Nestled in Kruger Park near South Africa's eastern border, Lukimbi is a tasteful, comfortable throwback to the days when Ernest Hemingway was tramping around the continent. Guests can expect to see lions, rhinos, leopards, and more on this boutique hotel's guided safaris, where they might also encounter any of the park's 420 native bird species. Suites are furnished with classic South African décor, and the premier suites feature a bath big enough for two, a private patio and pool, and the occasional visit from the neighborhood's elephants.
Kruger National Park, South Africa
You can't get closer to Kruger National Park than at Jock Safari Lounge. This luxury lodge is located in the southern end of the 15,000-acre park, and offers a variety of game drives, wilderness walks, birdwatching tours and even safaris designed specifically for children. The main lodge's twelve suites feature thatched roofs and privacy provided by lush trees and reed walls, each one with a beautiful view of the scenic riverbed, as well as a path to a private deck with plunge pool.
Paterson, South Africa
Another lodge that falls under the Shamwari umbrella, within the private game reserve of the same name, Shamwari Bayethe's twelve tents aim to provide top-flight luxury alongside total immersion in the landscape of the Eastern Cape. It's a classic luxury-safari experience, with ample opportunity for viewing the so-called Big Five, and accommodations that expand what you thought possible from a mere tent, including outdoor showers, plunge pools, and living rooms warmed by fireplaces.