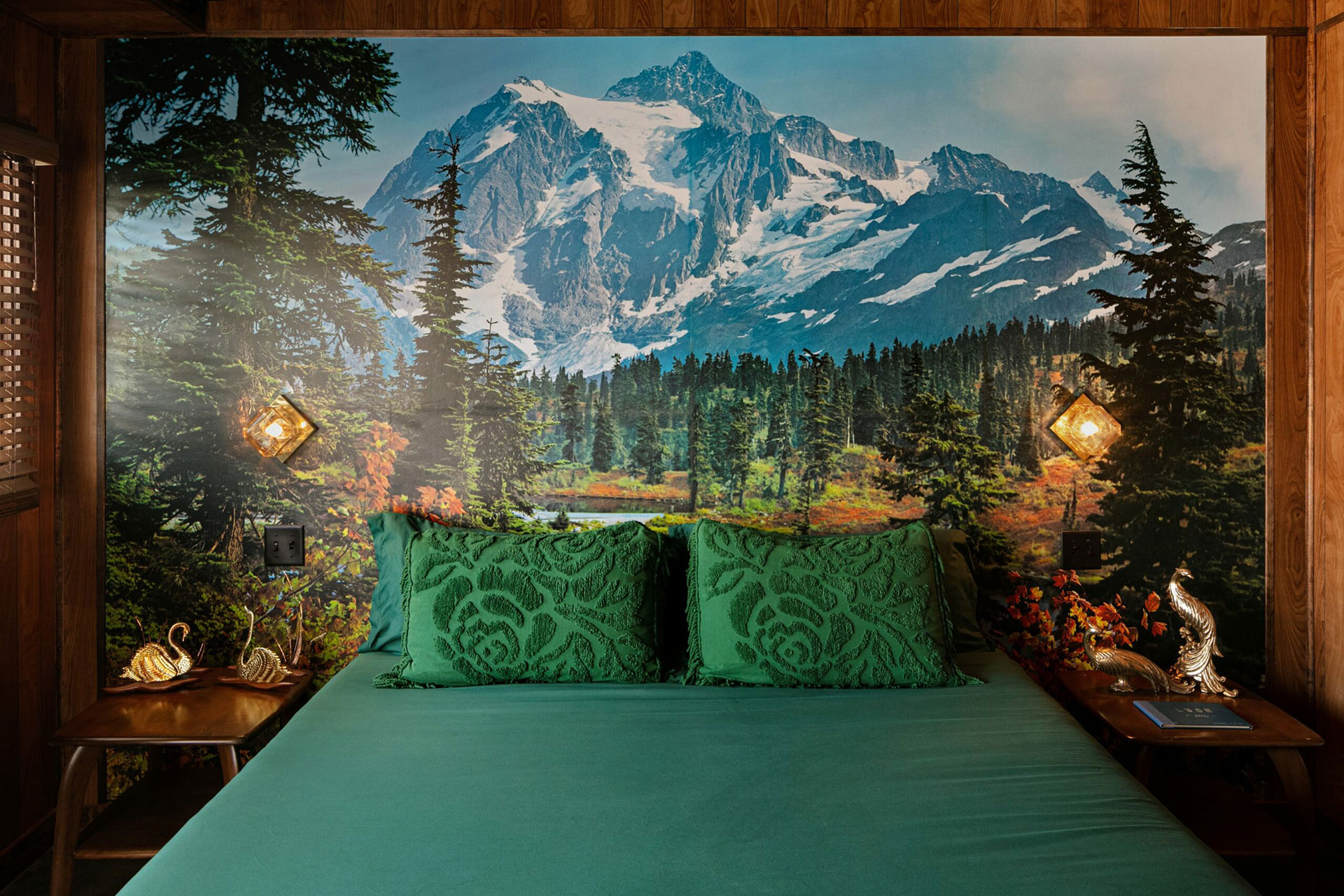 They seemed like a novelty in the nineties, but refurbished motels have gone from kitsch to cutting-edge, and play a key role in the future of hospitality.
Near the end of the last century, a trend emerged. Forgotten old motels and motor lodges were being transformed into well-run, hip little hotels. At first it was a bit surprising to see the rebirth of these run-down structures happening alongside the high-design, big-city glamour of the boutique hotel boom. Their utility quickly became clear. Sleek and slick isn't for everyone. It can be even less appropriate when you're on the road.
20+ years on, restored motels have proven to be for more than just passing through. The modern motel is now a destination in its own right — an appealing target at which to aim your front bumper. And in the past couple of years the appeal has only grown. Why? We'll give you one guess.
Just like you, we can't wait until the pandemic is a thing of the past. If I never have to write the word "coronavirus" ever again, it will be too soon. But the effects of COVID will last long after its demise and one of those effects is that it sent a lot of people back to nature, to spaces with plenty of space.
A peculiar thing has happened where I live, in New York City. Rents are through the roof, and so is car ownership. The pandemic pushed people out of town — for a while. Now they're back, and they're having to offer well above asking for apartment rentals. (Bidding wars! For rentals! We thought that only happened with tech bros in San Francisco.) Meanwhile, the number of cars registered in the city has skyrocketed — the highways jammed with more broken heroes than ever.
All these new cars need somewhere to go, and now that everyone wants their own Walden, the cars are going upstate, out east, down the shore, set on a path of highways and parkways and byways and back streets. And boy howdy there are a lot of renovated, remodeled, refurbished, and restored motels on those roads, none of them terribly content to give you just a bed and a roof for the night. They want to give you entertainment, cuisine, cutting-edge design, and — appropriate for these times — doors that open right up to the outside air, maybe even right to your car.
For all of its influence, the pandemic merely accelerated what was already in progress. With environmental sensitivity more important than ever, repurposing a roadside inn is a great way to reuse existing materials — especially when they come pre-loaded with a visual character this clearly defined. In an age where authenticity trumps excess, little reimagining is required to bring motels back to relevance in the current century. In fact, the format itself is back in full fashion: brand new, purpose-built motels and motor courts are starting to become a serious thing.
We've collected here some of our favorite restored motels in America — evidence that the craze is showing no signs of slowing, and that the road to a sustainable future goes through a discarded past.

The Pearl
San Diego, California
It's an apt name for a hotel like this. The Pearl is a pleasant surprise: a classic, terribly dated and kitschy mid-century motel, renovated and reimagined as a pocketbook-friendly boutique hotel, the sort of place that's full of vibrant young people enjoying themselves in that glamorously unheeding way in which vibrant young people sometimes will.
Tourists
North Adams, Massachusetts
The Berkshires are undergoing the sort of revival that travel trend pieces are made of. Thanks in part to the redevelopment that's accompanied MASS MoCA, the formerly industrial town of North Adams is living a second life as a booming cultural destination. Outside the town center you'll find TOURISTS, a Sixties motor lodge reborn as a very modern, very hip little country boutique hotel.

The Longleaf Hotel
Raleigh, North Carolina
In Raleigh, North Carolina, an undistinguished corporate chain hotel was found to have, beneath a layer of stucco, the bones of a fossilized Sixties Travelodge — and after an archaeological-grade restoration and a modernist-inspired redesign it's back in business, this time as the Longleaf Hotel. Named, fittingly, for a classic-but-endangered emblem of North Carolina's forests.

Austin Motel
Austin, Texas
Now that Liz Lambert, the boutique-hotel queen of Texas, has taken over the Austin Motel, all is again right with the world. The Austin's distinctive sign has been drawing double-takes along South Congress since 1938, and now it's backed up by some equally distinctive retro-themed interiors. It's joins the Saint Cecilia and the Hotel San José as part of South Austin's trifecta of exceptional lodgings.

Modern Hotel
Boise, Idaho
The Modern Hotel, which revises a former Travelodge motel into a mod micro-oasis, is a sign that Boise is ready to assert itself as a cool modern city. Rooms and suites at the Modern Hotel are tastefully retro with teak furnishings. A landscaped courtyard doubles as a gathering space for guests and spill-over for the hotel's Modern Bar, surely one of the slickest martini spots in the state.

Brentwood Hotel
Saratoga Springs, New York
Saratoga Springs is undergoing a bit of a renaissance as city folk rediscover the charms of small-town life. It's also famous for the Saratoga Race Course, which hosts horse races in the summer months. And just across the road from the racecourse's paddock and stables is the reason we're here: the Brentwood Hotel, designed and also owned by Studio Tack, a Brooklyn-based design firm.

Anvil Hotel
Jackson, Wyoming
Jackson Hole has all the ingredients for outdoor adventure, and it's got the infrastructure to support it (the valley's most notable lodgings tend toward the upscale end of things). The Anvil Hotel, in the town of Jackson proper, goes another way. This is a no-frills motel upgraded into something stylish, but rather than high gloss it aims for a retro unpretentiousness, and hits the nail right on the head.

Cuyama Buckhorn
New Cuyama, California
Set deep in the desert of Santa Barbara County, the Cuyama Buckhorn isn't just any old motel — this mid-century classic was designed by the architect George Vernon Russell, who was responsible for a number of Los Angeles landmarks. It took a thorough restoration, but today's Buckhorn features 21 guest rooms in a hybrid cowboy-Modernist style, while the restaurant, the self-titled Buckhorn, is pure cowboy.
The Starlite Motel
Kerhonkson, New York
With road trips and local travel on the rise, the Catskills, with their plentiful supply of mid-century hotels, motels, and resorts, are enjoying a second life. And while plenty of modern-day Catskills hoteliers are embracing the region's hospitality history, few are quite as unashamedly retro as Kerhonkson's beautifully restored Starlite Motel.
Hope Springs Resort
Desert Hot Springs, California
Hope Springs references two aspects of classic Californiana at once — on the one hand, the mid-century modernist roadside motel, and on the other, the natural hot springs that are the hotel's main attraction (the "springs" in Palm Springs is there for a reason). After extensive renovations Hope Springs is down to just ten minimalist-chic rooms, which lends a private-retreat vibe to the place.

Hotel Phoenix
San Francisco, California
San Francisco's original rock-and-roll hotel was a counterculture haunt in the '80s and '90s. Thanks to a courtyard with space to park a tour bus — and a tolerant neighborhood — it was the lodging of choice for rock stars from David Bowie to Nirvana. It was recently taken over by the Bunkhouse hotel group, an inspired combination that improves the Phoenix's style and atmosphere without sacrificing its rock-and-roll spirit.

Vagabond Hotel
Miami, Florida
The Vagabond was one of many family-friendly motels that popped up in Miami to cater to the postwar surge of road-trip tourists, and in short order, it was hosting the likes of Frank Sinatra and Sammy Davis, Jr. But like many vintage landmarks, the motel fell into disrepair. After sitting empty for years, the MiMO icon got the star treatment, reopening in 2014 to considerable fanfare among the design set.

Verb Hotel
Boston, Massachusetts
To find a mid-century motel in the shadow of legendary Fenway Park is rare luck. The obvious thing to do might have been to turn it into another place of Red Sox worship, but Boston has plenty of those. Instead the proprietors of the Verb chose to pay homage to the Fenway/Kenmore neighborhood's role in rock history — and the result is something it's safe to say you can't get anywhere else.

Ace Hotel & Swim Club
Palm Springs, California
One struggles to find a better word than "funky" to describe the sensibility at Ace Hotel & Swim Club: vintage but not retro, with a celebratory respect paid to the past rather than an ironic arched eyebrow. And sustainability here is not a slogan or a mission statement but an organic side effect of the use of second-hand furniture and surplus hardware.

Skyview Los Alamos
Los Alamos, California
A burgeoning wine culture has led to a substantial uptick in tourism in the Santa Ynez Valley. Hence the need for a hotel of Skyview's caliber. The original Skyview was a late-Fifties example of a style that perhaps erred a bit on the utilitarian side — but given today's taste for rehabilitated spaces and salvaged décor, it's the perfect skeleton for something like the new Skyview.

The Dive Motel & Swim Club
Nashville, Tennessee
Yes, Dive Motel's name is a play on words: on one level it's a reference a certain no-frills approach to hospitality, along with a beautifully realized retro sensibility that's a perfect corrective for an increasingly polished Nashville scene. But the only thing that's truly divey about it is the Swim Club that makes up the second part of its name.

Spa City Motor Lodge
Saratoga Springs, New York
After a thorough reimagining at the hands of New England boutique hoteliers Lark Hotels and Californian designers EDG Design, the Spa City Motor Lodge has transformed itself into the sort of stylish, modern lodging that every small town needs at least one of — especially a town like Saratoga Springs, whose population swells on summer weekends as thoroughbred racing fans converge on the oldest track in the country.

SCP Hotel Colorado Springs
Colorado Springs, Colorado
Colorado Springs might not be the first place you would expect to find an eco-friendly boutique hotel whose initials stand for Soul Community Planet. But this part of the Front Range certainly has the natural beauty to justify it, and the SCP Hotel Colorado Springs, after a thorough renovation of a two-level Sixties motel, doesn't go halfway — this is a stylish and fully realized boutique hotel.

Rye Motor Inn & Swim Shop
Rye, New Hampshire
Rye Motor Inn & Swim Shop begins with a beautifully restored 1950s motor inn — but rather than leave it in its minimally serviced state of nature, its proprietors have turned each unit into a proper apartment, complete with a full kitchen (and Smeg fridge, naturally). The hospitality is low-touch, meals are self-catered, and there's not just a hotel pool but the beach as well — there's one just across Ocean Boulevard from the hotel.

Sound View Greenport
Greenport, New York
The North Fork is the less traveled side of eastern Long Island, and it's here that you'll find Sound View Greenport, a Fifties motel that's been restored, rehabilitated, and given the boutique-hotel treatment by Brooklyn's Studio Tack. The inspiration for the style in this case was New England's homegrown modernist heritage, which lends Sound View's visual identity an extra measure of authenticity.