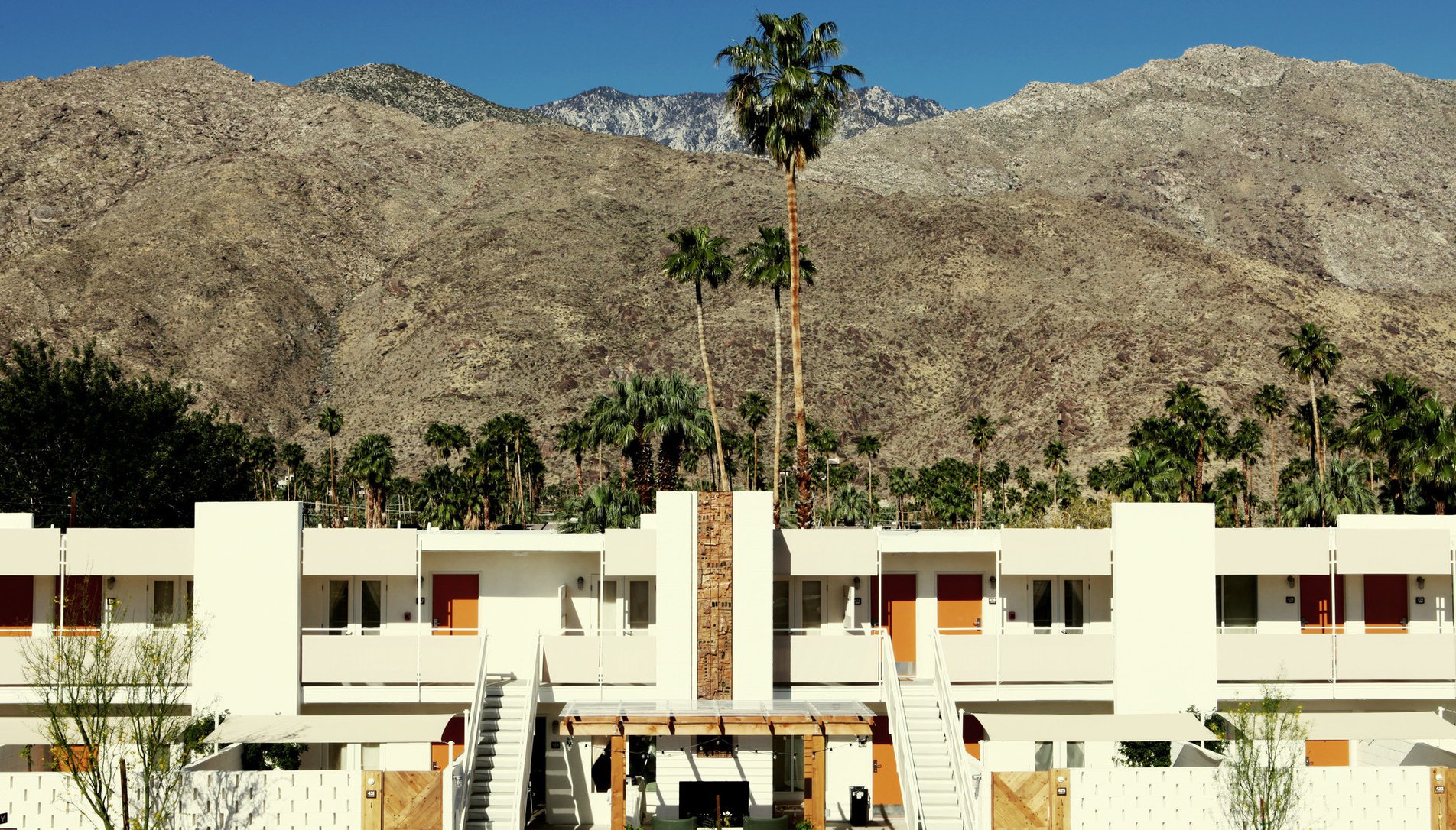 When it comes to California's top hotels, not all that glitters is on the coast.
California is renown for its coastline, perhaps the most iconic in the world. We've written about it a number of times, highlighting the magic of Highway 1 and the bounty of Big Sur. Yet from Palm Springs to the Napa Valley, the state is also blessed with inland travel destinations that rival those famous communions with the Pacific. The hotel offerings are no different. A bedroom on the beach is tough to beat, but you'll find stiff competition when you look eastward. The sheer variety of landscapes in landlocked California means a plethora of unique hotels, each telling the story of its town, each reflecting the characteristics of its surroundings.
La Serena Villas
Palm Springs, California
Palm Springs may be virtually synonymous with mid-century modernism, but it's far from the only style in town. La Serena Villas is the latest transformation of a 1933-vintage Spanish-style hotel, and while its new owners have thoroughly updated it for the boutique-hotel era, they've kept its stylistic inspiration intact — in fact you'd be hard pressed to find a lovelier example of colonial-contemporary architecture and design.
Ace Hotel & Swim Club
Palm Springs, California
At the Ace Palm Springs you don't occupy spaces created by big-name designers, dine in a celebrity chef's concept restaurant, or drink in some nightclub impresario's branded cocktail bar. Here you drink in a high-desert dive bar and sit for meals in a repurposed diner — ordering from a menu that's high-quality and locally sourced but still comfortingly familiar. One struggles to find a better word than "funky" to describe the sensibility: vintage but not retro, with a celebratory respect paid to the past rather than an ironic arched eyebrow.
Two Bunch Palms
Desert Hot Springs, California
Palm Springs is famous the world over, but Desert Hot Springs, twenty minutes' drive to the north, is its quieter, more private counterpart. In the middle of the last century, when Hollywood and Palm Springs were both at their most glamorous, more than a few stars preferred to escape the limelight at Two Bunch Palms, a delightfully down-to-earth hotel that's been doing wellness since before "wellness" was a word.
Pioneertown Motel
Pioneertown, California
The Pioneertown Motel is stylish and comfortable, but stops short of Hollywood-style glamour or opulence. The rooms combine vintage charm with a contemporary design eye and some custom furniture. The Canteen is the all-day lounge, but it's no restaurant — there's a surprisingly good one within walking distance, though, as well as Pappy and Harriet's, a Western-themed rock-and-roll bar and barbecue joint that hosts national acts and a famous open mic.
Lakehouse Hotel and Resort
San Marcos, California
The word "lakehouse" conjures up a certain rustic charm and, if you're lucky, memories of childhood vacations gone by: days spent swimming and boating, evenings spent chatting around a fire, nights spent wrapped in quilts and quiet. The Lakehouse Hotel and Resort, on the shores of Lake San Marcos, north of San Diego, takes the best of the lakehouse experience and removes the downsides — there's housekeeping here, for example, along with the other pleasures of a luxury boutique hotel experience.
Rancho Valencia Resort
Rancho Santa Fe, California
Just north of San Diego, a few miles inland from Del Mar, is the Rancho Valencia Resort, a quiet retreat in a private canyon near the affluent residential community of Rancho Santa Fe. Accommodations are scattered about the grounds, hacienda-style, with one or two suites to each casita. Suites feature cathedral ceilings, hand-painted tiles, fireplaces, and above all a generous measure of space. This place could be Southern California's best-kept secret.
Skyview Los Alamos
Los Alamos, California
Not the Los Alamos of Manhattan Project fame, but Los Alamos, California, a mere speck of a place in the Santa Ynez Valley of Santa Barbara County, where a burgeoning wine culture has suddenly led to a substantial uptick in tourism. Hence the need for a hotel of Skyview's caliber. Skyview Los Alamos joins the ranks of formerly undistinguished American roadside motels that have been rehabilitated into attractive and quietly luxurious boutique hotels.
Inn Paradiso
Paso Robles, California
In between the two sprawling metropolitan areas of Los Angeles and San Francisco there's a much quieter, much more pastoral version of California living. San Luis Obispo County promotes itself with the tag SLO-Cal, and whatever you think of the pun, it's an accurate assessment. Paso Robles is where California's Old West roots meet a burgeoning wine industry, and it's also where you'll find a stylish slice of slow living, courtesy of Inn Paradiso.
Hotel San Luis Obispo
San Luis Obispo, California
The San Luis Obispo is a boutique hotel that's equally suited as a home base for exploring or as a sanctuary for a private getaway. The hotel's elegant modern exterior ruffled some feathers early on — this town loves its Spanish Colonial architecture — but it's a vibrant addition to the downtown historic district. Inside, expect to find airy and spacious suites, decorated in a style that draws inspiration from breezy beaches and boho-chic ranch life.
Cedar House Sport Hotel
Truckee, California
The postwar ski boom and the ensuing adventure-tourism era have been kind to the California town of Truckee, a Gold Rush–era waystation that's now thriving thanks to its proximity to Lake Tahoe. Cedar House Sport Hotel is a stylish and contemporary European-inspired take on the timeless mountain lodge, with warm-toned minimalist guest rooms and an upscale-yet-accessible restaurant, Stella, serving a globally inspired menu featuring locally sourced ingredients.
Coachman Hotel
Lake Tahoe, California
A thoroughly renovated pair of mid-century motels, the Coachman is now the hip mountain lodge this part of the country has long needed. It's nothing if not conveniently located, a short walk from the lake, the gondola to the Heavenly ski area, and neighboring Stateline, Nevada, where all sorts of laws are a little more permissive. The interiors are boutique-chic meets camp rustic, and the amenities are minimal but well-chosen, like a lobby bar and café serving Stumptown coffee and local beers.
Stanford Park Hotel
Menlo Park, California
While Silicon Valley might be taking over this corner of California, tech culture hasn't infiltrated every single house on the block. Case in point: the Stanford Park Hotel. As the name and the red-brick exterior indicate, it's a hotel with closer ties to the Ivy League than to Facebook, a place where you'll find rocking chairs on the front porch and afternoon tea served in porcelain cups, not virtual reality rooms and a burrito bar.
El Dorado Hotel
Sonoma, California
Not every worthwhile hotel in the California wine country is a luxury compound with a vineyard view. El Dorado Hotel & Kitchen is as urban as it gets, at least in tranquil Sonoma, California — this 27-room boutique hotel stands right on the town's central square, surrounded by art galleries, tasting rooms, and excellent restaurants (including its own, which we'll return to in a bit).
Calistoga Motor Lodge and Spa
Calistoga, California
California's Napa Valley hasn't exactly had trouble attracting travelers, thanks to its phenomenal food and wine scene and its incredibly pleasant climate and landscape. It's been a touch late, however, to embrace the boutique motel trend, tending rather toward ultra-luxe wineries and resorts. With the Calistoga Motor Lodge and Spa, however, that's all changed; here's a '40s motor lodge reimagined in a retro-influenced contemporary style by the design firm AvroKO.
h2hotel
Healdsburg, California
Just three or four decades on from the beginning of the great Northern California wine boom, and finally a local style is emerging. Italian and French architecture made sense in the early years, when the wineries of the Napa and Sonoma valleys were still striving to be taken as seriously as their European counterparts. But today's California has a homegrown architectural tradition, a fine example of which is downtown Healdsburg's decidedly modern h2hotel.
Carneros Resort and Spa
Napa, California
Finally a break from the Tuscan-Provençal style that seems to dominate the California wine country. Carneros Resort and Spa, at the south end of Napa, close to San Francisco, is rather more modern, its style a sort of rustic minimalism, its inspiration seemingly drawn not from Europe but from the American Midwest and Northeast. The corrugated metal roofs of the cottages are striking and unassuming at the same time, and fit well into the landscape of rolling hills and wide-open farmland.