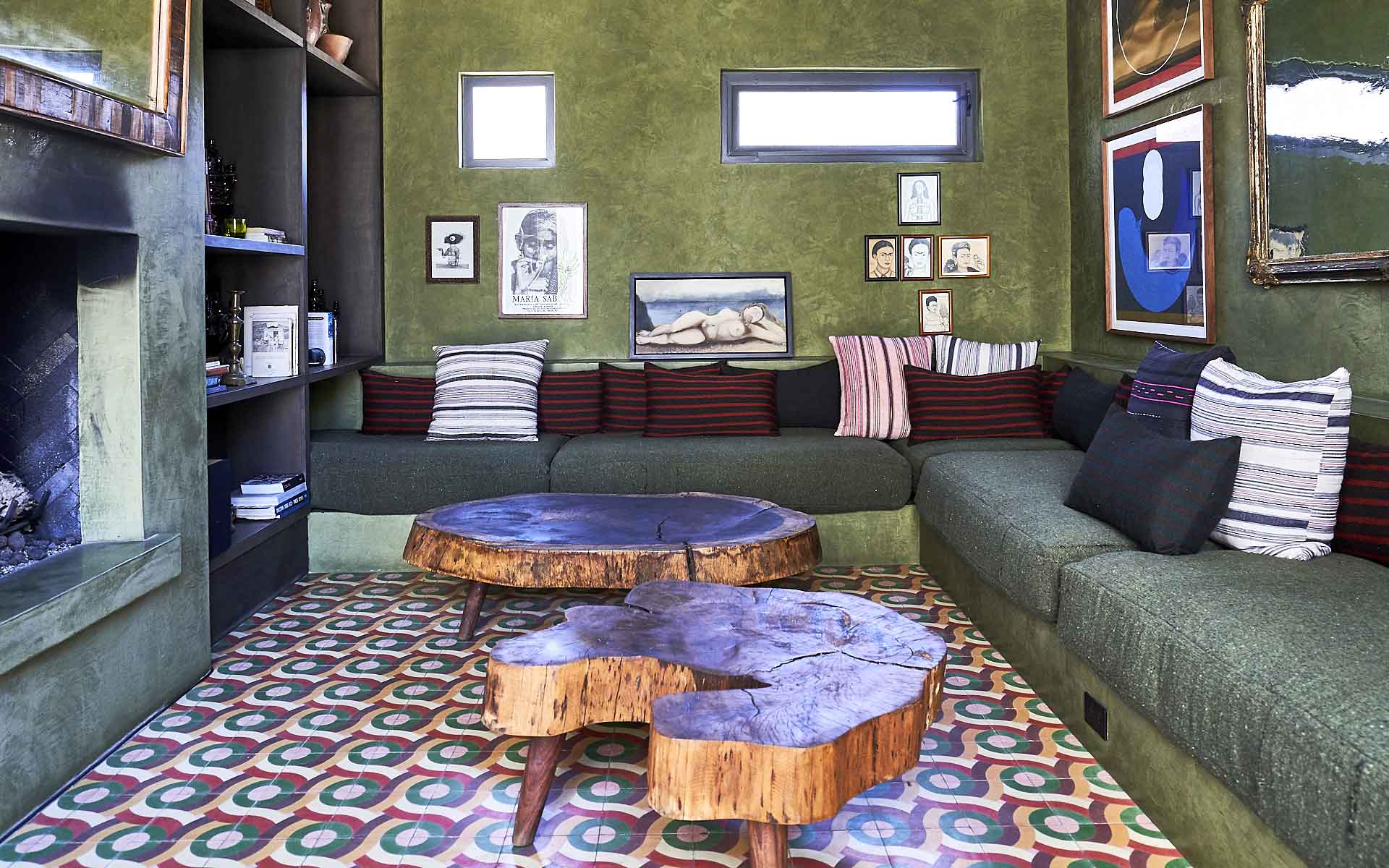 In so many of its most exciting hotels, Mexico has mastered the art of marrying traditional forms with modern designs, creating the perfect blend of old-world charm and present-day progress.
In the hotel game, putting a modern spin on a traditional form is far from novel. Quite the contrary, it's one of the most common conversions you'll see amongst boutique hotels that have taken up residence in older, pre-existing buildings. We love the past — to a point. More than a faithful recreation of a long-ago era, sometimes we want a mix of what was and what is. We still want to retreat into a world different from our current one, to be sure, but we also want to take advantage of technological advances and evolutions in design that make everything a little more durable, a little more reliable, and a little more exciting. We've earned it, and we adore the contrast of old and new.
Mexico is no stranger to tradition. From Dia de los Muertos and Las Posadas to siestas and Cinco de Mayo, it's a nation known for celebrating its rich and ancient culture with customs that have been passed down through the generations. That heritage can be felt in any number of the country's hotels, even the ones that opened in the current millennium. Our favorite of these hotels know exactly how to balance the rustic and the refined. There's a time and place for lodging that brings us all the way back to basics, like a tented beachfront bohemia or a modest jungle cottage — and Mexico has you well-covered there, too. But for now: something a little more progressive.
Círculo Mexicano
Mexico City, Mexico
Grupo Habita was at the forefront of the original boutique-hotel boom, and as of 2020 they're still at it with Círculo Mexicano, a 19th-century building in the Centro Histórico updated by architects Ambrosi Etchegaray into a striking and unique 25-room boutique hotel. The accommodations, on the second and third floors, are arranged around a central patio, and in the public spaces the contrast of weathered period materials and brand-new modern construction is at its strongest.

La Purificadora
Puebla, Mexico
This 19th-century water processing plant and bottling factory was redesigned by the famous Mexican modernist architect Ricardo Legorreta, the man behind Mexico City's famous Camino Real hotel. It's a departure from the style of his brightly colored mid-century masterpiece, but then again it's not the middle of the century anymore — aside from some judiciously applied violets, La Purificadora is fairly austere, in blacks, whites, and natural wood and stone, with the exterior walls and some interior surfaces remaining untouched and unpainted.

Hotel San Cristobal
Todos Santos, Mexico
If you've spent time in their Texan hotels you know Bunkhouse, one of the hippest and most forward-thinking hotel chains in existence. Their architects of choice, Lake Flato, are experts at balancing a bit of boutique polish and a whole lot of charming authenticity. It's no different here; there's a bit of boutique style in the form of plush Coco-Mat mattresses, Tivoli radios and Malin + Goetz bath products, but mostly there's a fun, chill little hotel, right on the beach, with rooms and suites arranged around a central pool and lounge area.

Las Casas B+B Hotel
Cuernavaca, Mexico
"B+B Hotel" might seem redundant, but Las Casas, an 11-room hideaway right in the heart of Cuernavaca's pocket-sized downtown, is truly a little bit of both — it's more polished and more stylish than most any bed and breakfast, while it's smaller and more intimate than most any hotel, boutique or otherwise. The rooms and suites are sharply outfitted in shades of white and gray, with the house's colonial architecture still visible beneath the contemporary, minimalist décor.

Downtown Mexico
Mexico City, Mexico
Occupying a brick-fronted 17th-century palace a short walk from the Plaza de la Constitución, Downtown Mexico has as central a location as a Mexico City hotel could ask for. Inside, the original high ceilings remain intact, among other charmingly weathered period details, but the prevailing atmosphere is that of a very clean, very contemporary modern boutique style. Simple forms highlight rich textures, from the dark tiled floors to the raw wood furnishings to the screens, almost Moorish in style, that set the bathrooms apart from the bedrooms.

Casa No Name
San Miguel de Allende, Mexico
Originally built for the local bishop in the 18th century, this stunning six-room mansion is tucked into the heart of San Miguel de Allende. The late fashion photographer Deborah Turbeville lived in Casa No Name for more than twenty years, and made it famous in a photo book not long before her death. Fortunately the photos aren't the only way to remember Casa No Name: in its new life it's a luxurious little boutique hotel, in which the old master suite — now called Deborah's Suite — is only one choice among several.

Hotel Bo
San Cristóbal de las Casas, Mexico
Hotel BO distills the many cultural elements of San Cristóbal de las Casas (Mayan, Colonial, Moorish, etc.) while paying tribute to the elements that shape the landscape — water, fire, air and earth. But this is not a new age hotel. Quite the opposite, in fact: the grounded, forward-thinking design carves up the public spaces in clean-lined modern style (don't miss the sleek geometry of the courtyard pool). The 22 guest rooms steer clear of minimalism, however — they're vibrant without being riotous, their bright colors tempered by plenty of handsome local wood.

Era Hotel & Spa
Tulum, Mexico
Era Hotel & Spa is set in a leafy residential neighborhood on the western edge of town, which means urban life isn't far away — but the immediate surroundings are verdant, quiet, and exceedingly private. Architecturally, it's an appealing building, blending the orderly geometries of modernism with the appealingly warm and organic textures of traditional carpentry. The walls are made from chukum, a sand-based stucco, and there's sisal and organic cotton everywhere, a tactile contrast with the cool polished concrete floors.

Hotel Rodavento
Valle de Bravo, Mexico
Maybe that's why it's mostly travelers from elsewhere within Mexico who know the Valle de Bravo — this lush mountain valley defies all the stereotypes, from sun-kissed beaches to colonial-era haciendas. Instead it's got
Hotel Rodavento, in the lush mountain valley of Valle de Bravo, bills itself as a boutique hotel but is in actual fact quite a bit more than that. It's more like a mountain lodge, twenty-eight modern suites in tented-roof hillside villas, each one with a deck overlooking the property's pine forests and private lake. The look is contemporary but very far from urban — rustic elements make the interiors more hospitable, and the old-fashioned claw-foot tubs are charming.

Maison Couturier
Veracruz, Mexico
The style at this nineteenth-century estate is broadly historical, but it's immediately apparent that it was assembled with a designer's eye. Maison Couturier is from Grupo Habita, so it shares a philosophy with Mexico's hippest boutique chain. The Maison's rustic atmosphere is all the more impressive given that fact. Eight bungalows make up the bulk of the accommodation, augmented by an Owner's Suite in the estate's main house. They're only just as modern as they need to be — a/c, internet, plasma screens — but there's nothing to break the spell of the Maison's countrified elegance.

Amomoxtli
Tepoztlan, Mexico
Tepoztlán is a mountain town near Mexico City that's known for its significance in Aztec history and culture. And with the advent of Amomoxtli, the region's first high-end luxury boutique hotel, it's a destination that's set to welcome a new crop of international travelers. The architecture marries the contemporary and the classic, with perhaps a slight emphasis on the latter — and in the rooms, the beamed ceilings and the tile and stone work establish a historical backdrop against which the occasional piece of contemporary furniture or artwork provides a contrasting note.

Belmond Casa de Sierra Nevada
San Miguel de Allende, Mexico
The quietly stylish Mexican town of San Miguel de Allende is the perfect setting for a classic refuge like the Belmond Casa de Sierra Nevada, equal parts 16th-century residence and modern luxury boutique hotel. The level of service is high, as professional as it is warm, and the hotel's old-world charm is always allowed to shine through. Thirty-seven rooms and suites are divided among six colonial mansions, and they're all different, keeping to the floor plans of the original houses, but the appointments are luxury-hotel modern, from the flat-screen televisions to the private plunge pools.

Hotel Escondido
Puerto Escondido, Mexico
Hotel Escondido, a minimal-rustic beachfront boutique hotel on Oaxaca's Pacific coast, is essentially "barefoot luxe" at its apex, a sort of impossibly stylish version of beach-bum living, its sixteen bungalows smallish and spare but perfectly formed. The restaurant serves can't-miss local seafood, the bar shows off the Habita talent for hospitality, and the pool lounge mixes modern design with the most primitive of elements, to the greatest possible effect.

Hotel Cartesiano
Puebla, Mexico
Puebla may be Mexico's fourth-largest city, but for most travelers the primary attraction is the city's Spanish colonial core — its 16th- and 17th-century architecture is beautifully preserved, and there's no place on earth with a higher concentration of buildings in the Mexican Baroque style. On the edge of the historical center, within walking distance of the central marketplace, the cathedral, and all the most significant sights, is Hotel Cartesiano, a stunning 78-room luxury boutique hotel that effortlessly marries rich architectural tradition with contemporary art and design.