The highway of history is littered with the carcasses of irrational confidence. Experimental was confident they could go from craft cocktail bars to iconic boutique hotels. They were right.
The Experimental Group's first hotels were billed as bed and beverage. At the time, it made sense to lean on the phrase. The Experimental founders weren't known for making hotels. They were known for making cocktails. Now, 16 years after their first breakthrough bar, the Experimental identity is as much about design as it is drinks. And with popular hotels all across Europe, they're less in need of a tagline.
In concept, Experimental is the drinker's version of Nobu. A series of hotels that grew from a single celebrated non-hotel establishment. Nobu had its eponymous restaurant in New York. Experimental had their bar in Paris. Each found so many admirers it spawned an irresistible momentum and, quicker than they ever would have imagined, its own hospitality orbit.
Granted, the Experimental Group founders are not as famous as Nobu's Robert De Niro, but they have a significant reputation nonetheless. The guys who brought cocktails to Paris.
If it feels exaggerated, know it's well documented. One author, writing in her book The New Paris, called the three founders of Experimental "a trio of bon vivants with a vision." Before their debut bar in 2007, Paris cocktail culture meant fancy hotel spots like Bar Hemingway at the Ritz. After the launch of the Experimental Cocktail Club in Marais, that all changed. "They gave us a modern cocktail culture," says their very first employee, speaking to history. "Good drinks, quality spirits, fresh ingredients, and a fun environment."
The inspiration had come from New York City, where the three friends studying in Montreal often visited trendy new speakeasies like Milk & Honey and Little Branch. "It was like an epiphany," remembered one co-founder, Pierre-Charles Cros. "The drinks were incredible in terms of quality, craft and fresh ingredients. Returning to Paris, we realized things hadn't moved on. People were still drinking lukewarm rum and coke. We were disappointed."
The cocktails at the first Experimental were experimental indeed. One glowing review mentioned concoctions with an oeuf entier (a whole egg) or fleurs de sureau (elderberry liquor). It was trailblazing, and entirely obsessive about its own original recipes — its experiments.
That refusal to conform carried well into their next ventures, as they conquered concepts in wine bars, restaurants, and remarkably individual boutique hotels. "The French don't like chains," co-founder Romée de Goriainoff once said, and they've avoided using the brand name in many of their hotels. Without it, each could easily pass as a purely independent operation. It would take a trained eye to walk into the Grands Boulevards in Paris and the Il Palazzo Experimental in Venice and know they shared an operator. It's more likely you'll notice they share an aesthetic.
On that front, enough cannot be said. Experimental's frequent partner, Dorothée Meilichzon, is a Parisian designer of a certain caliber — the kind that required a full New York Times profile solely dedicated to the interior design of her personal apartment. Her style incorporates pops of color and highly considered touches. Archways are a signature visual. And, almost always, an eccentric headboard that demands your eyes upon the first step through the door.
The first Experimental hotels were designed more or less from scratch. Lately they've been playing the old industry experts, swooping in to revamp historic properties that had plenty of preexisting identity. One of those, Cowley Manor, is thought to be the place Lewis Carroll met his muse Alice Liddell. Experimental gave it an update. The long-famous mid-19th-century mansion is now a mix of English Italianate country-house pomp, Parisian cool, and the occasional nod to Alice in Wonderland — with white rabbit door knockers and a bar serving an Aphrodite cocktail made with porcini-infused Cognac, sherry and fig liqueur.
They may be the pros now, but they're still plenty experimental.
Cheltenham, UK
This well-loved country-house hotel now flies the flag of its French owners, as Cowley Manor Experimental. In typical Experimental style this means an interior makeover by the Parisian designer Dorothée Meilichzon, who has created a unique atmosphere in Cowley Manor's 31 rooms. One holdover from the previous era is the lavish C-Side spa, one of the finest in the country.
Alaior, Spain
The Experimental Cocktail Club was always destined for bigger things, but it's still surprising, in retrospect, that the path from a hip bar in Paris to a beautiful farmhouse hotel on the Balearic island of Menorca took barely a decade to map out. The design is no less at home under the timbered ceilings of these farmhouse buildings and the result is both true to the 19th-century finca and indelibly stamped with a contemporary personality.
Venice, Italy
If there ever were a city whose hotel scene needed an infusion of youthful cool, it's this one, whose bridges and canals are so thick with tourists you could be forgiven for wondering if there's any nightlife culture here at all. That's where Il Palazzo Experimental comes in, of course — not only does its bar, the Experimental Cocktail Club, answer that question in the affirmative, but as a hotel it turns the classic gestures of Venetian design into something fresh, contemporary, even sexy.
Verbier, Switzerland
Frankly, if you can make it in the hippest quarters of London and Paris, you can make it in the Alps. The Experimental Chalet is stylistically miles ahead of the vast majority of ski hotels (to say nothing of its nightlife). The interiors, by Milanese architect Fabrizio Casiraghi, pay homage to the modernist styles that were current during the postwar ski boom, and the light, minimalist look is a refreshing departure from the old Alpine standard.
London, UK
In what might just be the very heart of central London, the Henrietta Hotel makes up two townhouses. One was the home of Victor Gollancz Ltd., publisher of George Orwell and John Le Carré. Here Experimental again tapped Dorothée Meilichzon to create an interior space that's at once classic and contemporary. With just 18 rooms there's a certain intimacy about it, and a residential vibe which is hard to come by in this part of London.
Paris, France
Historical inspiration, contemporary style, and a social life that few hotels, in Paris or anywhere else, can hope to match. It's hidden from the street as well, accessible only via a concealed passageway. This means not just the frisson of being in on a secret, but it means a measure of peace and quiet, too — this hotel knows how to party, but it also knows how to get a good night's sleep.
Paris, France
Essentially, a very stylish cocktail bar with 37 delightfully bohemian rooms attached. Don't expect the full palace-hotel treatment — this is the Grand Pigalle Hotel, not the Pigalle Grand Hotel — but do expect a surplus of personality, a vibrant environment, and a stay worth remembering (though we can't actually guarantee that your memory will cooperate, faced with a mile-long cocktail list and over 200 Italian wines).
Ibiza Town, Spain
There's the hedonistic party side of Ibiza, the secluded farmhouse side — and, at the Montesol Experimental, a version of the island that's urbane and sophisticated. This hotel's 1933 façade hints at the elegance of what's inside. 33 is also the number of rooms and suites, all of them decked out in a handsome monochrome color scheme accented with natural wood tones and echoes of Art Deco.
Biarritz, France
The first golden age of Biarritz came before the advent of air travel, and it's during this era that the original Regina was constructed. And now, just in time for this splendid seaside town's second golden age, this spectacular Belle Époque grand hotel has returned to service. Its gleaming white façade remains familiar, but in its new incarnation as the Regina Experimental, its interior spaces have been reborn in the signature Experimental style.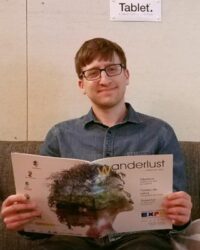 Mitchell Friedman is an editor and social media manager for Tablet and Michelin Guide hotels. He's been with Tablet since 2018, and wants you to subscribe to our newsletter.