Patagonia gets the bulk of the attention, but Chile's Atacama desert is growing in popularity thanks to its equally riveting scenery, history, and hotels.
For the first few miles out of northern Chile's Calama airport, trash lines the side of the road. Que lastima, muttered my driver when I asked about it in my broken Spanish. What a shame. As we continued — straight and straight and straight — past only sand and the occasional desert bush, towards the ever looming Andes, the basura disappeared and we passed half a dozen roadside memorials instead, crosses and wooden altars forlorn in the desert.
It's long been tradition in Chile's massive Atacama Desert to mark the resting places of the dead. For decades, that meant makeshift memorials when a miner died extracting what was at one point over 65 percent of government income, the sodium nitrate culled from the salt-strewn earth. In 1879, a war between Chile, on one side, and Bolivia and Peru, on the other, defined today's borders in Chile's favor, stripping Bolivia of its only access to the sea.
The Atacama hasn't always been a place of tourism. It has been, for centuries, the backbone of the country's industry. Perhaps that's why I was here almost by mistake. I'd booked my round trip to the capital city of Santiago thinking I'd visit the more well known Patagonia. But with limited time, I chose the more manageable Atacama instead, a place I knew only from the reputation of its top hotels, particularly Tierra Atacama and Explora Atacama.
By the fourth day of my trip here, I'd already walked through ghostly white mists of mountaintop geysers at dawn. I hiked a thin, rushing river, its banks dressed on both sides by lush greenery and man-sized cacti. I even slipped into a thermal hot spring bubbling on the mountainside. Now I had begun to simmer. I almost missed out on this.
I approached the guide of our morning expedition, who handed his binoculars to another guest, pointing to an Incan rock shelter on a plateau below, and switched to English for the only American on the trip. A Bolivian man named Chris, he wore his straight black hair pushed back with a bandana and led us with the confidence of a local expert. So I asked what he thought. Why does Patagonia get so much attention in North America, while the Atacama is virtually unknown?
"Maybe when people hear the word desert, they think about a flat, sand landscape with a few cactus," he offered, in the same serious tone with which he'd shown us the centuries-old glyphs carved into the rockside. "They don't picture this."
At the moment, we were in a desert scene more or less lifted from Lawrence of Arabia, but I knew what he meant. The Atacama's informal moniker — the driest desert in the world — is a misnomer. It almost never rains, but rivers flow down from the Andes both above and below the sands. There are typical desert scenes here, but a thousand others, many of them historic, alive, even wet.
A visit to the Atacama is like a visit to a dozen different national parks, with a volatile geology reminiscent of sites as different as Yellowstone and Rocky Mountain National Park.
There's so much salt it stains the desert in sparkling white deposits. But nitrate mining has gone largely extinct. Tourism has rushed to fill some of the void — and if its reputation has yet to fully reach the United States, it has completely saturated nearby Brazil. The Atacama is massive, but its tourism centers on the small backpacking haven of San Pedro de Atacama. Guides here give it the cheeky nickname São Paulo de Atacama.
Natural tourism filled my days here to the brim, amiable Brazilians with excellent English often by my side. We saw salt flats home to pink flamingos and their almost microscopic shrimp prey. We ran down sand dunes and marveled at canyons of tricolored rock. We ate kebabs of charred llama in a tiny town, and spotted small herds on the road. Every one of these sites lay no more than an hour or two from my hotels in San Pedro.
It's what makes this place one of Chile's three most important centers of tourism, along with Patagonia and Rapa Nui (Easter Island). The little village is a carnival of souvenir shops on streets yellow with dust and sand. Students and recent grads swarm the narrow road outside their hostels in the center of town.
Down the street, luxury resorts meet the needs of a pickier kind of traveler. These — among them my stops, Tierra and Explora — are known for their curated explorations. Each has several bases across South America's most awesome natural landscapes.
In the Atacama, a stay at either can cost over a thousand a night — at Tierra, sometimes over two (both hotels are all-inclusive of food, drink, and explorations). But the convenience is staggering. Arrive and your first stop is on a couch, drink in hand, to meet the hotel's head of exploration. In town, you walk by dozens of tour operators. Here, you have a personalized service on site.
At Tierra, where I stayed just a couple nights, we planned my activities up front. At Explora, we met in the lobby each evening to discuss my dreams for the following day. If you're choosing between the two hotels, Tierra is smaller, more of a high-style boutique hotel. Excellent modern design centers natural wood and phenomenal views out to the Andes. The pool can't be described with mere words — it has to be seen.
Explora is a more expansive property, with larger public spaces and a rooftop terrace that's the highest in town. The design, more inspired by traditional architecture, emulates the feeling of an extremely well-considered ranch or hacienda. They're known especially for their explorations, almost any of which you can choose to undertake by car, bike, or horseback. Beautiful stallions and mares traipse along the stables at the edge of the resort.
Nayara Alto and Awasi round out our favorite accommodations for the region. Each hotel has access to a giant telescope to take full advantage of the Atacama's famously dark, unblemished sky. I saw the rings of Saturn on two successive nights. On the others, with just the naked eye, I considered the unnaturalness of my hometown New York City. Compared to the Atacama — with its tapestry in the sky — we hardly have night.
When I finally left the desert, windswept and sunburned, I made for Santiago with a wistful feeling. I don't know if I'll ever see a place as miraculous again, or experience it with such unrivaled luxury. I entered the Castillo Rojo, a wonderful '20s-era mansion-turned-boutique hotel in the heart of the city, and sipped a glass of red wine. It was Chile's independence day, and they had much to celebrate and more to remember. The day I'd arrived in the country, one week earlier, had marked precisely 50 years since Pinochet's coup.
Los desaparecidos, they called the victims who disappeared throughout his reign. Many had been buried in the secret vastness of the Atacama. I thought of the crosses I'd seen on my way to the town — and how little I'd known of the place. I've returned determined to proselytize it. And to make Charles Darwin look like a fool. "I am tired of repeating the epithets barren and sterile," he'd written on his 1839 voyage across South America, when he found the Atacama.
He could have used a better guide.

Book Tierra Atacama on Tablet Hotels.
Book Explora Atacama on Tablet Hotels.
Book Nayara Alto Atacama on Tablet Hotels.
Book Awasi Atacama on Tablet Hotels.
Book Castillo Rojo on Tablet Hotels.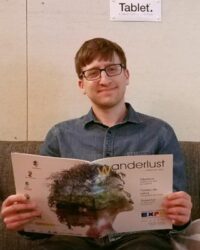 Mitchell Friedman is an editor and social media manager for Tablet and Michelin Guide hotels. He's been with Tablet since 2018, and wants you to subscribe to our newsletter.