The setting for Dexamenes Seaside Hotel is an abandoned wine factory on a beach in Greece. Not that you'll need reminding. Everything here has changed, but absolutely nothing's changed.
Have you ever stayed in a wine tank? That's the question they ask at Dexamenes Seaside Hotel before they show you to your beachfront room on the pristine west coast of the Peloponnese. The closest most of us come to experiencing this level of industrial revival is a waterfront warehouse in Brooklyn or Singapore, where exposed bricks mark the walls and metal pipes run visibly along the ceiling. This is more.
You'd have to see the "before" photos to understand what a monumental undertaking it was to get this old wine factory up to modern luxury hotel standards. And yet, the main appeal of Dexamenes is that its fundamental character feels exactly as it was decades ago: rough, well-worn, proudly unpolished.
And productive. You're meant to engage with the fruitful history of this facility, which has deep meaning for both the region and for those responsible for its new life. In the rooms, raw concrete still bears stains from the wine fermentation process. The imperfections that signify years of making and manufacturing have been left to tell their stories. It's a sparse style, yes, but not without warmth, and certainly not without consideration. Light splashes with purpose through textured glass, dancing over the kind of space you'll struggle to find anywhere else in the hospitality world.
The eccentric setting is the happy result of an economic story that brought wine to this region in the first place. As Greek black currants lost their position at the top of the marketplace, the industry found they could reroute their devalued grapes into wine exports. The winery here was built in the 1920s, set on the beach so the product could be pumped directly onto waiting ships. Today, the clear waters of Kourouta Beach aren't for exports. They're a magnet for obsessives of design and architecture.
The two silos are the visual signatures of Dexamenes Seaside Hotel, but these aren't hotel rooms. Once used to store the juice of the grapes before transfer to the fermentation tanks, they've had their rusting roofs removed and floors refinished to create a comfortable gathering spot for sound healing, yoga, curated dinners, and wine tastings.
The fermentation tanks are where you'll sleep.
Less silo than bunker, the 34 tanks make 34 suites in two long, concrete rows. Outside and in, they retain as much of their original feel as possible. Touches of wood and glass soften the spaces, but few fundamental changes were made. Slabs of concrete were removed to create entrances — filled later by sliding-glass doors within timber-screened patios — but even those found reuse at the hotel, as stepping stones for the courtyard or for remolding into coffee tables and chairs. Sustainability and the concept of upcycling form two pillars of intention here. Reclaimed bricks from the old warehouse line the floor of the restaurant. Irrigation pipes form handrails for the esplanade.
It's a gem that the typical Greece tourist won't uncover. But make it here and you're not just rewarded by one of the coolest hotel concepts in Europe. Endless sandy beaches mingle with an agricultural region where visitors eat locally grown produce and drink locally vaunted wine. Dexamenes facilitates those organic pleasures with a restaurant and a newly planted vineyard, which should one day contribute to the roster of Greek wines on offer.
The owner, a man named Nikos Karaflos, grew up here, hearing stories of the abandoned winery and its place in his hometown's economic story. He runs it now as a landmark remade, a testament to local ingenuity and a new chapter for the Peloponnese. Have you ever stayed in a wine tank? This one won't disappoint.
Nuts & Bolts
A bite-sized breakdown of your most frequently asked questions about Dexamenes Seaside Hotel.
Who comes here?
It's a part of Greece that's off the beaten path, despite the ancient sites and boundless natural beaches and forests. Those that make it have a love for history and design, and indulge in the slow life — and luxuries like wine tastings, meditation, and shiatsu.
When's the best time to visit?
Late spring and early fall bring the most pleasant weather. Summer is hot, but you'll have the beach. So we like it whenever it's open — the hotel operates seasonally, from April to mid-October.
What else is there to do in the area?
The Peloponnese is a region of Greece saturated with ancient sites. The nearest to Dexamenes is Ancient Olympia, the archeological site of the original Olympic Games and just a half hour drive away. Further, find sites like Ancient Corinth, the temple of Apollo Epicurius, and, appropriately enough, Sparta.
Best room for a solo traveler? A couple? A family?
There are three categories of wine tank suites, each distinguished only by location. There's Beachfront, Courtyard (overlooking the two silos), and Backyard, the latter of which has the most limited views but the most privacy. As far as size, each comes with a king and a sofa bed and sleeps up to three. Larger parties can book interconnecting wine tanks that sleep up to six. And the largest groups can opt for the Beachfront Villa, a two-story neoclassical villa, beachside, that sleeps up to ten.
What's a design feature I would miss if you didn't tell me about it?
We'll take a bird's eye view here. Owner Nikos Karaflos grew up in the area, and actually learned about the abandoned winery — in the context of the economic event, the Currant Crisis — in school. At 13, he interviewed former workers at the winery for an essay, and still remembers their vivid descriptions of the place, and how this vital vein for the region guided their daily lives, routines, and served as a place of celebration during the harvest. When it came time to design the hotel, he drew on those memories to try and recreate that vivid sense of life and community.
What's there to eat?
Seasonal and local fare served at three venues — the Beachfront Bar, the Restaurant, and the Beach. Chefs coordinate with local farmers to source hyperlocal cuisine tinged with traditional references.
Anything to say about sustainability?
Besides the almost complete and total reuse and upcycling of the property, water use is carefully tracked, nearly 90% of energy used is created in-house, collaboration is constant with local farmers, and the typical energy-guzzling spa is replaced by things like sound bath healing and live events (wine tastings, cooking workshops, performances, art installations, etc).
What's the final word?
An unapologetically creative, laudably sustainable hotel that takes place in repurposed wine tanks on a gorgeous beachfront amidst ancient wonders. In the Peloponnese, a must-visit.

Book Dexamenes Seaside Hotel on Tablet Hotels.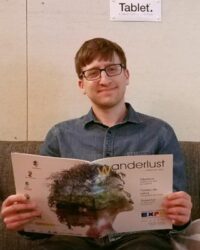 Mitchell Friedman is an editor and social media manager for Tablet and Michelin Guide hotels. He's been with Tablet since 2018, and wants you to subscribe to our newsletter.