Not since Humphrey Bogart and his falcon have the Maltese received this much interest from international audiences. A flurry of first-class hotels await.
"The case for Malta and its adjoining islands as a resort area is quite impressive. The climate is ideal, and there are 14 sandy beaches on the three islands of Malta, Gozo and Comino. The sun is here in superabundance, and there are innumerable coves and harbors to be explored."
That was the New York Times in 1964: "The Island of Malta Makes a Case for Tourism." The tiny nation — fearful that a withdrawing British empire would mean an economic hole — looked to lure the world to its shores. And for decades, British tourists obliged. Package holidays brought the English to an English-speaking island in the Mediterranean for sun and culture. But for the Western Hemisphere, Malta was probably still best known for its loose connection to the iconic 1941 Humphrey Bogart film, The Maltese Falcon.
Lately, this tiny archipelago in the Mediterranean has been carving out a different identity, one that rivals the world's most appealing tourist destinations.
We've recently added seven more Maltese hotels to our selection. And that's just on the main island alone. One for almost every fifteen square miles. The appeal was there in 1964 — sun and waves. Today, it's a combination of politics (Malta joined the EU in 2004), culture (a high profile redesign of Valletta by Renzo Piano finished in 2015), cuisine (Malta's excellent dining scene began appearing in the MICHELIN Guide in 2020), and just how much easier it is now to book and explore on your own. It also helps that modern travelers are obsessed with "discovering" so-called "under-the-radar" destinations. Sometimes it's just your time.
Whatever the reasons, Malta's appeal is fresh and on the rise. Nobody's surprised. A Mediterranean island nation, a Baroque architectural hotspot, a place where you can hardly put a foot on the cobblestone without bumping a historic monument. Come to this island and you'll find the mark of Phoenician and Arabic peoples, as well as the French, Spanish, and Italian — just a few of the many cultures and conquerors who've made their way to this geographically-blessed outpost on the sea.
The fantastic hotels emerging throughout the country only magnify the setting. With so much texture to work with, they make their homes in distinctive Baroque buildings and historic naval sites. Their restaurants build menus with flavors from every cultures. Some hotels embrace the modern, bouncing contemporary interiors off historic details; others celebrate the ancient, turning a 400-year-old fountain into a show-stopping amenity.
We can't say with certainty why Malta's having its moment. But we can say with confidence that their hotels are both a symptom and a source of the excitement. To quote Bogey, they're "the stuff that dreams are made of."

Valletta, Malta
In Valletta, with its fortifications and its Baroque ornamentation, you might expect a hotel to lean heavily on historical atmosphere. AX The Saint John, however, has taken a liberal approach to its own history. This 19th-century townhouse, right in the heart of the city, has been updated in a style that's entirely of-the-moment, even as it pays its respects to the past.
Mellieħa, Malta
In Lure Hotel & Spa, a compelling hospitality reason to venture into the island's north, to the picturesque village of Mellieħa. And if the word "village" leads you to expect something rustic, prepare to be surprised. The rooms and suites are nothing if not glamorous, combining Art Deco elegance with modernist furnishings and fixtures.
Valletta, Malta
A 13-room boutique hotel right on the edge of the old town, Palazzo Consiglia is both better equipped and rather more opulent than its small size might prepare you to expect. Every room is different, but they're uniformly luxurious, and all combine historic architectural elements with contemporary interventions in a fantastic, borderline whimsical style.
Valletta, Malta
A row of four antique townhouses renovated by the Istanbul-based architectural studio Autoban into an ultra-luxe lodging that's eclectic in its design and totally contemporary in its comforts. The name is an accurate description of the location, facing right out over the harbor; the vibe, thanks to its small size, is ultra-private and ultra-discreet.
Valletta, Malta
Named for its address, 66 St. Paul's is a restored 17th-century palazzo in Valletta's historic old town, one whose public spaces retain their historical limestone architecture and centuries-old atmosphere even as its rooms, the occasional weathered stone wall aside, are pure 21st-century contemporary classic.
Valletta, Malta
The architects transformed this heritage structure, a splendid 17th-century Baroque palazzo, into Rosselli – AX Privilege, developing no fewer than six distinct looks for the hotel's 25 rooms and suites. It's a much-needed dose of high design for Malta's capital city, and a hotel that makes good on its promise to deliver an experience you won't soon forget.
Valletta, Malta
For decades, the Phoenicia has been the top hotel in Valletta. But even if you knew the old Phoenicia, you're in for a pleasant surprise. In its current incarnation it's fresh off a massive renovation; the new edition combines top-flight luxury with no small amount of stylistic distinction, and a standard of service that's substantially above and beyond the norm. Once inside, you're transported from the medieval city walls to the early 20th century, arguably the golden age of British luxury hospitality.
Valletta, Malta
A beautifully restored 17th-century palazzo in a prime location at the head of Valletta's main drag of Republic Street, Domus Zamittello is the opulent luxury hotel this famous Baroque city demands. The public spaces are imposingly elegant, all lovingly rebuilt to the original specifications, while the rooms balance the old-world grandeur with smart 21st-century comforts.
St Julian's, Malta
The seaside town of Saint Julian's, just up the coast from Valletta, is a mere ten minutes from the island's airport, but offers a degree of tranquility and privacy that the dense old city can't always match. And in the HOLM Boutique & Spa, it's got a hotel unlike any other — a luxury boutique hotel that's bold, brash, and unafraid of a little self-expression.
Senglea, Malta
The Cugó Gran Macina Malta is housed in a massive centuries-old stone building, once part of the harborside fortifications in the Maltese city of Senglea, designed to lift entire ships out of the water with a large crane. Its sturdy structure and grand scale translate particularly well, after extensive renovations, into a one-of-a-kind luxury hotel.
Mdina, Malta
The Xara Palace is a stunning, 17th-century palazzo in the mostly medieval city of Mdina, a historically rich destination in the island's interior. In its current incarnation, mere steps from Mdina's St. Paul's Cathedral, the hotel is a tribute to the city's aristocratic heritage, and while it's been subtly updated to meet contemporary luxury-hotel expectations, its atmosphere remains period-correct.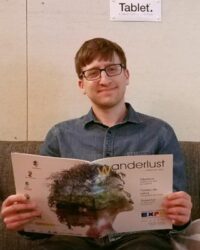 Mitchell Friedman is an editor and social media manager for Tablet and Michelin Guide hotels. He's been with Tablet since 2018, and wants you to subscribe to our newsletter.