Is it a castle? Is it a château? Is it farmhouse? It doesn't matter. Domaine des Etangs celebrates its history, but isn't bound by it.
When you decide to turn a centuries-old French country estate into a hotel, you're inevitably going to have a lot of thematic decisions to make. Will you transport guests back to life as it was in the 13th century? Will you go for a comfortable take on contemporary design? Will you throw caution to the wind and try something experimental and forward-looking? What makes Domaine des Etangs unique is not just that it pulls off the risky, radical option. What makes it unique is that it pulls off all the options.
The written history of this fortified farm estate starts in 1270, and includes war, murder, and a healthy number of ownership changes. But a meteorite that crashed nearby over 200 million years earlier might be a more accurate beginning to the story. The seven rooms in the main castle — called the Château — don't concern themselves with suits of armor or antique farming implements. They take inspiration from the heavens; they're named for planets and stars, with designs and art installations that nod to the celestial. Likewise, in the long, stone Longère building, each of the four suites is decorated to symbolize a different season, and another trip around the sun.
It's those ethereal, unapologetically modern choices — paired with earthy exposed stones and old wooden beams — that give Domaine des Etangs its sense of existing outside any established chronology. The hotel is rooted neither now nor then, but all at once. In other words, everything that's ever happened at Domaine des Etangs is happening today, simultaneously. It's unstuck in time, like Billy Pilgrim (or Desmond Hume, for the more televisually inclined).
These conceptual achievements could threaten to make Domaine des Etangs feel inaccessible. But they don't, and that's what excites us. This isn't a museum — modern, classical, or otherwise. It's a leisurely escape, and a family-friendly one at that.
The suites in the Château and Longère buildings are joined by a half-dozen farmhouse cottages scattered throughout the estate. A few of them are even spacious enough to accommodate large families. Children have an adventure playground and an attic playroom at their disposal. There's swimming and tennis, bikes and boats, picnics on the grounds and walks through the forest. All your meals come courtesy of the gourmet restaurant, Dyades, which sources seasonal fare from its own garden.
Just a few kilometers away, there's a museum dedicated to that aforementioned meteorite. When we spoke to the principals behind Domaine des Etangs, we assumed that this was the inspiration for the many astronomical references. In fact, the reason is even simpler. "Beyond the meteorite, the numerous references to the planets and the cosmos reflect the fact that the Domaine, far from large urban centers, benefits from an absence of light pollution," they told us. "This makes it easy to contemplate the starry sky."
Nothing embodies the past, present, and future better than the stars; we see their light from long ago, and look to them with our wishes for tomorrow. It's a perfect metaphor for Domaine des Etangs.
Nuts & Bolts
A bite-sized breakdown of your most frequently asked questions about Domaine des Etangs.
Why this hotel and why here?
Walking trails and birdwatching, seven lakes/ponds (the étangs), and forests alongside a storybook castle and two other types of historic accommodations. The estate's changed hands plenty of times since 1270, but the 1980s saw it bought by Didier Primat, among France's most wealthy men. Between Didier and his daughter, Garance, as well as the invaluable assistance of local craftspeople with knowledge of traditional techniques, an ancient estate became today's gorgeous and multi-faceted destination.
Who comes here?
Any traveler in need of a little quiet in the French countryside. A typical day starts with breakfast at the seasonal restaurant, Dyades, followed by a nature walk with forest ranger/hotel history expert Jean-François, and then perhaps a leisurely afternoon fishing (no-kill) in the ponds, a trip to the spa, the tennis courts, pool, or a ride along the estate by bicycle or boat. A former barn adjoining the castle is now the domaine's own art gallery, and an art and nature trail scatters a dozen more pieces around the estate.
When's the best time to visit?
The hotel's usually open year-round, though they sometimes close for a handful of weeks in the winter. It's gorgeous in the festive season, with Christmas dinner from the restaurant and Christmas trees placed in the farmhouse cottages, but for the best weather the hotel recommends April through June and September to early November, when days are mild and the outdoors flourishes.
What else is there to do in the area?
You're probably here for the estate — you certainly never have to leave. But if you're looking to explore, it's a region rich with passionate craftspeople, and the hotel can draw you a treasure map to discover Nontron cutlery, Bernardaud porcelain, Drevelle marquetry, and Hermès and Weston leather goods. And then there are the tours around the town of Cognac (an hour away) and you know what you'll find there.
Best room for a solo traveler? A couple? A family?
Families or groups of friends will want to stay in one of the larger farmhouse cottages. Each one has unique amenities like giant fireplace or copper tub, but they all emphasize homeyness and authenticity. They peak with a cottage named Dragon, a five bedroom, wooden-beam behemoth that dates to the 16th-century. Solo travelers might particularly enjoy the Licorne cottage — a one-room accommodation that overlooks the ponds and countryside, while couples might opt instead for a stay in the art-lavished rooms and suites of the Château or Longere.
What's a design feature I would miss if you didn't tell me about it?
Does this count? There's a cedar tree between the Dyades restaurant and the castle. In 1601, it was the site of a drawbridge on which the Baron des Étangs was murdered, his life coming to tragic end after a valiant career fighting in the French Wars of Religion. (The history of the estate is painstakingly chronicled — just ask their historian.) If that doesn't do it for you, how about the current wellness center, set in a former watermill. You can still see parts of the old mill within the building.
What's there to eat?
The hotel restaurant, Dyades, is the beneficiary of its own vegetable garden — and so is the menu, an array of seasonal, local options that make for "fine, flavorsome cuisine" (or so say the inspectors at the MICHELIN Guide). Breakfast is a traditional smorgasbord of cheese and pastries and the like, while you can have your lunch packed up in a wicker basket to enjoy anywhere on the estate.
Anything to say about sustainability?
Everything here is about preserving the ecosystem. The garden is certified organic, the forests are certified PEFC, and microbiologists are constantly analyzing the quality of the soil. A collaboration with the National Museum of Natural History and OPIE keeps a tally of insect species, and the team at the Domaine's farm maintains a 350-strong herd of Limousin cattle with the goal of preserving a historic local breed.
What's the final word?
Considering this impressive collection of classic structures, it's a testament to the stewards of Domaine des Etangs that history isn't quite what defines it. The picture of active countryside relaxation in the heart of picture-perfect France.▪
Book Domaine des Etangs on Tablet Hotels.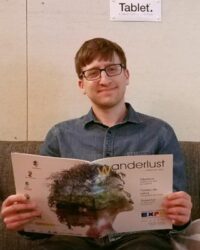 Mitchell Friedman is an editor and social media manager for Tablet and Michelin Guide hotels. He's been with Tablet since 2018, and wants you to subscribe to our newsletter.