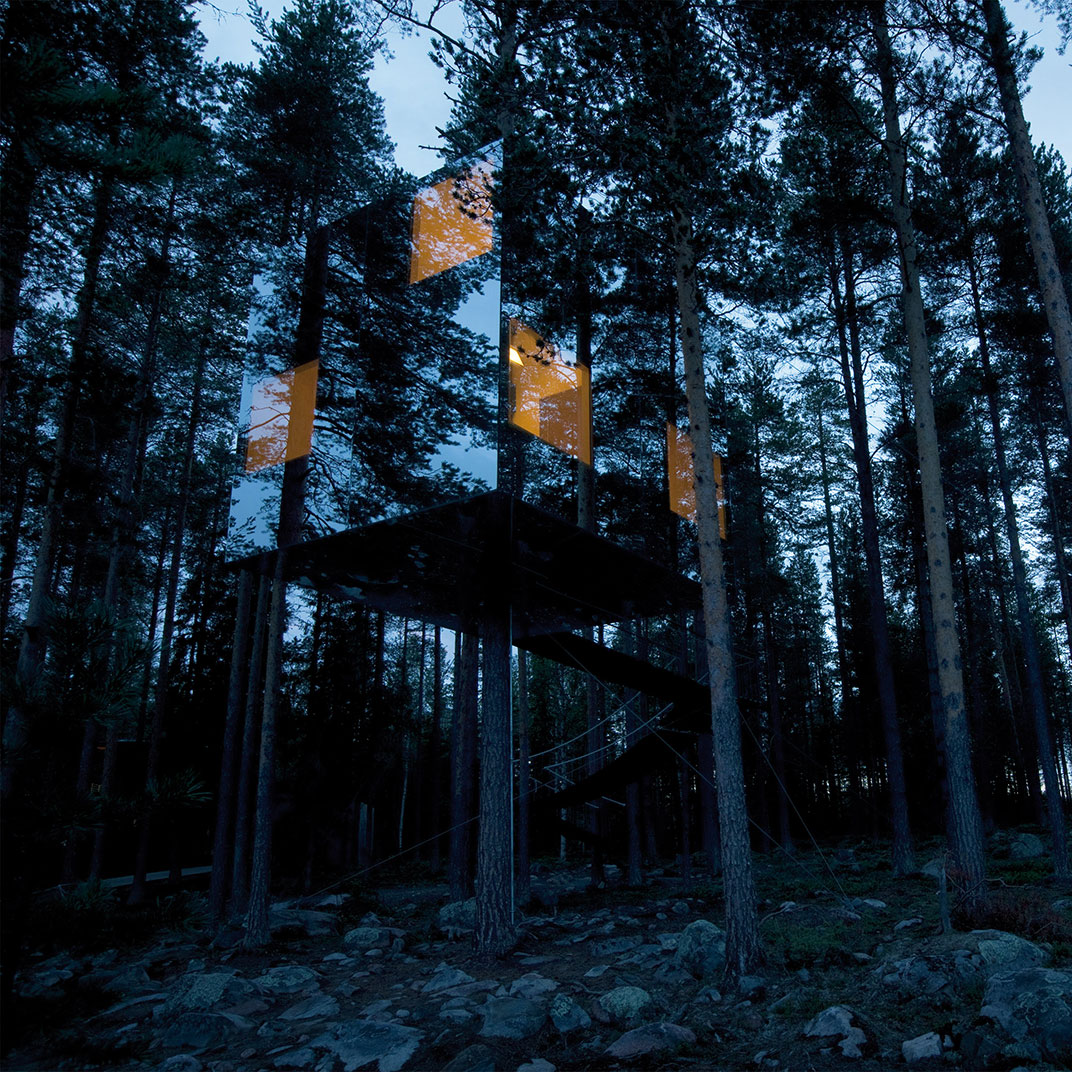 If you had a treehouse as a kid, you know how special it was — how great it felt to have a place of your own, perched high up and away from the colorless concerns of real life. It was your little world to build and customize and manipulate and modify. It's a wonder you survived.
Listen, we'll be honest with you. Most of these hotels aren't treehouses in the traditional sense. They weren't designed by a nine-year-old, and all their support doesn't come from tree branches and two-by-fours. They also don't have a janky trapdoor. No, at these treehouses you can pretty much stand wherever you want without fear of falling through. The balconies were built by contractors, not the neighbor boy. At night, when the wind blows the treetops, you can sleep like a baby with nary a bough break or cradle drop to awaken you.
These treehouse accommodations combine the adventurousness of your childhood with all the detail and professionalism you expect from a luxury boutique hotel. They get you up amongst the leaves and into the gentle embrace of nature — a pleasure greater than knowing the secret knock. They're romantic, whimsical, wonderful, improbable, and best of all: unlikely to lead to serious injury.
Conversas de Alpendre
Vila Nova de Cacela, Portugal
The combination of design-hotel good looks and family-inn friendliness is a tough pairing to deliver, but that's a nutshell description of Conversas de Alpendre. Set in the countryside of the Eastern Algarve, it's not just family-owned but family-run and family-made — with locally crafted artisanal elements that include the unique Tree House suite, standing 20 feet above the ground, resulting in a panoramic view.
Origins Luxury Lodge
Bijagua, Costa Rica
Fantastically secluded in the mountainous interior of northern Costa Rica, Origins Luxury Lodge isn't one for subtlety. Its elevated perspective gives it a panoramic view that takes in the rainforest's treetops, the vast Lake Nicaragua, and the distant volcanoes. Its unique construction is eye-catching even as its natural materials blend harmoniously with its surroundings. And the experience aims to create big, bold memories, from horseback jungle tours to a nighttime wildlife tour.
Treehotel
Harads, Sweden
We're happy to report that this is exactly what you would hope a hotel called Treehotel would be. Just south of the Arctic Circle, in Swedish Lapland, a young couple took over a Thirties guest house, which travelers more or less ignored in favor of the single treehouse suite. So with the help of seven different Swedish architecture firms, they built seven more, from the vertiginous Cabin to the dizzying Mirrorcube and the whimsical UFO.
Rancho Pacifico
Uvita de Osa, Costa Rica
There's precisely one stressful thing about Rancho Pacifico, and that's the two-mile drive, 2,000 vertical feet up a mountainside, from the little town of Uvita on Costa Rica's southern coast. The payoff? 250 private mountainside acres of virgin rainforest with an embarrassment of ocean views, flora, fauna and pristine waterfalls. The Treehaus villas, complete with outdoor Jacuzzis and hammocks on their private decks, are built into the jungle canopy, twenty feet above their own three-acre gardens.
Huilo Huilo Montaña Mágica
Neltume, Chile
If Montaña Mágica, or "Magic Mountain," conjures up childhood vacations and the artificial wonders of theme parks, you're in the right frame of mind: this is a luxury hotel shaped like a small mountain, covered in jungle foliage, with hobbit-hole windows peeking through and a manmade waterfall cascading down the side. Guest rooms are treehouse-like, with native wood paneling and warm light, and answer the question: what's it like to actually live inside of a tree?
Hiilo Huilo is actually a collection of hotels, each with it's own spin on the treehouse vibe, including Huilo Huilo Nawelpi Lodge and Hulio Huilo Reino Fungi Lodge.
Xinalani
Puerto Vallarta, Mexico
You'll be in heaven at Xinalani, so long as you're into the great outdoors and the resort's low-impact approach to the environment. The natural landscape surrounding the place is Xinalani's main attraction: even the 23 guest rooms, situated within a series of palm-thatched cabins, are open-air. Each has just three walls and a curtain that you'll probably leave open most of the time, the better to catch a sea breeze or gaze at the thousands of stars twinkling in the night sky.
Loire Valley Lodges
Esvres-sur-Indre, France
Not every Loire Valley hotel has to follow the wine-château model. Loire Valley Lodges turns to nature for inspiration, its 18 treehouse-like lodges standing on stilts among the oaks, chestnuts, and Douglas firs of this 750-acre forest. There's no wi-fi and no TV, just a Nordic modernist vibe, a front-row view of the woods, and a full complement of rather high-end comforts, including a jacuzzi on each one's terrace.
Bio Habitat Hotel
Armenia, Colombia
Bio Habitat sits on a mountaintop just outside the coffee-producing city of Armenia, surrounded by unspoiled native forest, affording an immersion in nature that's entirely appropriate for an eco-hotel like Bio Habitat. Here there are no mere accommodations, but Habitats — most of them suites, designed in an unapologetically modernist style, with vast picture windows that provide expansive views. For total immersion there are the Aviaries, elevated structures tucked into the forest, with glass on all four sides.
Secret Bay
Portsmouth, Dominica
If you want to hike through the rainforest and meditate at dawn on a treetop platform and sleep in a clifftop villa sustainably built with native tropical wood, you go to Dominica, nicknamed "Nature Island," and check into Secret Bay. The hotel has just six villas, one more lavish than the next. The original Zabuco Honeymoon villa is situated on a rocky outcrop over the sea, while the Ti-Fèy villas and the Ylang Ylang villas feel like luxury treehouses.
Cyprès Si Haut
Saint Mexant, France
Safe to say we'll never feature a hotel smaller than Cyprès Si Haut. Whether it's a one-room hotel or a one-bedroom guest house is purely academic — what matters is the privacy afforded by this treehouse, perched four meters high in a stand of pines and larches in Corrèze. There's a Jacuzzi on the balcony, as well as a sauna with a picture window indoors, and room service arrives via a pulley contraption, so you never have to touch the forest floor.
JapaMala Resort
Tioman Island, Malaysia
With its open-plan chalets designed for equal levels of privacy and exposure to the unspoiled surroundings, JapaMala Resort makes an art form out of leaving the busy world behind. Built to coexist with the landscape rather than subjugate it, the accommodations vary based on their location within the resort's eleven-acre slice of the island. Treetop chalets are very much of the jungle, skimming the top of the canopy, while Seacliff rooms provide unobstructed views of the South China Sea.
Hotel Las Islas
Barú, Colombia
Off the Colombian coast is the island of Barú, a lush, unspoiled idyll that's home to the Corales de Rosario y de San Bernardo National Park — and to the Hotel Las Islas, whose bungalows spread from the private beach up into the dense tropical forest. Here you'll sleep under a distinctive conical thatched roof, in a bungalow that spans at least 70 square meters, some with decks that open directly onto the sea, others built in trees with vertiginous views of the canopy.
Orion Treehouses
Saint Paul de Vence, France
It's not easy to choose between the ethereal cabins at Orion Treehouses. The boutique hotel, located in a peaceful wooded setting just outside the medieval village of Saint-Paul de Vence, consists of four treehouses suspended high over a lush garden with flowering rose bushes and an ecological swimming pool. All are light-filled and lined with natural wood, featuring private baths and large terraces framed by oak branches.
Nihi Sumba
Sumba, Indonesia
Nihi Sumba has been called the best hotel in the world — and while we would hesitate to go quite that far, it's fair to say there's a strong case to be made. It's set on hundreds of acres of waterfront land, between a glorious private beach and the edge of a truly untamed jungle. The accommodations are fantastically luxurious — its villas are the very picture of contemporary luxury elegance, including the two-floor treehouse villas, each built around the trunk of a tree, with views overlooking the ocean.
Keemala
Kamala, Thailand
Keemala's villas are loosely modeled after the design of tribal dwellings. Tent Pool Villas, for example, take inspiration from the rainforest's nomadic tribes, featuring tent-like domed roofs and striking oval soaking tubs perched high over the greenery below. Cocoon-like Tree Pool Houses, in contrast, channel the aesthetic of the We-ha (Sky) clan, with two levels and suspended furniture. The fantastical Bird's Nest Villas are like elegant, futuristic birdcages built of woven wood and glass, looking out over the sea and the forest.