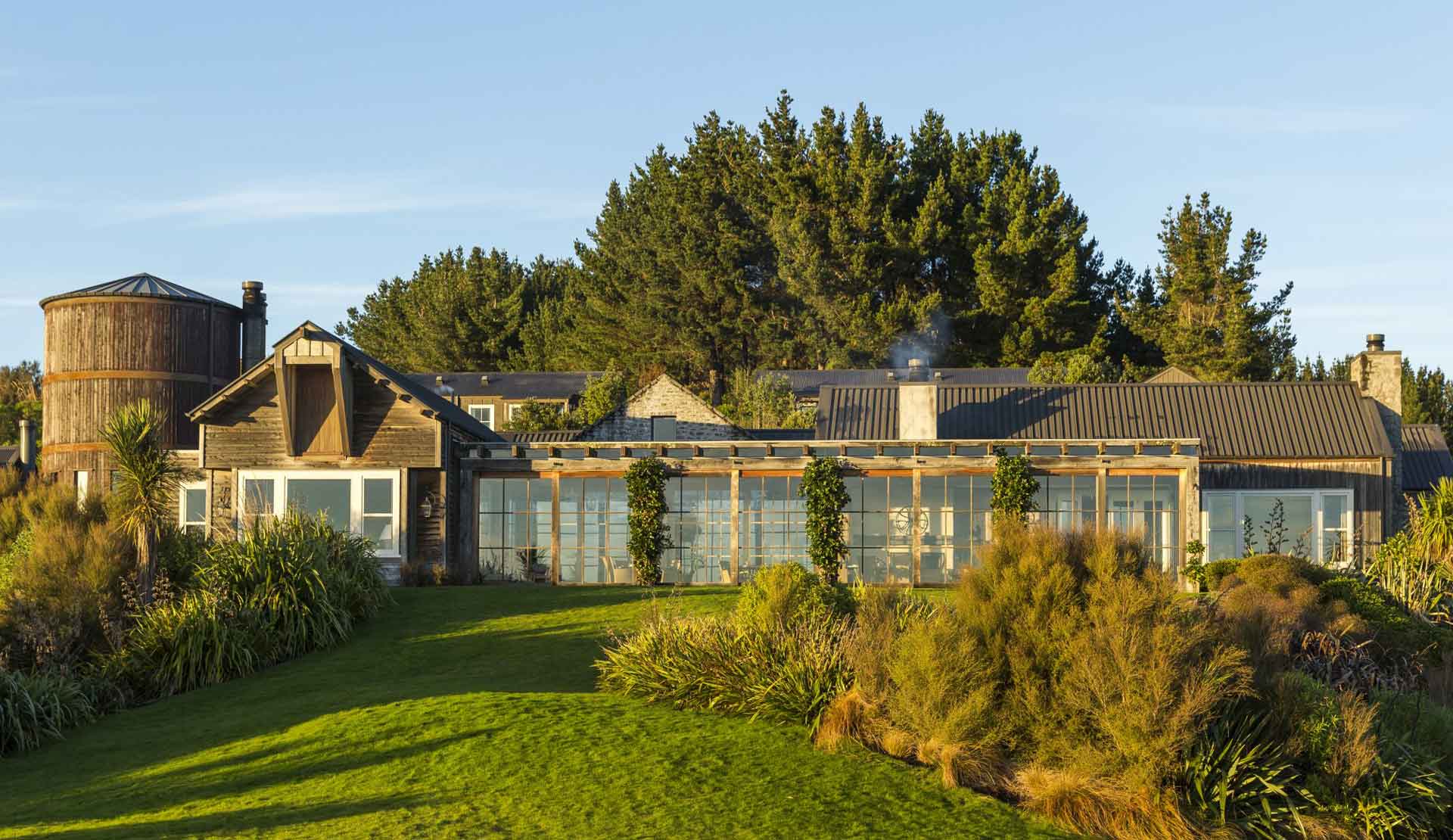 There's a whole range of ranch hotels out there. From those with real, live cattle drives to those with little need for more than a prairie and some single-story structures. And that's exactly how the people want it.
We once did a story about lodge hotels that essentially asked, "what even is a lodge?" A lodge can be so many things, really. And to a certain extent, so can a ranch. It all depends on your expectations. You might expect a ranch hotel to have a working cattle farm, or you might expect it to just look like it has one — a lasso here, some rawhide there. You might want your ranch hotel to help you become a cowboy for a day, while someone else might want help getting the hell away from that noise because they're deathly allergic to horses and hard work.
Fortunately, the Tablet selection covers both extremes and everything in between. If you want rodeo activities, we've got that. If you just want open fields and no second floors, we've got that too. And if you want a creamy white dressing for your salad, we're sure the chef can whip something up.
Estancia Vik
José Ignacio, Uruguay
Estancia Vik isn't exactly what you'd expect of a high-end Uruguayan ranch. The hotel is located a mere twenty kilometers away from the jet-set capital of Punta del Este, just outside the laid-back beach community of José Ignacio — and the aesthetic is a notable departure from the rustic woodwork and cowhides of a traditional estancia. The contemporary colonial-style mansion, set on a sprawling 4,000-acre near-seaside property, is a showcase for edgy South American artwork and innovative interior design.
Hacienda, Zuleta
Imbabura, Ecuador
It's the holy grail for travelers in Latin America — a bona fide hacienda with sweeping views of the Andes, traditional homemade cuisine, access to the day-to-day happenings of a working ranch all around. In short, a getaway that offers real access into the local culture, rather than costumed folklore shows and pan-pipe music in surround-sound. Zuleta hits all the marks, plus a few more, which explains why the ranch is no longer a little-known refuge but a famed destination.
Gateway Canyons Resort
Gateway, Colorado
From Gateway Canyons you won't be making quick day trips to Denver or Colorado's major ski resorts. And that's the point. Here in canyon country you're much closer to Utah's mountain-biking and off-roading mecca of Moab than to Aspen or Vail. And, most importantly, you're immersed in a landscape with plenty to offer locally, from fly fishing to river rafting, from hiking to biking to an equestrian center that we can safely say rivals that of any Tablet hotel just about anywhere.
Los Poblanos Historic Inn & Organic Farm
Albuquerque, New Mexico
Peacocks are just some of the exotic creatures that wander the grounds of Los Poblanos. The wildlife is part of the charm; Los Poblanos, located outside of Albuquerque, isn't just a hotel. It's a working ranch where lavender grows abundantly in the fields. To be fair, the lavender is a relatively new addition to the local harvest, planted well after the wheat, corn and chili peppers that have grown here for hundreds of years.
The Farm at Cape Kidnappers
Hawkes Bay, New Zealand
Where else but in New Zealand would you actively seek out a working sheep ranch for a bit of rural high luxury? This is lodge country, where plush interiors and rugged exteriors go hand in glove. And this particular sheep ranch, the Farm at Cape Kidnappers, lies not on some dull green hillside but on the headlands overlooking Hawke's Bay, on the North Island of New Zealand — a stunning setting in a country that's not short on stunning settings.
Spicers Peak Lodge
Maryvale, Australia
A world away from the bars and bright lights of Queensland's Gold Coast, Peppers Spicers Peak Lodge is a sophisticated and modern ranch retreat, set amid rolling hills and eucalyptus. The Lodge is nothing if not private — the only neighbors are the property's own Brangus cattle, and access to the Lodge is best had via helicopter. Most guests arrive by 4WD pick-up service — not a bad idea if you'd rather sit back and enjoy the scenery than attempt to rally-drive up the dirt road to the top of the mountain range.
Sorrel River Ranch
Moab, Utah
Set on 240 acres of ranchland outside of Moab, Utah, Sorrel River Ranch surrounds itself with some of the most spectacular landscapes in the United States. Its cabins are decorated in a contemporary interpretation of an Old West style, and divided into expansive studios and suites, all outfitted with upscale comforts. There's a spa to help you recover from miles on the trails, as well as a farm-to-table restaurant serving modern Western cuisine.
Calamigos Guest Ranch and Beach Club
Malibu, California
The ranch may have been established in 1937, but this luxury hotel in the hilly Malibu wine country, in its present form, is brand new. Set on 250 acres of rugged ranchland, the cottages and suites mix rustic textures and materials with refined contemporary design, plus top-shelf comforts like marble bathrooms, fireplaces, and wine from the estate's own vineyards. The spa and associated pools are first-rate, and though the hotel is set some miles inland, it's got its own private beach club.
Eolo Patagonia Spirit
El Calafate, Argentina
For the adventurous there are plenty of good reasons to trek all the way down to the southernmost reaches of South America, but here's one more: the stunning three-mile-long Perito Moreno glacier. Countless hotels have sprung up in the town of El Calafate to accommodate the stream of foreigners eager to watch house-sized chunks of ice fall off the glacier and splash into the icy blue waters. Well removed from the town's tourist bustle is the new Eolo, splendidly isolated on an expansive ranch in the pastoral La Anita valley.
Domaine de Biar
Montpellier, France
This is a ranch hotel you weren't expecting. Domaine de Biar is a lovingly restored estate set amid more than 120 acres of bucolic meadows, farmland, old-growth trees, and vineyards on France's Mediterranean coast. The buildings' Ancien Régime provenance comes through in abundant scrollwork and floral detailing on the mesmerizing stone exteriors. Roam a little further and you'll discover the estate's 25 resident horses, proof of its resurrected Camargue breeding tradition, as well as a sizable herd of cattle.
Estancia La Bandada
San Miguel del Monte, Argentina
The countryside around Buenos Aires is dotted with traditional estancias, or ranches, many of which, like Estancia La Bandada, have been converted to hotels. This hacienda-like boutique hotel sits at the heart of a working farm; you'll see grazing horses from your seat at the generously laid communal breakfast table. Ride one around the grounds, if you please, or relax by a pool shaded with huge old trees. Family-style dinners are built around local produce — if you're lucky, you'll get to experience a classic Argentine barbecue.
Rincon del Socorro
Esteros del Iberá, Argentina
A former cattle ranch provides the setting for Rincon del Socorro. This is the Argentinean estancia experience at its most authentic, complete with traditional quincho barbecue and horseback rides, filtered through the lens of one of the country's most ambitious conservationist undertakings. Guests at Rincon del Socorro become part of the restoration project, witnessing firsthand the return of endangered wildlife and regrowth of savannah grasslands in this formerly chewed-up landscape.
Wolgan Valley Resort & Spa
Lithgow, Australia
Just three hours' drive from Sydney, from city traffic to rough-and-tumble dirt roads, the Wolgan Valley Resort & Spa is about as close to the outback as most of us will ever need to get. It's not exactly the hardscrabble ranch life, however. The resort centers around an extensively renovated 19th-century farmhouse, while the 40 villas are sparkling new, and as comfortable and luxe as any accommodations in Australia. The unspoiled landscape of the Wolgan Valley is just stark enough to cross over to sublime from merely beautiful.
Triple Creek Ranch
Darby, Montana
To indulge in such rugged pastimes as fly-fishing and snowmobiling, you're willing to accept a certain coarseness of accommodations. At Triple Creek Ranch, though, it is possible to experience the spectacular landscape of the heart of Montana while making your home in a luxurious private cabin. But this is no oasis — there's no shortage of activities, designed to get you out into that wide open landscape. The ranch offers everything from nature walks to cattle drives to helicopter tours of the Bitterroot Mountains.
Oceanpoint Ranch
Cambria, California
Hidden in plain sight on California's central coast, Cambria might not be as famous as some other seaside towns, but it's not for lack of natural beauty. Oceanpoint Ranch is a low-key, unassuming escape set on nine spectacular acres just above Moonstone Beach, with its mile-long boardwalk. The ranch-style rooms and suites have been brought up to luxury-boutique standards, and redesigned in a handsome Western-inspired style.