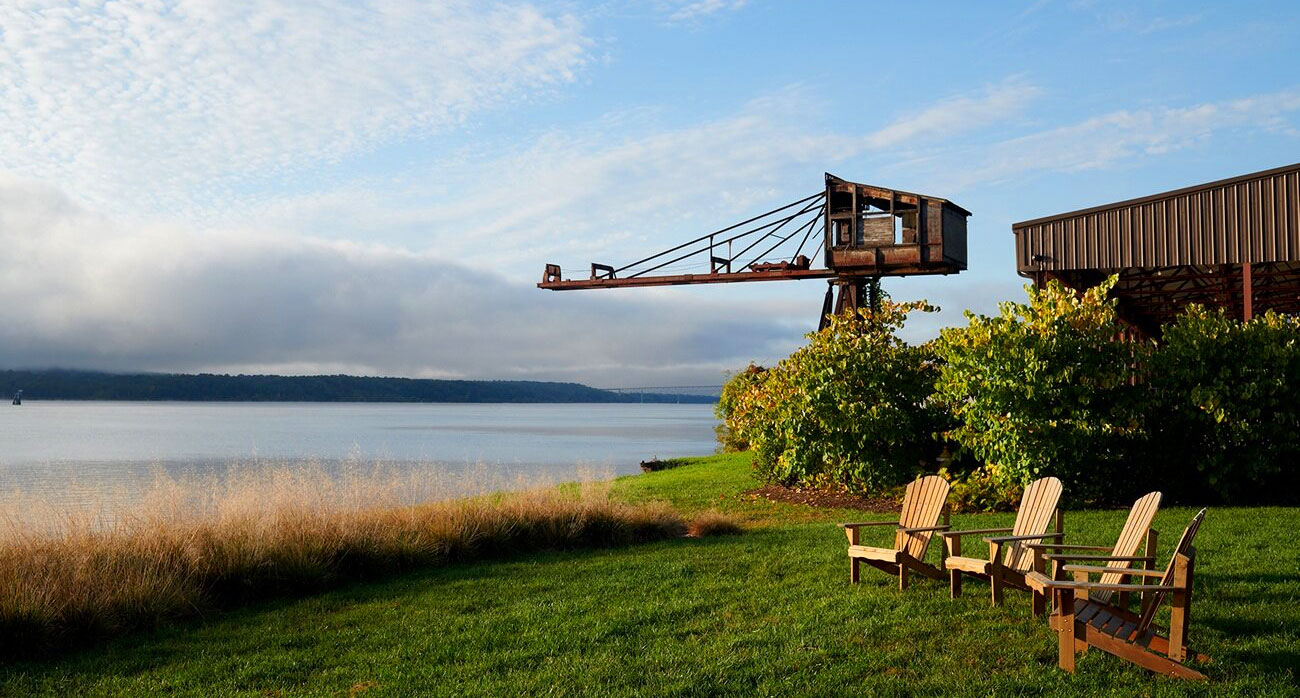 90 miles north of New York City, on the banks of the Hudson River, is Hutton Brickyards, a hotel grown from an old industrial site into a new rural oasis. Its secret? Maintaining more than a dash of downstate city sensibility.
When New Yorkers need a quick escape from the city, they go north. David Bowd, Founder and Chief Executive of the northeast-based Salt Hotels, has always known that. He also knows the complicated relationship city folk have with the woods. We want that escape, that connection with the soil and the air and the water, but — as Bowd joked with Tablet — we get a little squirrelly when we're too alone in the wilderness. "We all pretend we're going to go apple picking," laughs Bowd. "You pick one apple and you're like, 'let's go to the bar.'"
With that in mind, Bowd knew he needed to find a unique piece of property for his Hudson Valley hotel — something very different from the small motels and quaint inns that dot the region. He found it in a decommissioned industrial site on the banks of the Hudson River. From this gloriously faded, 73-acre campus, Hutton Brickyards was born. The Salt portfolio already included the Salt House Inn and Eben House in Cape Cod. "All of our guests said you should be in upstate New York," Bowd tells Tablet.
Now he's there in a big way.
The sheer size is what distinguishes Hutton Brickyards from many of its contemporaries, but it's not the first thing that sets it apart — that would be the river itself. "We were able to get this direct waterfront space and it's just like no other," gushes Bowd. He describes his first visit to the property as "a love at first sight moment."
Relics of ancient history still dot the campus, with old kiln buildings, office space (soon to become the penthouse offering), and a giant crane marking its former life as a brickyard. The crane would hoist bricks from the land to the barges, and bricks would make their way down the river to the city where they were bought by builders (among their uses: the Empire State Building and Yankee Stadium) the same day at auction. Today, the once practical benefit of the river contributes to more pastoral pursuits. Riverfront cabins are set in clusters and feature giant glass walls, designed very specifically to take full advantage of the natural splendor — with balconies and decks opening into the outdoors.
But this isn't glamping. You'll miss no creature comforts here. Hutton is a nature hotel for city people. The cabins are clustered in small groups so you don't feel isolated, the better for friends and family to book near each other and treat the place like their own private commune. Amenities, too, are designed to make the place feel less like the woods than like home, with record players in the rooms and even something of its own Uber service — consisting of golf carts — ordered via the hotel's app and used to zip around to trailheads (there's a newly opened, 750-acre state trail next door) or the restaurant.
About that. The River Pavilion, the open-air eatery on the banks of the Hudson, is where guests go to indulge beside wood-burning fireplaces. The Larder has other essentials, and you might order them to your room. Truthfully, room service is a way of life here, and it's among the most creative we've seen. Order a drink from the in-room tablet, sure. But if it's happy hour, and you're a technophobe (or you've come to the woods to get away from your screens), raise a flag outside your cabin and summon a mixologist to your doorstep.
Touches like that make it clear that this is a hotel that came together during the pandemic. But Bowd's goal was to never have to put a sign up about something you can't do. They have 73 acres, after all, and plenty of room for the cans. Besides hiking, outdoor activities mean things like archery, kayaking, cross-country skiing, and an outdoor gym. But the lessons of the pandemic freed the team behind Hutton Brickyards to break out of the usual mindsets. The restaurant, for one, isn't meant to ever reach full capacity. "People don't need to be on top of each other. I don't need to be listening to the people next to me," realized Bowd. "I can be in a fun, physically distanced restaurant, but still have the high energy and still have the privacy." As a result, they designed the restaurant with some 60 seats fewer than actual capacity.
Those little benefits aren't going anywhere, but that's not to say that Bowd isn't looking forward to the next stages of reopening. Previously, the brickyards had played host to some of the most exciting events in the region. With Salt now curating, they're looking to continue that tradition with an even more diverse program. "We now have taken control of everything on site. We're working with Smorgasburg. Field and Supply. Bowery Presents." The list goes on and on — they want to get involved with Hudson Pride, literary festivals, arts, music, and culture.
Like we said, a little bit of city in the woods.