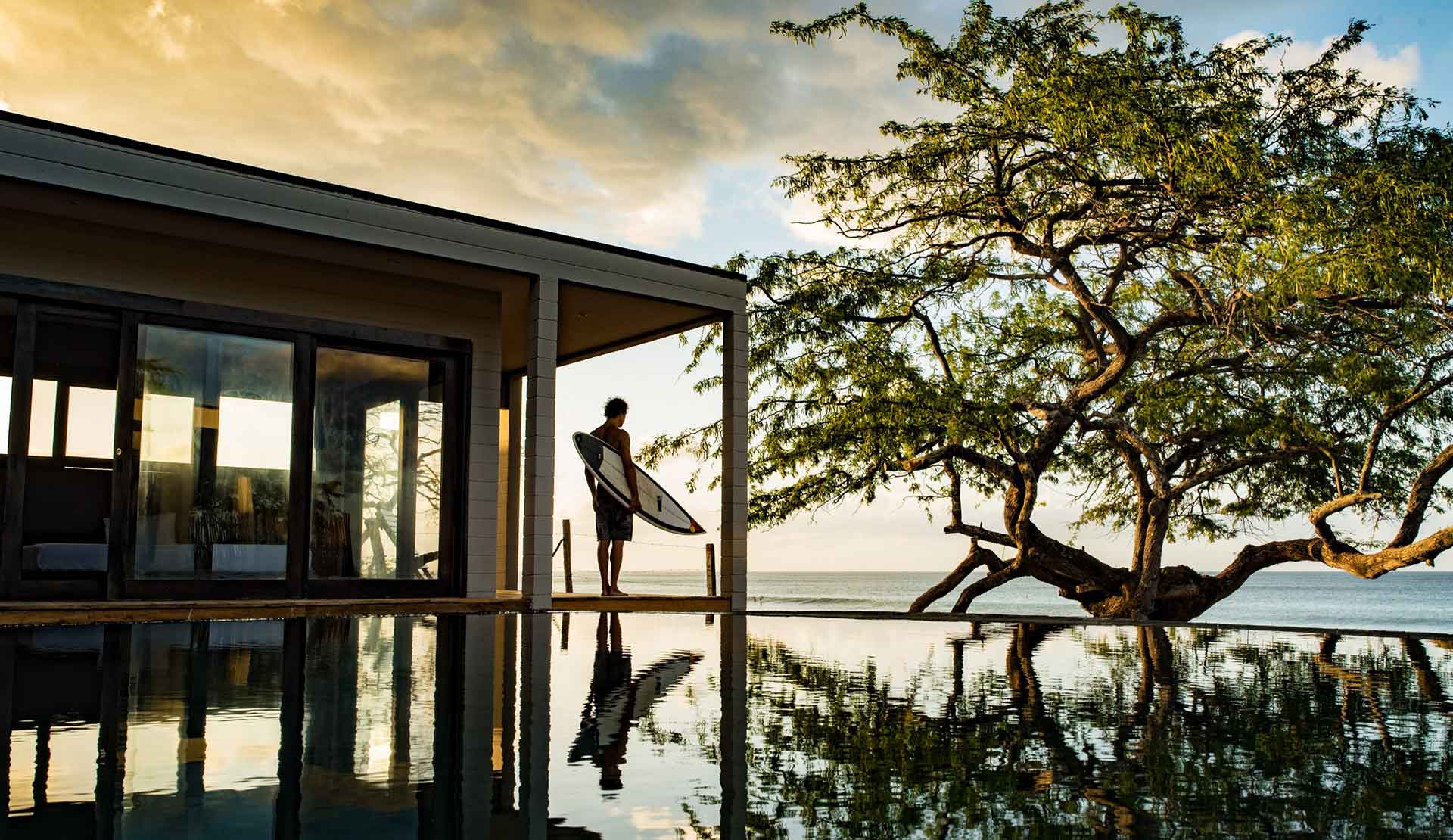 If there's one thing nearly everyone agrees on, it's that surfing is cool. And while you may never attain the skills of Kelly Slater or Stephanie Gilmore, you can at least stay in a hotel that makes you feel like you could.
Among sports, surfing is unique. Relatively few people partake, but nearly everyone is attracted to the lifestyle. In the popular imagination, that probably looks something like paradise. Beaches, bonfires, beers. Best friends and even better adventures. Long days, longer summers. It's a pretty tough image to beat (though après-ski gives a noble effort), and it's practically synonymous with how an awful lot of travelers envision their ideal getaways.
When it comes to identifying "surf hotels" we could go in a lot of directions. We're not just going to reel off a list of famous breaks and point you toward the nearest lodging. Nor will we go out of our way to spoil those under-the-radar spots where anonymity is key to authenticity. Instead, we'll go somewhere in between.
Here's a collection of hotels that capture surfing's desirable vibe in a grounded, respectful manner. These places are intimate and unpretentious and laid-back in all the right ways — the ways that don't sacrifice quality of service. They don't fetishize the sport (the coffee table in your room won't be made from an old shortboard), and they are, of course, located near some noteworthy waves, with many of the hotels willing to help you get out in the surf yourself via board rentals and even lessons. They cover a range of price points — with some aspiring to a surf-shack aesthetic, and others reaching for a higher level of luxury — but one thing they all have in common is an easygoing oceanside atmosphere that any guest can appreciate.
Are there some surf hotels that we didn't include here? Many. Should you let us know which ones we missed in the comments below? Sure!
99 Surf Lodge
Popoyo, Nicaragua
A low-slung modernist hotel, stylish but unpretentious, situated right on Popoyo, a legendary surf beach, in a part of the world that's developed enough to be hospitable but nowhere near overdeveloped. Every room has a view of the ocean, so you can check the surf conditions before you get out of bed. Basically, 99 Surf Lodge is perfect.
Noah Surf House
A-dos-Cunhados, Portugal
Noah is everything you'd want from a hip, laid-back, bohemian boutique surf hotel, plus a generous helping of the ultra-sleek modernist architecture and design that has become the new standard among Portuguese hotels. This is no mere surf-themed boutique hotel — they're as serious as can be about surfing here, and they've got the surf school to prove it.
Hotel Escondido
Puerto Escondido, Mexico
Hotel Escondido is "barefoot luxe" at its apex, a sort of impossibly stylish version of beach-bum living, its sixteen bungalows smallish and spare but perfectly formed. The location doesn't hurt either, situated as it is right on the beach in Puerto Escondido, mere steps from some of Mexico's best surfing, including the infamous Mexi-Pipe.
Puro Surf Hotel
El Zonte, El Salvador
El Salvador's Puro Surf Hotel is an inspired and inspiring place to stay, combining local craft and construction with modernist lines and colors, all accompanied by a laid-back, friendly vibe you don't need to surf to enjoy. And their Puro Surf Academy is the real deal, priding itself on its ability to take total surf novices "from zero to elite."
Pelican Eyes Resort and Spa
San Juan del Sur, Nicaragua
Pelican Eyes is a step in the boutique-hotel direction for the Nicaraguan coastal town of San Juan del Sur, a well-known surf destination. And while you won't find the international-style modern design that's become synonymous with boutique hotels, you will find plenty of colonial-chic elegance, and as tranquil a poolside atmosphere as you'd ever care to find.
Lokal Micro Beach Resort
Cape May, New Jersey
With just eight units, Lokal feels somewhat residential, which is the exactly the point. The rooms are improbably elegant, with their contemporary-rustic décor and their subtly upscale details, and the waves, while not being the first thing that comes to mind when you think of New Jersey, are good enough to draw surfers from all over the tri-state area.
The Harmony Hotel
Nosara, Costa Rica
The Harmony is popular with both eco-friendly travelers and surfers thanks to its dedication to sustainability and the green lifestyle and its beachfront location near the year-round waves at Playa Guiones. The elegant property makes the most of its natural setting, with an open-air architectural style allows ocean breezes to sweep through many of the buildings.
You and the Sea
Ericeira, Portugal
You and the Sea pretty well sums up the experience at this stylish apartment-style boutique hotel, set within walking distance of Praia do Sul beach, in the Portuguese surf mecca of Ericeira. This is a fantastic place to learn to surf, with breaks that are suitable for any skill level, and the hotel has an extensive menu of lessons available.
Halcyon House
Cabarita Beach, Australia
Cabarita Beach is a legendary surf spot, and Halcyon House opens right onto a private section of it. No two rooms are the same at this refurbished motor inn, which offers guests an exceedingly casual sort of luxury that's intensely relaxing to boot. If you want a taste of Australian beach life at its most stylish, this is the place to get it.
The Surfrider
Malibu, California
The Surfrider is inspired by California's beach houses and surf culture. Inside, the look is pared-down and elegant, a sort of bohemian minimalism full of organic textures, reclaimed teak floorboards, and modern-rustic furnishings from local designers. Outside, you're just across the PCH from Surfrider Beach, and the hotel has boards available should the urge to surf become too powerful to ignore.
The Roozen Residence
Margaret River, Australia
The Roozen Residence was built as a private beach house for artist and surfer Ron Roozen, just outside of the beach town of Margaret River, a popular Australian surf destination. The architecture is stunning, as are the interiors, and the 180-degree ocean view certainly doesn't hurt. It's got all the comforts of home, if home were a luxurious modernist masterpiece.
Cambria Beach Lodge
Cambria, California
The Cambria takes a retro spin on coastal California beach house decor, with turquoise accents against white walls and clean, natural wood. The proprietors here argue that their hotel occupies part of the last piece of unspoiled, undiscovered beach town along the central California coast — though surfers are plenty familiar with the waves across the street at Moonstone Beach.
Hero Beach Club
Montauk, New York
This repurposed motel features rooms that prize coziness above glamour, though they're not at all unstylish, with a contemporary cool and just a bit of a tropical accent. Bikes and paddle boards are available for guest use, as are yoga classes, and the hotel is happy to arrange further activities, from surf lessons to fishing expeditions.
The Pink Hotel Coolangatta
Gold Coast, Australia
When your hotel is located mere steps from Kirra Beach and what some consider the world's best wave, you don't have to do much else other than stay open. Fortunately, the Pink Hotel didn't stop there, as its outlandish exterior and occasionally risqué graphic murals prove. There's an urban edge to the design that feels unusual here, but it's as relaxed as you could want it to be, and perfectly in tune with its setting.
Atlantic Byron Bay
Byron Bay, Australia
The Atlantic's four beautifully restored cottages, each one divided into clean-lined, contemporary rooms, are surrounded by lawns and gardens, just a few blocks from Main Beach and its famous surf club. Surfboards are provided, as are beach towels, umbrellas, and push bikes, and there are countless restaurants and bars within walking distance.
Les Échasses Golf & Surf Eco Lodge
Saubion, France
About a half-dozen miles inland from the beach breaks at Hossegor, France's most renown surf spot, Les Échasses is located farther from the ocean than any other hotel on this list. But when you see its striking wood and glass lakefront villas and learn of its dedication to helping you facilitate everything from surf trips to surf lessons, you won't much mind.
Nihi Sumba
Sumba, Indonesia
Nihi Sumba has been called the best hotel in the world. We would hesitate to go quite that far, but we mention it because it started as a secluded surf shack — notable for its proximity to Occy's Left, the break that put this spot on the map in the first place — that has now grown into the kind of fantastically luxurious lodging that's in the "world's best" conversation.
Nay Palad Hideaway Siargao
General Luna, Philippines
Siargao is often referred to as the surfing capital of the Philippines. Ringed by coral reef and clear waters, and covered with powdery white beaches and mangrove forest, the island's setting is as beautiful as the breaks. And fittingly, Nay Palad Hideaway is the sort of low-key, sustainably built resort where you can kick off your flip-flops and go barefoot.
Ponta dos Ganchos Resort
Santa Catarina, Brazil
Ponta dos Ganchos sees more guests arrive by helicopter than by sputtering VW surf-van, but that doesn't make the nearby surfing at Santa Catarina any less legitimate. It's some of the best in Brazil, and back at the hotel, you get what you pay for — a chic little bungalow tucked into the lush hillside, with a hammock and chaise on the private veranda for taking in the sea views.