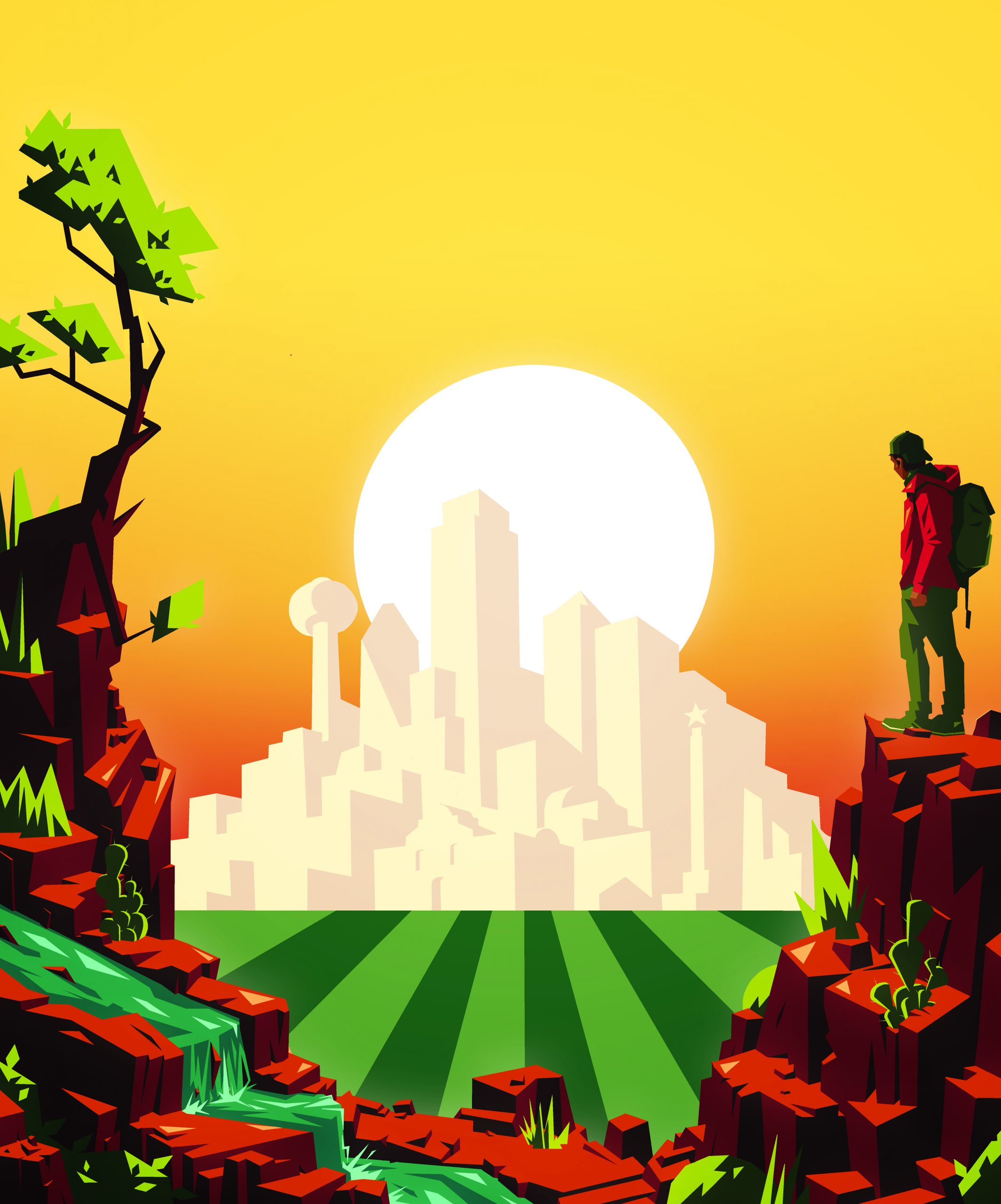 From real-estate prices to homelessness and overcrowding, Austin is a city in transformation. Historian, journalist, and long-time resident S.C. Gwynne describes the change as he's seen it during the past 20+ years.
This article originally appeared in the "Texas" issue of Stranger's Guide. Scroll to the end for more info and a special subscription offer.
I live where the West begins, on the cactus- and yucca-studded rim of a limestone canyon riven by a pristine, spring-fed creek. Beyond the canyon, the land rises up in the westward-rolling wave of uplifted rock and live-oak savannah known as the Edwards Plateau. In the canyon there is water everywhere, in waterfalls and pools and rock chutes. There is wildlife, too, in one of North America's most unusual habitats. My house really does mark the end of the East — if not precisely, then within a few miles. It lies where eastern species maps end and western ones begin and also very near the 98th meridian, where the relatively wet, forested east gives way to the dry deserts of the west. A few hours east are bayous and piney woods. A few hours west are razor-edged mesas. Within several hundred feet of my back door are coyotes, Mexican free-tailed bats, Guadalupe bass, gray foxes, armadillos, many species of snakes (some friendly and some not), black-throated sparrows, opossums, green herons, kingfishers, raccoons, wood ducks, great horned owls, roadrunners, ringtails, spiny softshell turtles, red-eared sliders, jackrabbits, tarantulas, scorpions, white-tailed deer, 10 different sorts of frogs, black widow spiders and a wide variety of other creatures. To get to Barton Creek (which is what the watercourse is called), we take a switchback along a pretty little spring that splashes out of the cliff and drops 125 feet through moss and maidenhair fern to the canyon floor. In the spring, the place explodes with color: bluebonnets, Indian paintbrush and spiderwort.
I live in Texas. Not, as you might imagine, on a Comanche-haunted ranch in a remote hinterland, but in the city of Austin — the city proper, the city I knew next to nothing about when I arrived here somewhat by accident 26 years ago. At the time, I was fleeing New York City, where I had a nominally good job as a senior editor at Time magazine, complete with a squash-court-sized corner office that overlooked Rockefeller Center. And yet, I took the quickest escape route I could find. That's how I landed as Time's bureau chief in Austin, in the spring of 1993, with my wife, a nine-month old daughter, and a labrador retriever. We bought the house for one-third of what a comparable property in New York or Los Angeles would have cost, moved in and looked off our new back porch at the Texas Hill Country and wondered just how we had figured this out.
We fell in love with the city immediately. It was the proximate antithesis of the surreally overpriced, status-crazed, hyper-gentrified metropolis we were leaving. In those days, Austin had a population of around 500,000. Now, it is almost double that. Traffic was reminiscent of a 1960s movie. You could generally park your car right in front of wherever it was you wanted to go. Mexican food and barbecue were cheap and plentiful. Margaritas flowed. There were more live music clubs than I could count, and bands played seemingly everywhere we went, including our local grocery and video stores. For some strange reason, nobody honked at you. This was unsettling at first — the sound of people being nice to each other. On hot days, we swam in cold, spring-fed pools in the heart of the city.
Austin's most obvious characteristic, other than the looming presence of the University of Texas, was the utter absence of anything like an establishment. Certainly not in the sense of East Coast cities I had known in my earlier years like Boston, Philadelphia or New York, where cultural and social institutions were run by fifth-generation bluebloods. There had never really been any industry here, other than the state government, which was in session only every other year. There was no old money, no calcified social clubs, no strata of oligarchs to tell everyone else what to do. The sorts of people who sit on museum boards in Boston or Philadelphia, where there is virtually no entry for outsiders, don't exist here. Austin is the end of the east in that way, too.
I am not suggesting that Austin was perfect. Though it was conspicuously liberal in a very red state — "90 square miles surrounded by reality," as the conservatives claim — it suffered from many of the same urban ills that plague other American cities, particularly Southern: de facto segregation, poverty, a White establishment often indifferent to entrenched and mounting social and economic inequality. But these persistent problems did not seem overwhelming — not in the way homelessness does in Los Angeles, for example. Perhaps this is because of our small size, our relatively cheap real estate, and the absence of a hidebound ruling oligarchy.
Above all, there was ease and informality. When we wanted our daughter to go to preschool, we simply drove to the Methodist church and signed up for a small class with Miss Kim and Miss Bobbi. The school was wonderful and, like everything else in town, very cheap. Our friends in New York, meanwhile, were competing ever more desperately to get their children into expensive and competitive preschools, which would then get them into elite private elementary schools. Our daughter went happily public all the way in the state's best school system.
The informality extended to people who ran the place, too. At lunch, I jogged at the track near the capitol where Texas governor George W. Bush jogged, and we sometimes chatted. Michael Dell, the billionaire computer tycoon, was in our otherwise ordinary yoga class. At a modest reception for the press at the governor's mansion, my daughter sat on the lap of Texas Governor Ann Richards while she sang "The Twelve Days of Christmas." The daughter of Mike Judge, creator of Beavis and Butt-Head and King of the Hill, was on one of my daughter's softball teams; rock star Gary Clark Jr.'s sister was on another. We had several friends in common with Willie Nelson. It was that kind of small city.
Don't get me wrong. Austin was not, by the early 1990s, still the goldbricking, pot-smoking, comically inexpensive deadbeat paradise celebrated in movies like Slacker. But it was still cheap and relatively obscure, and the old casual communal spirit lived on, like the memory of a great rock concert. You could see it in a remarkable little grocery store right in the middle of downtown, which sold exceptional organic food and had the best lunches in town. Its employees were perfectly emblematic of this intriguingly unorthodox place: they were tattooed and pierced and dyed and very alt and also engaging, smart and funny. They all seemed to be working on masters or doctorates at the university, playing in bands, or starting their own internet companies. The place was full of them. The city itself was overflowing with offbeat creative people: MBAs who had left the corporate world to make salsa, people with law degrees building acoustic guitars, PhDs in anthropology inventing healthcare software. There was a sense of limitless opportunity: that anybody could do anything. (The name of that grocery store, by the way, was Whole Foods.)
But what made Austin a truly authentic lowbrow cultural paradise was its astounding homegrown music scene. We soon learned the names of the good local bands and the legendary local clubs. We learned the important history: how Willie Nelson, Jerry Jeff Walker, and other Stratocaster cowboys crossed musical genre lines in Austin in the early 1970s and started playing for both hippies and rednecks — a significant moment in the history of American popular music. Each year, the city's great showcase was a March festival called South By Southwest (SXSW). In 1994, during a four-day period, some 482 bands played in 30 venues, all clustered around downtown. A good percentage of those bands came from the Austin area and played three or four other gigs in less formal places, meaning that every parking lot and café in town had live music.
Beyond everything else, the city was our little secret. It would be impossible to argue that no one else in the world knew about a city of half a million people. On the other hand, no one knew. I remember sitting on our deck with friends one New Year's Eve back in the mid-1990s, drinking toasts in 70-degree weather and watching the sun set over the Hill Country, congratulating ourselves on living in the nation's coolest, most livable, and least discovered city.
Well, the secret got out. I can't say it surprised me. Other people wanted the same thing I wanted: a nice, small city where the rat race was a little less rat-like. It's hard to tell exactly when the tipping point was reached, but the discovery of Austin gained momentum in the late 1990s, just before our governor ascended to the presidency — a time when the world's attention seemed to be focused on Austin. Logic-defying increases in coastal real estate prices helped. However it happened, Austin has been the fastest-growing large metropolitan area in the country for nine straight years. We have become a permanent boomtown. Every week brings news of yet another high-tech corporation moving jobs here. The list features companies like Oracle, Amazon, Indeed, and Apple, but also includes thousands of smaller firms with tens of thousands of jobs. Google's massive 35-story skyscraper is rising in the heart of downtown. Now, SXSW features almost 2,000 bands, and conferences with keynote speeches from US Senators and movie stars alike.
Somehow, even with cranes dotting the skies and trendy restaurants on every corner, Austin is still Austin. But as anyone who lives here can tell you, the place is vibrating, like a boiler about to blow. Rocketing real estate prices warp everything, from demographics to culture, and our problems are starting to look a lot like San Francisco's: accelerating gentrification and evictions of minorities, the spread of homelessness, traffic jams and the rise of a business monoculture that threatens to crowd out everything else, including our music scene. Among fastest-growing cities in the early 2000s, we were the only one to see our Black population decline due largely to a rapid gentrification of Austin's historically Black and Latino East Side. Last fall, Texas Governor Greg Abbott threatened state intervention, claiming he was tired of stepping over homeless people in sleeping bags on sidewalks.
Like San Francisco, Austin is in danger of becoming a city of rich White people, of losing the culture that made everyone want to move here in the first place. This has not happened yet; it is merely one of many possible futures. To make sure it doesn't come to pass, Austin's mayor Steve Adler is attempting to rewrite the rules of Austin's growth. His plan calls for a much denser city with fewer single-family homes and more subsidized housing. He wants to build a massive new transportation system. Predictably, he is being opposed by the forces of NIMBY-ism and an alliance of anti-development, anti-corporate folks who like Austin just the way it is, or perhaps the way they remember it being. I hope he succeeds, but there is no guarantee.
For now, I can still sit on my deck and gaze across the canyon and creek and at the lovely hills of central Texas. The view is a bit different from what it used to be. There are a few spots of civilization on the receding hills. Along the undulating green horizon line, you can just make out a corner of the sprawling campus of Advanced Micro Devices, its mirrored windows flashing like the signal fires of the advancing digital age.

Written by S.C. Gwynne, courtesy of Stranger's Guide. Homepage image courtesy of Megan Markham, via Unsplash.
To explore Tablet's selection of Austin hotels, click here.