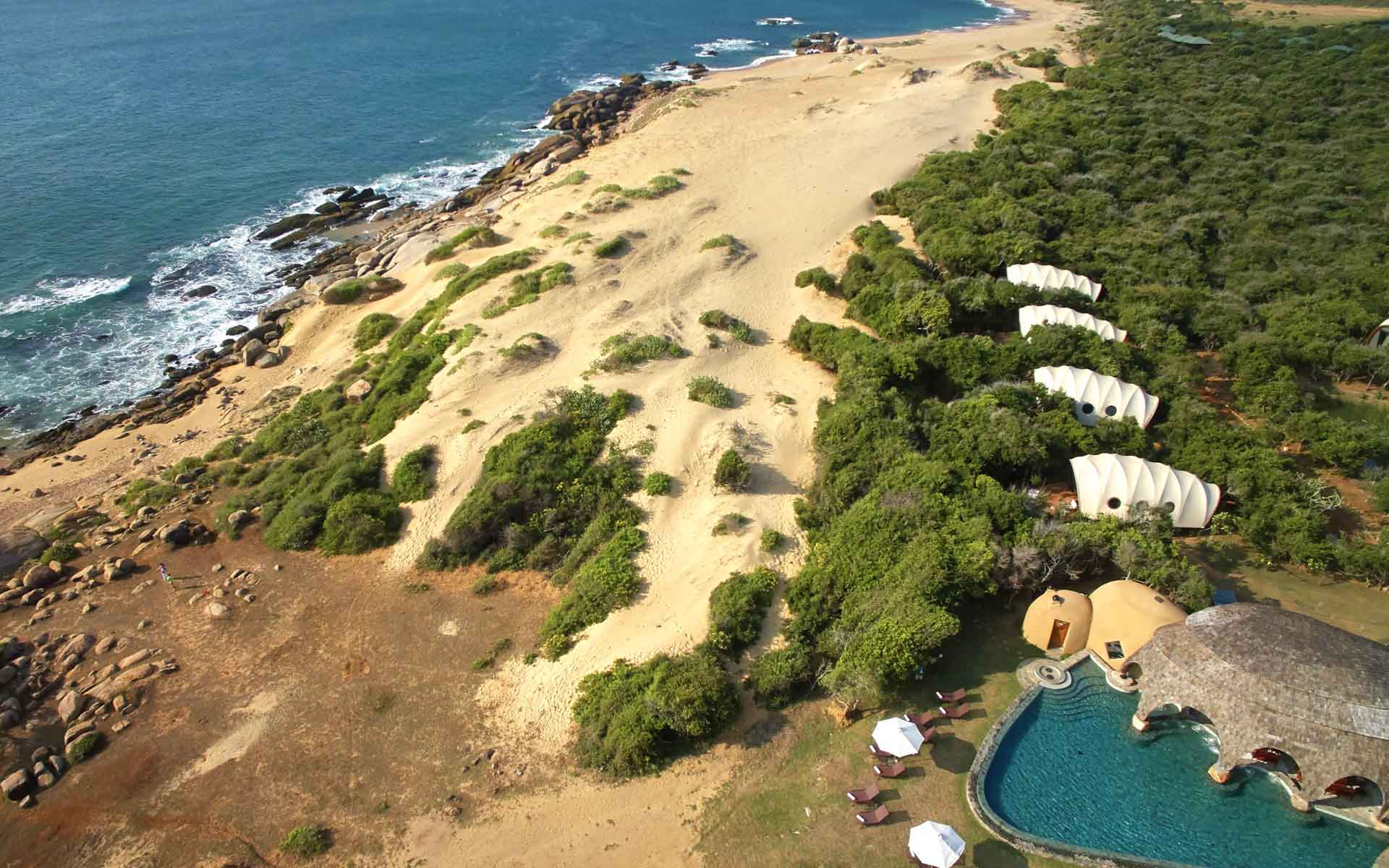 The most remarkable thing about Sri Lanka might just be the incredible variety that's packed into such a compact island. The hotels are no exception.
Marco Polo called it "the best island of its size in the world." And while we like to think of ourselves as well-traveled, we defer to the Venetian explorer on this one. There's a lot to love about Sri Lanka, and the most remarkable thing about it might just be the variety found in this teardrop of an island — you'd normally have to travel a thousand miles, across several countries, to experience everything Sri Lanka has to offer.
From the beaches to the highlands to the central mountains, this is a country of gorgeous contrasts. The island is liberally dotted with UNESCO World Heritage Sites. The food is extraordinary, the tea plantations are particularly beautiful, and it's a fine place for a safari as well, counting leopards among its animal attractions. Sri Lanka's position just off the Indian subcontinent exposes it to an array of weather conditions, a big upside for surfers: for any given season there's at least one part of the coastline where the surfing is excellent.
And then there are the hotels — a reflection of the range of experiences referenced above: modern, rustic, urban, remote, mountain, beach, and more, with a dizzying mix of amenities, activities, and lifestyles to choose from.
Welcome to Sri Lanka. Enjoy the exploration.
Santani Wellness Resort and Spa
Kandy, Sri Lanka
We've been singing the praises of Sri Lanka's boutique hotels for some time now, but we've got to admit, this one took our breath away. Santani Wellness Resort and Spa puts together so many of the things we love about this island — the unbearably scenic landscapes of the interior, the homegrown tradition of tropical-modernist concrete architecture, and the legendarily welcoming Sri Lankan hospitality — that it might be worth a return trip all on its own.

Wild Coast Tented Lodge
Yala, Sri Lanka
Sometimes a hotel's appeal is as simple as the sum of its parts. The Sri Lankan coast is an extraordinary place for a holiday, and the luxury-tent safari camps of southern Africa offer an unforgettable immersion in nature. Put the two together and you've got Wild Coast Tented Lodge, on the southeast coast of Sri Lanka, sandwiched between a gorgeous beach and the utterly wild Yala National Park, home to elephants, leopards, monkeys, and much more.

Kahanda Kanda
Galle, Sri Lanka
Much of the buzz around Sri Lanka has centered on the seaside colonial town of Galle Fort, and the beach in general. Perfectly reasonable, and all very well — but there's more to it than that. For example, a few miles inland from Galle there's Kahanda Kanda, formerly a private residence and still a working tea plantation, but one whose owner has turned it, to everyone's benefit, into a small and contemporary boutique-style hotel.

KK Beach
Galle, Sri Lanka
Kahanda Kanda came first, a delightful little boutique hotel occupying a tea plantation by the side of Kogalla Lake, not far from the southern city of Galle. And KK Beach, while it's certainly capable of standing on its own, is perhaps best thought of as a part of a pair — just fifteen minutes' drive from Kahanda Kanda, KK Beach sits on the Indian Ocean seaside, overlooking a spectacular stretch of beach less than a half-hour from Galle Fort.

Madulkelle Tea & Eco Lodge
Kandy, Sri Lanka
Overlooking the spectacular mountains and valleys of the island's interior, Madulkelle Tea & Eco Lodge offers an only-in-Sri-Lanka experience: a tranquil luxury boutique hotel set on a working tea plantation. Safari-style tents form the entry-level accommodations, while higher-end options gain solid walls — but all are open to the breeze and in direct contact with the hotel's idyllic surroundings. A grand dining room offers dishes concocted with vegetables and herbs from the hotels's own garden, and an English-style bar keeps conversation going long into the night.

Taru Villas Lake Lodge
Colombo, Sri Lanka
Family-owned for decades, the Lake Lodge was one of the first accredited hotels in Colombo. But it's no nostalgia act. Taru Fonseka, the designer and event planner whose family ran the hotel all those years, has taken the reins, and in 2009 totally reinvented it as Taru Villas – Lake Lodge, a budget-friendly boutique hotel in a style that's at the same time totally contemporary and authentically Sri Lankan.

Cape Weligama
Weligama Bay, Sri Lanka
Cape Weligama, on the island's south coast, a few miles from Galle, blazes its own trail — and what's unique about it is that it finds its identity by looking to the past. Here the Thai architect Lek Bunnag took inspiration from Sri Lanka's long history as an explorers' waystation, incorporating countless elements from the island's pre-modernist history in this classic-contemporary resort.

Villa Sielen Diva
Galle, Sri Lanka
There's probably a dissertation to be written about Sri Lanka's surfeit of sleek, modernist hotels and villas, but our instinct is to not inquire too deeply, lest we distract ourselves from the vital task of appreciating them. And Villa Sielen Diva, in the coastal village of Talpe, just outside Galle, is worth appreciating: a seven-room hotel built in an uncompromising modernist style but decorated by its family owners in a manner that evokes endless warmth and vibrance from its crisp edges and concrete surfaces.

Wirdana Spa & Villas
Galle, Sri Lanka
Of all the various regional flavors of hotel and resort architecture, there may be none more pleasantly distinctive than Sri Lanka's homegrown variety of modernism. Clean lines and polished concrete floors combine with rustic touches like textured wood for a look that's got plenty of handmade character without feeling the least bit primitive. Wirdana Spa & Villas, set on a cinnamon plantation in the countryside just up the coast from Galle, is a fine example of the style, just six finely wrought villas plus a stunning spa and pool.

Karpaha Sands
Kalkudah Beach, Sri Lanka
The tourist trade in Sri Lanka is concentrated along the island's more densely populated south and west coasts — a situation that suits Karpaha Sands just fine. The east coast's remoteness and relative lack of development only makes for a more thorough atmosphere of seclusion, which is ideal for this hotel: a luxury camp, complete with tented villas, on a stunning stretch of the vast and unspoiled Kalkudah Beach.

Heritance Kandalama
Dambulla, Sri Lanka
The action in Sri Lanka isn't only happening on the coasts. Dambulla, in central Sri Lanka, is home to a number of ancient Buddhist temples. And just outside of Dambulla is a man-made lake, and on its shores a more contemporary architectural wonder, nestled into a cliffside: the Kandalama Hotel. This unique situation is the handiwork of the famed Sri Lankan architect Geoffrey Bawa, who personally selected the site with an eye to the dramatic possibilities.

Ceylon Tea Trails
Hatton, Sri Lanka
Sri Lanka's interior tea country has stayed relatively untouched, leaving quite a bit of lush and unspoiled landscape for a place like Ceylon Tea Trails. These four plantation bungalows, lovingly restored in a hybrid colonial/contemporary style, are scattered widely along the valley, each divided into a handful of suites or available in their entirety. Either way they're perfect, whether as an entrée into the romance of the Sri Lankan tea industry, or as a remote mountainous escape.

Amanwella
Tangalle, Sri Lanka
There's no mistaking Amanwella for anywhere but Sri Lanka. Here on a crescent-shaped beach lined with coconut groves stand thirty suites, from the outside, traditional wooden bungalows, while the interiors are bold and minimal, almost spartan in sharp lines of wood and concrete, with high loft ceilings and sleek modern furnishings. Plunge pools, private terraces and deep free-standing soaking tubs are standard, and every room looks out over the beach.

Amangalla
Galle, Sri Lanka
In the early years of the millennium, as Sri Lanka was rapidly ascending to its current station as the hip travel destination of the moment, the colonial-era New Oriental Hotel was in rather desperate need of refurbishment. Still, nobody could have dreamed it would turn out quite like this — the Aman chain and the Australian architect Kerry Hill have turned this fading landmark into the best of both worlds, a hotel that's at once top-shelf luxe boutique and authentic Sri Lankan cultural experience.

The Kandy House
Kandy, Sri Lanka
The first upscale boutique hotel in Sri Lanka's interior brings new meaning to the phrase "instant classic." Though opened in 2005, Kandy House has roots two centuries old — from 1804 on it was home to one of Sri Lanka's ruling families — and the stylish, newly renovated interiors stop a bit short of trendy minimalism, instead mixing modern fixtures and materials with traditional architecture and an impressive array of antique furniture.