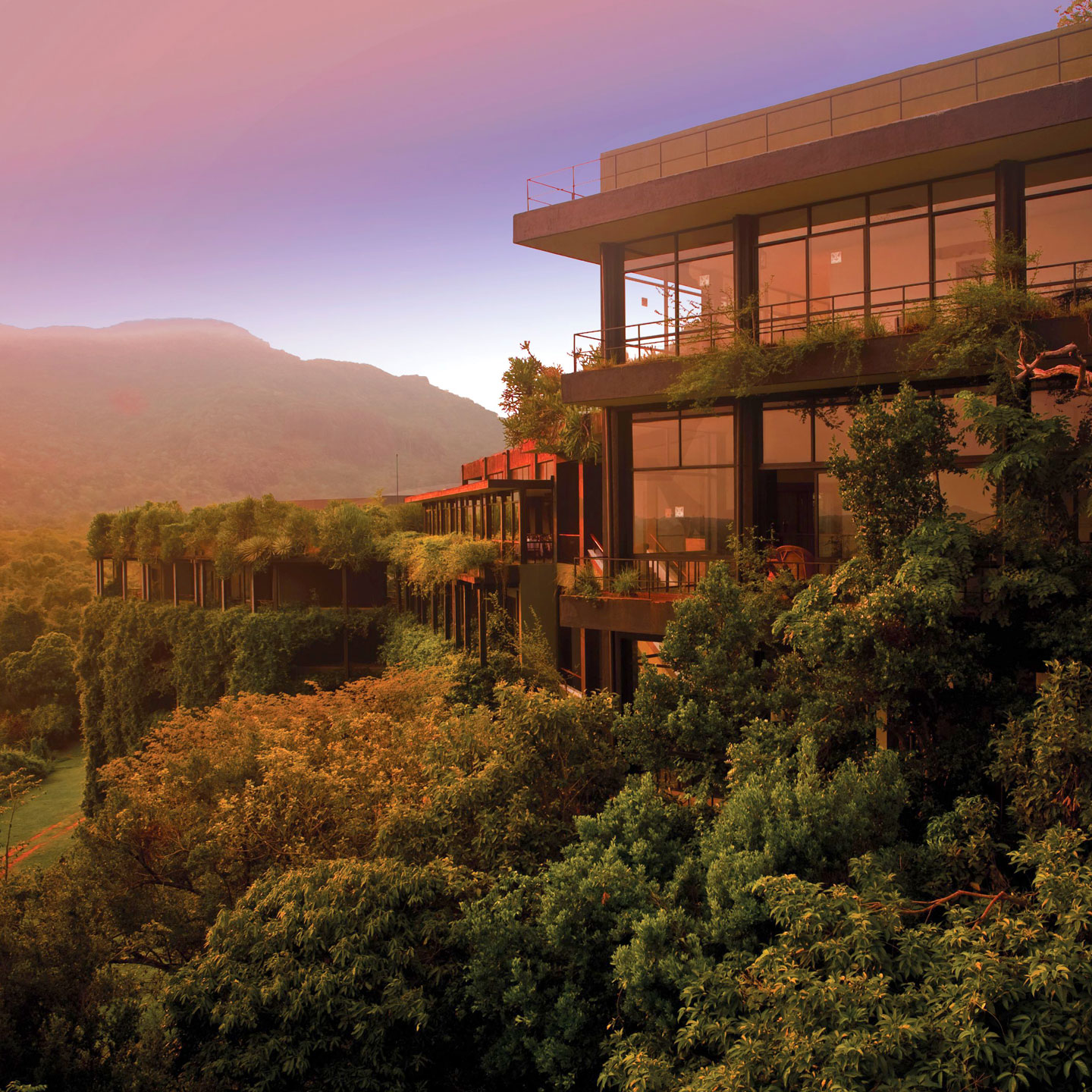 Our friends at Phaidon books gathered together dozens of the world's top architects and had them recommend the hotels they love best. Many of them took it a step further.
There's a cliché of the modern architect: sophisticated, intelligent, urbane, but also proud, stubborn, demanding, and aloof. In other words, uniquely skilled and impossibly cool. Someone not easily impressed, especially when it comes to their competition. In the stereotype, they're the last person you'd expect to express envy toward the architectural work of others.
Of course, that's not the reality — not entirely, anyway (we're looking at you, Frank Lloyd Wright). Our friends at Phaidon gathered together dozens of the world's top architects and had them recommend the hotels that they love best, compiling the results in the book Where Architects Sleep. Many of the featured architects took it a step further and volunteered the hotels they most wish they'd designed, perhaps the highest compliment someone of the occupation could offer. Those are the ones we've collected below.

Alila Yangshuo
Guilin, China
While "consistently surprising" might seem like a contradiction, after a decade and a half of observing the Alila hotels' growth, it feels like an apt way of describing their evolution. For example: the brand's modernist-inspired beach resorts, as impressive as they are, do little to prepare you for something like the Alila Yangshuo, where the Beijing-based Vector Architects have transformed a disused sugar mill — which just happens to be set in an extraordinarily dramatic riverside landscape — into an inspired piece of contemporary post-industrial architecture and a fantastically inventive luxury resort.
Wish I designed it: ALEX MOK
7132 Hotel
Vals, Switzerland
Therme Vals, the thermal bath complex designed by architect Peter Zumthor, has long been regarded as an architectural masterpiece. And now, in Hotel 7132, this Swiss Alpine village has a hotel that's worthy of sharing space with the famous spa. It didn't happen without some effort, and a cast of pretty eminent characters. The original mid-century modernist hotel on the site has been brought up to contemporary luxury-hotel standard, after a massive renovation that included not just Zumthor himself, but also drafted Japanese architects Tadao Ando and Kengo Kuma as well as the American Pritzker-winner Thom Mayne.
Wish I designed it: SÉBASTIEN DACHY, DAVID MILLER, GIANCARLO MAZZANTI, JOANA LEANDRO VASCONCELOS, ROBERT KONIECZNY, PATRICK REYMOND, ISABELLE TOLAND
Aire de Bardenas
Tudela, Spain
You certainly couldn't accuse Aire de Bardenas of going the easy route. Set at the edge of a desert in the northern province of Navarre, and created by Barcelona-based architects Emiliano López & Mónica Rivera, these prefab pods, hunkered down against the relentless Bardenas wind, don't exactly scream out "rustic" or "charming" or any related hotel-industry descriptors. But if you've got a sense of adventure, building-wise, they are promising, and more than a little exciting.
Wish I designed it: STÉPHANE RASSELET
Hotel Marquès de Riscal
Elciego, Spain
There's something of an architecture arms race afoot in the Rioja wine country, with new buildings by the likes of Zaha Hadid and Santiago Calatrava now joined by one from the Basque country's adopted son, Frank Gehry. Originally intended just as a corporate headquarters for the Marquès de Riscal, the building proved to be too special not to share — so now, under the management of the Starwood Luxury Collection, it's open to the paying public, as one of the most unique winery hotels in the world.
Wish I designed it: TAVIS WRIGHT
Il Sereno
Lake Como, Italy
There's plenty of neoclassical opulence on the shores of Lake Como, and historic villas, too — though, these days, the centuries-old architecture is outnumbered by extravagant imitations. Thankfully the team behind Il Sereno, including celebrated Milan-based designer Patricia Urquiola, is taking things in a bold new direction. Though it's built on the foundation of an old stone boathouse, Il Sereno is a modern marvel both inside and out. A boxy glass-encased structure built of stone, wood, bronze, and copper, the hotel rises up several stories from the water's edge.
Wish I designed it: LAUREN ROTTET, MARTA URTASUN AND PEDRO RICA
Raas
Jodhpur, India
We spend a lot of time wrestling with the pros and cons of India's two main hotel genres. On the one hand you've got the historic palace hotels, which make a virtue out of traditional architecture and traditional service. And on the other you've got the stylish, design-conscious boutique hotels. Rarely can you stay in a hotel with one foot in each world — but that's exactly what RAAS Jodhpur is. Designed by Studio Lotus + Praxis Inc., the hotel is thoroughly modern within, thoroughly ancient without, and something special indeed: a chic luxury boutique that blends seamlessly into the old walled city of Jodphur.
Wish I designed it: DANIEL SUDUCA AND THIERRY MÉRILLOU
Heritance Kandalama
Dambulla, Sri Lanka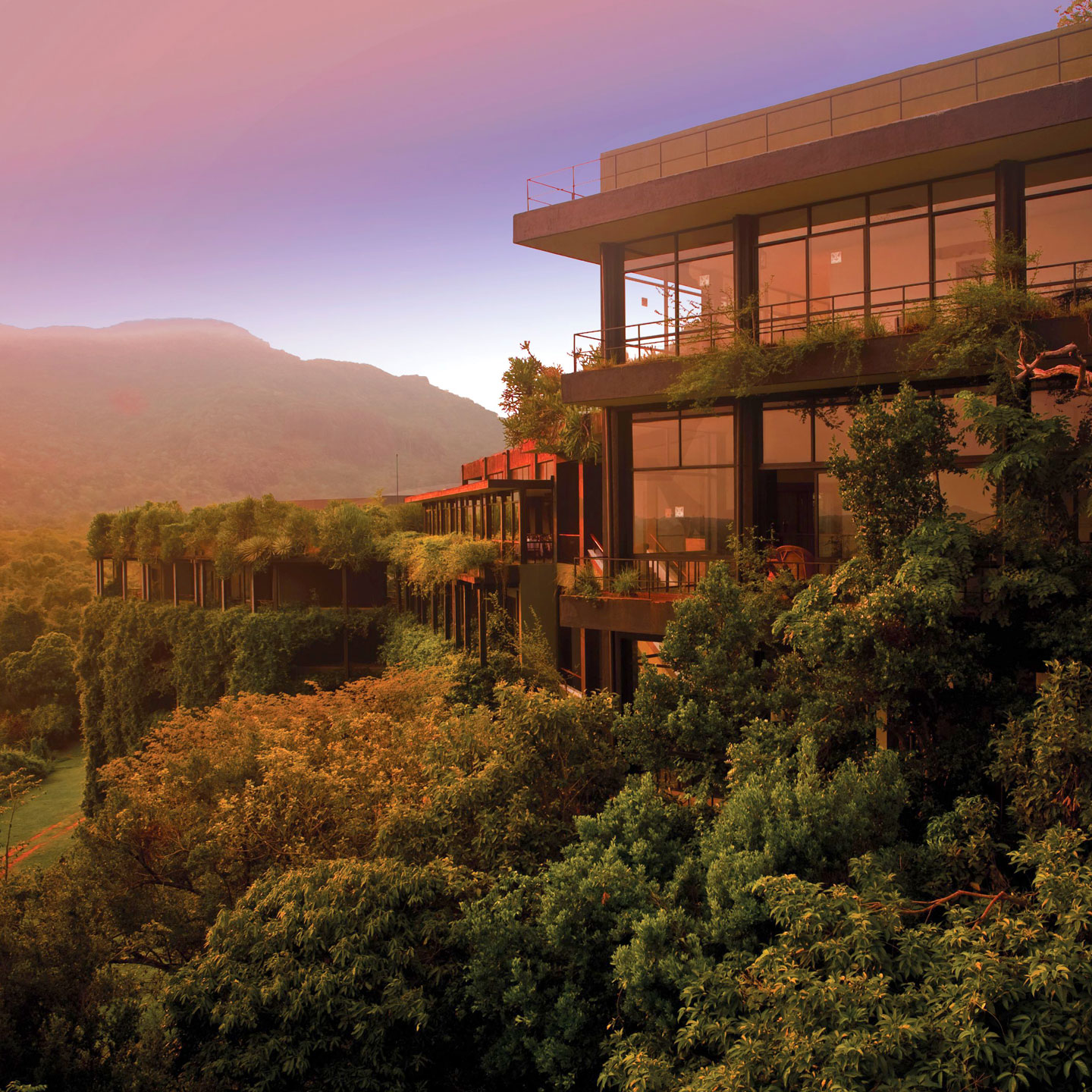 Dambulla, in central Sri Lanka, is home to a number of ancient Buddhist temples, many comprising an underground cave complex — and just outside of Dambulla is a man-made lake, and on its shores a more contemporary architectural wonder, nestled into a cliffside: Heritance Kandalama. This unique situation is the handiwork of the famed Sri Lankan architect Geoffrey Bawa, who personally selected the site with an eye to the dramatic possibilities. The building itself is low-slung, unassuming, unspectacular, stretching for a kilometer along the shore, difficult to take in all at once; the view that counts, of course, is the view of Kandalama Lake from the hotel's balconies.
Wish I designed it: RODRIGO CARAZO, CIAN DEEGAN, TONY FRETTON, SIMON HENLEY, ANTHONY HUDSON, RICK JOY, GRACE MORTLOCK, DENNIS PIEPRZ, UWE SCHMIDT-HESS, MIA BAARUP TOFTE
Domaine des Étangs
Charente, France
To the extent that there is such a thing as the "typical" castle hotel, Domaine des Étangs is a departure. The storybook stone château, flanked by fortified towers, is present and accounted for. But rather than shoehorn a dozen modern hotel rooms into a medieval floor plan, inevitably leaving some unlucky guests with circular rooms, or staring out at the countryside through a three-inch-wide arrow-slit, architect Isabelle Stanislas has done something slightly more clever, locating the guest rooms not within the picturesque château but scattered about the estate in separate farmhouse buildings.
Wish I designed it: STÉPHANE PARMENTIER
Terminal Neige Totem
Flaine, France
In years past, you might not have given the old Totem hotel a second look: a shame, especially considering its spectacular ski-in, ski-out location on the side of Flaine Forum. But that was before the hip, youth-oriented brand Terminal Neige snapped up the 1960s-era Totem, and turned it into the flagship of their new line of hotels. Forget about the woodsy charm of the classic Alpine lodge: even in its previous incarnation, Terminal Neige Totem was never quite that. The building is a Brutalist concrete structure by Bauhaus master Marcel Breuer, and inside, the look is coolly industrial.
Wish I designed it: PAOLO BRAMBILLA
Fasano Las Piedras
Punta Del Este, Uruguay
The Fasano family's Brazilian hotels are about as fine as luxury boutique hotels can get, and in the Uruguayan out-of-town playground of Punta del Este, they might very well have been tempted to repeat the formula. Instead they've opted for something a little more private — rather than a high-rise hotel with all the trappings, the Fasano Punta del Este is a collection of low stone villas, designed by modernist architect Issay Weinfeld to blend somewhat with the waterside landscape, a mile or two inland along the Maldonado.
Wish I designed it: GEORGE YABU AND GLENN PUSHELBERG
Perivolas Lifestyle Houses
Santorini, Greece
Sleeping in a cave sounds a bit like sleeping in a treehouse, or sleeping underwater; photogenic, to be sure, but questionable as a real-world lodging. But however unusual the concept might sound, Perivolas — encompassing a series of restored caves that once served as horse stables and fishermen's homes, set into cliffs above the startlingly blue Aegean — looks and feels like a gorgeous boutique hotel on a Greek island. The 300-year old caves have been refashioned by designer Costis Psychas into 21 individual houses set among terraces gardens that look out, amphitheatre-style, over the sea beyond.
Wish I designed it: DAVID TAJCHMAN
Cap Rocat
Mallorca, Spain
Cap Rocat, a reconstructed 19th-century fortress set on an 88-acre coastal estate overlooking the Bay of Palma, isn't some feudal outpost, but a decommissioned military base, and it wasn't all that long ago that guardsmen walked these ramparts. The result, after extensive work from the Spanish architect Antonio Obrador, is not only a boutique hotel with a truly unique personality, but also a parcel of land that was something of a blank slate, and is now there for the wandering, its Mediterranean views seemingly endless.
Wish I designed it: KIM HERFORTH NIELSEN
Public
New York City
Ian Schrager is at it again. The boutique-hotel innovator has always been ahead of the curve, and with his PUBLIC brand it's apparent he's caught on to something the world's luxury hoteliers have failed to notice: inclusive is the new exclusive. New York's PUBLIC is meant to be warm, open, and welcoming — without sacrificing style or excitement. Your room will be suitably Schrageresque, and attractive in its quietly elegant minimalism. These tranquil rooms, with their triple-glazed soundproof windows, are just what you need after a night out on the Lower East Side — or a night out in the hotel's public spaces.
Wish I designed it: BEN DUCKWORTH, MUCH UNTERTRIFALLER
Lloyd Hotel
Amsterdam, Netherlands
There's more to Amsterdam than hostels and canal houses, to be sure. And with Dutch design all the rage, it's odd that something like the Lloyd Hotel hasn't been attempted before. From the outside it's anything but a design statement: a century-old former prison, a listed historic monument that looks all the more out of place surrounded by the brand-new bold and colorful buildings of the Eastern Docklands. As with any hotel, though, it's what's inside that counts, and the Lloyd's interiors are a tour de force of modern Dutch design.
Wish I designed it: MARK LANDINI
Benesse House
Kagawa, Japan
This is truly a special hotel, one worth a pilgrimage for anyone at all with an interest in art and architecture. Located on a tiny, isolated island in the Inland Sea, Benesse House is essentially a collaboration between the billionaire art collector Soichiro Fukutake and the Pritzker prize–winning architect Tadao Ando, with major works and site-specific installations by everyone from Jackson Pollock to James Turrell. And it's clearly been built for love of art, not profit; no budget-conscious hotelier would splash out for five Monet water lilies — to say nothing of their backdrop, a gorgeous Giverny-inspired garden?
Wish I designed it: JOSÉ JUAN RIVERA RÍO