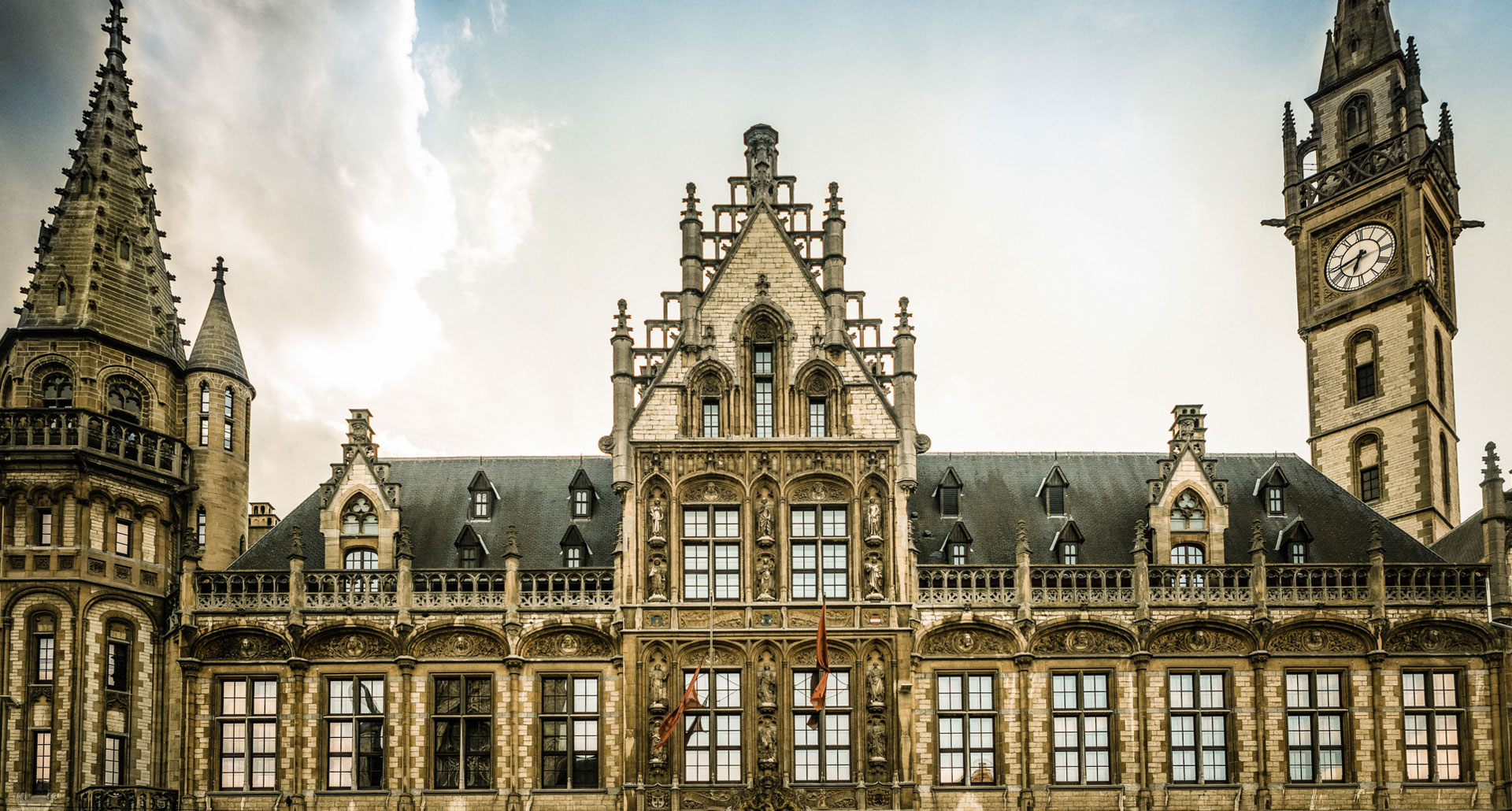 It's Halloween, so we're taking a look at hotels with Gothic architecture, a style synonymous with the mysterious and macabre. Why did we also include songs by R.E.M.? The answer may shock you.
Earlier this year, we wrote about some of our favorite Southern hotels, comparing them to songs from one of our favorite Southern bands, R.E.M. So why write about R.E.M. again? Well, the band actually saw the first story, liked it, and asked if we'd do a part two. Not since Coppola and The Godfather has anyone had such a good reason to make a sequel.
There's hardly been a better time to talk about "scary" hotels, either. This is Halloween week, of course, and it's also the week that R.E.M. releases the 25th Anniversary reissue of Monster, their terrifyingly titled ninth studio album. But instead of another list of haunted hotels, we're focusing on the style of architecture most commonly associated with things that go bump in the night.
Gothic architecture secured its association with the spooky and supernatural in the 18th and 19th centuries, when writers like Horace Walpole, Edgar Allen Poe, Mary Shelley, and Bram Stoker chose Gothic castles and abbeys as the backdrop for their stories of darkness and death. An entire genre of horrifying literature became known as Gothic fiction, and an entire mode of architecture was never viewed the same again.
R.E.M. has crossed paths with the Gothic label as well — especially during the first half of their career. With a sound driven up from underneath Georgia's genteel facade, the Athens natives were considered a sort of modern musical counterpart to the Southern Gothic literature of William Faulkner and Flannery O'Connor. Sonically and thematically, their music reflects the murky and eccentric spirit of the region, underscoring its postbellum tensions and investigating its idiosyncratic characters.
And so, without further ado, enjoy this selection of thirteen hotels with Gothic architectural elements, paired with some of R.E.M.'s most Southern Gothic songs.
Follow along with our R.E.M. — Southern Gothic playlist on Spotify or Apple Music.
The Qvest
Cologne, Germany
"Wendell Gee" — from Fables of the Reconstruction, 1985
The 19th century obsession with Gothic elements comes through loud and clear in The Qvest. Now a hotel, the 1897 building initially housed Cologne's archives and a public library. In keeping with the reigning aesthetic in those days, a neo-Gothic influence touched just about every element in the construction: ribbed vaults, lancet windows, hood moulding, tracery, and an overarching verticality all remain visible today. Similarly, all the elements of R.E.M.'s Southern Gothic signature come through in "Wendell Gee," one of the band's most under-appreciated pieces of musical mastery, and the final track from their darkest and most overtly South-saturated album.
1898 The Post
Ghent, Belgium
"Strange Currencies" — from Monster, 1994
"Strange Currencies" might not feel at first like a song with Southern folk roots, but imagine it without Monster's trademark distorted guitars and you begin to hear the swagger and sway of classic country-blues. It's the kind of plaintive-yet-hopeful ballad that R.E.M. perfected throughout their career, and it's paired on this list with 1898 The Post, a hotel that's equally the shining example of a genre. The old Central Post Office in Ghent was completed at the turn of the last century, and while its neo-Gothic style makes it look much older than that, a brand-new renovation has this beautifully preserved structure ready to host guests in the current century and beyond.
Bryant Park Hotel
New York City, New York
"Carnival of Sorts (Boxcars)" — from Chronic Town, 1982
Starting with the gargoyle on the cover, R.E.M.'s debut EP Chronic Town oozes a dark, peculiar, and highly literary Southern Gothic vibe. And "Carnival of Sorts (Boxcars)," with its calliope intro and images of clandestine railway activity, all but revels in the murky mood. Gargoyles don't make an appearance on the Bryant Park Hotel, despite its home inside the American Radiator building, a strange and imposing black-gold gothic skyscraper that towers above the midtown park like something out of a comic book — or out of Ghostbusters. Penthouse guests might be safe from that movie's statues-turned–terror dogs, but the hotel does look down on the New York Public Library, where other ghost-busting scenes were filmed.
Kruisherenhotel Maastricht
Maastricht, Netherlands
"The One I Love" — from Document, 1987
"This one goes out to the one I love…" — the instantly recognizable first line from R.E.M.'s 1987 hit sets the stage for a song that practically drips with heat and humidity. This song, as much as any other, announced to the world that R.E.M. was a contemporary sonic interpretation of the steamy South found in the plays of Tennessee Williams. Kruisherenhotel Maastricht is another thoroughly modern interpretation, this time of a fifteenth-century Gothic monastery. Designer Henk Vos transformed the original monks' cloisters into handsome hotel rooms that are anything but ascetic, and even the relatively undisturbed spaces are deeply altered by the introduction of sleek furnishings and bits and bobs by the likes of Le Corbusier, Philippe Starck and Marc Newson.
Conservatorium Hotel
Amsterdam, Netherlands
"Country Feedback" — from Out of Time, 1991
The Conservatorium is a radical repurposing of Amsterdam's Sweelinck Conservatorium building — its soaring institutional spaces and ornate century-old neo-Gothic construction transformed into a contemporary design hotel. Offering a focus on pop music alongside more traditional conservatory studies like classical and jazz, there probably was a surprising bit of guitar feedback heard in the Conservatorium during its time as a music school. There's a bit of feedback heard in "Country Feedback" as well, wandering almost incongruently in between and around more traditional country sounds like pedal steel guitar and organ, adding the right amount of frustration and edge that the song's cryptic lyrics cry out for.
Ace Hotel Downtown L.A.
Los Angeles, California
"So. Central Rain" — from Reckoning, 1984
Legend has it that "South Central Rain" refers to massive downpours and flooding in R.E.M.'s home state of Georgia in 1983. The band was apparently out on tour, and wasn't able to check in on family members because the storms had knocked out the phone lines. Specifically, the legend asserts, they were in Los Angeles, which is the reason for this hotel-song pairing, and not because of L.A.'s South Central neighborhood. For the Gothic connection, look no further than the United Artists building, a 1920s Spanish Gothic Revival tower and theater that is the current home of Ace Hotel Downtown L.A.
SINA Centurion Palace
Venice, Italy
"Oh My Heart" — from Collapse Into Now, 2011
Michael Stipe wrote "Oh My Heart" about post-Katrina New Orleans. His lyrics can sometimes be impenetrable, but not here. This is very clearly a song about resilience in the face of tragedy and persevering into the future so we can continue to honor the past. There are no New Orleans hotels on this list, but maybe that would've been too cute. Instead, we turn to another timeworn city fighting back against Mother Nature and climate change: rising sea levels have led to regular flooding in Venice, the home of Centurion Palace and its postcard-perfect Venetian-Gothic exterior. The former convent is located in one of the oldest neighborhoods in the city, which has survived everything from World Wars to the Black Death, and we're confident it will survive its latest challenge.
Chicago Athletic Association
Chicago, Illinois
"Oddfellows Local 151" — from Document, 1987
Long before a recent renovation converted it into a stunning boutique hotel, the Chicago Athletic Association was a private club for the city's (male) movers and shakers. Dating back to the final decade of the 19th century, this Venetian Gothic landmark hosted the kinds of government and business elite that "Oddfellows Local 151" suggests are at least partially responsible for the plight of the characters in the song: the homeless population that was left behind by the political and economic machines of 1980s America. Document was an album filled with fiery passion as R.E.M. found their political footing — no more so than on this, its closing track.
High Line Hotel
New York City, New York
"Swan Swan H" — from Life's Rich Pageant, 1986
Chelsea's High Line Hotel makes its home in an imposing red-brick Collegiate Gothic seminary — and its designers, the local duo Roman and Williams, managed to created an enormously fun hotel in what was an otherwise solemn environment. R.E.M. pulled the same trick, but in the opposite direction, with "Swan Swan H." At first glance, this song about the Civil War appears to be a celebration of freedom, but as it progresses the true cost of a destructive moment in American history becomes more clear. And while the lyrics reference wooden beams of a presumably different sort, for the purposes of this list, we'll think about the ornate ceiling of the Hoffman Hall event space, pictured above.
Le Chateau Frontenac
Quebec City, Canada
"World Leader Pretend" — from Green, 1988
A century-old Gothic Revival castle high on a bluff over the St. Lawrence river, Le Château Frontenac is Québec City's most famous landmark, and has hosted some of the world's most famous guests. Musicians, movie stars, and titans of industry have walked its halls, but powerful politicians may have left the greatest influence — suites are themed after heads of state who have stayed at the hotel. According to Michael Stipe, "World Leader Pretend" was the most political song of the band's career up to that point, and it might continue to be so today. After clashing with Donald Trump over his unauthorized (obviously) use of "It's the End of the World as We Know It (And I Feel Fine)," the band followed up by contributing "World Leader Pretend" to an anti-Trump compilation.
Chateau Marmont
Los Angeles, California
"Drive" — from Automatic for the People, 1992
The Chateau Marmont was constructed to the specifications of the Loire Chateau Amboise in France, and scattered throughout are certain reminders of the French late Gothic Flamboyant style. But though inspired by France, this particular chateau and its infamous scenes of Hollywood decadence could only exist in Los Angeles. Likewise, "Drive" is a song that could only have come from R.E.M. With an echoey atmosphere as haunted as the hallways of the Chateau, the song drives forward slowly and madly, calling out like a pirate radio station in the middle of the night, seeking to empower the youth through rock and roll.
St. Pancras Renaissance Hotel
London, England
"Life and How to Live It" — from Fables of the Reconstruction, 1985
In R.E.M.'s hometown of Athens, Georgia, there once lived a man named Brev Mekis. Suffering from schizophrenia, Brev split his house into two totally different apartments, each with its own unique furniture, books, clothing, even pets. To suit his disparate personalities, Brev would periodically switch back and forth between his two lives. After he passed away, discovered inside the house were hundreds of identical copies of a book he had written called: "Life and How to Live It." The great Gothic structure at St. Pancras has a split personality of its own. On the one hand, it is a lavish, luxurious hotel. On the other, an introduction to a busy, full-functioning rail station. Taken all together, it is the ideal of a grand European railway hotel.
Borgo dei Conti Resort
Perugia, Italy
"Find the River" — from Automatic for the People, 1992
Borgo dei Conti Resort is a deeply romantic place. Originally built as a fortress in the 13th century, the estate was remade into a noble home some 500 years later. Surrounded by acres of gardens and lawns and parkland, the building is a dramatic example of 19th-century neo-Gothic architecture, still as imposing as ever today. On its sprawling grounds, you're likely to find some of the herbs and fruits mentioned in "Find the River," a song that celebrates life specifically because death is always present. Despite the heavy themes, "Find the River" is a gorgeous and uplifting song. It closes out an album full of radio hits, and is equal to or even better than each of those more well-known singles. All of this is coming your way.