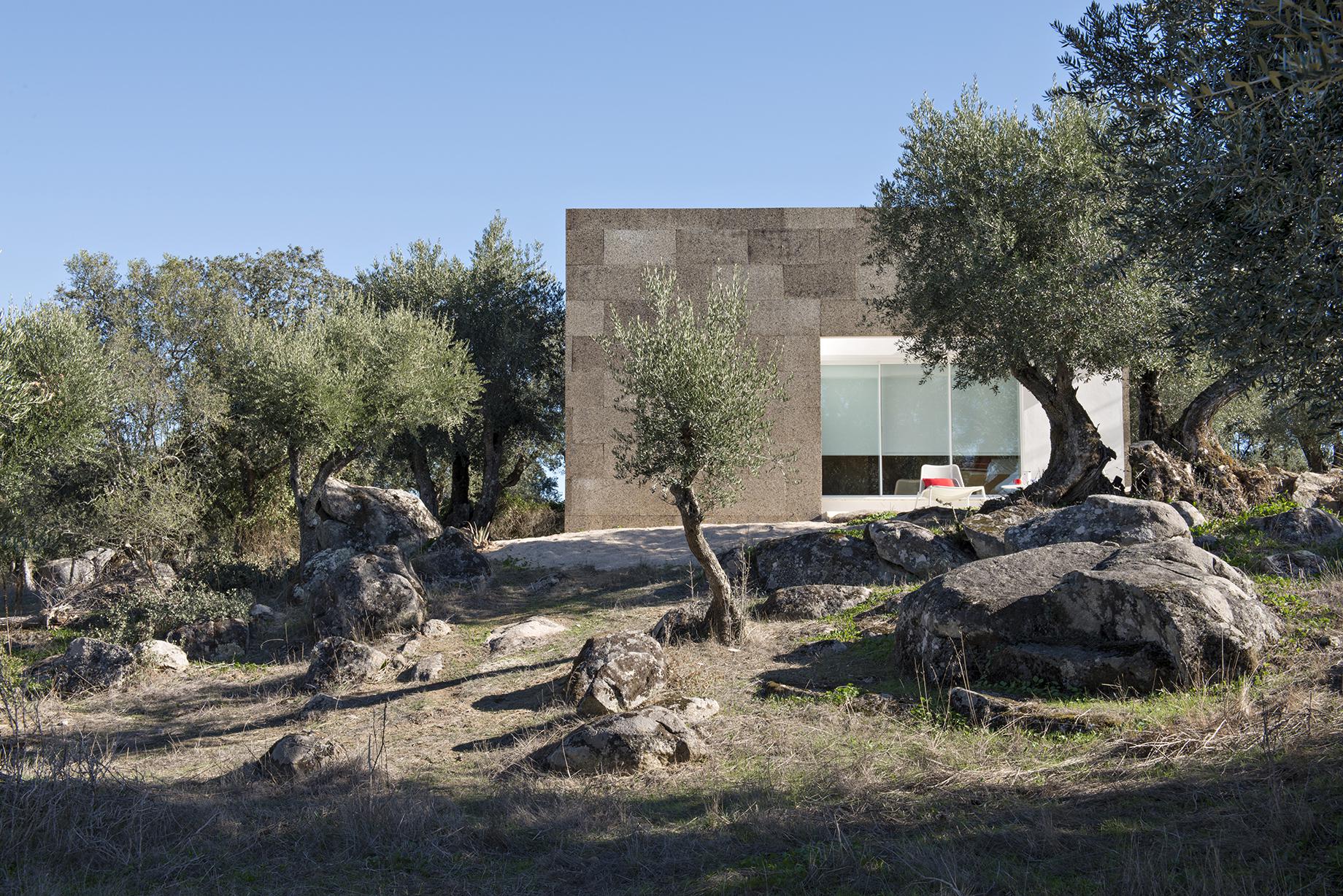 Portugal is one of the world's hottest travel destinations. There are a lot of reasons why — our favorite is the number of exciting new hotels opening throughout the country.
Not so long ago Portugal was under the travel radar. How quickly things change. Over the past decade the country has grown into one of the world's most desirable tourist destinations. There are a lot of reasons for its relatively sudden popularity, from cost competitiveness to a stable political situation to all those glorious beaches, but the one we're most interested in is the explosion of unique hotels.
Hotels throughout Portugal are leading the way when it comes to innovative design. That's something you might expect to hear about larger cities like Lisbon and Porto, but Portugal's collection of truly cutting-edge hotels is even more impressive in the country's rural locations. It's another solid indicator of how much the hospitality world has changed in the wake of the boutique hotel boom. Where once there might have been great risk in targeting a cosmopolitan audience with design-forward hotels located far outside an urban center, now there's seemingly no end to the upside.
Ecorkhotel Évora
Évora, Portugal
Every corner of Portugal seems to be experiencing a travel boom, and Évora, in the inland region of Alentejo, is no exception. Just outside the city of Évora itself, and only an hour from Lisbon, you'll find the Ecorkhotel Évora, a sustainable, energy-efficient boutique-style escape made up of cube-like contemporary villas, divided into 56 spacious suites complete with private terraces overlooking the Alentejo countryside.
Santa Barbara Eco-Beach Resort
Ribeira Grande, Portugal
Santa Barbara's modernist villas are nothing if not photogenic, their rough and rustic materials formed into perfect Euclidean shapes. And they're pleasing to more senses than just the visual — luxe contemporary comforts put you at ease, especially in the top-of-the-line Retreat Villas, and your tranquil surroundings do their bit as well, whether you're looking over the gardens or the sea.
Martinhal Family Resort
Sagres, Portugal
You keep thinking there's no way the Algarve coast can keep dazzling, but it just keeps going, beach after unspoiled beach, eating up a whopping two hundred kilometers of southern Portugal. That's plenty of space for every kind of hotel to host the millions of sun-seekers that descend upon the beaches during the summer. It makes perfect sense, then, for a place like Martinhal Beach Resort and Hotel to contain multitudes; an ambitious offering of varied guest-room styles with the facilities and amenities of a massive luxury resort, and a place particularly well-suited to families traveling with young children.
Conversas de Alpendre
Vila Nova de Cacela, Portugal
The combination of design-hotel good looks and family-inn friendliness is a tough pairing to deliver, but that's a nutshell description of Conversas de Alpendre. Set in the countryside of the Eastern Algarve, it's not just family-owned but family-run and family-made — with locally crafted artisanal elements that include the unique Tree House suite, standing 20 feet above the ground, resulting in a panoramic view.
São Lourenço do Barrocal
Monsaraz, Portugal
São Lourenço do Barrocal is, first and foremost, a 200-year-old, 2,000-acre agricultural estate in Portugal's spectacular Alentejo countryside. Today, the estate is still an organic farm, producing wine, fruits, and other foodstuffs, but much of its infrastructure has been put to new use as a tranquil and quietly stylish luxury boutique hotel — barns, outbuildings, even an olive press have been transformed for use as hotel rooms, suites, cottages, and a spa, while the stables contain horses for guests' use.
Villa Sal
Lagoa, Portugal
The appeal of Villa Sal is almost too simple to effectively describe. It's not one but two villas, set in the seaside town of Lagoa on San Miguel in the Azores, the Portuguese islands in the middle of the Atlantic almost a thousand miles due west of Lisbon. And they get right to the point, looking straight out to sea from a south-facing clifftop setting.
Noah Surf House
A-dos-Cunhados, Portugal
Noah Surf House in Santa Cruz sounds like the purest essence of California — and it is, in spite of the fact that it's not on the Pacific, but the Atlantic coast of Portugal. It's everything you'd want from a hip, laid-back, bohemian boutique surf hotel, plus a generous helping of the ultra-sleek modernist architecture and design that has somehow become the new standard among Portuguese hotels.
Companhia das Culturas
Castro Marim, Portugal
A few miles from the Spanish border, on Portugal's southern coast, where the Atlantic edges ever closer to the Mediterranean, is the municipality of Castro Marim. It's here that a writer/farmer and his wife have turned a working family farm (still growing olives, quince, oranges and figs) into Companhia das Culturas, a nine-room, four-apartment escape tied intimately to the land. A charming homeyness pervades throughout, with a design so subtle that it hardly feels designed at all.
You and the Sea – Hotel and Apartments
Ericeira, Portugal
It's an unusual name, but it certainly paints a picture. You and the Sea pretty well sums up the experience at this stylish apartment-style boutique hotel, set within walking distance of Praia do Sul beach, in the Portuguese surf mecca of Ericeira. Sure, it's not just you — but from within one of its 36 fully serviced apartments, which range from generously sized studios all the way up to sprawling five-bedroom family apartments, it's not at all hard to forget about the rest of the world.
Herdade da Rocha – Boutique Lodge
Crato, Portugal
It's not just Portuguese tourism that's on the ascendant, but Portuguese winemaking as well. Which means it's the perfect time for a hotel like Herdade da Rocha Boutique. It's set on a winemaking estate in the Alto Alentejo, the site of the Couto Saramago winery, whose vineyards and gardens are now joined by a stylish contemporary lodge. After all, there's only so much you can learn about the land from the wine's terroir — there's no substitute for being there yourself.
Douro 41 Hotel & Spa
Castelo de Paiva, Portugal
The Douro Valley of northern Portugal isn't exactly a secret among overseas visitors — the English flocked to the city of Porto centuries ago to taste the sweet wine that made the city famous. But in recent years, seemingly every corner of Portugal has undergone a sort of hospitality renaissance, a trend that's evident in the construction of sleek seaside properties like Douro 41, a contemporary luxury-hotel complex housing 56 rooms and 5 suites.
Sul Villas & Spa
Lagoa, Portugal
Proof that the boom in Portuguese boutique hospitality isn't confined to the mainland. Sul Villas & Spa is set on a cliff high above the southern shore of São Miguel Island, in the Azores, overlooking waters that owner Rodrigo Herédia knows well — he was a pro surfer before embarking on a career as a hotelier. Sul Villas, though, is less a surf shack and more a high-design boutique-style resort, one where you'll likely spend more time in infinity pools and soaking tubs than paddling out to catch the next set.
Casa de São Lourenço
Serra da Estrela Mountains, Portugal
It's incredible, given the density of high-luxury, high-design boutique hotels all across the rest of Portugal, but Casa de São Lourenço is the only luxury hotel in the Serra da Estrela mountains. Perhaps even more noteworthy, however, is the fact that it's an impressive piece of architecture, where studios P-06 and Site Specific have grafted an ultra-modern concrete structure onto a classically styled Forties mountain inn.
Villa Extramuros
Arraiolos, Portugal
Villa Extramuros is a buzzed-about boutique hotel that's located in Arraiolos, which is near the city of Évora, which is the capital of the province of Alentejo. If you're still not quite sure sure which country we're talking about — it's Portugal — it's a testament to just how quiet and comparatively remote the place is. And while the sculptural white villa might seem, at first, at odds with the natural landscape, there's nothing over-the-top about this hotel. With just five guest rooms and a sleek, down-to-earth aesthetic, Villa Extramuros is a minimalist getaway surrounded by olive groves and oak forests that invite a late-afternoon wander. There's nothing much to do here except sleep in, feast on a leisurely breakfast, catch a few rays beside the infinity pool, and maybe catch up on that book you've been trying to read for ages: and that's exactly the point.
Areias do Seixo Charm Hotel & Residences
Póvoa de Penafirme, Portugal
Some high-end hotels make a point of being fine places to be alone. Areias do Seixo, on the other hand, is the kind of place that hosts a nightly communal bonfire on its wild — and wildly pretty — stretch of coast to the north of Lisbon. It's not exactly a free-for-all, however — for although the wine does flow freely, given the vast expanse of farmland and ocean and dunes that's shared by just thirteen rooms, it's a comfortable, low-key affair, about as private a social gathering as one can have in the company of strangers.
Spatia Comporta
Grândola, Portugal
Spatia Comporta promises space, and you'll get plenty of it — Comporta, on the Atlantic coast of Portugal, an hour and a half from Lisbon, is known for its splendidly empty beaches and its upscale hospitality. Spatia Comporta itself is set just outside of town, surrounded by pine forests and rice fields, a few minutes inland from the beaches, and offers a generous measure of seclusion: just four villas divided into a total of ten rooms, on a private estate surrounding a pair of perfectly lovely outdoor pools (one for kids, one adults-only).
White Exclusive Suites and Villas
Ponta Delgada, Portugal
Though technically part of Portugal, the Azores are a thousand miles to the west, in the middle of the Atlantic ocean. This volcanic island archipelago is one of the world's most unique holiday destinations, with its dramatic landscapes and endless sea views. Even São Miguel, the largest of the Azores, is a mere speck of a place, and it's here that you'll find White Exclusive Suites and Villas, a boutique hotel whose straightforward name turns out to be entirely apt.
Saccharum
Madeira, Portugal
When we catch ourselves asking why the Portuguese hotel world seems to be so generously endowed with first-rate contemporary design, we forget there's actually a totally straightforward answer: much of it is the work of designer Nini Andrade Silva, whose elegant, modernist-inspired style sets the tone for many a luxury boutique hotel on the mainland — and on the island of Madeira as well, home not only to Silva herself but to the Savoy Saccharum Hotel Resort & Spa.
Villa Epicurea
Sesimbra, Portugal
We use the word "epicurean" for anyone with a particular love of food, comfort, or other luxury — but the historical Epicurus went farther than that. For the Epicureans, earthly pleasures weren't pursued in a gluttonous way, but were tempered with wisdom and restraint. Villa Epicurea is a stunning boutique-sized eco-resort in Serra da Arrábida, just south of Lisbon, featuring an organic restaurant and excursions to nearby wineries and nature reserves.
Luz Charming Houses
Fátima, Portugal
It was almost a century ago that a little town in Portugal — not even a town, just a field, south of Porto and north of Lisbon — was suddenly put on the map, at least in the Catholic world of popes and priests. It was here, in 1917, that a trio of children witnessed a series of Marian apparitions, and today, the region of Fátima remains a popular place of pilgrimage. Not that you have to receive Communion regularly to appreciate a stylish getaway like Luz Houses. But it helps if you come with an open mind and, perhaps, a mindset that's more geared to quiet breakfasts and long walks in the woods than, say, locating the nearest outlet for your laptop.
Cooking and Nature – Emotional Hotel
Alvados, Portugal
Well, there's something to be said for a name that helpfully spells things out for you. We'd argue that nature should be first, in fact. It's not that Parque Natural Serras de Aire e Candeeiros, where the hotel is located, is so essential: it's not a fundamental destination on the must-see-before-you-die list. But it's a gorgeous landscape within easy reach of a city that is on that list. And Cooking and Nature – Emotional Hotel, with its sleek concrete and glass exterior and its dozen individually decorated guest rooms, is an ideal place to hang your hat during a side adventure into this otherworldly stretch of limestone hills, shadowy grottoes and colossal underground caves.