Philadelphia is in the midst of a renaissance that has it exploding out from behind New York's cultural shadow — and its hotel scene is leading the charge.
Something big is happening in Philly. You can forgive the New York media for thinking of it as "the new Brooklyn" — just remember that in their world there's no higher praise. The food scene is exploding, as talented chefs are drawn to Philadelphia's plentiful space and relative affordability — and many musicians and artists are doing the same. It's a renaissance for a city that has lived too long in NYC's shadow, and the hotel scene is no exception.

The Second Coming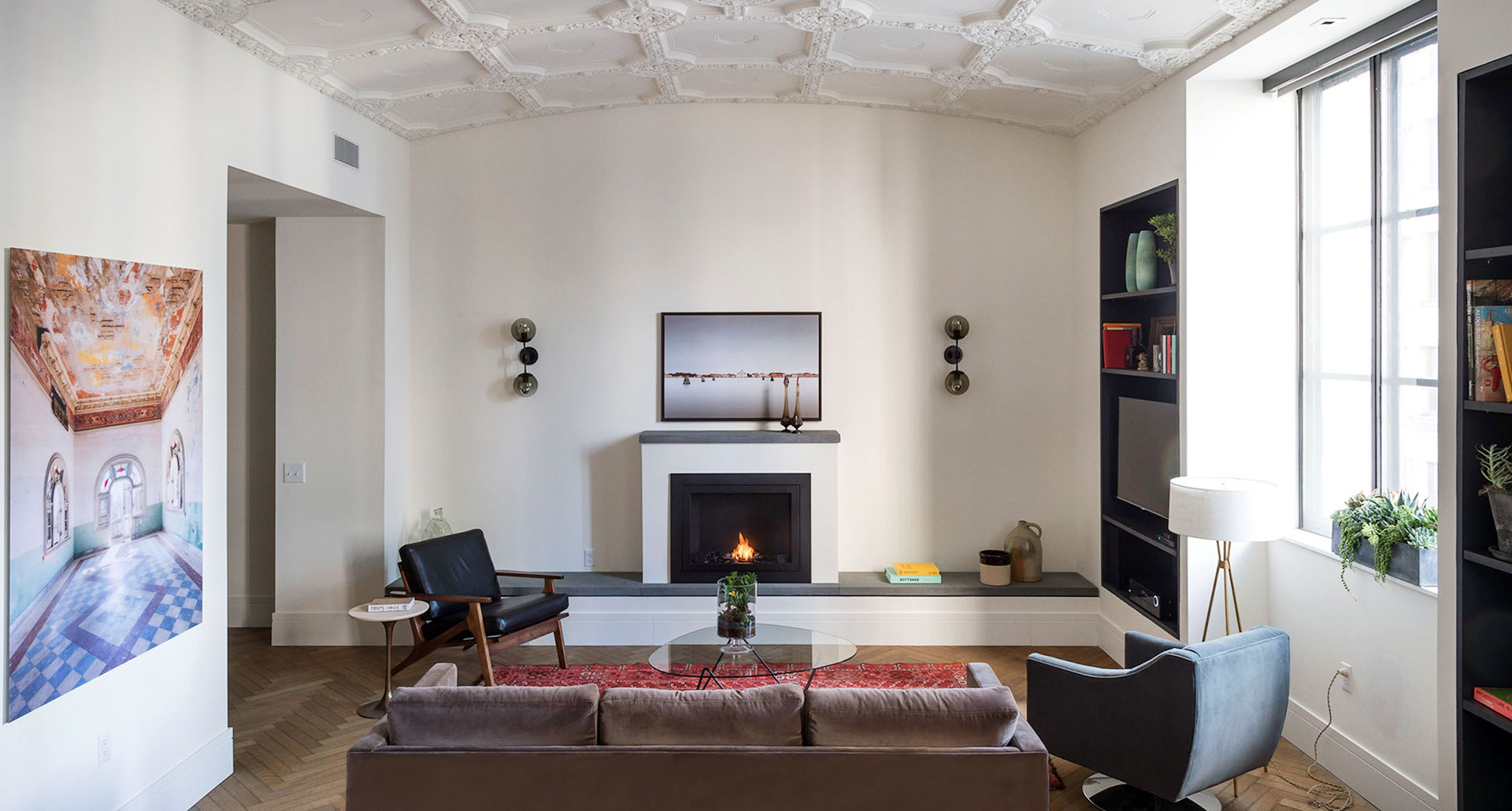 There was a time when Philadelphia's grand hotels helped set the standard throughout the country. In the more recent past, though, accommodation options were mostly limited to major chains and old-money establishments that appeared to have had few renovations since the Revolution. It was a perplexing hole in the résumé of such a large and historically significant U.S. city. Thankfully, the second coming is at hand. In just a few years, the city went from having virtually no innovative, design-forward hotels to having a quickly growing collection.
"Trust the Process" is a phrase that has become almost as synonymous with Philadelphia as cheesesteaks and the Liberty Bell. It began as a rallying cry for fans of the local pro basketball team, but it could just as easily apply to the city's hotel revitalization. This comeback has been been aided in part by the Airbnb-driven success of the apartment hotel concept, which has become a Philadelphia institution of its own. Travelers have an increasing desire for the trappings of home, and Philly has risen to the occasion with a number of options, breathing new life into a genre that tends to be associated with bland corporate housing or emergency residences.
Leading the way with apartment-style lodging is a huge step in the right direction, but it's possible that the biggest impact on the local scene is being made by a small hotel in Northeast Philly's burgeoning Fishtown neighborhood.

Wm. Mulherin's Hotel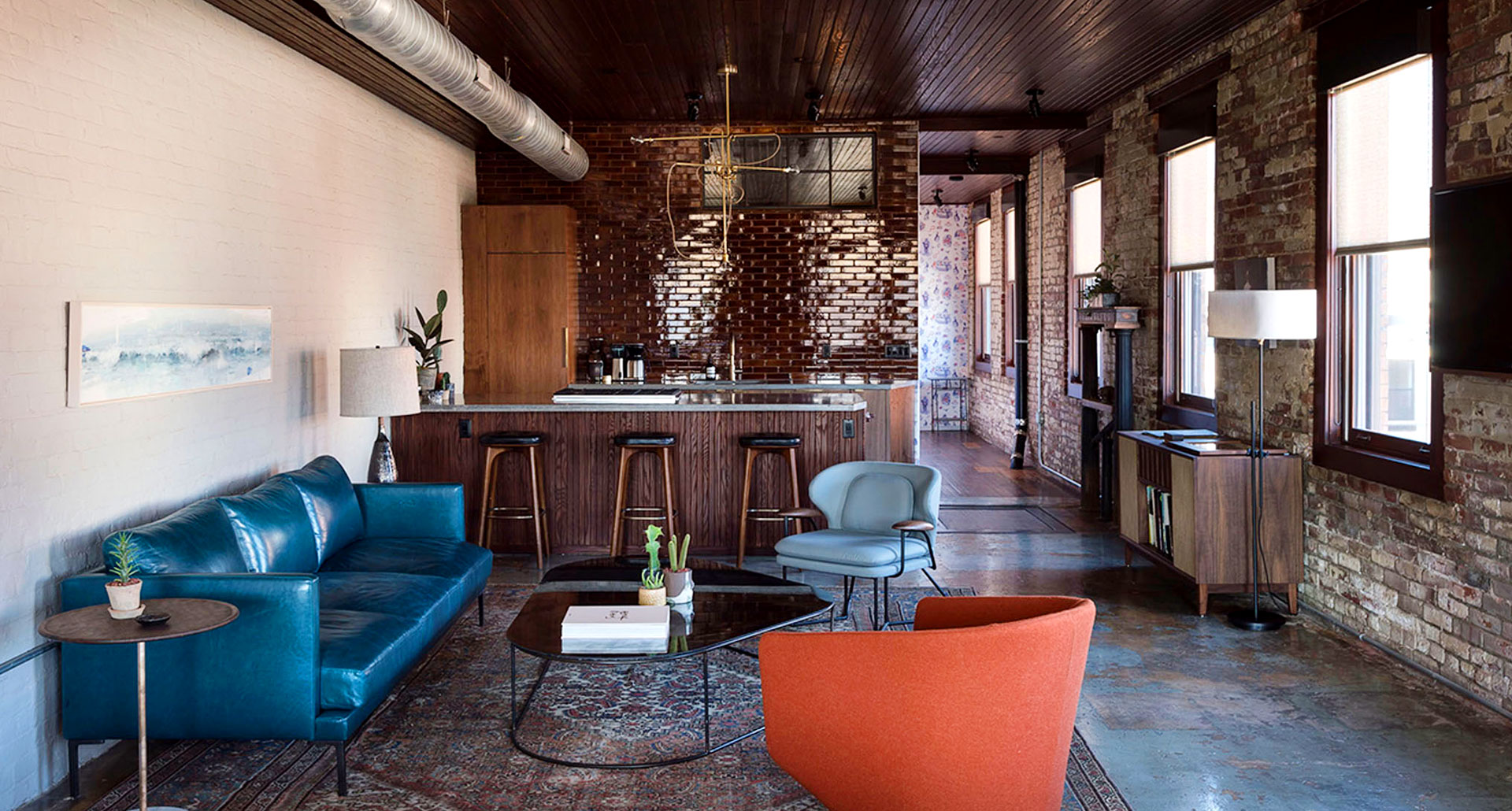 Wm. Mulherin's Sons started in 2016 as a wildly successful Italian restaurant. A year later, it added what immediately became one of the most exciting new hotels in the country. Co-owner Jordan Brand knew that the Philadelphia hotel scene needed a wake-up call: "It had been stagnant for long time and seemed ripe for something offbeat and unique to shake things up." Enter Wm. Mulherin's Hotel — and the stratospheric raising of the local bar.
Bringing the Brooklyn connection full circle, Brand lists 1 Hotel Brooklyn Bridge as an influence for his own project. The two hotels speak a similar post-industrial language, but where Wm. Mulherin's separates itself is by pulling off the impressive trick of seamlessly borrowing from multiple eras of interior design. Working in the remnants of a 19th-century whiskey-bottling plant, designers Daniel Olsovsky and Christine Fitzpatrick have created something that grabs your attention: both fresh and well-worn, consciously designed and spontaneously evolved. Oh, and in case you forgot you were in Philly, all rooms come with full-size kitchens, living areas, and washer/dryers.
Some of the rooms even come with a relatively close-up view of the elevated train that runs by the front of the hotel. That may sound concerning, but trust us, you'll never be more excited to see a train coming, especially if you're an Instagram user. It's rather thrilling, actually, and just another unique feature that adds to Mulherin's charm.

The Entire Experience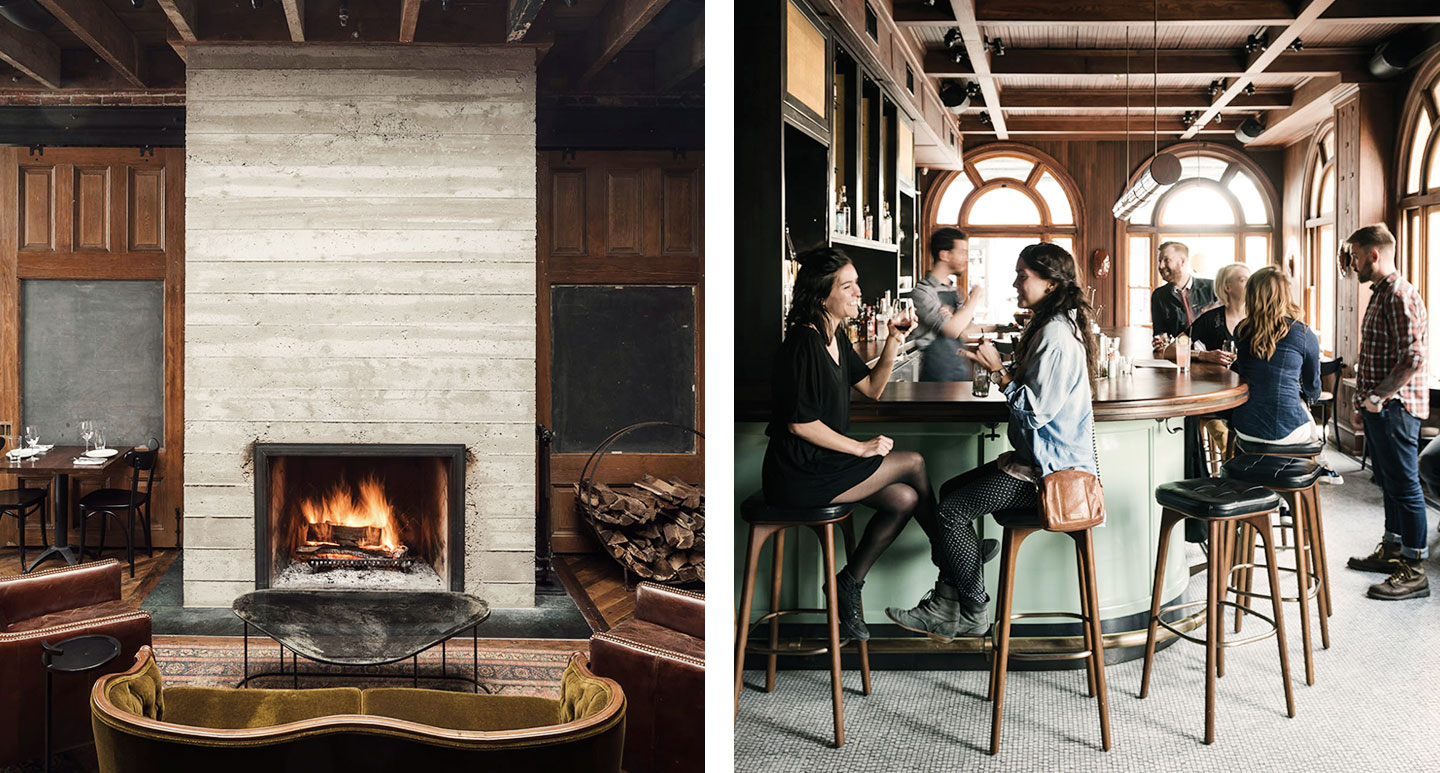 The restaurant and hotel combine to provide a singular package deal at Wm. Mulherin's. Brand recalls, "When the restaurant opened, we realized how much appreciation there was for the history of the building. We felt a hotel offering would translate well and make the entire experience even more special for guests." When asked how often he personally takes advantage of that experience, Brand revealed the ideal use of the space: "I don't stay there as much as I'd like, but I have plans to rent out the entire hotel with a few other couples and have an extended happy hour in each of the rooms before heading down for dinner."
You don't have to own Wm. Mulherin's to do the same for yourself — it's just four rooms — but you do have to decide far enough in advance. The restaurant and hotel are always in high demand, and Fishtown is in the midst of becoming one of America's trendiest neighborhoods. That fashionable feeling echoes what's being felt elsewhere throughout the city, as the nation's former capital roars back to relevance. There was really no reason for it to have fallen so far from the cutting-edge to begin with, but that can all be forgiven now.
Philadelphia, its hour come round at last, proves the process is a success.
— Story by Mark Fedeli

The Rest of the Revival
There's more than just Mulherin's, of course. The aforementioned extended-stay model has found a welcome home in Philly, including the four stylish options below from Roost and AKA. And modern boutiques by the likes of the Kimpton and Sofitel groups provide contemporary comfort and lively public spaces in optimal locations.
Roost Midtown
City Hall
Fans of Brooklyn's Wythe hotel are already booking, but for the rest of us: vintage Twenties prestige infuses the whole of the Packard Building, just down the street from City Hall, two floors of which have been transformed into an Instagram-friendly apartment hotel. Flawlessly composed interiors, a full complement of contemporary amenities, a walkable footprint in the middle of the action: what else does a Philadelphian need?
Roost Rittenhouse
Rittenhouse Square
And why not give it another whirl if it worked the first time? The second Roost is a pitch-perfect duet between turn-of-the-century architecture and clean modernism, continuing a very gratifying tradition with 27 spectacularly appointed apartments and an enviable location right on Chestnut Street.
AKA Rittenhouse Square
Rittenhouse Square
Initially apartments in form and function, these renovated Beaux-Arts lookers now also operate in the short term as AKA's flagship hotel enterprise. Subtly traditional in character yet thoroughly contemporary in material and execution, these rooms prove many times over that the loud statement is far from the best statement. Measured, airy, and serene: this is how it's done.
AKA University City
University City
Philadelphia's capacity for surprise, exhibit A: across the Schuylkill looms a pair of (yes) skyscrapers, and the AKA group has seeded a segment of one of them with its modular apartment-hotel concept. It's high-up high-end living, more or less, with elegant interiors by Piero Lissoni and the kind of gleaming views one usually associates with the Big Apple.
Sofitel Philadelphia
Center City West
No better place for Francophile sophistication than Philadelphia's French Quarter, right? Sofitel's Philly outpost sidesteps expectations of the gaudy, though, instead crafting an atmosphere equal parts strident minimalism and finely worked material: granite, marble, and rich wood accents tread that perfect line between lushness and sobriety. Find your place in the bustling lounge or brasserie and witness the mastery.
Hotel Palomar Philadelphia
Center City West
Hotels are like hermit crabs in Philadelphia, it seems: this one occupies the erstwhile Art Deco digs of the American Institute of Architects. Small wonder it cuts such a dashing figure, then, which gels beautifully with a community-focused events program. Suits, pets, and kids are all equally welcome, proof positive that all boats enjoy this particular rising tide.
Kimpton Hotel Monaco Philadelphia
Old City/Independence Mall
And lest we wrongly imply a business-first philosophy, Philadelphia also has a few tricks up its sleeve; leave it to Kimpton to shake the formula up, especially this close to the business district, with a bright and buoyant design outlook we didn't know we needed. It doesn't eschew history altogether — how could you in such company? — but it freshens the neighborhood's affect, and for that we're more than thankful.
See all of our hotels in Philadelphia.