"To have seen Italy without having seen Sicily is to not have seen Italy at all, for Sicily is the clue to everything." — J. W. Goethe, 1817
Two hundred years ago, Goethe put his finger on something many people are just now coming to realize. Sicily hasn't always been a part of the standard Italian itinerary, but lately that's been changing, as visitors rediscover the island via one of Italy's most cherished modes of travel: the automobile. For our money, a road trip is the best way to experience it all, from the volcanic countryside to that famous coastline. Here are some key signposts to help plan your route — and, most importantly, the hotels you should crash at along the way.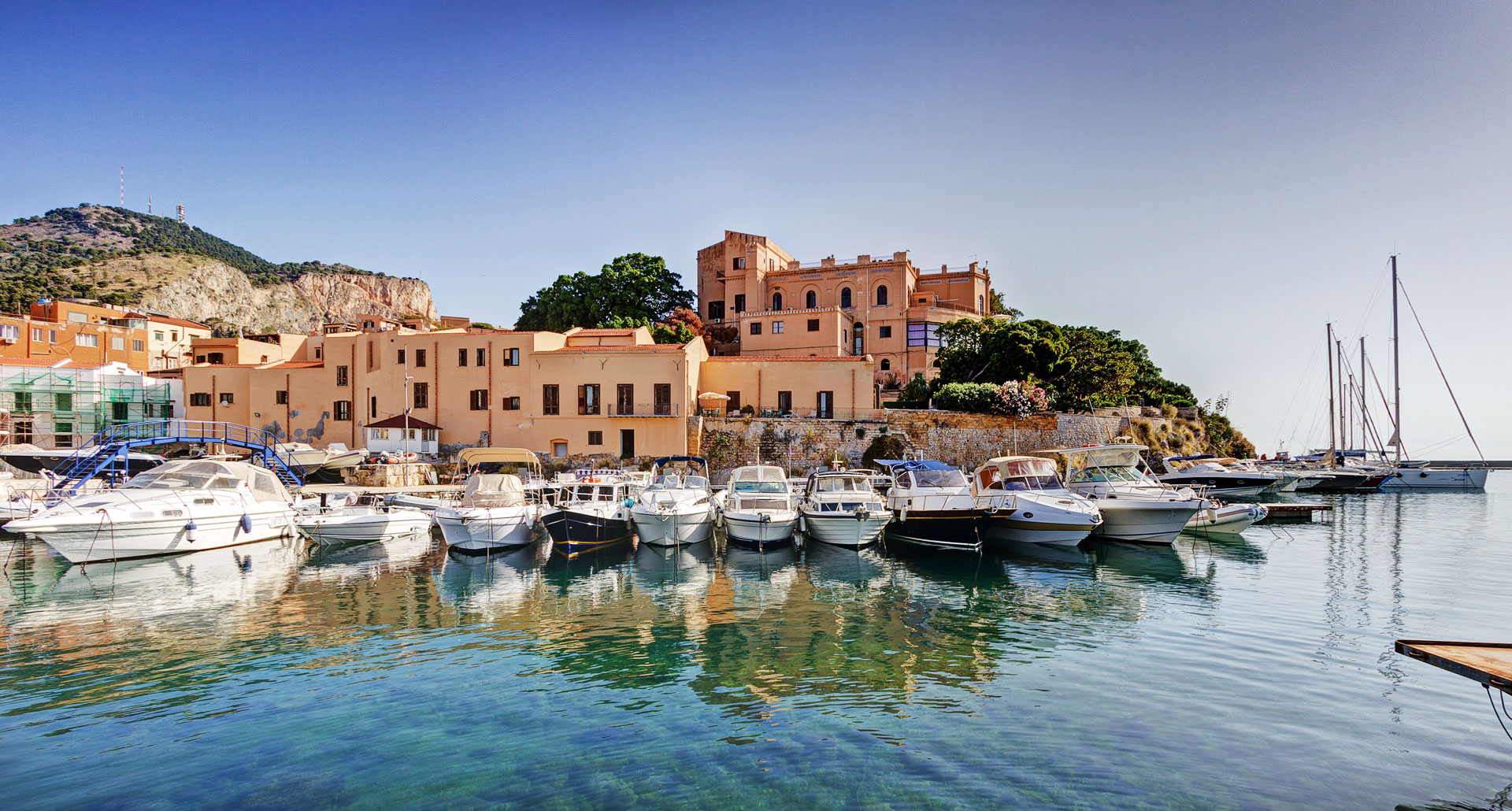 All told, the island loop traverses just over 750 kilometers. We'd recommend a leisurely pace, lingering at each stopping point and timing the travel to arrive in time to appreciate the sunsets.
Driving in Sicily is many things: an art, a habit, a game, a challenge. Signage can be more suggestive than informative, and it won't always be clear at first glance which route is best. That's all part of the fun.
If you're lucky, you'll come upon a few of the coast's 218 ancient watchtowers. These date back to 14th-century Aragonese rule and served to defend against incursion by pirates and other seafaring invaders.
Mt. Etna, one of the world's most active volcanoes and Europe's tallest, is second only to the South Pole in terms of geopolitical complexity: ten municipalities converge to one point at its summit.
Another indelible symbol of Sicily? The coppola, a tweed driving cap popularized in the early 20th century. You'd look great in one.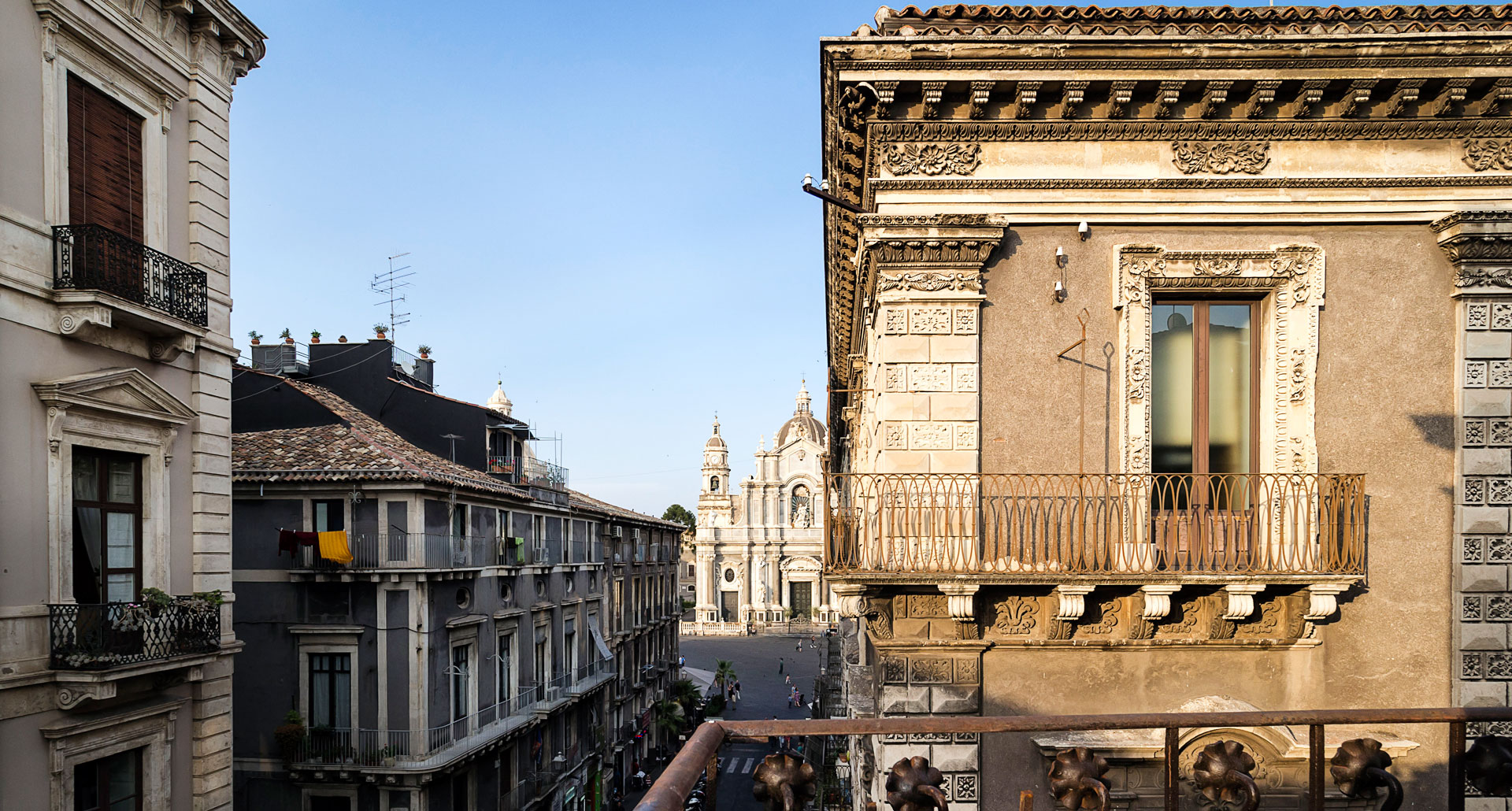 You'd absolutely be remiss in skipping the island's spectacular archaeological bounty. A few must-see highlights: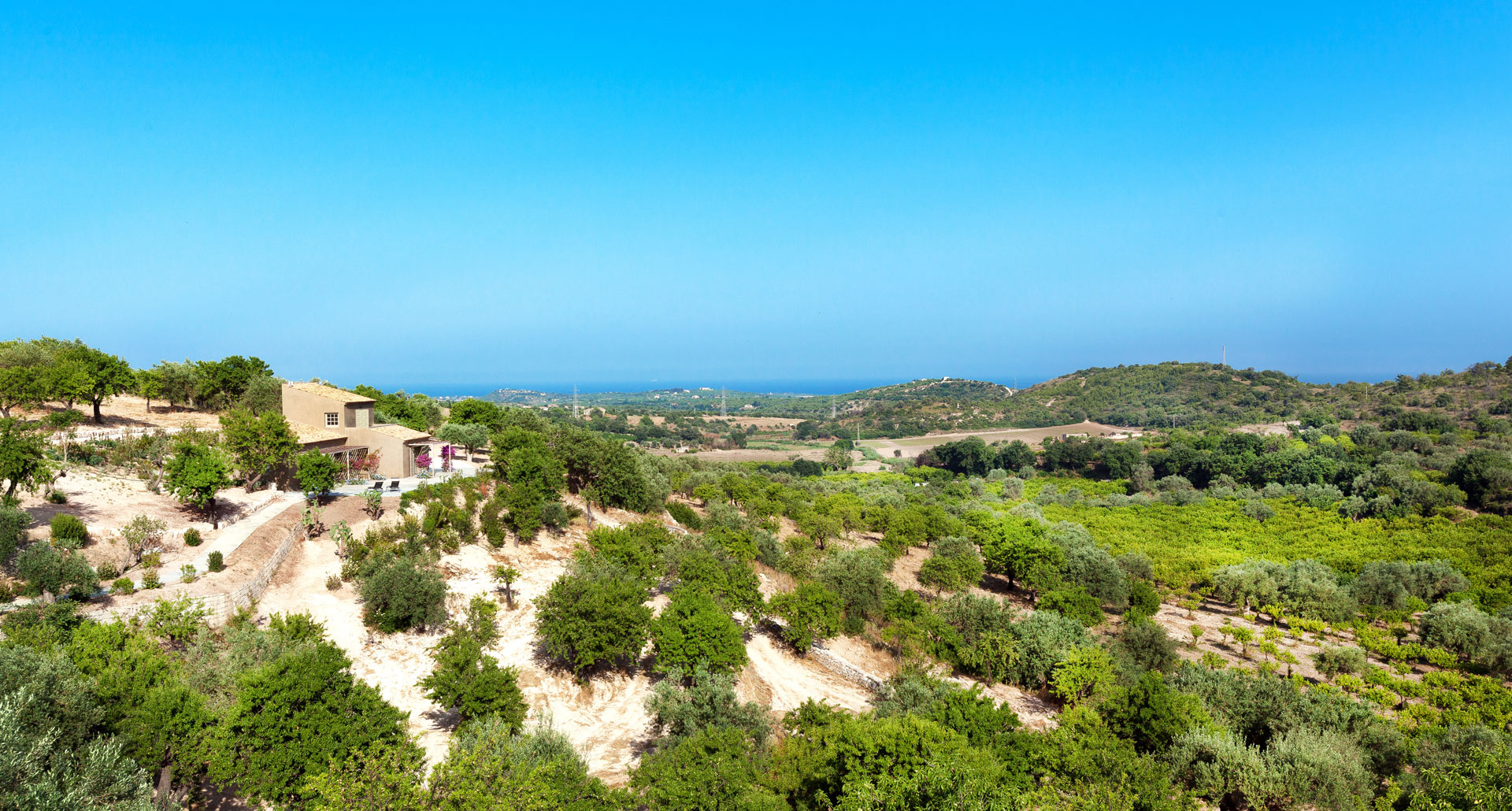 The Hotels
In proper road-trip form, here's a ten-stop hotel tour. You'll start out east from Palermo, heading clockwise around the island, before finishing back in the capital city for the grand finale:
Masseria Susafa
Stop 1 – Polizzi Generosa
After landing in Palermo, head east into the island's rural heartland. Here you'll find Masseria Susafa, still going strong after five generations, equal parts antique and boutique, and a working farm to boot. The old-world allure reaches its zenith here, and so do the hills; from this vantage, the countryside rolls away in velvety, sun-kissed patchwork. It's only the beginning, but the journey is already fully justified.
The Ashbee Hotel
Stop 2 – Taormina
For your daily only-in-Sicily double-take, this former residence of Robert Charles Ashbee, the Arts and Crafts architect, is neighbors with the ruins of an ancient Greek theater. That may sound like a whiplash of a juxtaposition, but each enhances the other, suffusing the ambience with palpable history and designers' eye candy at every turn. Don't dismiss the infinity pool; the true coastline is nice, yes, but the pool's palm-lined perspective really drives the speechlessness home.
Villa Mon Repos
Stop 3 – Taormina
It can be tough to make an impression in a land with so much history, but this little villa has managed quite a bit in its century of existence: besides a stint as a casino, it once played host to the likes of Cary Grant and Marlene Dietrich. If you're feeling adventurous, you're within reasonable swimming distance of Isola Bella, a gorgeous speck of an island lapped by turquoise waves. Well worth extending your time in Taormina.
Duomo Suites & Spa
Stop 4 – Catania
It's not all pastoral countryside — Sicily's got a bit of urban appeal as well. At the heart of the Baroque labyrinth that is Catania is an exquisite cathedral, alongside which is Duomo Suites & Spa. And in case you weren't already feeling like you were plopped in a movie, the interiors pay reverent homage to the masterworks of Italian cinema. It all rises to a fever pitch on the rooftop terrace; best to cool off with something strong and iced.
Una Hotel One
Stop 5 – Siracusa
Una's hotels never shy away from modern design, and Una Hotel One's sleek silhouette contrasts beautifully with the antique environs of Siracusa, while the interiors span the history of high modernism, from the Forties to the Seventies and beyond. Greco-Roman echoes still resound in the surrounding architecture, only to meet their match in this ode to the 20th century.
Country House Villadorata
Stop 6 – Noto/Rosolini
Country house, indeed: this is a statement on behalf of the land itself, a lovingly kept estate in the spirit of winding roads and vast, fertile fields. Yet even here, that innate Italian sense of medley comes into play, conjuring a delicious contrast between clean lines and old tile, inventive furniture and gentle hills. A subtle electricity infuses the whole, especially come sunset. Indulge, we say, and don't be a stranger to the fruit of the vine.
Eremo della Giubiliana
Stop 7 – Ragusa
It's not all farmsteads and olive groves. Near the south coast of the island, housed in a medieval-era convent once occupied by the Knights of Malta, waits the Eremo della Giubiliana, a remarkably posh boutique hotel hidden away within an imposing fortified exterior. These days the experience is anything but ascetic.
Masseria Agnello
Stop 8 – Agrigento
Easy to tell this was once a farm, as they thankfully kept telling reminders of the property's agricultural past front and center in the renovation. Sturdy materials — thick wood beams, craggy stone walls — convey a sense of rustic simplicity and quiet comfort. More Greek temple ruins here, too, in outstanding shape given the circumstances. And it bears mentioning that some unreasonably photogenic seaside cliffs lie just a quick jaunt to the south.
Verdura Golf & Spa Resort
Stop 9 – Sciacca
Golf may not be foremost on your Sicily itinerary, but allow Verdura its say before writing the whole idea off. Rocco Forte's generally right when it comes to luxury-resort gambles, after all, and you may find yourself vigorously nodding when you catch sight of these coast-hugging suites. It's big thinking, clearly, with two and half courses plus four restaurants to pick from. Take the time to take it all in.
Grand Hotel Villa Igiea
Finish – Palermo
Palermo's bustle and spectacle is undeniably appealing: all the better to retreat to a picturesque number like this, bedecked with Tuscan charm in a satisfying tribute to the Liberty style. It isn't just a hideaway, either, boasting a handful of its own restaurants and a ramble-friendly stretch of landscaped grounds to walk off one's gustatory choices. Be warned, the twilit nostalgia notches up considerably when the city lights wink on over the bay at nightfall.