We've tapped our in-house beer experts to guide us through an exploration of brewing's boldest pioneers — hopping from monastery to metropolis to seek out the best and find out what makes them so extraordinary.
Though steeped in legend, the life of Saint Patrick was that of a holy traveler, an inspiration to monks and pilgrims alike. As another sudsy St. Patrick's Day passes, another pilgrimage seems apropos, then: a quest in search of the world's finest craft beers. We've tapped our in-house expert to guide us through an exploration of brewing's boldest pioneers — hopping from monastery to metropolis to Michigan to identify the best beers and discover what makes them so extraordinary.
Andechser Doppelbock Dunkel
Andechs, Germany | Doppelbock, 7.1% ABV, Klosterbrauerei Andechs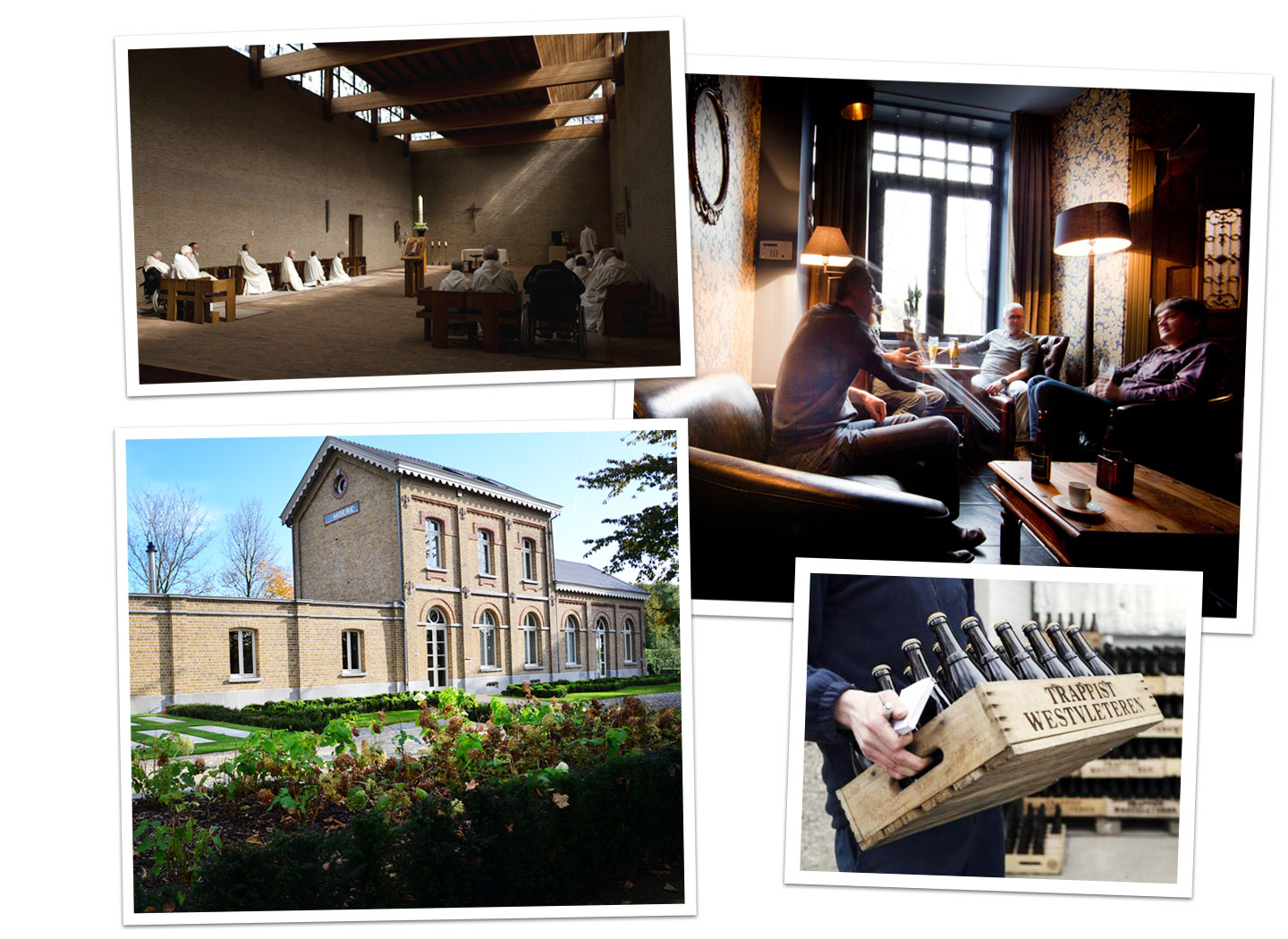 Doppelbock aficionados, look no further: this is German beer's pinnacle, a monk-made, deeply rich and malty meal in a glass. The Holy Beer for the Holy Mountain, if you will, well worth a woodsy hour's uphill walk from the Herrsching S-Bahn station; Andechs monastery is practically the dictionary definition of Bavaria's centuries-old Benedictine hospitality tradition. Makes for an excellent dessert when paired with the Schweinshaxn served by the kilo in the attached restaurant, if we do say so ourselves. You'll leave replete.
We recommend making a day trip of it from Munich, whose Central Station allows for easy transit in and out. Flushing Meadows offers boutique studio rooms in a refreshing Continental design idiom plus a rooftop terrace bar for a nightcap with views of the Alps. Sofitel Munich Bayerpost also gets our vote for its elegant spa and fitness facilities to balance out the indulgence.
Trappist Westvleteren 12 (XII)
Vleteren, West Flanders, Belgium | Quadrupel, 10.2% ABV, Brouwerij Westvleteren
As can happen, regrettably, the best beers in the world are often the hardest to actually find. Such is the case with the Westvleteren XII — or "Westy," as beer geeks call it — whose modest production is in keeping with the age-old Trappist approach. Nonetheless we encourage the search, as this heady brew's famously complex character approaches the spiritual; spice notes balance perfectly with fruity depth, the product of multiple yeasts, all fortified by enough alcohol to warm you through on even the most frigid of Flanders nights. There's a guesthouse for sampling, but be advised that they only reserve beer for pickup by phone, and demand far outpaces supply.
Sobering as its history may be, nearby Ypres welcomes the tipsy traveler wholeheartedly with Main Street Hotel, a jewel of a boutique with just six enchanting rooms. Even quainter, if you can believe it, is Gistel's Spoor 62, just two rooms situated within a historic railway station, all billowing bedspreads and garden romance. If you have to have a hangover, here's where to convalesce.
Xyauyù Fumè
Rome, Italia | "Couch Beer"/Barleywine, 14.0% ABV, Baladin
Beers like this do not exist… until they do. Master brewer (and mad scientist?) Matterino "Teo" Musso is an absolute trailblazer, turning received "how to make beer" wisdom on its head with this head-free, gas-free "couch beer," meant to be sipped slowly and meaningfully. Nothing is sacred: it's top-fermented, macro-oxidized, and aged in oaken scotch whisky barrels for peat-forward flavor. That ABV isn't a typo, either, as you'll be able to tell right away when this fearsomely dark and strong beer hits your tongue. Best of all, the fact that it's produced under Baladin's aegis means it's available not only in select Italian locations, but also at Eataly in our very own NYC.
G-Rough presenta lo stesso sperimentalismo senza esclusione di colpi, abbinando vari stili italiani con successo e sembra appropriato per gli avventurieri della birra. O provate Gigli d'Oro Suite Suite per allontanarvi dalla folla e sorseggiare in pace circondati da elementi di design, magari nella vasca idromassaggio.
IPA
Córdoba, Andalusia, Spain | IPA, 6.3% ABV, Califa
Like it or not, IPAs these days are a distinctly U.S. phenomenon. Well, Califa's out to change that, yanking the style back east with this deeply Andalusian offering, locally sourcing the water and the malts in an expression of "beer terroir." It's got plenty of body — there's the hefty malt backbone — plus the expected Galaxy hops and a tropical fruit profile that's just as much fun for the nose as the mouth. This is artisanal beer done right, not at all limited to a narrow Pacific Northwest personality, somehow both exotic and warmly personal in the same bottle. Sample it as well as Califa's roster of sibling brews at its brewpub in central Córdoba, soaking it up with a menu of small plates.
Besides being an easy walk from Califa, Hospes Palacio del Baílio's Moorish-meets-hacienda aesthetic offers a meditative, deliciously shady counterpoint to a soused afternoon, equally appropriate for a swim or a siesta. Hotel Viento 10, meanwhile, puts the exploratory drunk within easy reach of Córdoba's historic draws: Jewish quarter, the mosque-cathedral, the riverfront vistas, you name it.
La Roja — Grand Reserve
Dexter, Michigan, USA | American Wild Ale, 8.0% ABV, Jolly Pumpkin Artisan Ales
We don't want to send the wrong impression; the states get a lot right, not least this wild and free exemplar from a maverick by the name of "Captain Spooky Ron J." Another Flanders-style heavyweight, La Roja derives its down-home, barnhouse funkiness from up to ten months in the barrel, producing a signature earthiness and sourness with notes of caramel and fruit. Unfiltered and unpasteurized, of course; nothing better for a aimless stroll through the cherry orchards and vineyards encompassing the Jolly Pumpkin brewpub on Traverse City's Old Mission Peninsula. Lake Michigan never looked better, couldn't agree more.
The beer is actually made is Dexter, to clarify, in a facility which fortunately offers on-site samples. Post up in Detroit at Trumbull & Porter; we should say "new Detroit" if this hotel is any indication, as its captivating industrial-chic interiors and happening beer-garden scene attest. The Townsend Hotel anchors nearby Birmingham with a timeless, almost British upscale quality.
Union Jack IPA
Paso Robles, California, USA | American IPA, 7.5% ABV, Firestone Walker Brewing Company
We will concede, though, that the west coast does aggressive hops better than most, to the point where it becomes less a question of an undrinkable hops arms race than one of balance. Out of this cacophony steps Union Jack — nodding to the style's colonial history as well as Firestone brewery's British co-founder — with a confident swagger. There's classic IPA bitterness, but also sweet malty elements; at times it feels like a bold grapefruit beer, at others like a coppery ode to California's majestic pines. Amateurs, take note: it's all too easy to jump from one-note, uninspired concoctions to a noisy, kitchen-sink flavor muddle. This is how you walk that line.
Hop over from route 101 to Highway 1 to stay at Cambria Beach Lodge for a chance to put Union Jack's gusto into practice; guests receive an "adventure kit" to facilitate all sorts of outdoors activities upon arrival. Or just stay on 101 and tuck in (in both senses) at Granada Hotel & Bistro.
Hitachino Nest White Ale
Naka, Ibaraki Prefecture, Japan | Witbier, 5.5% ABV, Kiuchi Brewery
We're continually amazed that such a heterogenous array of beverages all belong under the "beer" moniker. Kiuchi's Belgium-by-way-of-Japan witbier couldn't differ more from the dark, heavy beers listed above. Hazy gold with a finger's worth of white head, this ale is the soul of buoyancy and versatility. Clean and satisfyingly crisp, its aromas and flavors dance between orange peel, white pepper, and strident coriander, making for an excellent pairing with salty beef and noodle dishes in the region. It's well on its way to universality, too, with representation in Tokyo and San Francisco establishments as well as widespread distribution at craft beer purveyors around the world.
Claska accoglie i cosmopoliti in fine stile Meguro, dimostrando che c'è un sacco di spazio a Tokyo per boutique con filosofie alle spalle, oltre ai grattacieli. Non disprezziamo comunque una grande grattacielo, naturalmente Park Hotel Tokyo si rivela sempre affascinante con la sua combinazione di tecno-futurismo e minimalismo.
Special thanks to Josh Cotton, a home-brewer in Brooklyn, for his assistance with this story.
Have you enjoyed an extraordinary craft beer that you'd like to recommend to our readers? Please let us know in the comments below.