In this always-online, always-connected digital era, we're in danger of forgetting just how satisfying it can be to travel truly solo.
Sometimes the greatest thrills are the ones you have without a partner, when you're on nobody else's schedule, just roaming wherever your feet take you. In honor of Singles' Day, here are some of our favorite neighborhoods & boutique hotels for losing yourself in the city.
Soho, New York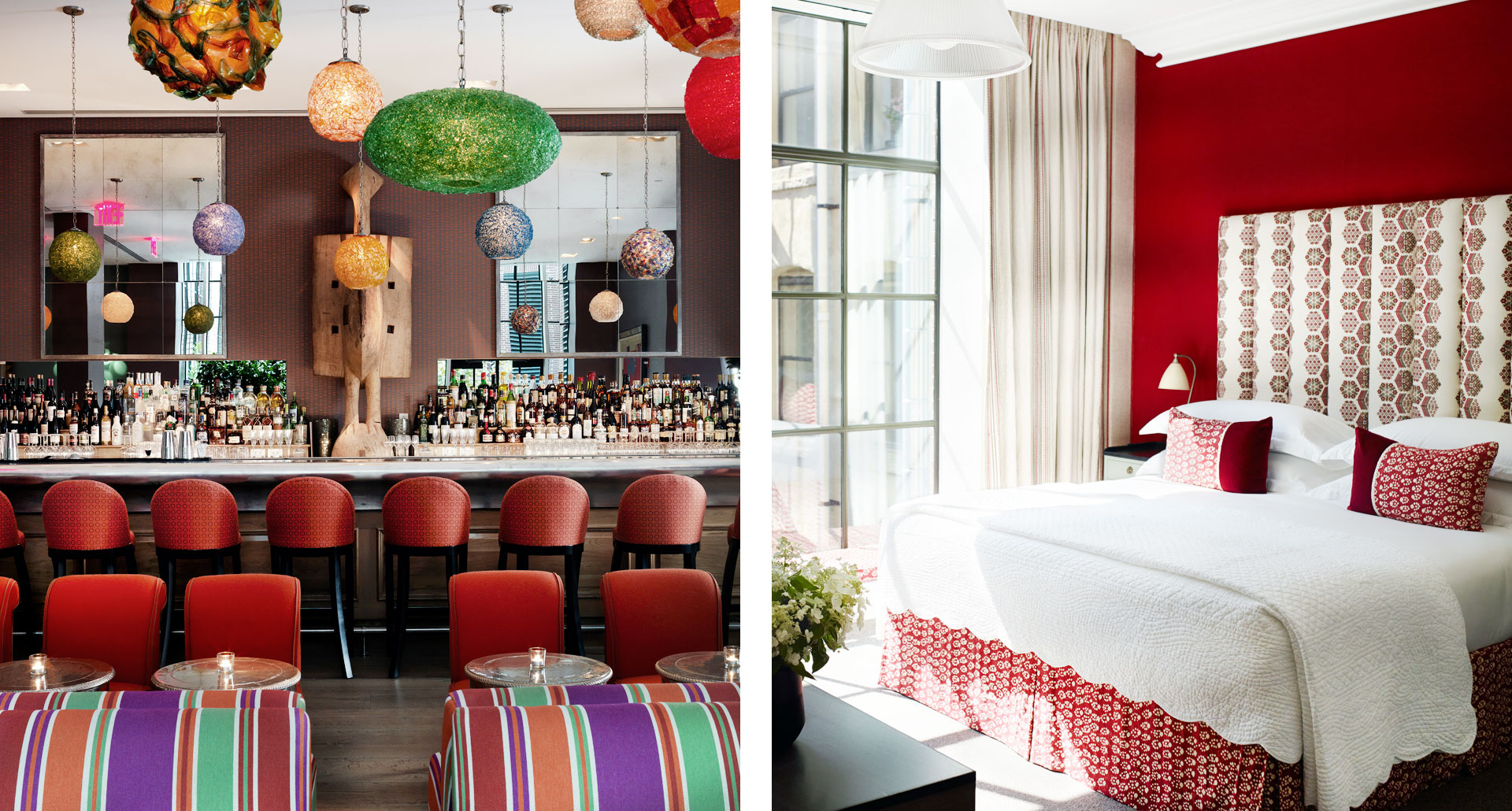 Though most of the pioneering artists who turned industrial SoHo into a highly desirable neighborhood have long since left for greener pastures, the eminently walkable streets they presided over are still full of life. By day beset with shoppers and by night crowded with revelers, it's a perfect place to immerse yourself in the famously sleepless city.
The Mercer is a boutique-hotel original, among the first in the world — and the lobby/library is perfect for lingering, more like a stunningly well-appointed apartment than a sterile entryway. The Crosby Street Hotel delivers warm British hospitality on the border of Nolita, contrasting plush interior maximalism with the cobblestone streets outside. And Soho Grand Hotel keeps the myth very much alive, suffusing a series of dining and lounge spaces with a warm, dreamlike glow.
See more New York boutique hotels
Marylebone, London
Marylebone somehow flirts with village quaintness right in the thick of the city's action. Invent yourself anew every day: on Wednesday take a global dining tour, dedicate Thursday to book-hunting and the astounding Wallace Collection, and give yourself over to a proper pub crawl (not forgetting your manners, of course) on Friday.
Chiltern Firehouse is an honest-to-goodness converted Victorian firehouse, delivering the necessary balance of absolute discretion and tantalizing public spaces, including the Ladder Shed, a guests-only bar-within-a-bar with the occasional atmosphere-improving interloper. The Langham, London hardly needs introduction, having inaugurated London's 19th-century luxury scene, but now it's back under the Langham banner, preserving the heart of historical London with intriguing add-ons like a "book butler" and the pure glamour of Artesian bar. Retail junkies, flock to the The Marylebone, whose proximity to Oxford Street is likely to lighten your wallet.
See more London boutique hotels
Le Marais, Paris
The Marais captures the swoony, lovesick, cinema-ready atmosphere of classic Paris so well that you won't want to leave. We mean it: these mazy streets are a symphony in cascading ivy and timeworn cobblestones, one part traditional Jewish heritage and one part diverse, tolerant, countercultural crossroads.
For historic cred, you can't do better than Les Bains, formerly a nightclub of delicious notoriety; these days it's a hotel whose spaces vary delightfully from baroque grandeur to post-industrial coziness. Hôtel du Petit Moulin exemplifies unassuming Parisian excellence, hiding a vision of colorful, contemporary elegance behind a 17th-century "boulangerie" façade. Hôtel Providence Paris breaks new boutique ground just to the northwest, sharing a lineage with Brasserie Barbès, possibly the most in-demand nightspot in Paris, as well as about a dozen more of the city's best bars and restaurants.
See more Paris boutique hotels
Santa Monica — Los Angeles
While greater Los Angeles is sprawling and overwhelming, Santa Monica feels self-contained, and provides the element that's missing from so much of the rest of the city: the beach. You can still find plenty of flat whites and design showcases, don't worry — though they pale next to the vast Pacific when it comes to self-care.
Palihouse Santa Monica nails the neighborhood's stylish, low-key vibe; post up in the lobby with a house coffee to see what we mean. Viceroy Santa Monica delivers on-point California cuisine and poolside cabana culture with easy access to both the beach and the action on the Third Street Promenade. On the other side of downtown, Oceana Beach Club goes maximum chill with an on-site spa and fitness center and a soothing wood-and-turquoise design scheme.
Shibuya, Tokyo
Shibuya's core is a study in neon-lit crowds; look a bit further out, however, and you'll find a surprisingly cozy pattern of nooks, parks, and curios nurturing the neighborhood's pulse. Yoyogi park attracts individualists of every stripe — performance, exercise, protest, photography — while Meiji Shrine is a literal temple of greenery. And come evening, there's no shortage of nightlife.
Occupying, as is the local style, the top half of the Cerulean Tower building, Cerulean Tower Tokyu Hotel takes full advantage of its spectacular views of Mount Fuji and Tokyo Bay, perhaps best from the corner rooms' bathtubs. Holding down the fort amid the station-side cacophony is Shibuya Granbell Hotel, a delightfully efficient expression of pop-art cool with a 24-hour upscale "diner" called Plate of Pie. The Capitol Hotel Tokyu is a bit more removed, but it makes up for the distance with a pair of restaurants, a pair of lounges, and an incredibly verdant location on the edge of the Imperial Palace.
See more Tokyo boutique hotels
South Beach, Miami
Sun, sand, style — it's the leisure capital of the East Coast, and for good reason. There's even a bit of culture here, as well as a pronounced Latin influence — and to visit Miami Beach with your significant other would be to close yourself off to the possibilities of the South Beach social life….
Faena Hotel Miami Beach is actually the cornerstone of what will become an eight-block stretch of condominium towers, a high-end design bazaar, and a cultural center; get in early and drink in this decadent slice of Deco. Meanwhile Ian Schrager strikes again with the Miami Beach EDITION, an urban getaway with serious design chops right on Collins, complete with an outdoor movie theater, a bowling alley, and an ice-skating rink — you can't be bored. And COMO Metropolitan resonates with Art Deco aplomb as well, a treat for the eyes while the body enjoys Shambhala spa and the Traymore Bar's gin specialties.