There's no precedent for Nobu, with its Michelin-worthy empire of restaurants and hotels. And it all started with an offer from Robert DeNiro that couldn't be refused — eventually.
Nobu Matsuhisa turned down Robert DeNiro. They'd met a year earlier, sometime between Untouchables and Goodfellas. Like a million others since, DeNiro found himself enthralled by the black cod with miso that Matsuhisa served in his Los Angeles restaurant. Today it's the most iconic dish at Nobu — in an empire that spans 55 restaurants and 36 hotels in nearly every corner of the world.
We imagine few could outright refuse Robert DeNiro in 1989. Matsuhisa flew to New York and heard his pitch, touring the site of the proposed restaurant — a Tribeca property as old, broken, and rat-infested as the rest of the neighborhood was in those days. And he said no. Not for any lack of imagination about what Tribeca would eventually become, but to stay full-time at a restaurant that still desperately needed him. DeNiro took the rejection well. Four years later, he asked again. "So, Nobu, how about it?" Matsuhisa recalled the conversation in his memoir years later. "Why don't you come to New York again?"
This time it was a yes. In 1994, the first Nobu opened in Tribeca, a collaboration between Matsuhisa, DeNiro, and a Hollywood producer named Meir Teper, each extremely competent, well-connected, and passionate for a new venture. "As the Japanese saying goes, New York businessmen wouldn't think twice about plucking out the eyes of a live horse," remembered Matsuhisa, to put a fine point on the kind of pressure cooker that resulted in the Nobu empire.
Nobu went supernova — living proof of the New York tagline. If you can make it here… Today, Nobu's not just a series of upscale restaurants and hotels, it's a lifestyle brand all its own, complete with super-fans and diehards, and a portfolio that spans four continents. When you head to a Nobu, hotel or restaurant, you know what to expect.
But you won't know everything. Matsuhisa began his career in Peru, where he adapted traditional Japanese cuisine to Peruvian ingredients for the first time and learned to invite alternative cultural traditions into his classic dishes. It's a disservice to simmer all the artistry and craft of Nobu down to Japanese fusion, but it is that concept — fusion — that accounts for the remarkable success of the hotels.
The style of the Nobu hotels translates no matter the location. A design-forward Japanese minimalism defines most spaces, but as the Nobu hotels have expanded, they've shown a tasteful expertise in incorporating each setting into their spaces. You'll find the classic Cycladic white walls in Nobu Santorini; industrial accents at Nobu Shoreditch; Andalusian fountains at Nobu Marbella.
There's no disputing that these are restaurant-led hotels. Room service takes on an entirely new meaning when it includes the Nobu menu, and there's usually at least one other restaurant on site (and several bars). There's often a spa, and in certain cases it's a collaboration with another of our favorite luxury brands, Six Senses. Everything is top-notch here, fit for Hollywood royalty. The clientele may skew high class, but there's a certain comfort that goes with Nobu. Or, as one reviewer described the London Portman Square location: "the staff are better dressed than the guests."
As a hospitality empire, Nobu is unprecedented. Restaurants that have been awarded Michelin stars. Hotels in the Tablet selection (like the ones below). Whichever you choose, expect a luxury boutique experience. Expect fantastic food. Expect a certain Japanese-tinged fusion with the local setting that we can only describe as: Nobu.
Imerovigli, Greece
It's a testament to the strength of the Nobu brand — and that of Santorini, for that matter — that you know exactly what to expect from this hotel. Nobu Santorini, the first of its name in Greece, stands on a cliffside in Imerovigli, with an enviable view of the island's famed caldera. And while the hotel itself owes as much to the familiar Cycladic style of whitewashed stone houses as it does to Nobu's signature architectural minimalism, it's as stylish as anything on the island.
Marrakech, Morocco
An enormously stylish, architecturally distinctive luxury hotel with a pronounced Japanese accent and a first-rate food and beverage program. It's set in the Hivernage district's Golden Triangle, one of the city's most prestigious locations. And why not? In typical Nobu form it's easily as plush as any luxury hotel in town, and at the same time as hip as any boutique.
Warsaw, Poland
Half of the Nobu Hotel Warsaw lived a previous life as the Art Deco gem known as the Hotel Rialto. But it's the modern addition that grabs most of the attention, a collaboration between Nobu's Californian architects of choice, Studio PCH, and the Warsaw-based Medusa Group. It's a suitably dramatic rebirth for one of the biggest names in high-end hospitality — it's no exaggeration to say the Nobu Hotel takes Warsaw's boutique-hotel scene to a new level.
London, England
The first Nobu hotel to open in Europe caused a stir with its distinctive ultra-modern architecture, but by now the Nobu Hotel London Shoreditch has proven itself to be one of East London's most formidable luxury boutique hotels. Its design, which mixes a touch of post-industrial patina and some local street art with a heavy dose of futuristic Japanese fantasy, welcomes guests into an entirely self-contained world.
Cabo San Lucas, Mexico
The Nobu Hotel Los Cabos, in Cabo San Lucas, Mexico, imports a pronounced Japanese aesthetic, one whose visual simplicity is a perfect complement to its seaside setting. Four pools and a lavish spa and fitness center make for top-tier lounging, and each room comes with an onsen-style teak soaking tub. And while Nobu, the Japanese restaurant, is the main culinary attraction, it's joined by the modern Californian Malibu Farm and the Mexican Pacific, as well as no fewer than six bars.
Chicago, Illinois
Nobu Hotel Chicago, fittingly, stands over a stretch of Randolph Street known as Restaurant Row. Not that it simply coasts on the kitchen's reputation. The rooms and suites are quite obviously Japanese-influenced, equal parts Zen and ultra-modern post-industrial — check out the cedar tubs in the suites — and they're as luxurious as they are stylish, with plush beds custom-designed for Nobu and upscale conveniences like Nespresso machines and 60-inch smart TVs.
Ibiza, Spain
The hip, glamorous side and the tranquil, luxurious side of Ibiza come together under one roof at Nobu Ibiza Bay, a stunning high-end luxury boutique hotel in Talamanca, barely a mile from Ibiza Town proper. This is no farmhouse hotel, but a modernist mid-rise whose glossy surfaces are tempered by rustic influences in the décor. The idyllic pool deck sits just yards from a small beach, and there's a Six Senses spa, as well as the restaurant that gives the hotel its name.
Marylebone, London
This corner of Marylebone has grown increasingly hip in recent years, and the opening of the Nobu Hotel London Portland Square feels like an exclamation mark. And while the crowd and the vibe will necessarily differ in certain ways from the first Nobu hotel, in the arty East London district of Shoreditch, the experience is a no less memorable one: inspired interiors, lavish luxury, and a very fine restaurant, all under one roof.
Palo Alto, California
Silicon Valley's unofficial college town tends to run just a bit short on cool. No wonder the blossoming Nobu boutique hotel brand saw an opportunity. The Nobu Hotel Palo Alto is the product of a partnership between the stylish restaurant/hospitality group and the high-tech design firm IDEO, and the result is not just an epiphany but possibly the epitome of the tech-friendly boutique hotel.
Marbella, Spain
A luxe, elegant, adults-only escape in one of Europe's great coastal resort towns. We could go on and on about the design and the detailing but suffice to say they're the modern luxury state of the art. The cuisine here, naturally, incorporates Andalusian flavors, and it does so under the direction of Eleni Ioanna Manousou, the first female head chef in Nobu's history.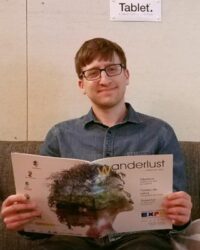 Mitchell Friedman is an editor and social media manager for Tablet and Michelin Guide hotels. He's been with Tablet since 2018, and wants you to subscribe to our newsletter.