In the remote mountains of Sri Lanka, the kind of hotel that entire trips are built around. Santani Wellness Resort, where clarity is the mission, and "nothing" is the decoration du jour.
In the mountain caves that surround Santani Wellness Resort, Buddhist monks once huddled to meditate. Within those naked, natural walls they found transcendence. Some light years of human progress later — or maybe not — guests at Santani take one of twenty rooms for a modern update on that tradition. The vision here isn't simply for a relaxing hotel. It's for nothing less than total consciousness.
You'll understand what that means later. But first, step onto your balcony for sweeping vistas. The founder of Santani, Vickum Nawagamuwage, spent years searching out the perfect location for his oasis of tranquility — a place where setting, philosophy, and design would come together in a spiral of luxury and experience. He found it four hours from the nearest international airport, amidst an old tea plantation, and enclosed by mountainous jungle reminiscent of Bali. He only scoffs at the challenges he faced turning the remote site into the resort that stands here today.
"3,000 years ago, big Buddhist temples were built with no technology." With that in mind, what are 16 mountain-view chalets, four garden accommodations, and a three-level, terraced spa overlooking the paddy fields?
Setting: check.
It's almost derogatory to say that Santani provides merely a spa. Operating on a mix of modern health sciences and traditional Ayurveda, there's a relentless focus on detoxing and cleansing. The three levels of the wellness area descend from ground, eventually opening up — with treatment rooms and thermal salt pool open to the elements — over bright green fields and the ever-present mountains beyond. Santani features the first hydrotherapy facilities in the country. They welcome a parade of visiting masters trained in everything from sound therapy to ancient yoga, muscle relaxation therapy to super-aging.
Philosophy: check.
And yet it's not always what they have here at Santani, as much as the elements they've kept out. Straight, clean lines frame the mountains in every space, and that's as much ornamentation as you'll find. A hint of color, here and there. A canvas chair, maybe. No found objects. No oddities on a bookshelf. Not a single painting. At Santani, even beauty is a detriment to what they hope to accomplish. There should be no distractions.
Instead, a dose of wonder at the mountains — shaped like the knuckles of a fist peeking over the hillsides — is inevitable, but the spare design invites a feeling of oneness over admiration. They call it silent architecture, a direct rebuke of flashiness and clutter.
Design: Check. Check. Check.
Other subtractions, paradoxically, add to the feeling. There's no air conditioning, just fresh mountain air in constant circulation. At dinner, you won't order off a menu, lest the choice become a paralysis. Have a conversation with the chef, instead. It's less a decision than an agreement.
All of it comes together to induce a sense of healing through lifestyle. Talk to Nawagamuwage and you'll understand the inspiration. After years of stress at a high-powered consulting job in the States, he returned to Sri Lanka to create an oasis for those still stuck in the electronic whir of modern life. As we talked, he took me through a theory of human stressors that began with the agricultural revolution. It's all been downhill from there. "The pace of change is so fast," he explains. "We didn't evolve to deal with today's information overload."
He'll be more than happy to elaborate, but the crux of his theory is common sense. We need a reset, and more than once in a lifetime. At Santani, the day begins with yoga, meant to energize. Then breakfast. At ten, there's a guided hike for a jaunt through fresh mountain air. Then lunch. Then treatments at the spa. At four thirty, evening yoga, this time to slow you down. Then dinner. Bed. Repeat. It's a tune-up for body and mind.
Leaving, you can't help but feel transformed — at least for a time. And when you need another check of the engine, Santani awaits.

Book Santani Wellness Resort & Spa on Tablet Hotels.
Nuts & Bolts
A bite-sized breakdown of your most frequently asked questions about Santani Wellness Resort & Spa.
Who comes here?
About half the guests come to Sri Lanka simply for Santani Wellness Resort, here to rest, recharge, detox, and essentially change the oil on body and mind for between seven and fourteen days. The other half are your more typical travelers, touring Sri Lanka and perhaps ending their trip with three or four nights of rest and relaxation.
When's the best time to visit?
January to May sees pleasant temps in the 70s and low 80s, while the rainy seasons are generally September to December and April and May. In the rainy season, you're forewarned that you may see the occasional beetle in your room, and you'll be issued leech socks for treks through the jungle.
What else is there to do in the area?
Incredible hikes through a jungle that for all purposes feels like the rainforest. On one, you'll walk down to the river, over a hanging bridge, through a local village. On another, you'll visit six different waterfalls. Other activities: bird watching, mountain biking, a tour of the tea factory, a hike to the caves or through the Wasgamuwa National Park. You'll likely find yourself taking advantage of the hotel's guides and excursions, but the city of Kandy, too, is just an hour away, with its famous temple, market, and royal palace.
Best room for a solo traveler? A couple? A family?
The sixteen Mountain View Chalets stand alone, each with outrageous mountain views. Most visitors to Santani are couples and solo travelers, and these accommodations fit a max of two people. For families, four Garden View Chalets welcome parents and children (12 and above). Further from the main resort and sandwiched between a small lake and the tea plantation, it's a ten-minute walk to the main lounge and restaurant (or a quick tuk tuk shuttle).
Coming soon: an expansion, featuring 40 villas with individual pools, butlers, and chef service.
What's a design feature I would miss if you didn't tell me about it?
Founder Vickum Nawagamuwage found a designer who once won a Geoffrey Bawa Award for architecture, but told him he didn't want an iota of Bawa at Santani. Rather than the tropical modernism Bawa is famous for, the concept here is "silent architecture." They wanted a feel, not a look. See what you think.
What's there to eat?
Ayurvedic tradition finds its way to the restaurant in the form of the Rasa Haya philosophy — a concept centered on the six tastes — sweet, salty, sour, pungent, bitter, and astringent. In practice, it means bespoke dishes by the Santani chefs, according to your tastes and a custom meal plan created by you and the in-house Ayurvedic doctor. Fruit and vegetables are locally sourced, if not grown in the resort's own greenhouse.
Anything to say about sustainability?
Reclaimed wood for the lodgings, natural ventilation instead of air conditioning, recycled water for the garden, and electric-powered buggies are a few of the sustainability considerations you'll find at a resort that makes environmental considerations a top priority.
What's the final word?
We've hardly seen a hotel in the world that prioritizes relaxation and good health the way Santani does — pair that with a subtly stunning design, and you have a destination hotel that's more than worth the trip.

Book Santani Wellness Resort & Spa on Tablet Hotels.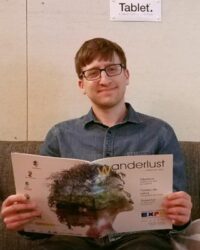 Mitchell Friedman is an editor and social media manager for Tablet and Michelin Guide hotels. He's been with Tablet since 2018, and wants you to subscribe to our newsletter.