Six Senses brings its renowned brand of luxury wellness to Rome, with a big, bright, shining star of a hotel and a modern take on the Eternal City's ancient baths.
The baths of ancient Rome were a treasured part of daily life. Men of all social classes met to strip naked and gossip, and to feel just a touch of superiority over the barbarians who surely never washed so fastidiously. Moving between cold plunges and warm and hot baths, the ritual took place within the large thermae complexes where the baths were often merely the sacred center. On the outskirts, spaces stood for athletics and exercise, food stands, and socializing.
We're hardly scholars of the era, but to our hotel-obsessed minds, Six Senses Rome makes good on the concept for the modern age. The hotel is spectacular, a riot of wellness activities and local dining. And at its center, their take on the famous Roman baths. Under carvings that reference Cupid's arrows, bathers move from tepidarium, caldarium, and laconicum to ice fountain and back, going from warm to scalding to freezing and warm again in the ritual of the ancient Roman. Except here, you don't need to be naked (or a man), the process lasts an hour, and the space is as pristine and well-crafted as a spaceship.
The spa has always been the foundational amenity of the Six Senses resorts, but in other ways this move to Rome is a first for a hospitality titan that's never set foot in a major city. Here they're in a meticulously restored 18th-century palazzo on the Via del Corso. This is the busy, beating heart of Rome, but they've managed to recreate their trademark tranquility just fine.
Built with a Baroque motif to please its resident Cardinal, the palazzo today is an oasis that invites the city inside its UNESCO-listed walls. Tall, leafy plants contrast against stately marble and travertine, their terracotta planters providing a pop of color against white columns. Shafts of natural light stream down into the public spaces. The original marble staircase, the pillars, the arches, and the cocciopesto on the walls inspire a sense of historical awe. But there's a contemporary element to the design as well, implemented by Spanish designer Patricia Urquiola, a kind of thoughtful, neutral coating that makes you want to take deep breaths and stretch.
Over the decades, the Six Senses Spas and Resorts have grown into a wellness empire, where every detail — down to the biophilic concerns of their rooms and the organic ingredients in the restaurants — contributes to a mission of well-being. In bedrooms, sleep programs use a tracker to provide intel on your night's rest. In gyms, fitness regimens combine workouts with meditation and massage to reach goals set just for you. Until now, these programs of rejuvenation were synonymous with expansive seascapes or scenes of rural serenity.
In Rome, those same programs take their turn in the city. They've adapted well. Where you might have watched hatching green turtles with a marine biologist at Six Senses Laamu, here you can peer down a glass window to see a baptismal bath from the fourth century, uncovered during a dig a hundred years ago. They've found other ways to effect sustainability in the city, too, already helping to restore the historic facade of the San Marcello al Corso Church next door.
At the BIVIUM Restaurant-Café-Bar, Six Senses hosts something of an indoor/outdoor Roman plaza all their own, with an open kitchen concept and different stations for locally sourced tastes. Ascend to the NOTOS Rooftop for signature cocktails and warm octopus with views over the historic church and belltower.
Clearly, we've found to our delight, Six Senses doesn't need a desert island for inspiration. It's the effortless mix of eras where Six Senses thrives in Rome, and we're thrilled to see that their sensibility translates so excellently to this very first urban project. Six Senses: coming to a city near you? We can only hope.

Book Six Senses Rome on Tablet Hotels.
Nuts & Bolts
A bite-sized breakdown of your most frequently asked questions about Six Senses Rome.
Who comes here?
It's brand new, so time will tell — but for now, this is the draw for anyone in the market for top quality luxury in the city center of Rome. Six Senses fanatics welcome.
When's the best time to visit?
Summer's peak season in Rome, so we're partial to spring and fall. But this is Rome. Whenever you can make it here, make it here.
What else is there to do in the area?
You're in downtown Rome, with the Trevi Fountain a five minute walk and the Spanish Steps fifteen. Which is to say: Rome is at your feet. That said, Six Senses can provide an excellent tour incorporating the Trevi fountain into an exploration of the intricate water channels beneath the city — as well as guide you through the next door San Marcello al Corso church or through the footsteps of the famous artist Caravaggio. Other activities include a cocktail class on making your own aperitivo or handcrafting spa products from plants.
Best room for a solo traveler? A couple? A family?
Rooms run from the two guest Classic to the massive, two bedroom Lata Suite. With 96 guest rooms, there's options for every party — and each room makes use of cocciopesto and Travertine, natural light and plantlife.
What's a design feature I would miss if you didn't tell me about it?
You won't miss the ancient baptismal bath, but you should know the backstory. In the 1960s, the building underwent renovation to become a bank. Builders found water, terrified it meant the end of their project. Fortunately, the mechanics of the ancient bath meant it could be preserved and built around. It dates back to around the year 400, a remarkable testament to the ancient riches that pepper Rome with a stunning nonchalance.
What's there to eat?
BIVIUM is the primary restaurant, fully dedicated to high quality ingredients sourced locally and seasonally — the open kitchen concept has different stations, including those for fish, meat, veggies, and wood-fired pizza; as well as homemade gelato. On the NOTOS rooftop, an urban garden serving fancy small bites and signature cocktails.
Anything to say about sustainability?
We'd expect nothing less than sustainable excellence from a Six Senses, and they deliver again in Rome. Green power supplies 100 percent of the energy needs at the hotel, dining follows a local and seasonal mission, and waste is composted and used to feed plants both indoors and on the rooftop garden. But it's probably the historical preservation of the building and the next door church that stand out at Six Senses Rome, and we'd be surprised if more community projects aren't already in the works.
What's the final word?
The first urban Six Senses combines their commitment to complete relaxation with an exciting design ethos and respect for the historical setting. We're excited to see what they do in more cities.

Book Six Senses Rome on Tablet Hotels.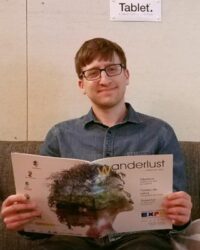 Mitchell Friedman is an editor and social media manager for Tablet and Michelin Guide hotels. He's been with Tablet since 2018, and wants you to subscribe to our newsletter.