Soho House saw the suits taking over their members clubs, and knew a spring cleaning was in order. Their purge is our gain, in the form of creative, comfortable, obsessively designed boutique hotels.
Soho House New York was a hit from the start. But years after opening, something felt off at the exclusive, members-only club. The Wall Street elite had taken over: formalwear and businessmen crowded the stylish spaces meant as a city clubhouse. Nick Jones, the restaurateur who founded the first Soho House in London in 1995, lamented on record that each of his houses should be "a creative, friendly place with a relaxed feel. If there are too many corporate types around, then that atmosphere doesn't occur." Soon after, about 500 "corporate types" found their memberships un-renewed. The New York Post called it the "purge of the suits."
It's about as vivid an example of the Soho House ethos as you'll get. And of how far they'll go to cultivate the proper atmosphere. Today, more than two dozen Soho House properties span the world from London to Mumbai to the waters of the Caribbean, and still, Soho House means exclusivity. There are some 90,000 names scrawled on the waiting list. But the intention has never been a climate of stuffiness and snobbery, and more and more, Soho House has begun to open up to the world.
Almost every Soho House has bedrooms available to be booked on Tablet — opening doors that most of us would never have the chance to enter. A bedroom gives you access to nearly all the same privileges and spaces as a regular member. Welcome to the club restaurant, the rooftop pool, the signature spa. Just make sure you know the code. Don't wear a suit, don't take a photo.
A little background for the uninitiated. Soho House began in Soho, London. The original opened in 1995, in the space above the founder's restaurant. When the townhouse became available upstairs, Nick Jones' first instinct was to expand dining. But the entrance to the new spot was just a small door around the corner. Better to follow London's tradition of members clubs, then — scrapping the traditional and replacing it with the creative-casual vibe of '90s Soho. Just about thirty years later, Soho House represents a tradition of its own. Or maybe an empire.
You won't find excessive minimalism or high art on stark walls, but a series of spaces obsessed over individually by the brand's 50 in-house designers, that by edict must effuse a sense of atmosphere even "with no one in it." That means that comfort and personality rank far above high design. "Traditional hospitality groups repeat the same chair 50 times," said design director Vicky Charles. "We don't do that. It's okay if a good chair has a hole in it. It's eclectic and worn."
The "home away from home" aesthetic blends a bohemian style with local inspiration; often within a historic building infused its own design identity, be it Art Deco in Miami Beach or Bauhaus in Tel Aviv. And in each space, a mix of vintage, custom, and found pieces blends to create the vaunted Soho atmosphere. It's a style that's proven popular enough to demand the Soho Home venture, where enthusiasts can buy Soho House decor for their own homes and apartments.
A similar value system of "atmosphere above all" guides the hierarchy among members. In the legendary Soho House L.A., high-powered agents and movie executives found admission unavailable when club members heard tales of their toxic workplaces. "It's not uncommon to see a fairly anonymous screenwriter get whisked to his table while an agency heavyweight cools his heels at the bar," wrote the Hollywood Reporter.
The Los Angeles Soho House is among the most iconic. And mention the brand and you're likely to think of their storied properties in London and New York, Amsterdam and Berlin. But like we said, the Soho House is now an empire — and their ethos and style translate surprisingly well, no matter where they set up shop.
Below, we've collected ten Soho Houses farther afield than you might expect, either in geography or setting. Each is an exclusive members club and a boutique hotel that invites guests into this world of cool comfort.

Frome, UK
Pre-dating by a moment or two the new rush of country-house design hotels, Babington House was opened in the late Nineties as a sort of rustic sequel to the Soho House in London. A loose and unstructured kind of country excursion, where meals are available at all hours and recreation is of the do-it-yourself variety, whether it's a swim or a game of tennis down at the Cowshed spa, an evening film screening, or a child-free hour in the billiards lounge.
Mumbai, India
The Soho House phenomenon now comes in multiple varieties, including urban-luxe creative-industry hothouses and laid-back beach-house escapes. Soho House Mumbai, as it happens, is a little bit of both; set in the glamorous suburb of Juhu, it's within easy reach of Mumbai's artists and other creative professionals, even as it stands just yards from the waters of the Arabian Sea.
Canouan Island, St. Vincent and Grenadines
Obviously Soho Beach House Canouan isn't exactly like the original Soho House, just as the Caribbean isn't Great Britain. But what's remarkable is how much of the Soho House vision survives the translation to thatched roofs, swaying palms, and white sand beaches. The look is unmistakably Caribbean but also refreshingly cliché-free; every detail, in classic Soho House style, feels both carefully considered and effortlessly achieved.
Chicago, Illinois
It's in a picturesque 1908 industrial building in the neighborhood of Fulton Market that you'll find Soho House Chicago, an establishment that includes a stylish co-working space, a fine set of restaurants and bars, a plush screening room, an 80-foot rooftop pool, a spa and fitness center, and of course, the exact kind of stylish luxury boutique hotel the Second City has long deserved.
Mykonos, Greece
Soho Roc House, a 45-room escape on the south coast of Mykonos, close enough to the beaches and nightlife to feel convenient but removed enough to offer the privacy a members' club demands. Tiny rooms are available for those in search of little more than a swanky crash pad, while the Big and Large+ units expand to suitably resort-like dimensions. Aesthetically, they're pure Mykonos, though filtered through the boho-chic Soho House sensibility.
Garraf, Spain
Little Beach House Barcelona is set not in Barcelona proper, but a half-hour away in Garraf, a fishing village turned holiday spot. And with 17 rooms it's really only little when compared with the urban properties that are the core of the Soho House collection. It's a restoration of a Fifties hotel which leaves just enough of the original intact for a bit of retro atmosphere. The rest is pure Soho House: easygoing, bohemian glamour.
Tel Aviv, Israel
Soho House Tel Aviv, Jaffa is, for now at least, the only Soho House with a turreted tower as part of its construction, thanks to the unique 19th-century building it calls home. And while it's a decidedly urban experience, its location, barely a quarter-mile from the old port, lends it a seaside atmosphere reminiscent of the brand's line of beach houses.
Nashville, Tennessee
Soho House Nashville makes its home in a Bauhaus-inspired red brick industrial building that must have been the most picturesque sock factory in America; this explains the name of the Sock Room and Terrace, an indoor/outdoor performance space that hosts the lion's share of the House's entertainment. This, along with Soho House's other stylish and vibrant public spaces, is open to members only — the good news is that a room key makes you a member for the night.
Rome, Italy
Among Soho House's strengths is a knack for making a statement with an unusual building — in this case a ten-story Modernist-inspired structure in the up-and-coming district of San Lorenzo, to the east of Rome's historic center. Membership leans heavily on the creative industries, which ensures a lively crowd; they're here to mix in the ninth-floor restaurant, bar, and drawing room, or on the rooftop at Cecconi's Terrazza, for a taste of Venice with a bird's-eye view of Rome.
Istanbul, Turkey
The fact that Soho House Istanbul is set in a palazzo built by a 19th-century Genoese merchant is a reminder that this city was, for centuries, a byword for cosmopolitanism and international commerce. Viewed from that angle it's a sensible next step for the Soho House franchise, born in London but now global. The location is spectacular, right in the heart of the ancient district of Beyoğlu. It's no time machine, though — the Soho House experience is a thoroughly modern one.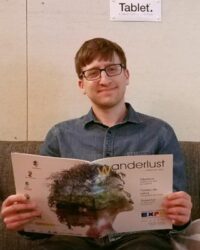 Mitchell Friedman is an editor and social media manager for Tablet and Michelin Guide hotels. He's been with Tablet since 2018, and wants you to subscribe to our newsletter.