Mark Antony liked southwestern Turkey so much he gave it to Cleopatra as a wedding gift. We like it so much we're giving you the rundown on its best new hotel.
Perhaps you're unfamiliar with the southwestern coast of Turkey, known today by a triumvirate of glitzy nicknames: the Turkish Riviera, the St. Tropez of Turkey, the Turquoise Coast. You shouldn't be. The region is legendary for its beauty and backstory. Mark Antony was so impressed he gave it to Cleopatra as a wedding gift. It's got two of the Seven Wonders of the Ancient World. Santa Claus was born here, and so was Herodotus, the "father of history."
History repeats. These days, the Turkish Riviera is again a world-famous destination, known as much for superyachts and being a mainstay on the global party circuit as for its illustrious ancient past. It's home to some of the most lavish hotels in the world, each one filled with luxuries impossible to exaggerate. But a newcomer, Bodrum Loft, has charted a different path to grandeur.
Built into a promontory that stretches out from the Bodrum Peninsula, Bodrum Loft is meant to resemble a traditional Aegean fishing village. Spacious villas cascade down the hill. Colors are muted and traditional. There's a secret garden on the grounds, and a private beach minutes away by buggy. But the hotel's essentially in the midst of a forest. An arboretum of olive and sandalwood, laurel and mastic, cranberry and citrus. Raw materials blend into those surroundings, locally sourced wood, reed, and stone — the latter excavated right from site. Facades and walkways fuse into the terrain, the land's own product a binding agent to itself.
Created by the beloved Istanbul firm Tabanlıoğlu Architects, Bodrum Loft is relentlessly dedicated to the organic. Work began with a survey of the trees. They studied the angles of the sun. The patterns of the winds. The slopes of the hillsides. Then they built in blocks, a mixture of open and semi-open spaces melting into the landscape, so that light and breeze could stream through, and nearly every space retained its straight view to the sea.
In many ways, Bodrum Loft is the opposite of those transient yachts so prevalent in this region. Nothing here just passes through. Opened in the midst of the pandemic, first to family friends and then to the broader public, it's oriented toward guests who tend to stay for weeks or months. "The accommodation system is mostly for long-term stays," the hotel tells us, "and long-term means for a season, because our hotel is open from May to the end of October." Often, guests will rent a villa for the entire six-month season. And when they're away, that's where we come in.
There are typical hotel rooms, set on upper floors with views out to sea, but it's the villas that come suited perfectly for a longer stay. Two- to four-room spaces, each sports a semi-open floor plan and a kitchen, nanny room, and laundry. You won't find many of the typical design touches — tchotchkes or found objects — that decorate other high-caliber boutique hotels. Minimalism has a very specific function here: to keep the focus on the village as a whole, and the landscape that holds it. Like we said, a different path.
Nuts & Bolts
A bite-sized breakdown of your most frequently asked questions about Bodrum Loft.
Who comes here?
The appeal's obvious: sunshine and beaches, hidden coves and vibrant culture and history. But what stands out about those who make it to Bodrum Loft is the two-tier system. Some guests come for the long term, others for just a couple days or a week. But it should tell you something that many spend half a year here. Others dip in for a chic stay and wish it lasted longer.
When's the best time to visit?
It's open from May through October. Stay within that timeframe and you're set. The temperature rarely drops below 60, and summers get especially warm — and lively, as clubs and restaurants really begin to buzz.
What else is there to do in the area?
Nightlife and history: a potent Bodrum combination. The Halikarnas Club is the the famous nightclub that dates to 1979, and the Mausoleum at Halicarnassus is the Seventh Wonder of the World that dates to 350 BC. Take a walking tour of Bodrum Town or visit the Museum of Underwater Archaeology for a sense of this place's long significance. That, or have the Loft concierge set you up with up for wine tasting, cooking courses, bird watching, or olive harvesting.
Best room for a solo traveler? A couple? A family?
Solo travelers or couples might check out the Superior Room, a 42m² room with a sea view. Larger parties can choose between big, bigger, and biggest. The one to four bedroom villas include a living area with kitchen, nanny room, laundry, and open space with a sea view.
What's a design feature I would miss if you didn't tell me about it?
The most impressive part of the architecture may be its restraint. Bodrum Loft has some 57,000 square meters of property to its name. They only built on less than a third — allowing plenty of untouched nature to serve as the ultimate organic amenity.
What's there to eat?
The excellent fare at four restaurants. Loft Elia serves crafted recipes from local produce for breakfast and dinner (it's also the spot for a cocktail). Paper Moon is the upscale Italian restaurant that doubles as the spot for an afternoon aperitivo. KIMU Sushi (coming soon) replaces the Loft's previous collaboration with Nobu. And Patisserie Loft is the Turkish brand Vakko's spin on French pastries, under the watchful eye of the prestigious French Chef Philippe Chatelain.
Anything to say about sustainability?
A system that purifies sea water for use at the hotel, green roofs that collection rainwater for irrigation, a large swath of resortland dedicated just to the peninsula's endemic trees — not to mention the local materials and natural climate control by way of construction and breeze. It's one of the most sustainably minded hotels in the region.
What's the final word?
Inspired design leads the way to a greater appreciation of the Aegean's charms on the Bodrum Peninsula. We've hardly seen a better integration with the landscape — without a single sacrifice to comfort.

Book Bodrum Loft on Tablet Hotels.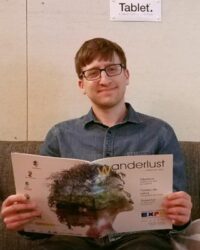 Mitchell Friedman is an editor and social media manager for Tablet and Michelin Guide hotels. He's been with Tablet since 2018, and wants you to subscribe to our newsletter.