The Quoin is hardly just a boutique hotel. It's a harbinger. When a hotel of this quality finally arrives in a place like this, it means something is happening. Now's the perfect time to pay attention.
We know that loads of you live in the New York City area. We've got the data. We also know that, once you've finished reading this story, you'll have a strange new desire: to visit Wilmington, Delaware. If anything marks a New Yorker, it's their yearning to travel to delightful little towns outside the city — but not too far outside. Even better is if we feel like we're among the first of our tribe to land there, giving us the chance to recall, years later, how we visited back before the place really blew up.
Now's your chance. Just 30 miles from Philadelphia, Wilmington isn't some random small town — it's the most populous city in Delaware, with an impressive industrial pedigree and a historic setting amid the rolling green Brandywine Valley. Nonetheless, in the parlance of modern tourism, it's currently nestled nicely in the bosom of "up-and-coming," and still a ways away from "nobody goes there anymore, it's too crowded."
A big reason for the renaissance is the Quoin.
"When people ask, 'Where is the best boutique hotel in Philadelphia?' — we'd like the answer to be Wilmington." That's Randall Cook, co-founder of Method Co., a company that's already responsible for some of our favorite boutique hotels in Philly. That they now have the Quoin, which was the very first Delaware hotel in our selection, proves that their hunch about the city was right.
"Wilmington is truly one of the greatest cities in the United States," Cook tells us. While his sheer conviction might be enough to have you checking the Amtrak timetables, a hotel like the Quoin wouldn't set up in a place that didn't already have something bubbling in the cultural milieu. This isn't the slightly edgier outpost of an established chain brand, after all. This is a custom-crafted, supremely stylish piece of design and hospitality that would be right at home in the hippest corners of Paris or Brooklyn.
The base of the Quoin (pronounced 'coin') is an old bank building, an architectural statement by a Victorian-era architect, Frank Furness, whose influential style helped shape the design language of the region. The bank dates back to the 1800s and has the imposing facade one might expect; a thoughtful restoration means guests walk through original brass barred gates and a scalloped revolving door into a surprisingly calming lobby where a portrait of Bob Marley and an abstract splatter of paint frames the period detailing on the window.
"The team pulled a lot of influence from not only Furness buildings, but also Shaker craftsmanship and the surrounding Brandywine Valley," explains Cook, and the guest rooms follow suit; each space has its own uniquely restored features, from arched windows to brass detailing. The Victorian motif touches everything — the colors are inspired by Victorian-era paints from the early 19th century. Most striking of all may be the bold wallpaper prints you'll encounter in the rooms and the public spaces alike.
Nothing is haphazard here, everything thought through to a conclusion of comfort and intrigue. It's a level of execution that could speak to some sort of chicken-or-egg conundrum in Wilmington, if Method Co. didn't admit which came first. They saw a city on the upswing — they wanted in.
Wilmington is reaching that point in under-the-radar city development where beer halls are beginning to pop up like flowers and popular chefs are starting to lay down roots. Sidewalk art exhibits are reimagining the downtown space. Much of it has to do with decades of investment by two Wilmington brothers whose group, BPG, has put over 1.6 billion dollars into downtown over the last twenty years. To go with the 3,100 new apartments they've filled, they're responsible for revitalizing city icons like the Queen, a historic concert hall, and the Hotel du Pont, a 217-room hotel from the early 20th century, and signing the many restaurants within it. The pandemic could only have accelerated the city's revitalization — what newly flexible office worker in Philly wouldn't take a look at the pretty town with its own waterfront park and cute little riverwalk?
"So many great things have been happening in Wilmington in the past several years, both cultural and culinary," says Cook, as he names a few of the Quoin's neighbors — James Beard–associated restaurants like Bardea and La Fia, along with modern French brasserie Le Cavelier — that have some sites heralding Wilmington (pop: 70,000) as a new culinary rival of Philly (pop: 1.6 million). Another article says "Wilmington Is Becoming the It City Next Door."
"It's a special opportunity to be part of an emerging neighborhood," Cook tells us, and it's the burgeoning scene that has "paved the way for [Method Co.] to be able to turn this vision for a new hotel and multiple restaurants into a reality."
Book The Quoin on Tablet Hotels.
Nuts & Bolts
A bite-sized breakdown of your most frequently asked questions about The Quoin.
Why this hotel and why here?
They're already responsible for Wm. Mulherin's Hotel and the ROOST hotels in Philly, so it's not a shock that Method Co. heard the commotion in nearby Wilmington and decided to make a move. It's a city with a burgeoning cultural and culinary scene, and if you want to zoom in even more — the Quoin itself is only a few blocks from the Amtrak station. Wilmington's just outside of Philadelphia, and about equidistant from NYC and DC (a couple hours or so via car, even less by train).
Who comes here?
Brand new as of last October, our money's on the Quoin as a perfect weekend getaway. "We designed the whole project to have an immersive 24-hour experience," the hotel tells us — spend a day in Wilmington and have dinner and drinks back at base. It's downtown, riddled with eat and drink options, and full of design gravitas.
When's the best time to visit?
The weather's typical of the region, so no surprises there. If you're a jazz head, check out the annual Clifford Brown Jazz Festival in June (the largest free jazz festival on the east coast!). Or, come for the weekend after Labor Day — when the Brandywine Festival of the Arts sets up on the banks of the Brandywine River in a gorgeous downtown park with hundreds of artists set up in outdoor tents.
Best room for a solo traveler? A couple? A family?
No two rooms are exactly the same, but the four room types are simple: the King Suite (395 sq ft.), Deluxe King Room (350 sq ft.), Double Queen (330 sq ft., with an extra queen-sized bed), and the King Room (275 sq ft.). Families may need multiple rooms, everyone else just take your pick and enjoy the historic arching windows or views onto Downtown Wilmington.
What's a design feature I would miss if you didn't tell me about it?
"A color palette influenced by original Victorian-era paints and hand-drawn psychedelic floral inspirations." You don't hear that a lot — but look for the earthy color palette and unique wallpaper and you'll see what they mean. It's all meant to evoke a homey, residential vibe amidst the nature of the Brandywine Valley.
What's there to eat?
If the Quoin's meant to feel like a home, it's the public spaces that makes it a happy one. There's the Rooftop bar, a workspace by day with light fare and cocktails by night. The Quoin Restaurant, a 155-seat restaurant and bar with a wood-fired menu focuses on the tastes of Southern France and Northern Italy. And then there's Simmer Down, located in the former bank's "money room" (read: vault), that now serves craft cocktails under an original brick ceiling and a staggering, hand-painted mural by Philadelphia artist Reverend Michael Alan.
What else is there to do in the area?
We talked about the dining scene, and a growing spat of breweries is just a necessity for any burgeoning city in 2023. Find more culture at the Queen Theater, Delaware Art Museum, and the Delaware Contemporary. Other mainstays within a ten minute walk of the Quoin: the Grand Opera House (home to the Delaware Symphony and Opera Delaware), the Playhouse Theater (known as Delaware's Broadway Experience and host to nationally touring productions), and the Delaware Theatre Company. Drive about a half hour and find the more perennial pleasures of the Brandywine Valley, a space of green landscape (including 32,000 protected acres) stretching along the Brandywine River from Southeastern Pennsylvania to Delaware.
The influence of the du Ponts cannot be overstated around the valley. Longwood Gardens, (founded about 115-years-ago by a du Pont) spreads over some 1,000 acres for one of the most impressive botanical gardens in the country. Other du Pont gardens and historical sites: Winterthur (with its museum full of American decorative arts), the Hagley Museum & Library (see examples of early American industry like restored mills), and the Nemours Mansion & Gardens (with its mansion inspired by Versailles).
Add the Brandywine River Museum of Art and the Brandywine Valley is an undeniably impressive stretch of preserved Americana.
What's the final word?
We're not sure it's fair to call a city with this kind of history up-and-coming, but it's undeniable that there's more to it these days than a story about Joe Biden taking the Amtrak to Congress. In the Quoin, one of the most thoughtfully designed city boutiques in the States is reason to go see for yourself. ▪
Book The Quoin on Tablet Hotels.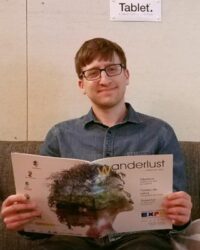 Mitchell Friedman is an editor and social media manager for Tablet and Michelin Guide hotels. He's been with Tablet since 2018, and wants you to subscribe to our newsletter.