Castello di Reschio will never be mistaken for a corporate-run, Disneyfied medieval fantasyland. This 1,000-year-old castle hotel in Italy's Umbrian hills is the real deal — it's owned by one family, and it reflects the aesthetic vision of one man.
The rooms at Castello di Reschio are designed to provoke. It starts with the old portraits that adorn the walls; the hotel's owner hopes they steal your attention, evoking someone you love, or even someone you hate. Their faces, gazing out from centuries past, trigger a sort of reverse Dorian Gray moment. You continue to age, they remain timeless; a reminder of just how long this 10th-century castle has been around, and how long it'll probably be here after you're gone. It's not the most comforting idea, but it's key to understanding what separates Castello di Reschio from all the other incredible hotels that crowd the Italian countryside.
"We're the opposite of a resort," Count Benedikt Bolza tells us. That Castello di Reschio may survive another thousand years can be put down to Benedikt and his father, Count Antonio Bolza, who bought the 1,500-hectare property in the '90s. "We aren't developing," he says. "Development happened in medieval times under some pope. All we're doing is restoring."
Under the eye of the Bolza family, sprawling growth and obsessive convenience are not the priorities at Reschio. There'll be no golf courses dotting the landscape, nor fleets of buggies to ferry you about the Umbrian estate. "We have an allergy" to that kind of thing, says Benedikt, who prefers instead to focus on more intimate details.
For Count Benedikt, everything begins and ends with design. He handpicks or creates nearly every object you'll encounter at Castello di Reschio. Antique tapestries, Modernist chairs, Art Deco lamps, a vintage Marshall radio — Benedikt finds them or his studio makes them, and he places them where they'll have the most emotional impact. The effect is to ground you in the present, to awaken you to the beauty in front of you, to make you enjoy the castle not as Middle Ages cosplay but as someone's soulful home.
"We designed it to feel like we're still living there and everybody's staying as guests in our house." And they designed it to not feel like a typical hotel. In lieu of the usual hotel corridors with their rows of anonymous doors, they simply built more staircases directly from the ground floors up to the suites above. The result is fewer rooms, but larger and much more luxurious ones.
There's really no one better than Benedikt to oversee the restoration of Reschio. Not only is he an accomplished architect and interior designer, he lived in the once-dilapidated castle with his wife, Donna Nencia, and their five children. That was in the old days, back when rain meant a rush for buckets and umbrellas indoors. In 1999, Benedikt began restoring the estate's abandoned farmhouses for private owners, honing his craft. He and Nencia put that experience to good use with the newly opened hotel. These days, any flooding is intentional; the Bolzas converted the castle's ancient wine cellar into a bathhouse.
"The outside fortification tells you to stay out unless you're invited," says Benedikt. But once you're in, it's almost a shock — "you don't expect to find such a gentle creature." That a thousand-year-old castle can be so warm and welcoming is a testament to the relentless specificity of Benedikt's design. His point of view shines through in every space, and his touch is felt in every corner.
Oscar Wilde wrote that every great portrait "is a portrait of the artist, not of the sitter." Turns out that's also true of castles.
Nuts & Bolts
A bite-sized breakdown of your most frequently asked questions.
Why this hotel and why here?
When owner Count Antonio Bolza fled Hungary at the descent of the Iron Curtain with his family, he left behind a heritage of mounted cavalry and an aristocratic estate. After making his fortune anew, he bought a small piece of the Castello di Reschio property — and the match was almost too perfect. Nobleman in search of estate, estate in search of steward. Years later, the Count would raise his own horses here, buy the full estate, and his son, Count Benedikt Bolza, would launch his career as an architect by remaking the dilapidated farmhouses one by one to each buyer's custom desires.
After years of developing an architectural language and living and working out of the estate (Benedikt and his family live in one of the restored farmhouses, and he works out of the old 1940s tobacco factory), the family took the logical next step and opened the castle to the public. Today it has restaurants, bars, and infinity pool, to go with the healthy forest and glassy lake. This is the countryside Italian escape of their dreams.
Who comes here?
Owner Benedikt Bolza told us he couldn't believe how young some of the couples are who find their way to Reschio: here to splurge and to luxuriate on an estate that seems almost unreal. The Instagrammable appeal of Reschio may have something to do with that — Reschio may have the largest Instagram following of any hotel on Tablet — but the high price point and small number of accommodations (36) provides plenty of elbow room over 3700 acres. Many solo travelers find their way here as well, and the sheer number of activities make it an appealing getaway for families. Think tennis and bicycling, lakeside lounging, fishing, truffle-hunting, and walks through the wilderness to spot fox and boar. Cooking classes begin with excursions to forage ingredients and instructors from the estate's equestrian school lead horseback rides through the wilderness (if you really know what you're doing, you can dabble in dressage).
As for what's outside the grounds, Reschio is uniquely located at the border of Tuscany and Umbria, with many little towns within an hour's drive and plenty of historic and cultural sites to find around Assisi, Arezzo, Cortona, Gubbio, Perugia and Siena — and all the food and wine the words "Italian countryside" implies.
When's the best time to visit?
The hotel closes for the low season in January and reopens again in mid-March. The cooler autumn and spring are often considered the best times to visit Italy, when festivals and produce are in season, but the high season — summer — sees the region around Reschio rife with outdoor concerts and opera. The Umbria Jazz Festival, in July, may be the most famous nearby. In 2022, Reschio partnered with the event to save a limited number of tickets for guests, and included dinner and transportation. Other events throughout the year: the chocolate exhibition, Eurochocolate, in Perugia in late March and the religious processions of Festa di San Francesco in Assisi in October.
Best room for a solo traveler? A couple? A family?
Once again, it's hard to go wrong. Each room is uniquely decorated and designed (not to mention shaped — thanks to the contours of the historic building), full of light, and organized primarily around the beautiful garden courtyard. The room categories range from the simply named Rooms to the Tower Suite. The latter is a multi-room and multi-story suite with a rooftop garden and open-air tub. It's a contender for best honeymoon suite in the country, but there are two bedrooms
appropriate for families or friends, too. The Grand Suites fit two adults and two children as well, and the Suite Castello Twin has multiple beds for a family or couples. We don't think a solo traveler or couple would have a problem in any of the remaining room types.
Worth noting is that each accommodation sits within the castle — with the exception of the six San Michele suites, set nearby in the former vestry. Two have private gardens.
What's a design feature I would miss if you didn't tell me about it?
Found objects. An old olive press, for one, or a Roman bust. It's all so seamless, you could miss it — but the choices are a testament to the Bolza feel for design. "I'm a great believer in putting at least one old object, a piece of soul, in each room," Benedikt has said. It's just one way to quantify the thought that's gone into each room, and a testament to the passion of a family affair. Much of the furniture comes from Benedikt's own company, produced with local materials.
What's there to eat?
Two restaurants and three bars serve the grounds at Reschio. The restaurants — Alle Scuderie and Al Castello — both focus on traditional Italian dishes sourced from seasonal ingredients, much of it from their own organic gardens. Each is beautifully designed in the typical Reschio style, all soaring, tree-laden views with plenty of outdoor spaces. Bar Centrale nestles into Alle Scuderie, and the Palm Court bar lives within the iron columns and glass ceiling of a courtyard filled with tropical trees, busts, and portraits. It's an incredible scene. Il Torrino is the pool bar, meanwhile, a squat little watchtower for espressos and cappuccinos, juices and cocktails. Bonus: Reschio makes their own olive oil, wine, and honey.
Tell us about sustainability.
They're nearly plastic-free, and their kitchen is organic — "but I don't like to hang a big bell on that," says the owner, "because you should be" all those things. In other words, it's a given for a hotel of this caliber. As is the fully organic kitchen and farm that grows "as nature intended," with Nencia Bolza leading guests through the vegetable garden where produce mingles with flowers and herbs. Another angle is the focus on local. Materials, of course, but so too staff, many of whom come from the local village. "I think what is singularly most interesting is the slowness of how we've been developing" the estate, says owner Benedikt Bolza. The focus is on rescue, and on doing it the right way. Before the hotel business, Bolza renovated farmhouses. He did 28 in 28 years. "A developer would laugh at that."
What's the final word?
A thousand years in the making, in 2021 the Reschio estate finally opened to the public. It's a testament to the riches of Italian tourism that a place this storied can sprout from seemingly nowhere into Italy's most exciting new hotel. But there you are. A thoughtfully developed castle for the design-obsessed. ▪
Book Castello di Reschio on Tablet Hotels.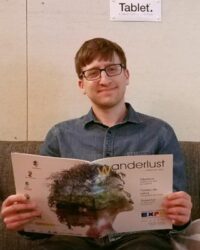 Mitchell Friedman is an editor and social media manager for Tablet and Michelin Guide hotels. He's been with Tablet since 2018, and wants you to subscribe to our newsletter.