Not many hotels willfully claim having the smallest rooms in Europe. Italy's Eremito all but brags about the achievement, calling their rooms "celluzze" — cells meant to evoke the ascetic living of a monastery. It only gets more interesting from there.
Eremito is one of the most fascinating hotels on Tablet — and one that least resembles a hotel at all.
You'll find it on the periphery of 3,000 hectares of protected Italian forest, in an old stone building that's been rebuilt to contemporary standards of safety and sustainability. It hosts guests, but that's where the similarities to a traditional hotel end. Eremito's monastic rooms are just nine square meters and contain no glass, only handcrafted ceramics. Dinner is served, but in a manner you've likely not experienced before. Electricity is discouraged and the internet is foreign. Candlelight flickers everywhere. There is very little to distract you from yourself.
The lack of wi-fi — and phones and televisions and mini-fridges — inspires most of the headlines about Eremito. But this place is about more than trendy digital detox. It is the rare hotel in the Western world that caters specifically to solo travelers, and by the hotel's count, solitary visitors make up some 70 percent of its guests. (Don't mix up solo with single — Eremito's not about romance.) "A solo traveler comes with something to resolve," Eremito's more-than-passionate owner, Marcello Murzilli, tells Tablet, himself every bit the philosopher with his steely gaze and gray goatee. "Maybe in love or work, maybe they're fed up and want to change their life. Or maybe they just want to disconnect and disappear because they're a busy person."
"I always ask, 'how is your luggage? Small, medium, or large?'"
This isn't Murzilli's first shot at helping lift emotional baggage. A former fashion designer, he created the celebrated Hotelito Desconocido in the late nineties, which lured the rich and famous to the jungle on the Pacific coast of Mexico with its promise of a luxury experience sans technology. After fourteen years, Murzilli returned to his native Italy looking to do something similar. He wanted an Italian jungle, and he found one in Umbria, a central, bucolic region of the country that was the medieval birthplace of Saint Francis of Assisi.
The stone building that hosts Eremito was just a a ruin when he found it. Its origin is unknown, but Murzilli speaks with reverence about the historic, monastic spirituality of the region it calls home. For him, it was well worth the five years it took to tear down the structure and rebuild it — incorporating the original stones of the building — with adherence to seismic regulations and a solar powered electric system.
The layout of the structure follows the original footprint, while the interiors follow Murzilli's imagination. The small rooms are meant to feel ascetic, and though it's mostly solo visitors, couples stay together in the same size spaces. Murzilli teases them about the French beds. "If the husband says the bed is too small, I say leave him, because when he met you he liked the bed small."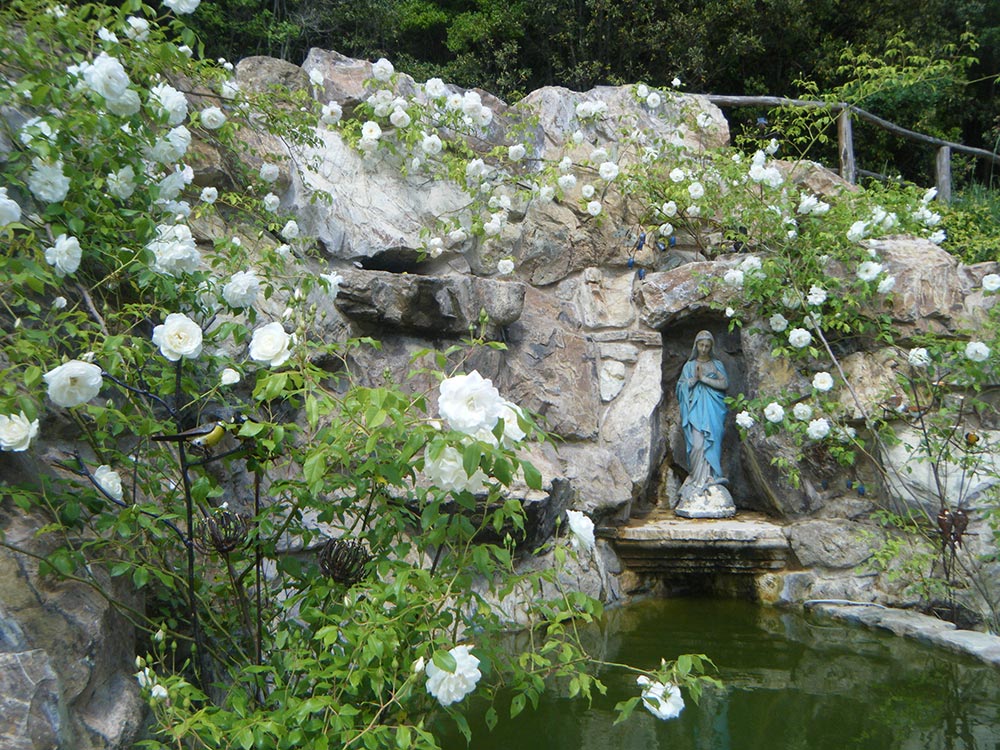 About halfway between Rome and Florence, it's a space that's off the grid, but not one in which to vanish. This is a social hotel. "We forget," muses Murzilli, "when you go into a [regular] hotel you're nobody. You're a number. Here, it's unbelievable. In an hour, you know everyone."
In the morning there's meditation, then yoga, then breakfast. Murzilli might recommend everyone go for a walk in the woods, and "this is the moment" real connections start to form. "People talk about private things together," he says. There's always a feeling, when you travel, that you're getting a brief, fresh start. At Eremito, that's the featured attraction. "Nobody judges you here," insists Murzilli. And you find yourself forming deeper bonds than you expected. Unlike Desconocido, where a night could cost upwards of a thousand dollars, rates at Eremito are affordable, and tend to attract either the very wealthy, or adventurous students on their own paths. "It's what makes it special," says the owner. "They can talk here about private things because they come for the spirit, for the soul."
"When [guests] leave, they cry. 'You met three days ago!'" he laughs. "The atmosphere is fantastic."
It's been called a contemporary monastery, and the intimacy fostered here is Murzilli's great pride. But this is Tablet, and there is more to Eremito than spiritual luxury. Ascetic as the celluzze are, the wrought-iron bed frames host thick hemp sheets. A stone desk might overlook the green valley, and in winter there's underfloor heating. Bathrooms feature marble sinks and handmade soaps to go with the huge brass showerheads. The handcrafted ceramics are made by local artisans, and a spa lures with plunge pool and steam room. Meals are all vegetarian, sourced locally if not grown in Eremito's own garden.
The one place you don't speak is at dinner. Two hundred candles light the room, while food is appreciated, like a religious experience, without conversation. One visitor described the dinner — hers was set to Ennio Morricone's score from the 1986 film The Mission — as full of "exaggerated gestures and cartoonish facial expressions to show gratitude" for each pass of a dish or pour of red wine. The four-course meal ends as it begins, with the echo of a gong, heralding a move into the lounge for fireside reading and tea. If the hospitality world is catching on to the idea that luxury is the escape from technology, it's details like this that keep Eremito in a class of its own.
Whether you come for a few days or weeks, Eremito is not about exploring the countryside — being here, with yourself, getting to know the perfect strangers around you — that's the activity. Most who come here know the deal, but Eremito is part of the Marriott collection, and Murzilli chuckles as he describes welcoming those from Bonvoy who expect an upscale room and get a cell of nine square meters. After the initial shock, he finds they're always "fantastically happy, because they found something really different."
"I'm completely sure, 100 percent, that this is the future" of luxury, he says. "We can't change the world," can't eliminate the stresses of technology from daily life. "But for one holiday, we can."
"Come here and get back to being a human being."