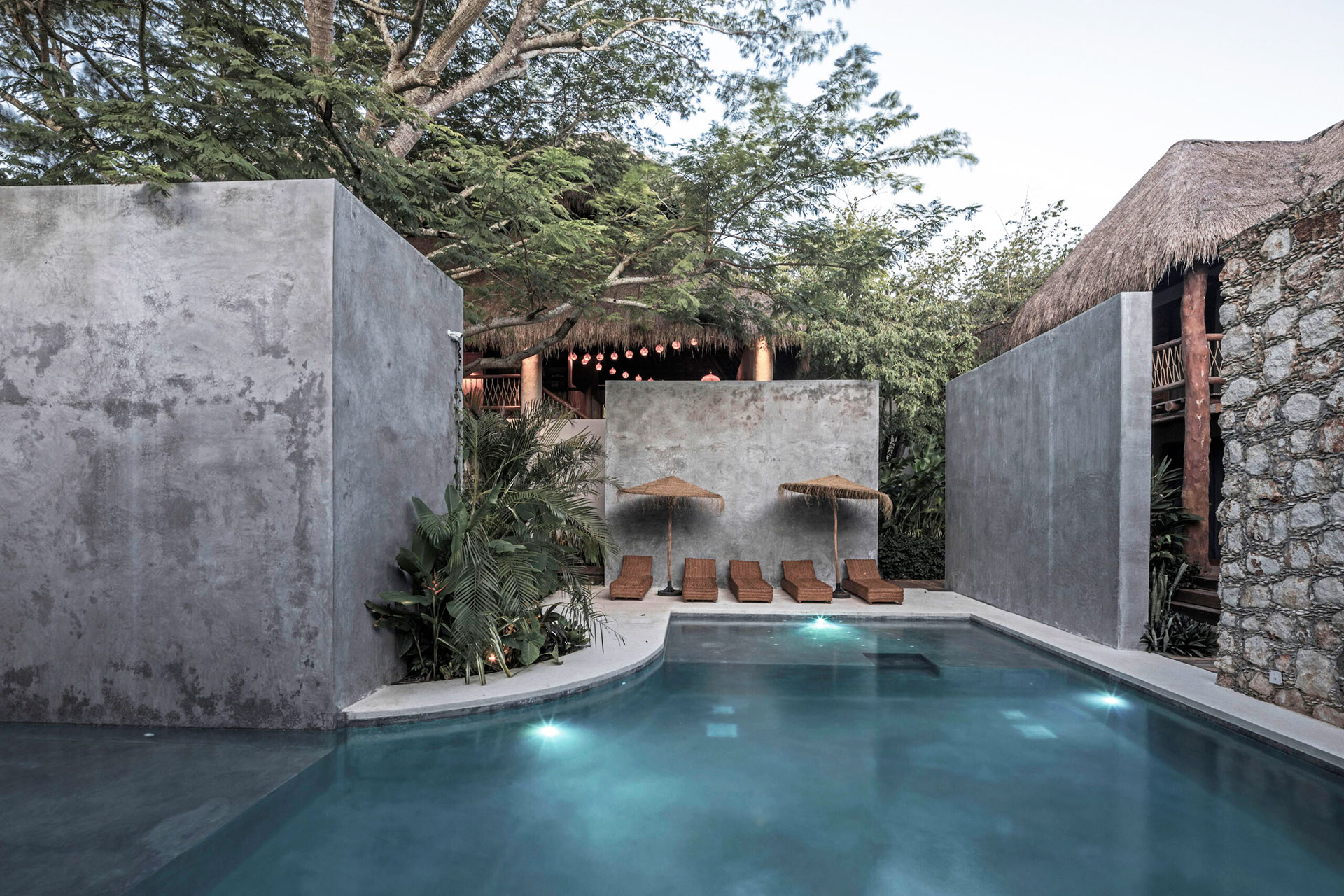 Since hotels are our passion, they're also our barometer for detecting newly flourishing destinations. When the boutique hotels start to arrive, you know something groovy is going down.
The only thing we love as much as a place getting its first Tablet hotel is when it gets its second and third Tablet hotels. The first hotel means something important is happening there: a cultural blossoming, an urban renewal — or maybe the hotel itself is the main draw, singlehandedly putting a new pin on the map. Subsequent hotels signal that there's a growing and sustainable appetite for the unique and exceptional, and that cookie-cutter accommodations just won't cut it anymore.
We want Tablet hotels in every destination you dream of visiting, but we also want our hotels to hip you to destinations you hadn't considered before, be they up-and-coming or ancient. The hotels below were all recently added to our selection. And while the locations upon which they sit are quite different from one another, both in size and familiarity, they're each beginning their ride on the boutique hotel wave.
Salida, Colorado
With America's seemingly limitless supply of mid-century motels transforming themselves one by one into boutique hotels, the average small town is suddenly many times more likely to offer a stylish and thoughtfully designed — if low-frills — place to stay. Salida, in south central Colorado, is just such a place; set on the Arkansas River, and surrounded by 14,000-foot peaks, it's a natural waypoint for adventure travel. It was just waiting for the arrival of a hotel like the Amigo Motor Lodge.
Casa Hormiga
Bacalar, Mexico
The so-called Riviera Maya may grab the headlines, but it's worth venturing a little farther, to the southern reaches of the Yucatán Peninsula, for a truly transformative experience. We noted that the city of Bacalar was being considered the "next Tulum" all the way back in 2019. Now, with Casa Hormiga, it has its first Tablet hotel. Along the shores of the impossibly clear blue lake, rarely have raw concrete walls and thatched roofs looked so natural together.
Esplanade Saarbrücken
Saarbrücken, Germany
There was a time not so long ago when we wouldn't have expected a city of Saarbrücken's size, as appealingly cosmopolitan as it is, to be furnished with a boutique hotel of this caliber. But in the 2020s, you never know where you're going to find a hotel like Esplanade. The hotel makes its home in a charming 19th-century school building on Max Ophüls Square in the atmospheric Nauwieser district, just to the east of the riverside town center. Maybe you're on a car trip through France to Germany, maybe you're in town for the strange, UNESCO-celebrated Völklingen Ironworks nearby. But Esplanade, with its Michelin-starred restaurant, puts this historic state capital on the map for Tablet.
The Rex
Pocono Mountains, Pennsylvania
New York's Catskills get the lion's share of the press, but the Poconos of northeastern Pennsylvania have been due for a resurgence as well. Perhaps a bit overlooked during the boom in air travel, places like the aptly named Promised Land State Park are once again finding favor with East Coast urbanites, and the local hotels are modernizing to meet demand. This is where the Rex comes in. With just ten units it styles itself a "micro-hotel," but it's more simply a small and stylish boutique hotel, combining the charms of the country with the comforts city dwellers are used to.
Twelve Senses Retreat
Encinitas, California
Just up the coast from San Diego, Encinitas is the perhaps the quintessential California beach town. In a place celebrated for its laid-back hippie culture, it's now drawing hotels of as high a caliber as anywhere — although the Twelve Senses Retreat's connection with spirituality is perhaps the perfect fit for the town's vibe. This one-of-a-kind hotel is devoted, at least in part, to the esoteric thought of Rudolf Steiner, whose work serves as something of a manifesto. It's too much to get into here, but it's safe to say that owner/designer Anke Bodack has a vision. Her modernist house was built in 1958, and has recently been rebuilt and expanded into the four-room mini-resort you see before you today, where each of the rooms is dedicated to one of the traditional four elements: earth, air, fire, and water.
Bradford House
Oklahoma City, Oklahoma
The 21c group had already planted their flag in Oklahoma City with a glittering, art-saturated hotel right downtown. But 21c is a group planting their flag all across the underserved cities of Middle America. With the Bradford House, the city gets even more boutique validation, with another hotel that provides the personality, point of view, and style that we mean when we use the word. Bradford House, in Oklahoma's vibrant Uptown district, consists of 36 bedrooms in a well-preserved 1912 apartment house, along with a modern addition decorated in a style that's not just eclectic, but personal.
The Merchant Baku
Baku, Azerbaijan
Since 2016, Baku has had one of the most dramatic street circuits in Formula 1 racing. Now, it's beginning to get boutique hotels to match. The Merchant Baku makes its home in the former headquarters of the Caspian Shipping Company — a stately 19th-century building whose front door practically faces the track. At the heart of the city's historic district and just a couple of streets over from Baku Boulevard, the style is a handsome one, eclectic and unmistakably Azerbaijani but thoroughly contemporary.
Villa Nai 3.3
Dugi Otok, Croatia
Croatia may not be as plentifully supplied with extraordinary hotels as its neighbor across the Adriatic, but the best of them are up there with the most inspiring hotels in the world. The Dalmatian Coast includes a few of them already — places like D-Resort near Šibenik and Hotel Luxe in the historic city of Split. But Villa Nai 3.3 brings Tablet for the first time to the island of Dugi Otok, set in a geographically charmed pinpoint some halfway between Venice and Dubrovnik. The hotel is the work of Croatian architect Nikola Bašić, whose plan called for the excavation of the interior of a hillside on the island, and whose low-profile exterior structures are built from the stone extracted from the caves.
Collective Governors Island
Governors Island, New York
As stocked full of hotels as New York City is, it's not exactly a shock that there aren't many lodgings on Governors Island. Safe to say there's nothing else quite like it in New York City. Governors Island, of course, isn't exactly typical of New York neighborhoods — set between Brooklyn and the Statue of Liberty, a short water-taxi ride from Pier 25 in Manhattan, it's a city park that enjoys unparalleled views and an inimitable atmosphere, one that's impressively pastoral given that you could swim to Brooklyn from here (in principle; don't try it). Collective Governors Island offers the sort of grown-up summer-camp experience you'd ordinarily drive to the Catskills to find, accompanied by live entertainment and cocktails on the Sunset Terrace.
Central Hotel Boutique
Chihuahua City, Mexico
Mexico is hardly an untraveled corner of the world, but the state of Chihuahua has mostly stayed off the tourist path. But if any city in the region deserves a closer look, it's Chihuahua City. And it would be hard to imagine a more distinguished setting for a hotel in Chihuahua than this, right in the heart of the historic city center, next to the Plaza de Armas and the 18th-century cathedral. And the Central Hotel Boutique makes its home in a distinguished building as well: Casa Trías dates back to 1845, and is the city's oldest estate-style courtyard house. And today, after more than two decades under its present ownership, it's attained some distinction as a hotel: this is by a considerable distance the most stylish and most luxurious lodging in town.
Boardwalk Boutique Hotel
Noord, Aruba
Aruba is the sort of place that's managed to get by without having to take much notice of the boutique-hotel movement — picture-perfect white sand beaches and an idyllic climate mean there's little pressure to innovate. But there are exceptions, and with Boardwalk Boutique Hotel Aruba, we've found our gem: a vibrant, colorful, eclectic boutique hotel that makes no compromises on location, set as it is amid a coconut grove just a five-minute stroll from Palm Beach.
Arthaus Beirut
Beirut, Lebanon
Before they turned the building into a hotel, owners Nabil and Zoe Debs lived in this spectacular house in Beirut's vibrant, bohemian Gemmayze neighborhood — it's been in the family for generations, but it's a bit much for one couple, frankly, spread out as it is across four distinct buildings (and incorporating some Roman ruins). Now it's a high-end boutique hotel, and the Arthaus name isn't bestowed lightly; the hotel's permanent collection is an impressive one, and exhibitions and art-world events are regular features here. It's faced more than its share of challenges, but Beirut is one of the most beautiful and historic cities in the world, and we're thrilled to see it finally getting the hotels it deserves.
Montage Big Sky
Big Sky, Montana
Montage Big Sky is another hotel where the constituent parts of the name tell more or less the whole story — the Californian purveyor of lavish high-design resort experiences meets the rugged Rocky Mountain wilderness of southwestern Montana. This isn't Jackson Hole or Aspen; until now, Big Sky hasn't seen high-end hospitality on Montage's level. And, likewise, it's a long way from Laguna Beach; the untamed wilderness is close at hand, as is some of North America's finest skiing.
Ibagari Boutique Hotel
Roatán, Honduras
In a place as idyllic as the Honduran island of Roatán, between the verdant jungle and the spectacular Caribbean, you don't need all that much from your lodging — which makes a place like Ibagari Boutique Hotel such a delightful extravagance. But this place is an absolute stunner, inside and out, and it's now the second Tablet hotel on Roatán, following the lovely Las Verandas. Long gone are the days of floral bedspreads and wicker furnishings — though the colors are sunny and tropical, Ibagari's interiors display a modernist simplicity, not to mention a gallery-worthy art collection.