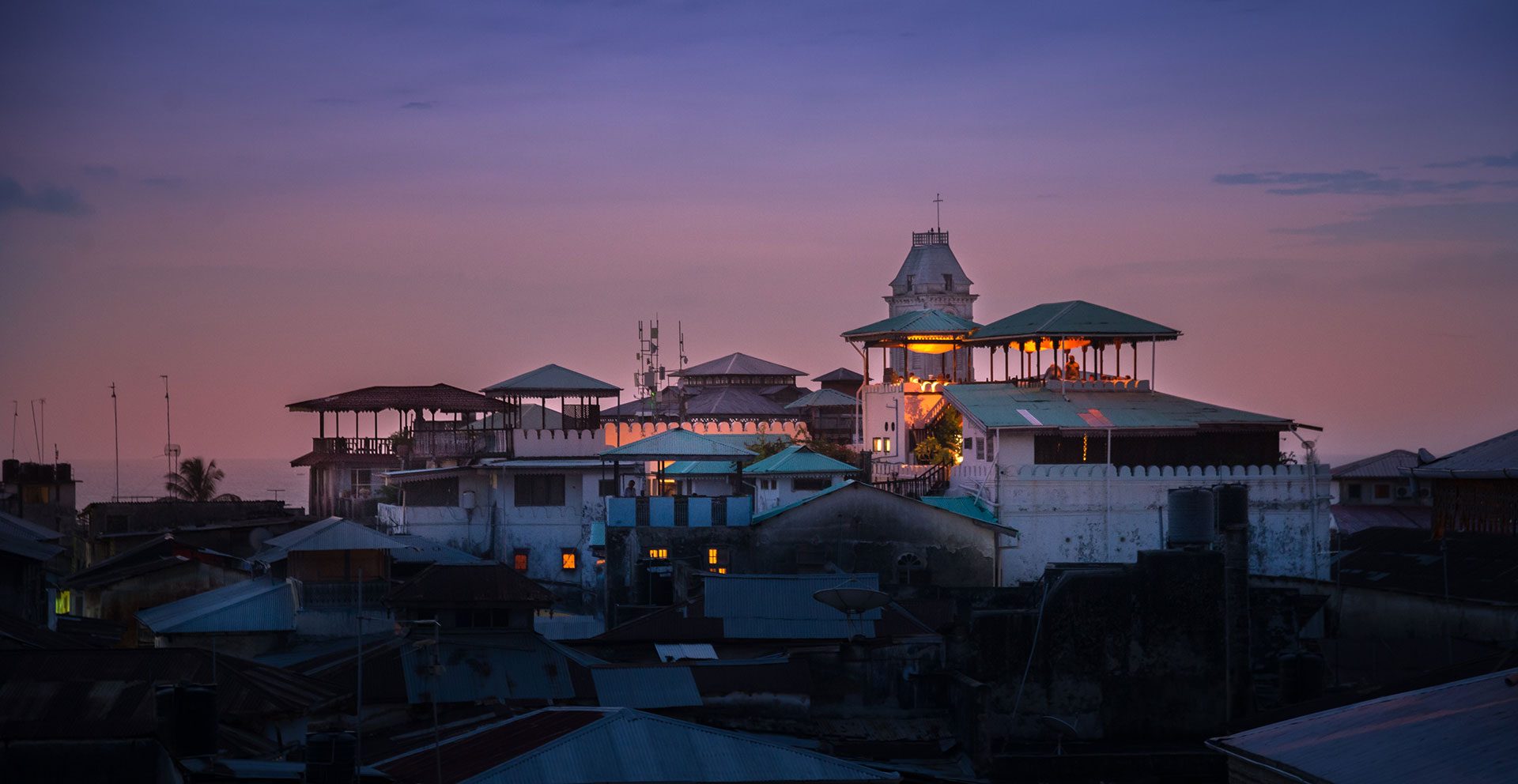 How would you make love in this space? Emerson Skeens believed the answer to that question was central to the experience at his creations in Zanzibar — two hotels that have been turning up the heat on Tanzania's Spice Island.
There is a type of hotel we laud for its ability to put you in a different place, perhaps at a different time. Hotels that elevate you from the everyday and allow you try on a whole different life. Maybe you think we're overstating what a hotel is capable of. Maybe you think it all sounds a little too much like some sort of theme park. Maybe you haven't stayed at Emerson Spice or Emerson on Hurumzi, two very special hotels on the Tanzanian island of Zanzibar.
Still need convincing? Here's a scene: It's the 1870s and you've just arrived via boat to Zanzibar's Stone Town. Amidst the swirling commotion of traders, you make your way towards a distinguished building, from which the richest man in East Africa now runs his business. As you cross the small plaza between this building and a mosque, you're stopped by local Swahili and Baluchi askaris, imposing soldiers who eye you and wonder what business you have here. You peer past them and understand their presence. Behind them is a carpet of cash — wet rupees, laid out in the sun, cover the plaza ground like morning dew.
Stone Town is a port city and tourist town in the most ancient sense. For hundreds of years, traders from around the globe landed here — riddling the city with the type of architectural and cultural birthmarks that herald a long international history.
Drying the rupees was the legendary Tharia Topan's supposed solution to the hazards of seawater on paper money. The building where he operated is, today, Emerson Spice. The spaces at this hotel, and at sister property Emerson on Hurumzi, are so historic and yet still so urgently relevant that they manage to put all of Stone Town's swirling and contradictory cultural influences into context — and all of their guests right into the mix.
At Emerson Spice, the older wing flaunts a Swahili Arab style, a reflection of its first owner — known as the last Swahili ruler of Zanzibar, whose son was coopted by the powerful Omani Sultanate. Its newer wing sports more Indian influence, to suit its later owner, a Hindu businessman and spice trader. That first owner was a man with lavish tastes. For silks, gems, and slaves. It's perhaps fitting, then, that the other Emerson in Zanzibar, Emerson on Hurumzi, was eventually used as a staging point for the liberation of the enslaved when abolition reached Zanzibar in 1883.
Maybe it's fitting too that, in a town so used to a swirl of visitors, some of the most distinguished Zanzibari buildings were brought to life in the modern era by an American. The late Emerson Skeens sounds like the perfect eccentric to bring a new purpose to what were decrepit, although historic, city buildings. The exteriors retain the influence of the original builders. The arches in the walls, the decorations and woodcarvings on the windows and the doors — all tell the story of this city's Swahili, Arab, and Indian influences, all restored by the traditional methods and guidelines required by the town's UNESCO protection. The interiors bring together interesting objects from the world over and antique furniture to capture the feeling of a town so influenced by passing merchants and lavish royals. But Skeens too left his unmistakably unconventional mark on the aesthetic.
This is a man who described his passion for design like this: "Since childhood, often when I walk into a space for the first time, I'm confronted with a narrative, a feeling, a history, some characters… There is a myth, an opera, a film or a play stretching out on stage before me."
Even better: "the romantic and erotic are always embedded in the space," he said. "How would I make love in that space and narrative?"
"Emerson Spice is the more 'feminine' of the two hotels," a manager at the Emerson Hotels Zanzibar explains to Tablet. The rooms center around an airy atrium, and the prevailing style within the historic setting can best be described as Art Nouveau mixed with traditional Zanzibari. But rooms here are whimsically if ornately themed, many dedicated to famous female muses. The Kate room is an ode to Katherine Hepburn. Aida, with high ceilings and epic columns, is dedicated to the eponymous opera. Camille, all French doors and gold satin, stands for the Greta Garbo film, "La Dame aux Camelias."
Emerson on Hurumzi, not far from Emerson Spice, is "a fascinating labyrinth of small bridges, swings, private tea houses and large, spacious individually designed rooms." Here too each room has a theme, from the Keep Suite, reached by a castle-inspired series of bridges and stairs, to the Seyyed room, a reflection of the stately lifestyle of a sultan, with royal seal bedcovers and furniture draped in Omani red and gold.
But these hotels are anything but art pieces. Whether you're en route to a safari or to one of East Africa's most illustrious beaches, if you come to Stone Town, even if you're not staying at one of the Emerson hotels, you'll likely find yourself within one — their celebrated restaurants grace every guide to this place. Here, local culture is hand-fed by servers in traditional kanzus and skullcaps, who share expert knowledge on tea production while balancing large brass platters in one hand and jugs of cleansing rosewater in the other.
At both Emersons, a rooftop Tea House serves drinks and dinner. One features a daily five-course seafood tasting menu. The other offers Swahili-style seating on thick Persian rugs, serving traditional fare alongside live music. At Emerson Spice, the Secret Garden restaurant is surrounded by stone walls and endless greenery.
Both hotels exist in the heart of Stone Town, "surrounded by mosques and the regular daily rhythms of the call to prayer, local shops and stalls," as the manager explains. "In the midst of the life of the local community."
You might hear the sounds of the town through the breezy wooden panels of your room, but when it comes to immersion in the culture you'll have to do better than that. The hotels work with specific guides to bring you around the town and put the architectural landscape into context. They provide excursions to spice farms, or dhow boat cruises along the ocean. They even have an in-house museum, the Princess Salme Museum at Emerson on Hurumzi, a perfect compliment to the local music at the Secret Garden of Emerson Spice every Friday.
"In short," the hotel tells Tablet, "Emerson Zanzibar is a base from which Zanzibar can be explored in all its facets." In a place like this, that's no minor feat.
Book Emerson on Hurumzi and Emerson Spice on Tablet Hotels.