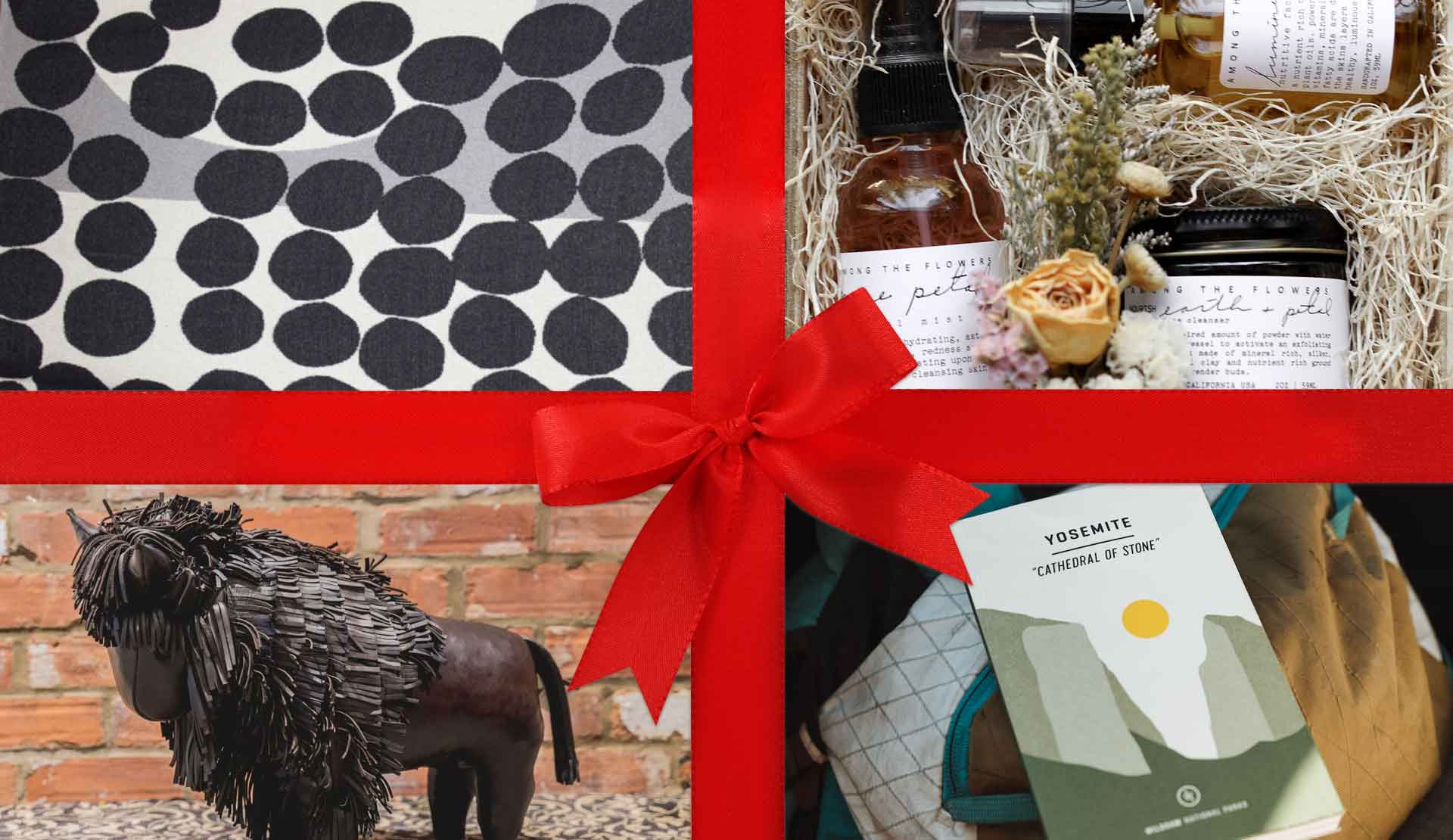 For this year's gift guide, we called out to the experts in comfort: the Tablet hotel owners and operators who make their living making you feel good. Boutique hotels are the ultimate curators of boutique wellness — they're intimately aware of smaller, local companies producing goods that aren't just functional but mindful and beautiful enough to be presented to guests. These are the things that make their hotels the pinnacle of relaxation — and that make great gift ideas this holiday season.
Artistic Throw Blankets
In2Green // From USD$175
This female-founded company's products are made from sustainable yarns and recycled cotton — they're insanely soft and come in a variety of bold designs. They're all over the Lark Hotels, but the hotel group points specifically to the Eco Huey print they've draped all over the Block Island Beach House. Buy it at in2green.com →
Recommended by: Block Island Beach House
New Shoreham, Rhode Island
The old "Surf Hotel" sign still stands atop this Victorian mansion, but the interiors got a thorough redesign by Elder & Ash. The result feels one part modern-casual surf shack, one part classic coastal New England.
Seasonal Skincare
Among the Flowers // From USD$48
When it comes to boutique skin and body care, the minds behind the Kennebunkport Captains Collection stock their hotel with the Wild Man Kit and the Inner Beauty Kit, but the beautifully rugged packaging and luxurious products inside make them all winners. The seasonal subscription box (including orange-scented shea butter Salt Scrub and a Harvest scented candle in a decorative clay vessel) is a can't miss. Buy it at amongtheflowers.com →
Recommended by: Kennebunkport Captains Collection
Kennebunkport, Maine
Housed in a renovated Federal mansion dating back to 1813, Kennebunkport Captains Collection is situated on a quiet tree-lined street within easy walking distance of galleries and antique shops.
Great Looking Activewear
All Good or Deso Supply Co // From USD$15
The Bluebird Hotels look to get you out into nature, and the Tälta Lodge is their newest property — set in Stowe, Vermont, known for its outdoorsy activities in winter, yes, but the other three seasons as well. At the lodge, they'll make sure you have the most functional (+ trendy) clothing and accessories, and they do that by offering items for purchase by All Good and Deso Supply Co. Check out two favorites, the Onward Corduroy Hat and the Embers Fly Camper Hat.
Recommended by: Tälta Mountain Lodge
Stowe, Vermont
Tälta is part of a youthful new wave of boutique outdoor adventure hotels — a contemporary version of the classic Sixties lodges that fueled the original American ski boom. And contemporary it is.
Place-Specific Magazines
Wildsam Field Guides // From USD$20
The Wildsam Field Guides curate expert road trip itineraries for certain regions, along with recommendations for under-the-radar cultural experiences, and stories too from local voices. They're not so much utilitarian place guides as they are thoughtfully put together magazines about specific locations. Meg Kennedy, the creative director at Lark Hotels, thinks of them as fantastic "fireside reads," not to mention a luxurious way to think about your next trip. The road trip kit includes five of these marvelous place guides, plus film and camera, and a vintage bandana just for fun. You can also consider any of the guides à la carte. Buy any of these at wildsam.com →
Recommended by: Field Guide
Stowe, Vermont
Lark Hotels is a regional brand with national ambitions, and Field Guide proves their concept: the colorful, contemporary, modernist-inspired design is a perfect fit for this classic New England mountain town.
Meditation and Sleep Devices
Muse or Morphee // From USD$92
When we spoke to Anna Bjurstam, Six Senses' "Wellness Pioneer," back in April, she told us about the intricate ways the Six Senses team set up their hotels for the ultimate health of their guests. We knew she wouldn't disappoint with recommendations. First, an EEG device from Muse (from $250) that processes your mental activity and translates it into weather sounds (peaceful when you're calm, stormy when you need a reminder to breathe). Next, a meditation device from Morphee that not only helps you fall asleep with sounds and meditation guides, but also looks great on a bedside table. They make one for kids, too. Buy it at morphee.com→
Recommended by: Six Senses Hotels & Resorts
Several Locations
Six Senses has come a very long way. What started as a single spa has evolved into a veritable wellness empire, with luxury hotels and resorts in awe-inspiring locations all around the world.
Handcrafted Leather Footstools
Omersa // From USD$220
If you've ever seen a photo of SO/ Berlin Das Stue, you've seen their iconic alligator statue. The interiors are full of such iconic design elements, and in the case of the animal-shaped leather footstools, they're great gifts for the design-conscious. Buy it at omersa.com →
Recommended by: So/ Berlin Das Stue
Berlin, Germany
This 1930s embassy building was built to convey a grand impression — and its atmosphere, after a massive renovation, is far from the boxes-and-boxes sameness of the typical contemporary hotel.
Comphy Sheets
Comphy // USD$138
It's simple — the owner of Camp Comfort, Lisa Kelleher, swears by the extremely luxurious sheets of Washington-based Comphy (which also happen to come pre-treated with increased stain resistance). She puts in a good word for their pillows, too. Buy it at comphy.com →
Recommended by: Camp Comfort
Comfort, Texas
The Hill Country town* of Comfort might be the coziest little Census Designated Place we've ever driven through. With Camp Comfort, though, there's now an excellent reason to stop for a while.
Anti-Aging Cream
Linda Ross // USD$167
You'll find it on their spa menu, but the design director of Hope Springs Resort swears by this product personally. Made with organic, therapeutic grade essential oils, it's a "powerful anti-aging cream… designed to stimulate the skin's ability to rejuvenate, repair and heal." By Linda Ross, a Beverly Hills skin care professional. Buy it at Lindaross.com →
Recommended by: Hope Springs Resort
Palm Springs, California
Hope Springs references two aspects of classic Californiana at once — the mid-century modernist roadside motel, and the natural hot springs that are the hotel's main attraction.
Massage Compression Leggings
Ricari Studios // USD$150.00
With hotels in three time zones, the Global Brand Director of NoMad Hotels knows a thing or two about long flights. These "massage compression" leggings by Ricari Studios are her go-to for in-flight comfort. She also points to the Nature of Things bath soak and Moon Juice Ting for post-flight recovery. Buy it at ricaristudios.com →
Recommended by: NoMad London
London, England
The NoMad embraces its history as the old Bow Street Magistrates' Court with vibrant, romantic, bohemian interiors that pay tribute to Oscar Wilde, whose infamous prosecution took place here.
Artisan Pillows
Bunglo // USD$68
Local Austin artist Shay Spaniola is the go-to for the glorious pillows and textiles that fill the Heywood Hotel. Owner and general manager Kathy Setzer swears by these: made to order nearby in Austin. Buy it at bunglo.com →
Recommended by: The Heywood Hotel
Austin, Texas
If a hotelier is going to keep things local — featuring the work of local artists, local musicians, local architects and designers — it helps to be in a town with as much creative talent as Austin.
Hotel Robe
Guest Delight // USD$49.99
There's nothing better than putting on the hotel robe, and the team at Hotel Spero swear by theirs, a reasonably priced, one size fits all white terry cotton robe from Guest Delight. Buy it at america-galindez.com →
Recommended by: Hotel Spero
San Francisco, California
If you appreciate a bit of subtlety you can't help but admire what architects and designers Perkins+Will have done with the 1923-vintage Spanish Colonial Revival building that's now the Hotel Spero.
Eco Bath Products
Gilchrist & Soames // From USD$19
Bath products with an eco-slant, sans parabens, phthalates, or artificial colors. Not to mention a luxurious fragrance inspired by "juicy limes, California lemons, and crisp green apples, all intermingled with notes of cool verbena." Buy it at gilchristsoames.com →
Recommended by: The Marker
San Francisco, California
Fun, funky, colorful, comfortable — what's inside The Marker is pure fantasy, like a particularly colorful dream of Belle Époque Paris assembled with the keen eye of a contemporary designer.
The Best Acupuncturist in NYC
Michelle Spina // From USD$200
A director at the Mercer in NYC, Michel Heredia calls Michelle Spina "the best acupuncturist in the city" — the "best way" to remove stress and a fantastic experiential gift for a friend in the city. Buy it at michellespina.com →
Recommended by: The Mercer
New York, New York
This 19th-century Romanesque Revival building was filled with artists' lofts during SoHo's postwar heyday. A '90s renovation by Christian Liaigre transformed it into one of the best first-generation boutique hotels.