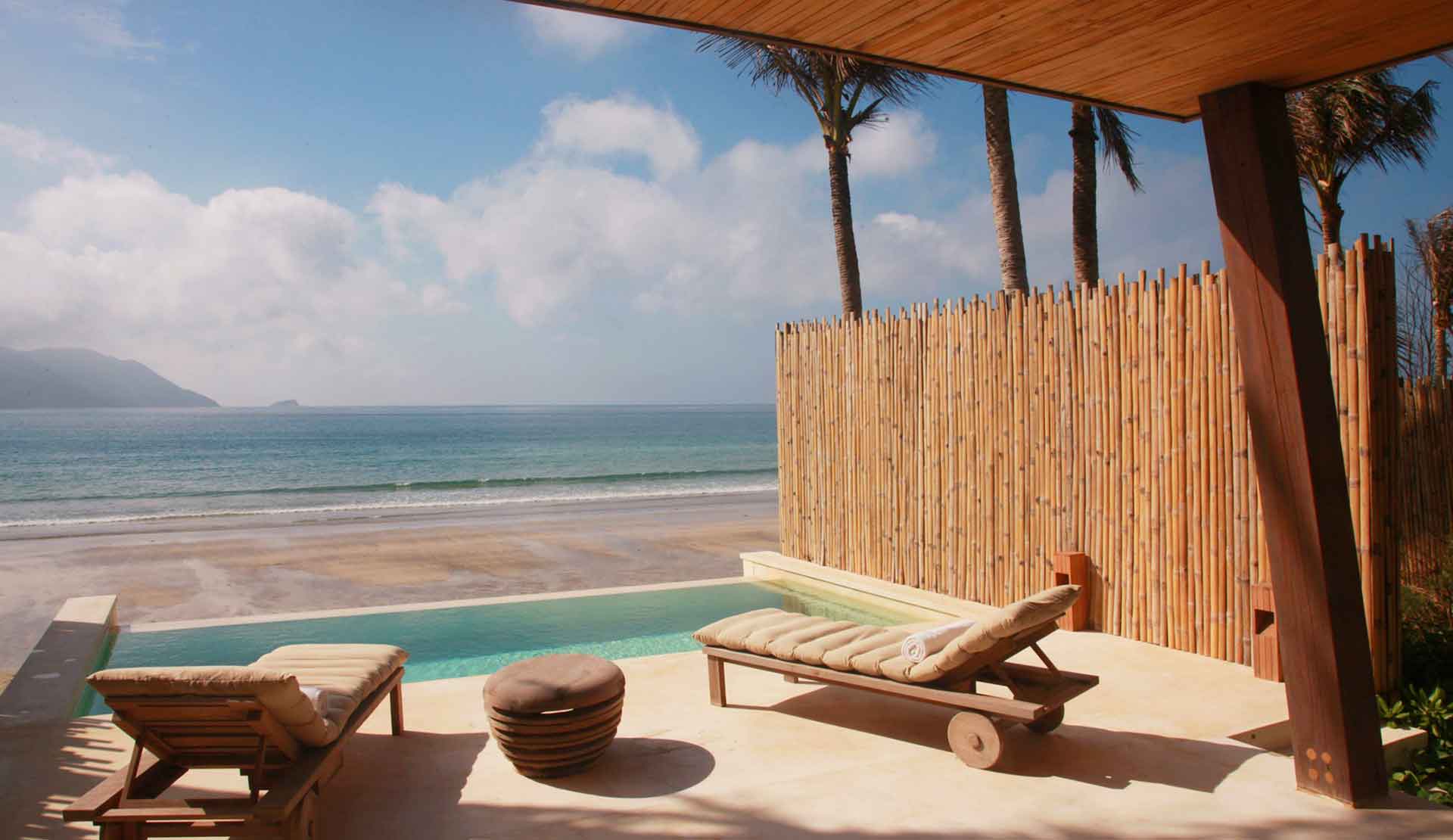 Six Senses has come a long way. What started as a single spa has evolved into an empire of luxury hotels and resorts in awe-inspiring locations around the world. Theirs is a story of wonder, wellness, and the occasional shaman.
If you know something of Tablet, you know something of Six Senses Resorts. Rightfully synonymous with the spas that adjoin each location, they've been consistently among our most eye-catching hotels — the ones we can't help but put front and center over and over again. Can you blame us? In Oman, you can arrive at their stunning seaside resort strapped to a paraglider. In the Seychelles, private infinity pools hover among prehistoric cuts of granite.
In other words, Six Senses have some of the most spectacular hotels in the world.
Considering that in 1995 they were just a spa at a hotel in the Maldives, they've undergone a magnificent growing up. Back then, a Six Senses Spa might denote no more than a massage and a sauna. These days, the spa is almost more a metaphor, an indicator of anything from pilates to Shamanic healing.
It's a reflection of an evolving culture, where wellness isn't an activity, it's a lifestyle. And that's where the Six Senses hotels really make their mark. The pursuit of healthiness is in everything they do, not only the spa but the infrastructure of the rooms, the design of the spaces, the food in the restaurants, the interaction with the community. You name it, they've made it healthy.
"The difference today from the earlier Six Senses is that it is less Robinson Crusoe, and more crafted and designed," says Anna Bjurstam, when we ask her about a 2016 article that remembered the group's "barefoot Robinson Crusoe take on luxury" of the late 1990s. "We have developed into being a bit more refined and less rustic."
She would know. The spa-consulting company she started, Raison d'Etre, helped set up that first Six Senses spa in the Maldives (for the hotel historians: it's Soneva Fushi). Today, her rather novel title of Wellness Pioneer at Six Senses gives her the latitude to apply the concept in that most contemporary way. "We call it an integrated approach to wellness," she explains.
Beds and pillows are painstakingly tested to improve your sleep: "I cannot tell you how many pillows we sent to these doctors." Many resorts have their own farms, where you can pick your food yourself: "That's wellness, too." Sustainability projects — with an eye towards the health of the local community — are influenced at a local level; every location gets a say in how they'll spend their sustainability fund.
And in the architecture and interiors, Bjurstam swears by the principles of biophilic design.
"If you don't have the right indoor environment, it can make you sick. If it's good it can actually optimize you. We know nature is healthy, so we mimic it."
That might be easy at a hotel like Six Senses Yao Noi, with its open-air, thatched roof villas on an island near Phuket. Ask about the feasibility of bringing nature into a hotel like, say, the upcoming one in New York City, and you'll learn something new. About circadian rhythm lighting that copies natural sunlight. About a strategy of greenery in and around the hotel. About the benefits of mere imagery and sounds of nature, even if they're artificial.
Six Senses spans some 20 hotels on four continents, with more in development. Considering the scale, the specificity of care is incredible. If you're hot at night, they'll swoop in with moisture-wicking sheets. If you're coming from across the world, they'll adjust the lighting in your room to help fight jet lag.
How such a large brand can work on such a personalized level has everything to do with their top-down structure, and the meticulously researched and designed programs carried out by individual practitioners at each resort. Take the Wellness Screening, for example. At every location, there's a machine to measure certain biomarkers — stress, muscle mass, etc — so that experts can recommend a customized program of spa treatments, fitness activities, or foods to avoid for your stay. Sign up for their sleep program and a tracker is set up by your bedside to measure your sleep cycles. Based on your results, they might send in a "specific linen created from sustainably-sourced eucalyptus that regulates core body temperature." Or maybe, simply, "sleep-inducing snacks and drinks."
Which all leads to the question: what if you don't want a biomarker screening? What if you think wellness is no more than a buzzword? "We would handcuff you and drag you to the spa and force you — no, I'm just kidding," laughs Bjurstam. When you offer treatments like sound massage therapy, of course you have those who aren't interested. But Bjurstam isn't deterred. "Skepticism is good," she says. "You should question everything. We have shamans for those interested or curious, they can try it. Many will say 'oh that's just woo-woo, I want nothing to do with that' and just have a manicure. It's very much freedom of choice."
Maybe the pizza you eat is just a little healthier, leaves you a little less sluggish. Maybe the bed's just a bit more comfortable, and you wake up refreshed. The point is, if you find yourself craving a return, Bjurstam won't be surprised. People come back, simply, because they "really felt good there." Even if they have no idea why.
The Hotels
As much as there is to say about the Six Senses' expertise in wellness, to see the resorts themselves is to remember that as far as pure, gorgeous, unrivaled luxury, this is a brand at the top of the game. Here's a sample of what they have to offer around the world. Check back throughout the year as we add more of their portfolio to Tablet, and as more of their hotels become part of the Tablet Plus collection. And finally, be sure to consult our pandemic travel guide or contact our Travel Specialists to make sure you're currently permitted to travel to any of the countries below.
Six Senses Laamu
Laamu Atoll, Maldives
In the Maldives, the Six Senses Resort has the enviable status as the only resort in the picturesque aquatic paradise that is the Laamu atoll. It's made up of 97 beachfront and overwater villas scattered around the island, all built from local, sustainable materials, ranging from one bedroom bungalows to family villas with their own private pools. We'll whet your appetite with just a sampling of features. In the Laamu Water Villa, a "sunken ocean view all-glass bathtub." In the two-bedroom Ocean Beach Villa with Pool, a panoramic dining deck among the trees.
As you'll see throughout the Six Senses, sustainability projects are key. The Maldives Underwater Initiative, a partnership with the resort's own marine biologists and three NGOs, lends its expertise to research and community outreach, while the Manta Trust works with the resort to study the vulnerable manta ray population. Activities make use of that same ocean world, from diving, snorkeling, sailing, and windsurfing for the sporty, to a candlelit dinners on the beach and sunset cruises for those with a bent towards pure relaxation.
Six Senses Douro Valley
Lamego, Portugal
It was their first foray into Europe, yet Six Senses Douro Valley maintains the Six Senses preference for the spectacularly natural. Portugal's Douro Valley is no less than a UNESCO World Heritage site, so named for its "long tradition of viticulture" and, frankly but objectively, its "outstanding beauty." In many respects, this is the modern winery and spa par excellence — a painstakingly renovated, 19th-century manor house surrounded by modern villas, featuring cutting-edge interiors and spa treatments based on the antioxidant properties of Douro Valley grapes. Bedroom terraces and panoramic windows bring in the vast vineyards and the river below, while the organic garden contributes vegetables and herbs to the restaurant's seasonal menus. The Wine Library & Terrace, meanwhile, is just what it sounds like — a place for wine tasting that lets you get a feel for the local vintages between servings of tapas.
Sustainability projects here focus on protecting the unique ecosystem, and that includes a 10-acre woodland reserve on the property (it follows, then, that one of the spa treatments is a nature immersion experience aptly named "forest bathing").
Six Senses Zighy Bay
Musandam Peninsula, Oman
When we talk about the magnetic appeal of Six Senses imagery, we're talking about Six Senses Zighy Bay. On the northern end of Oman, just across the peninsula from Dubai, a desert-meets-the-sea setting — complete with its own one-mile stretch of beach — hosts a complex of luxury villas built of natural stone and timber, patterned after a traditional Omani village. Palms offer shade while a saltwater pool (the salt a byproduct from their reverse-osmosis water-making process), gives relief from the heat. Not that you'll necessarily need it, what with private pools standard in each accommodation, some too with private gardens and outdoor showers.
The location of the resort is impressive enough at first glance, tucked in with mountains at the back and sandy beaches in the front, but go further and you'll find activities that range from visiting archeological sites in nearby towns to snorkeling and diving in the Gulf of Oman. Environmental projects include removing "ghost nets" left by fishermen.
And, of course, as we mentioned earlier, adventurous guests notably finish their airport transfers with a quick paraglide down from the ridge above. Not to worry, they can also take a boat.
Six Senses Zil Pasyon
Felicite, Seychelles
Making its home on Félicité, a private island in the Seychelles, its another visual smorgasbord worthy of all six senses. 652 acres of dramatic elevations and virgin forests host no more than 30 extraordinarily luxe timber villas, each with a private sundeck and an infinity-edge plunge pool. From any of them you'll have views out to sea, carefully framed by native vegetation. Indeed, in 2019 they produced some 39,000 kilos of organic herbs, fruits, and vegetables for use at the resort, and the landscaping team has worked for years to replace invasive species with those native to the island.
The spa takes its own inspiration from the environment, with five treatment rooms designed around themes that reflect the geography of the island: Rock, Cave, Ocean, Nature, and Floating, from which to indulge in yoga, meditation, and African-inspired treatments that make use of the island's own plant life. Not to say that it's all healthy all the time — there's room to indulge at Lakanbiz, the traditional bar offering aged rums and Cuban cigars, and at the poolside spot for homemade ice cream made with local ingredients.
Six Senses Qing Cheng Mountain
Chengdu, China
For their first property in China, Six Senses chose a tantalizing location. Outside of Chengdu, it's in striking distance of two major cultural attractions: the ancient Dujiangyan irrigation system dating to the 3rd century B.C. and Mount Qing Cheng, better known as the birthplace of Taoism. The resort itself is set on a piece of land that looks like a watercolor painting: all lush greenery, water lilies floating on ponds, elegant pergolas and wooden huts. Guest rooms, of course, are far from basic. Full of Chinese-inspired contemporary furniture, the smallest of the suites clocks in at a spacious 850 square feet — the high ceilings and separate living and sleeping areas (including private balconies, courtyards, or gardens) make them feel even larger.
If sipping green tea in the bathtub while staring at a sacred mountain isn't quite enough relaxation for your taste, the spa specializes in ancient Chinese treatments updated for modern travelers. Ie, Tui Na, a hands-on therapy that employs Taoism and martial arts, and Gua Sha, a traditional healing technique involving "palpation and cutaneous stimulation of the skin" with a round-edged instrument. You should know, if you opt for Gua Sha, that it results in little red spots on the skin. But, as they say, "trust us, it's all good."
Six Senses Yao Noi
Koh Yao Noi, Thailand
The defining feature of Phang Nga Bay are the jutting limestone formations that rise out of the waters. Among the 50-some private villas at Six Senses Yao Noi, equipped with infinity pools or terraces, gardens or separate walkways down to the beach, many overlook them — some in the perfect position to watch the sunrise glinting off them each morning. If you can pull yourself away from the panoramic views at your own pool, four restaurants serve seasonal Thai cuisine (although, of course, they'll serve you in-villa if want). There's plenty more to do. Island hopping tours, Thai boxing classes, diving, outdoor movies, the list goes on and on — and that's before you get to the spa, with its Thai herbal massages and coconut body scrubs set in treatment rooms cocooned by tropical greenery.
Six Senses Kaplankaya
Akbük, Turkey
Like the Six Senses Douro Valley, the Six Senses Kaplankaya features something the original Six Senses Resorts weren't particularly known for — a main building. Granted, an additional 66 villas ring the ridge of this seaside landscape in the heralded Bodrum Peninsula, but 75 rooms and suites live in the low-slung main building, designed by the same minds as those behind the Six Senses Douro Valley. No matter which accommodation you choose, you'll take in marvelous views of the Aegean Sea while you ponder whether you'd like a private cruise to the Greek islands, an excursion to any number of archaeological sites — the ancient city of Halicarnassus, say — or just which of the four restaurants and bars you'd like to visit next.
On that note, the Six Senses organic farms and gardens source much of the produce, while the surrounding local vineyards and farms provide much of the rest. One project seeks to help the local community certify certain organic cheeses, breads, and yogurts to meet official regulations, with an aim towards increasing their market value and sustainability, as well as eventually bringing those products to guests.
Six Senses Fiji
Malolo Island, Fiji
At just 24 villas, here is one of the smallest Six Senses, a 100% solar-powered resort that has the utmost respect for its splendid, sunset-facing, Baka tree–peppered slice of Fiji. On Malolo Island, where Six Senses makes its own organic produce, hosts its own beehive, and keeps attuned to the recovering population of Fijian Crested iguanas in their Iguana Reserve, guests are meant to indulge in nothing less than a tropical eco-paradise. Every villa comes with a plunge pool, a private deck for lounging or dining, and an open-air bathroom. And they're all stylish in an understated way, with a modernist simplicity that's pleasing to the eye but with organic, natural finishes that feel eminently suited to the place.
We probably don't have to tell you that the sandy beaches give way to every water sport — surfing, diving, sailing — and we know we don't need to reiterate the typical Six Senses focus on the spa. It's practically a village unto itself here, with offerings that draw on such locally-sourced products as sea salt, hibiscus flowers, and freshly pressed coconut oil.
Six Senses Ninh Van Bay
Nha Trang, Vietnam
They call it the "ultimate illusionist island escape." The illusion is that it's a remote, inaccessible speck in the middle of the ocean, and it's a feeling aided by the tall mountains and rock formations that give it the look of a fortress. Actually, it's not too far from the Vietnamese city of Nha Trang, but it's true that it's only reachable by water. Arriving by speedboat, you'll find your self-contained and exceedingly private villa, complete with plunge pool and outdoor garden shower. On the high-end, the Hill Top villas are exactly what they sound like, and the Presidential Villa is a self-contained mountainside compound, complete with dedicated spa room and butler service.
Like all the Six Senses, this one's overwhelmingly committed to sustainability — the mountain behind the resort is a habitat for a troop of endangered langur monkeys, and a recent collaboration between the resort and a local NGO helped biologists identify individuals, their habits, and their favorite vegetation. If you don't see one, don't be surprised, but your hosts will happily arrange wildlife hikes if you're feeling lucky.
Six Senses Con Dao
Dat Doc Beach, Vietnam
Below mainland Vietnam, 16 islands make up the Con Dao archipelago — and on the largest, Con Son, you'll find the Six Senses Con Dao. Set within a protected national park, fifty villas offer airy interior spaces lined with local teakwood, equipped with canopy beds and a smattering of unobtrusive furniture, but for the most part remain uncluttered and spare. Open-plan, indoor-outdoor design maximizes air flow, corralling the breezes from the East Vietnamese Sea, whether you're set up with direct access to the beach or just above, looking out over the ocean.
And when you're not swimming, practicing yoga in front of Lo Voi Mountain, or at one of four restaurants, you might just find yourself watching a sea turtle lay her eggs — a collaboration with the national park turned a beach on site into an optimal habitat.
Six Senses Krabey Island
Sihanoukville, Cambodia
On a 30-acre private island, it's a speck of a place in the spectacular Gulf of Thailand, where the 40 expansive villas might convince you you have the entire island to yourself. Bedrooms, living rooms, and bathrooms all look out over native greenery, and come with, at minimum, private plunge pools — and many have ocean views as well. Local herbs stock the spa, which offers everything from a massage to a "Sound Wave" bath to outdoor yoga. Indulge in the private beach, and further keep busy with cooking classes, water sports, boat trips, and outdoor movies. Like many Six Senses Resorts, it's got a kids' club to round out the offerings for families.
The sustainability efforts give as good an indication of the setting as anything else. A butterfly conservation program has documented 23 species on the island, eight of them specifically tended to by a "pupae project" in partnership with a local NGO.