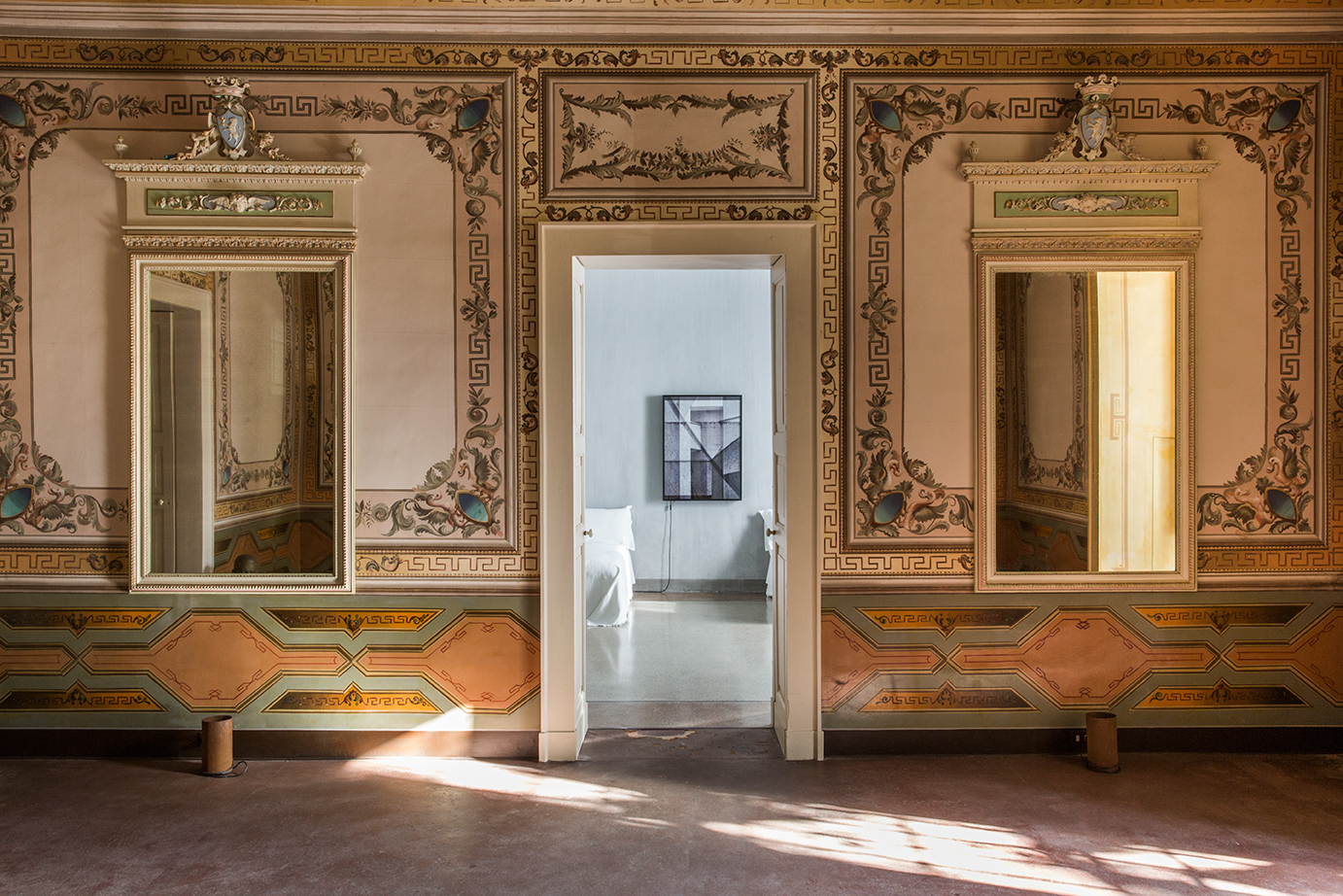 There's no glory in safe, predictable design. To reach the promised land it takes boldness and bravery. The creators of Palazzo Daniele and G-Rough know this well, and they found magnificence through a daring collision of ancient and modern.
Palazzo Daniele was a fourth-generation family heirloom when Francesco Petrucci took it over — and it felt that way. Like something you'd pull out of the attic. Cluttered with accumulated objects and heavy, outdated furniture, it was nearly impossible to appreciate the raw beauty of the structure.
Then he began to clear the detritus.
Gone was the cumbersome old furniture, and the decades of indifferent design decisions. Saved were the mosaic floors, original mirrors, and fissures — especially the fissures — that snaked through the 19th-century frescoes. Petrucci and his Milanese design team had an idea. Stripped down to its roots, they could highlight the "the history, details, and absence" of the place. They could create a distinguished picture frame, and contemporary art in the form of specially designed lamps, photos, wreaths, and furniture would create the portrait within.
Contemporary design within an ancient framework. That's the concept behind both Palazzo Daniele in Italy's southern region of Puglia and its sister property, G-Rough in Rome. Today, the 160-year-old Palazzo Daniele is full of functional art pieces that wouldn't look out of place in a gallery. Gabriele Salini's G-Rough, itself some 400 years old, is a holy temple of mid-century Italian furniture.
It would be boring for these modern ornaments to blend seamlessly with the weathered walls and terracotta floors of the past. There'd be no glory in that. The excitement comes from the clash of old and new, and from anachronisms that inspire comfort and exhilaration instead of unease and uncertainty. It's a tightrope walk — one false step and it all comes crashing down. It takes serious talent to pull this off, and Salini and Petrucci are seriously talented. Their hotels are among the most impressively orchestrated spaces in the country.
A decade before transforming his 160-year-old family home into a hotel, Francesco Petrucci had already founded Capo D'Arte, a nonprofit effort to coax international artists to set up exhibitions around Gagliano del Capo, a small Italian village in the south. It worked. Chapels, abandoned train stations, and townhouses became part of a village-wide contemporary art show. So when Petrucci decided to join forces with Gabriele Salini, founder of the GS Collection, on a boutique, the ensuing renovation served more of an artistic purpose than a hospitable one.
They refer to their methodology as "the functionality of art." It sounds fancy. It is. But it's simple, too. Take the most illustrative example, a rain shower in a Palazzo Daniele junior suite perched on the ceiling above a sparse basin. Turn it on and an ephemeral sight in the otherwise bare, centuries-old, mosaic-floored room appears. Then you step inside it.
The shower is a contribution by Italian artist Andrea Sala, a lovely work of design — and proof of concept for the functional art idea that indeed infuses both these hotels with character. In other spaces at Palazzo Daniele, lighting comes from specially designed "lightboxes" by Roman artist Simon d'Exea, sometimes described as "extraordinary design [pieces] in [their] own right." Other features stand too in satisfying contemporary contrast to the bare walls. Lamps by artist Luigi Presicce. Photos by artists Claudio Abate and Niccolo Gandolfi. A wreath designed by French sculpture artist Eva Jospin.
Head north now, to the heart of Piazza Navona, an iconic baroque square that anchors a neighborhood lively with restaurants and street artists. Like Petrucci, Salini had also looked at his weathered home, with its exposed concrete walls, original timber beams, and terracotta floors, and saw something like a canvas. Before opening G-Rough to the public, he hosted a 24-hour art performance. Some two dozen artists filled the building as it buzzed with live performances. The aftermath of that celebration still fills the public spaces — look past the antique furniture, Italian design classics from the Thirties, Forties and Fifties and you'll find newer illustrations on the stairs, and drawings and writings on the walls and ceilings.
But now look back at the furniture, choices that clash wonderfully with the background. As we wrote when we first added them to Tablet, "the effect is is of a hotel whose every detail has been carefully chosen not only for its intrinsic interest but for the contrast it creates with its surroundings." Many rooms are named after the designers that inspired the decor. "I wanted to give each room the name of an Italian designer (Gio x Ponti, Iconoclastie x Parisi, Osvaldo x Borsani)," explains Salini, "but it was almost impossible to furnish an entire room with one designer only. Some of them were more specialized in singular pieces, which is why I decided to name each room after the most important piece of furniture inside."
Tables and chairs are by Italian architect/designer Ico Parisi, lamps by husband and wife team Afra & Tobia Scarpa. Book the Junior Suite Plus and you'll have your own mezzanine furnished with a '50s vintage corner bar. Take the Pasquino Suite Plus for a tribute to Venice with Murano chandeliers and Venetian mirrors. Some suites feature walk-in showers decorated with mosaic walls and Seletti tiles.
As much as we try, we'll never truly capture the feeling of these places in words (we've packed this article with pictures, to be safe). What we will add is that those who choose to stay at these hotels are a type. Each hotel is small — ten rooms or less. Those rooms are usually filled with, as Salini puts it, "the young at heart and cool, and anyone that wants to experience a different way of traveling."
Palazzo Daniele has a lovely garden for coffee and cocktails, a courtyard for enjoying a glass of wine, a restaurant, pool and spa. G-Rough has its dazzling Gallery Bar, and a private lounge space filled with art and typically gorgeous furniture. But if you're here for the aesthetic of these places, you're probably of a like mind. The hotels, therefore, are "dedicated to giving guests unparalleled access to local Italian life" — but a specific type of that life. "We give guests a map of the 'owner's tips,'" explains Salini, "a guide to neighboring restaurants, wineries, and shops that share a vision similar to ours." Partnerships with companies like Italy's Finest have given guests access to rooftop parties and trips to noble palaces with hidden artwork.
It all tracks with Salini's passionate belief that each location demanded a "property that remained authentic to Italian culture, while also teaching guests of Italy about it." Is it a coincidence that Salini and Petrucci both found that calling in their old family homes? Well, the personal connection certainly helped. They know each room intimately, explains Salini, and there's not a single "inch of the space" they haven't agonized over. When you arrive, you'll know it was worth the effort.
Book Palazzo Daniele and G-Rough on Tablet Hotels.