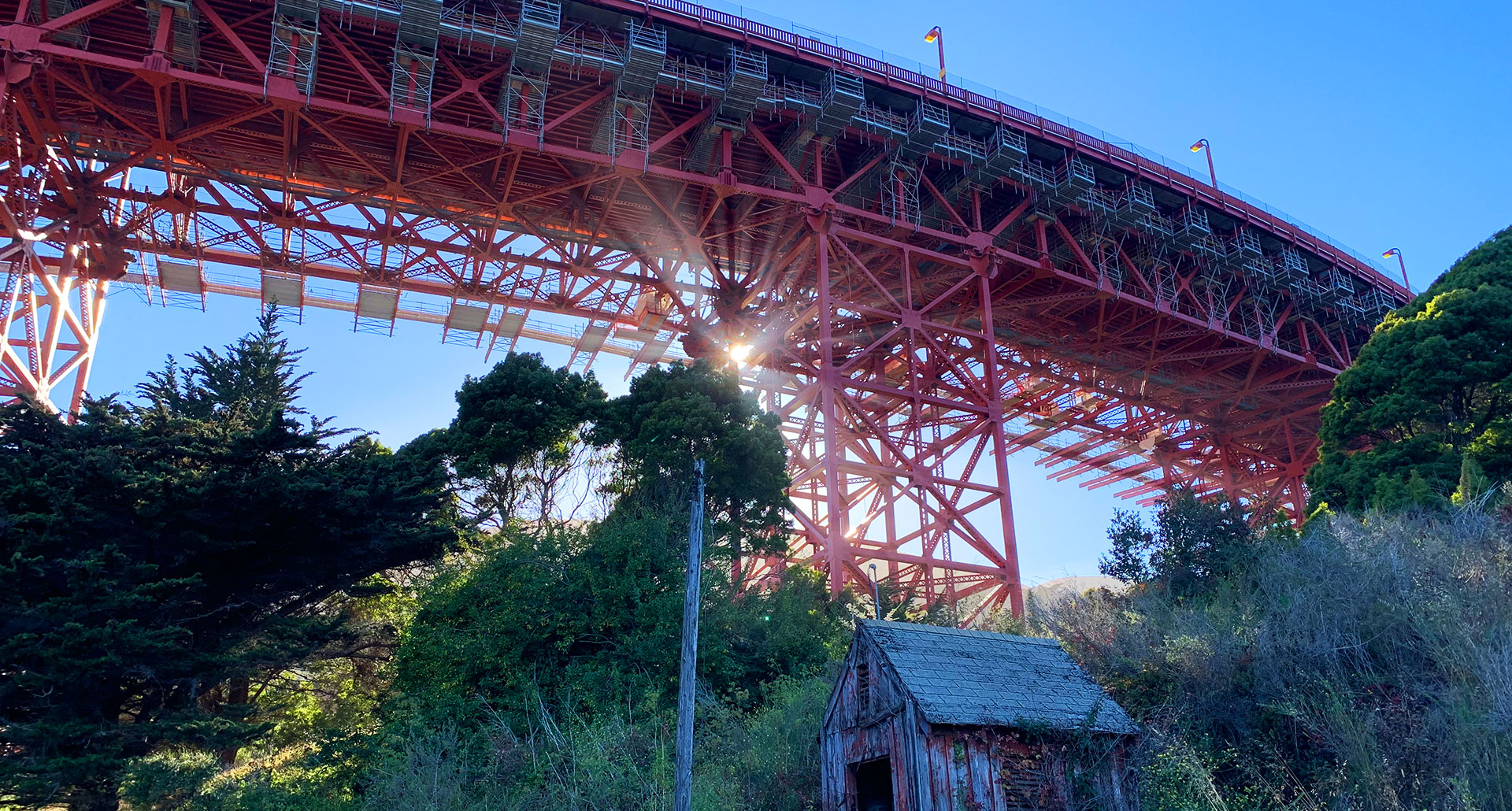 If living like a 20th-century enlisted man doesn't sound like your idea of a luxurious vacation, let us introduce you to Cavallo Point Lodge. This is what happens when the military abandons its fort and the hotel rebels move in — and it's all right in view of San Francisco.
There used to be a fort at the base of the Golden Gate Bridge. It was on the Sausalito side, at the bottom of the Marin hills, and it looked directly across the bay at San Francisco. The barracks at the fort, called Fort Baker, were unlike any other barracks at any other American fort. They were delightful structures, exceedingly comfortable, and they were built to combat a problem greater than any foreign fighting force.
At the end of the 19th century, morale within the U.S. Army was low, and standards for the soldiers' living quarters were even lower. Recognizing that one might have something to do with the other, Fort Baker set out to change all that. Instead of the usual drab institutional lodging, they constructed classical houses with wrap-around porches, stately columns, and decorative windows. They almost looked Victorian — if you squinted just a bit they might remind you of the famous "Painted Ladies" on the other side of the bay.
Fort Baker has been decommissioned, but its beautiful barracks remain, and now they're part of a beautiful luxury hotel and resort: Cavallo Point Lodge. Just last week, I enlisted myself as a guest.
Cavallo Point wasted no time in making an impression on me. As I descended the hill coming off the bridge, passing a few bikers with calves that looked pregnant, I quickly found myself at one of the only Bay Area accommodations that can be properly called a resort, where you can stroll from your room to the restaurant to the spa to the bay water's edge. Cavallo is a sort of suburban, woodland compound on the water, with a spread layout that's distinctly militaristic. The buildings are anything but. Stately red-roofed houses ring the parade grounds, the legacy of Secretary of War William Crowninshield Endicott — a man who believed the key to recruitment and retention was a nice lifestyle, and nicer lodging.
"At the time there were a lot of men leaving the military," Brendan Carlin, general manager of Cavallo Point, tells Tablet. "They were having a hard time with retention. So in order to stop these men from leaving — because they were getting married and having families — they built what are these beautiful Victorian homes on [the base]. They were the very first of their time."
To understate the obvious, they've been upgraded slightly. The officers' duplexes today serve as the "historic" accommodations at Cavallo Point. What were once three-story, four- or five-bedroom houses are now split into five or more guest rooms. A serious renovation left features like the original tin ceilings intact, and preservation considerations mean you'll occasionally find an architectural oddity like a closet next to a closet, a place where a designer's modern needs came into conflict with an untouchably historic remnant. Many former living and dining rooms are today's suites, with the luxe bathrooms in place of old kitchen spaces.
It's something special — what happens to a space when it's given over from pure function to pure leisure. The large lawn that anchors the property, and was once a training ground, today makes the dog-friendly Cavallo Point a beacon for canine-accompanied escapes. What were once barracks buildings for enlisted men — buildings remarkable for their large windows and ample space for real beds — now hold the hotel's reception and conjoining art gallery, while another holds renowned restaurant and bar.
"The new barracks were the best I ever had! Now as I remember, each barracks held about 100 enlisted men, and I slept in a large room on the second floor with all the other enlisted soldiers. There was a kitchen, a mess hall, and recreation room below us on the first floor."

— A soldier gives his own review of the accommodations, circa 1901.
On a hillside at the rear of the property are the aptly named, newly built "contemporary" accommodations. How to choose? Carlin typically recommends the roomier, parking-friendly historic lodging to families, and the contemporary rooms, slightly removed from the action, to couples.
The Bay Area, in contrast to the division of city and country in my hometown of New York, seemed to me a kaleidoscope of melding natural landscapes. Cavallo Point was the perfect place to experience them. Spacious in its own right, it's set within the Golden Gate Recreation Area. For the uninitiated, that's nearly 85,000 acres of continuous parkland; the staging grounds for every type of outdoor activity. Visiting in July, I found nosebleed hikes with cinematic scenery lurking around every corner. I found the endless green of wine country in Napa and Sonoma, just an hour north from the hotel. (Fittingly, the hotel offers complimentary Lexus rentals for a few hours a day for anyone drawn to the platonic ideal of a Sunday drive.)
After a time back in San Francisco, I returned to Cavallo from the other direction and found the scenery switching rapidly, again, this time from iconic city to iconic, fog-swallowed Golden Gate bridge, to the iconic Marin Headlands. It's a transformation from urban to opposite that takes all of 10 minutes, maybe 15.
I arrived to my own room, a "historic deluxe" overlooking the parade grounds, with a splash of Sonoma red all over my shirt. I made a messy contrast with the room. The design at Cavallo Point doesn't overemphasize the history, but it is smartly decorated with old-fashioned touches like cabinet bookshelves and old-fashioned stoves. Still, knowing the background of the place, it was easy to imagine officers drinking whisky and playing cards at a table on my house's shared porch. The original porches were actually removed at one point, Carlin told me, but the hotel fought to have them rebuilt. Thank god they did. Among the dozens of little nooks on the property to sit and admire the green space and cypress trees, for me, my porch-side rocking chair held highest rank.
Sitting at the restaurant bar, trying not to spill my wine again, I met a couple returning from their own long East Coast sojourn, arriving to treat themselves to a rejuvenating dinner at a favorite spot away from it all, but still within it. I'm still a New York type, but I finally understood the appeal — the escapes are endless here. In the space a soldier once saluted, I cheers'd my new friends with a salmon BLT.