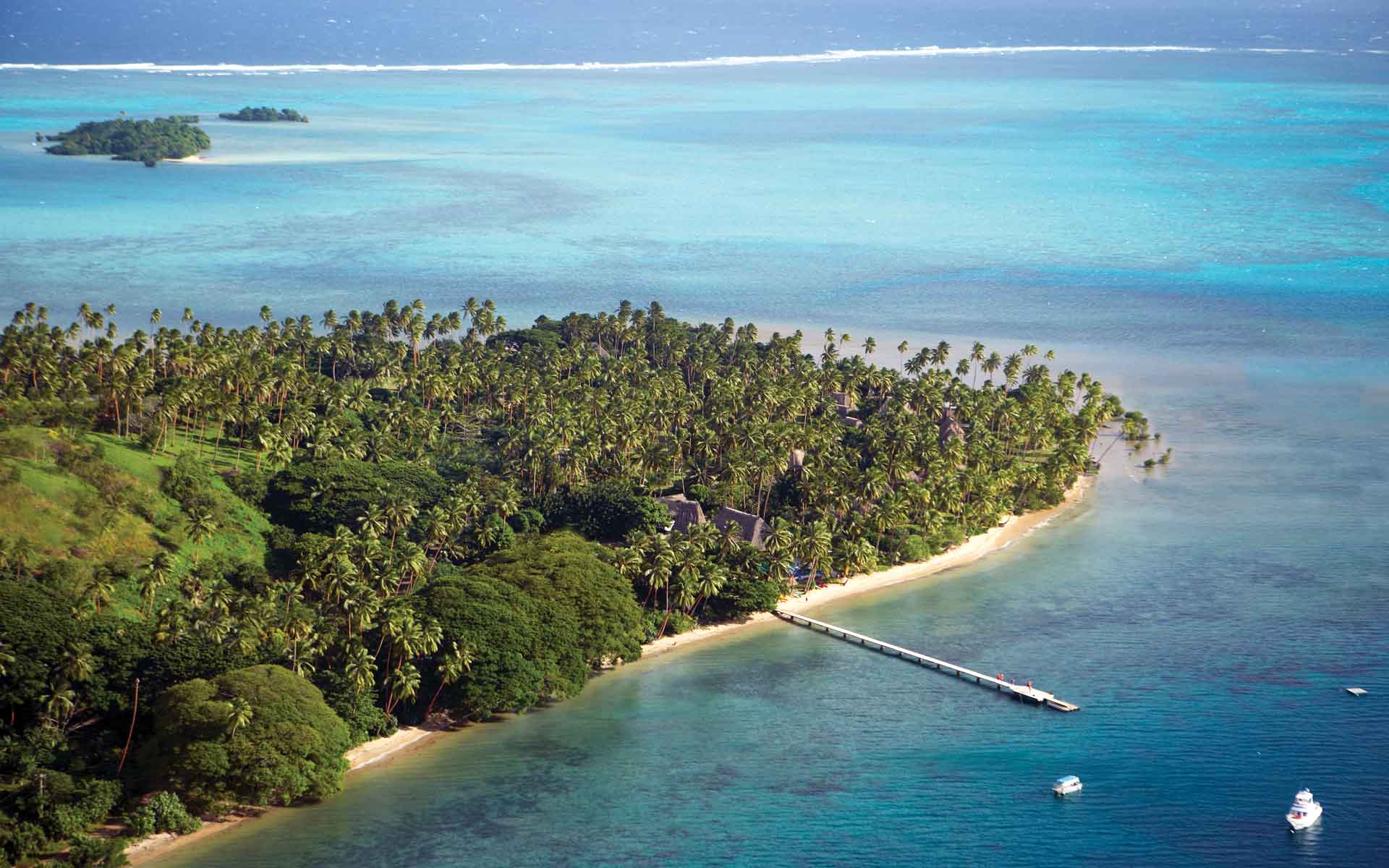 Fiji is known for palm trees, warm crystal blue seas, coral reefs, and soft sandy beaches. It's also known for the Jean-Michel Cousteau Resort, a luxury island experience and meticulous model of sustainability created by the son of legendary undersea explorer Jacques.
Jacques Cousteau is among history's great environmentalists, a 20th-century French explorer whose documentaries introduced the idea of undersea exploration to the public. He helped curtail whaling, stop the disposal of nuclear waste in the oceans, and — fun fact — played a major role in the invention of SCUBA diving.
His son has carried on the legacy.
An explorer, environmentalist, and film producer himself, Jean-Michel Cousteau added hotelier to his résumé when, in 1995, he opened the Jean-Michel Cousteau Resort resort in Fiji. In doing so, he created a concrete example of the Cousteau passion for conservation. One that could serve as a model for the rest of the industry, pioneer green tourism, and raise awareness along the way.
It's ironic, then, that the elder Cousteau was against the resort's existence when it opened, worrying about the profit-seeking nature of the enterprise. It led to a contentious legal battle between father and son, with Jean-Michel explaining at the time, "[The resort] proves that we can be environmentally friendly and economically viable. If we can't show that we can make a profit, no one will listen to us."
Twenty-five years later, that last point remains as important as ever.
At first glance, the resort's collection of 25 bures — a Fijian word for a wood and straw hut — might pass for a traditional Fijian village. And for good reason. It was designed with just that in mind, a respectful nod to Fijian culture that roots the resort to its location.
But the traditional architecture at Jean-Michel Cousteau has another purpose, helping to make unnecessary the use of air conditioning and relying instead on louvered, screened windows, high ceilings, and low garden surroundings to minimize the tropical heat. Each home is built with entirely natural materials like bamboo and timber from certified, responsibly managed forests — there's no glass at all.
It's a resort as green as it is blue, and it's hardly an exaggeration to call it the very archetype of the sustainably-minded hotel. Hidden within the trees on Vanua Levu, one of the 300-some islands that make up the archipelago of Fiji, it opened after convincing the local powers to make its waters a protected zone for marine life. Rules were strict: no reef fishing, no jet skis, no seashells in the gift shop.
If you want to tick off each eco-conscious practice, you could easily make a list. Recycling and composting, of course. Solar panels, sure. A water reclamation plant disguised as a lagoon. But what truly makes the Jean-Michel Cousteau Resort so unique, other than its famous namesake, is how far it takes conservation beyond these common measures, and how central education is to the whole endeavor.
Case in point — this is a resort that has its own, dedicated marine biologist to guide conservation projects. Along with his team, and sometimes the help of guests, Johnny Singh works every day on restoration projects that seek to beat back human activity.
In some of the most exciting projects, populations of native species are restored and rehabilitated. Singh and his team actually grow giant clams near the resort's dock in the bay and, once they're mature, move them to a protected area to help restore the population. Mangroves, too, are replanted around the resort, crucial work that helps maintain the balance of the maritime ecosystem and prevent the erosion of the coast.
The resort's efforts extend to life on land, too. The sophisticated Fijian cuisine in the restaurant is sourced locally — that is, when it's not from their own, two-acre organic garden that supplies over 20 percent of the resort's fruits, vegetables, and herbs. The garden is also put to use for the cultivation of native flowers and medicinal plants, a diversification of the landscape that aids in the removal of the carbon dioxide that causes coral bleaching.
Marine health is a great concern here, and the resort not only employs wardens to oversee the protected area that surrounds their property, but Singh and his team take an active role in coral farming in an effort to preserve the increasingly endangered species.
Action is accompanied, always, by education. The resort has recently set up a partnership to educate communities in the Pacific region about the effect of healthy reefs on daily life, and a program of educational tours features the setting's rare palms and medicinal plant life. The goal of the latter isn't just to preserve landscape, but to celebrate culture, as well.
"At our resort, we've felt firsthand the great impact nature can have on the mind and the body, so we're trying to preserve the traditional knowledge of this area, and, in turn, preserve culture," general manager Bartholomew Simpson explains. As part of the program, kids get the opportunity to learn about and engage with organic farming, and meanwhile, a horticulture expert works to collect rare palm trees and use them to repopulate Fiji. In another tree-first initiative, a partnership with Savusavu Community Foundation set a goal of planting 20,000 teak trees — a species known for its high CO2 absorbency — inviting guests to help out in the resort's own sapling nursery.
If you're exhausted just hearing about the steps this place takes in the service of the environment, well, that's what it takes. The result is that you can lounge by the pool or wade in the crystal-clear waters of the archipelago without guilt. Because, as we wrote back when we first put the Jean-Michel Cousteau Resort on Tablet, this is a place that exists as much for the preservation of Fiji as for your enjoyment of it. As Singh says, "We want to be a role model and show that you can live a very luxurious lifestyle but still be sustainable. It doesn't have to be a compromise."
We think Jacques would be proud, or at least that he should be. You're not just here to make sand castles. You're here to roll up your sleeves and help rehabilitate the landscape. To plant a mangrove seedling. Or to learn to dive — Cousteau would want that — and to understand that to get so up close and personal with the natural is, undoubtedly, the first step in wanting to protect it.