Patagonia is a place of unmatched splendor and magnificence. Unmatched, that is, by everything but its own hotels.
Sometimes on Tablet you'll see a picture of a hotel, and within the frame will be a scene of such astonishing drama that it inspires a near-crippling amount of wonder and awe — a structure and landscape combining to create a spectacle that lifts your spirits, ignites your imagination, and hangs forever in the rafters of your mind. To shuffle off the coil without having experienced it in person would represent a small but significant blemish on a life otherwise well-lived.
It's a scene that must be seen. And it's usually in Patagonia.
Patagonia — essentially the entire southern portion of the South American continent — is a place of unfathomable beauty. A collection of deserts, mountains, volcanos, glaciers, forests, and fjords that sprawl across two countries, Chile and Argentina, and stretch along thousands of miles of coastline, catching waves from two oceans. When we dream of adventure and the raw power of nature, Patagonia is what we dream of.
The great hotels of Patagonia are notable for how they sit within this environment. Many of them are true marvels of modern design but have simple or sunken profiles that complement, and avoid competing with, the surroundings. The juxtaposition of minimalism and maximalism, of man and wild, is intoxicating, and perhaps more affecting here than anywhere else on the planet.
But for as well as these hotels communicate with the primeval terra, they are not primitive accommodations — not just basic shelters for a few dry winks and warm hours. They are ambitious, and they represent a clear demarcation between inside and out, between indulgence and sacrifice. During your visit to Patagonia there will be time to venture far afield, to swim in ancient lakes and climb craggy cliffs, to hike with guanacos and scan the sky for condors. But until then: something completely different. Until then, a fantasy of uncluttered luxury modernism that most of us only get to live in magazines and television shows.
Some guests might prefer a softer form of architecture. Patagonia, naturally, is also awash with hotels that look to have sprung forth more organically from the earth, with native stone and knotty logs replacing clean lines and precision-cut glass. These hotels match the intensity of the region by offering a brand of rustic cabin life that's been turned up to 11. While less consciously engineered and adorned than their cutting-edge counterparts, they are no less monumental, standing proudly in their own awesome and otherworldly settings.
As a person gets older, they begin to confront the likelihood that they might not get to visit all of the world's most compelling destinations. When you see a picture of the Colosseum in Rome, the Medina in Marrakech, a ryokan in Japan, or a chateau in Provence — if you haven't yet been, you assume that someday you will. These are iconic images, burned into our brains. They are part of our shared language and we reflexively trust that they will be part of our future travels. But as the years tick by you realize it's possible that, actually, you may never get the chance.
Patagonia is one of those destinations. Make sure you get your chance.
Awasi Patagonia
Torres del Paine National Park, Chile
It'd be hard for a hotel in this setting not to be extraordinary. A cardboard box with a hole cut in it, through which you could look at those jagged peaks, would probably be booked weeks in advance. Suffice it to say Awasi goes quite a bit further than that. The look here is almost Nordic — or whatever the Chilean Patagonian equivalent of Nordic is. With the blond wood, the geometric forms, the low, polar light… you get the idea.
Explora Patagonia
Torres del Paine National Park, Chile
This boxy modernist lodge stands just yards from the Salto Chico waterfall, with the peaks of the Paine massif looming just behind. So its fifty rooms and suites, and the associated public spaces, do their best to feel cozy and inviting by contrast. There are some self-consciously rustic touches, like the wood paneling and patterned textiles, as well as some clean modern lines. But above all, the views predominate — interior design, in this environment, is somewhat secondary.
Tierra Chiloe
Castro, Chile
The aesthetic at Tierra Chiloé — characterized by clean lines, natural woods, industrial beams, and huge glass panes — mixes local artisan traditions with cutting-edge modern design. The twelve guest rooms are simple and quiet, so as not to take attention from the views of the pristine waters surrounding Chiloé, the largest island on a northern Patagonian archipelago, dotted with mussel farms and colorful fishing villages.
Tierra Patagonia
Torres del Paine National Park, Chile
From the proper angle, Tierra Patagonia looks like little more than a fissure in the earth, a minor geological feature beneath the gasp-inducing major ones of Chilean Patagonia's Torres del Paine National Park. But while the setting is end-of-the-earth rugged, the hotel itself is casually luxurious. It's got an Uma spa, a surprisingly ambitious restaurant, spacious vista-rich rooms, and not an ounce of ostentation.
Hotel AWA
Puerto Varas, Chile
Chile's southern region is increasingly known as its Lake District, and not without reason — this one, Lake Llanquihue, is spectacular, and would be even without the white-capped peak of Osorno, the volcano, dominating the horizon. It's a setting that doesn't necessarily need an extraordinarily attractive luxury boutique hotel, but it's got one anyway: Hotel AWA, five stories of concrete, glass, metal, and wood.
Design Suites Bariloche
San Carlos de Bariloche, Argentina
As the Design Suites group spreads across all corners of Argentina, the branch in Bariloche is perhaps the most impressive of the bunch — perched on a hill overlooking Nahuel Huapi lake, in the ski country of Patagonia, four striking, design-focused, eco-inspired structures house a contemporary art gallery, wine bar, restaurant, health center, spa, and 54 guest rooms and suites.
The Singular Patagonia
Puerto Natales, Chile
The Singular Patagonia is a restoration job, a total re-imagining of an old cattle processing plant, and a hotel that takes the idea of industrial chic to dizzying new heights. For every piece of vintage machinery or gorgeously weathered brickwork there's an equally striking modern gesture — though, given the setting, perhaps none more impactful than the guest rooms' enormous floor-to-ceiling windows.
Estancia Cristina
El Calafate, Argentina
If remoteness is the new face of luxury, then Estancia Cristina deserves eight or nine stars. From El Calafate you board a small boat for a three-hour ride across the deep blue Lago Argentino and up into its long glacial fingers, ringed by impossibly tall peaks, and when finally you arrive at the Estancia you'll feel — with some justification — as though you've arrived in another world entirely.
Remota
Puerto Natales, Chile
For a big architectural statement, this one, at least from the outside, comes off awfully quiet. But then that's exactly as it was intended to be. Remota, in Puerto Natales, an old fishing town in Patagonia, is the latest hotel project from the Chilean green architect Germàn del Sol — so the statement, such as it is, is about minimizing the footprint, minimizing the silhouette, maximizing the impact of the place rather than the building.
Rio Hermoso Hotel de Montaña
San Martín de los Andes, Argentina
The name, Spanish for "beautiful river," is a literal description of the hotel's privileged location on the grassy banks of a quiet river that winds past forests and rocky cliffs. The charm of this particular location is difficult to capture — imagine a magical forest where a baby deer might wander into the clearing and eat from your hand. The minds behind Rio Hermoso clearly saw this vision and designed everything to take full advantage of the landscape.
Llao Llao Hotel & Resort
San Carlos de Bariloche, Argentina
Llao Llao is one of South America's best-known and most unique hotels, located in scenic northwestern Patagonia, between Lake Moreno and Lake Nahuel Huapi, at the feet of snow-capped peaks, offering postcard views in every direction. The hotel was built in 1940, in the style of one of Canada's grand mountain lodge hotels, with exposed cypress timbers, massive stone fireplaces, and Norman tile roofs. It's hard to imagine a more dramatic setting, equally alluring in summer or winter.
Design Suites Calafate
El Calafate, Argentina
Situated in the far-flung reaches of Patagonia, Design Suites Calafate distinguishes itself with a design by the renowned architect Carlos Ott. His thoroughly contemporary creation mixes eco-friendly functionality with quirky cool: the exterior's smooth glass and blond wood contrast with the rugged granite of the asymmetrical structure, and inside, rough planks of driftwood serve as coffee tables in front of utterly fashionable leather couches.
Estancia Peuma Hue Carre Lauken
San Carlos de Bariloche, Argentina
Even in urbane, sophisticated Argentina there's no end of places to lose yourself. One minute you're in the European-accented capital and the next you're at the Estancia Peuma Hue, in the Lake District of Patagonia, facing out over Lake Gutiérrez and backed up against a dramatic mountain peak. You're not far from San Carlos de Bariloche, even closer to the Mt. Cathedral ski resort, and yet still you're remote enough to feel a bit of the romance of exploration.
Futangue Hotel & Spa
Riñinahue, Chile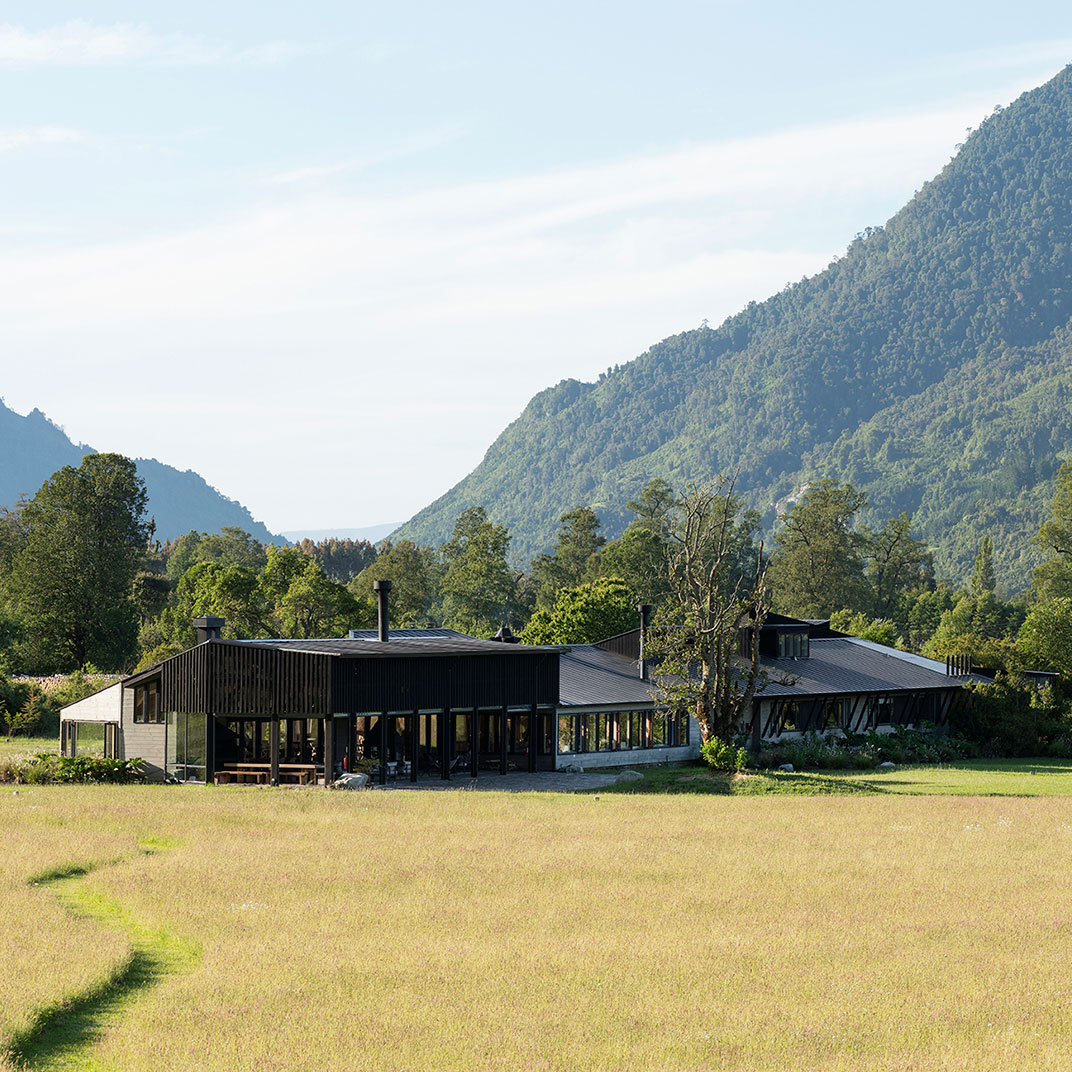 The Lake District of northern Patagonia is where you go to get your dramatic mountain landscapes tempered by some lush green hillsides — it's no less scenic than what lies further south, but just a little more hospitable. Near Lake Ranco, on the Chilean side, you'll find Futangue Hotel & Spa, a luxury adventure hotel in the now-classic Patagonian style, combining modern architecture, high-end comfort, and a setting that places it close to the end of the civilized world.
Los Cauquenes
Ushuaia, Argentina
Among the many places that claim to be "the end of the world," the Tierra del Fuego, at Argentina's extreme southern end, might have the strongest case, and there might be no other place that can match this landscape's otherworldly drama. Los Cauquenes is accessible enough; it's a long flight, but this isn't Antarctica. Once you're settled, though, it may as well be another planet. And future interstellar voyagers can only hope that other planets have lodges like this.
Patagonia Hotels
Tablet is your source for discovering and booking the world's most interesting hotels — places where you'll find a memorable experience, not just a room for the night.
If you're planning a trip to South America and Patagonia, be sure to check out our hand-picked selection of unforgettable boutique and luxury hotels in Chile and Argentina.