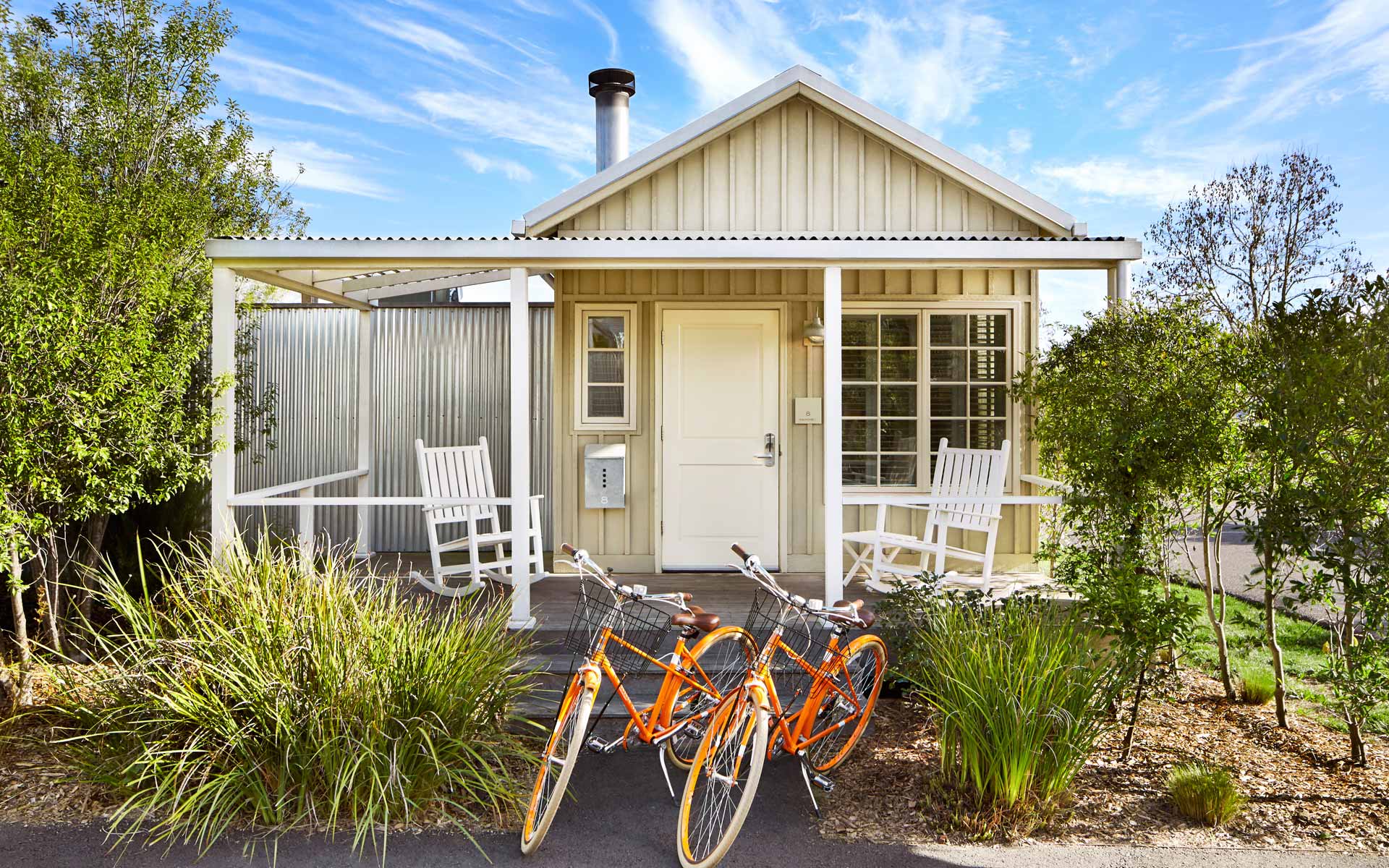 There's talk these days about California seceding from the United States. Fitting, then, that when you want a similar feeling of independence from your hotel stay, the Golden State has got you covered.
The American West has always represented a certain freedom of movement. Generations of pioneers have advanced across its frontier in search of more room for themselves, their families, and their dreams. It's no wonder then that California, the pinnacle of westward progress, has so many hotels that offer some sort of detached, freestanding accommodation: bungalows, cottages, cabanas, casitas, or even full-on houses that give guests more privacy, more space, more independence — more freedom.
Avalon Hotel and Bungalows
Palm Springs
The Avalon's hacienda-style Spanish tile roofs and whitewashed stucco walls hide stylish interiors, a modern take on the Hollywood Regency style of the resort's golden age. Surrounded by manicured gardens and citrus trees, the eponymous bungalows are nearly palatial, sleeping four to six, and feature outdoor banquette seating and parlor rooms.

The Charlie
Los Angeles
Charlie Chaplin himself once owned this jumble of bungalows, scattered among incongruously tranquil gardens right in the heart of West Hollywood. Once inhabited by the likes of Marlene Dietrich and Rudolph Valentino, they're up to date but true to their original English country-house style. Short of acquiring your own Hollywood hideaway, there's no more private place to stay.

Indian Springs Calistoga
Calistoga
Indian Springs has been a Calistoga institution for more than a century and a half, but it's only recently, after a thorough renovation, that it's turned itself into a proper luxury resort. The central lodge and the original cottages have been joined by some very convincing new bungalows and houses that range from spacious and swanky to palatial and borderline extravagant.

Carneros Resort and Spa
Sonoma
The corrugated metal roofs of the cottages at Carneros are striking and unassuming at the same time, and fit well into the landscape of rolling hills and wide-open farmland. Inside, the cottages are simple, tasteful, and more than luxurious enough, with the full range of modern electronics, splendid indoor-outdoor showers, and private garden patios with gas heaters.

La Serena Villas
Palm Springs
Despite its central location, just off Palm Canyon Drive, La Serena feels pleasantly private, a compound comprising 18 individual bungalows, each with a kitchenette and a private patio with an outdoor bathtub. They're not all identical — some are rather more elaborate than others — but all are luxe enough, and certainly more than spacious enough.

Vintage House
Yountville
Vintage House is a thorough re-imagining of an earlier hotel, and in its new incarnation it's one of Napa Valley's most impressive luxury hotels — a category that poses some stiff competition. It's set on 22 acres of land, and its 80 rooms and suites are divided into a number of smaller buildings, which only intensifies the feeling of pastoral seclusion.

Chateau Marmont
Los Angeles
Perhaps the most famous ones on this list, the bungalows at the Chateau have seen more than their fair share of Hollywood drama, intrigue, and tragedy. You've heard all those stories before, but what you might not know is that a Chateau bungalow could come with two or three bedrooms, a working fireplace, a full kitchen and dining area, and even a carport with a private street entrance.

Solage Calistoga
Calistoga
Though the word bungalow may come from India, there's no clearer expression of Napa Valley's rustic agricultural history than that home-grown architectural style. Of course "rustic" doesn't really capture the appeal of these bungalows — Solage is about as urbane as the wine country gets, with interiors that owe more to city loft apartments than farm houses.

The Paramour Estate
Los Angeles, California
This 1920s estate in LA's hip Silver Lake began its life as a Mediterranean Revival mansion for a now-forgotten silent-film star. When interior designer Dana Hollister bought it, she intended for it to become the kind of luxury boutique hotel that we're all familiar with. But the neighborhood had other ideas, and in the end, what it became is something much more unique: part film set, part event venue, part dream house for Hollister herself, and home to fourteen of the most unforgettably stylish rooms, suites, and yes, cottages in Los Angeles.

Belmond El Encanto
Santa Barbara
The vibe at Belmond El Encanto is less gleaming opulence and more posh residential village, with the hotel's accommodations spread among dozens of bungalows scattered over the hillside property. That's not to say life isn't luxe here, however. You'll have at very least your own suite, and quite possibly your own Craftsman-influenced California bungalow.

Calistoga Ranch
Calistoga
The lodgings at Calistoga Ranch are all freestanding cottages, built off-site and shipped in, to minimize environmental impact. Rich hardwoods, Roman blinds and hefty white beds set the tone, and details like Italian linens, ultra-modern fixtures, custom-blended bath products, and indoor-outdoor bathrooms add a sheen of high glamour.

Cavallo Point Lodge
San Francisco
Cavallo Point Lodge, in a former life, was officers' housing for Fort Baker. Now, after an impressive historic restoration effort, six room types are available inside the collection of dignified homes. Some rooms are cozy, tucked up in the gables, others are larger with sun porches and fireplaces, all are unpretentious and decorated in an unfussy period style.

Post Ranch Inn
Big Sur
Modernist architect Mickey Muennig settled in Big Sur in 1971, and has been responsible for most of its notable buildings ever since. Post Ranch Inn is his only hotel design, and indeed it's hard to imagine it translating into some kind of movable hotel template, comprising as it does a number of discreet house designs, each uniquely suited to its location.