It's a classic European city destination, for good reason: Amsterdam is many cities at once, equally attractive to history buffs, fashionistas, diehard cyclists, design devotees, and urban explorers.
It's a classic European city destination, for good reason: Amsterdam is many cities at once, equally attractive to history buffs, fashionistas, diehard cyclists, design devotees, and urban explorers. So what, other than a diverse and distinctive hotel scene, makes this perennial favorite our focus of the moment? Two words: Tulip Time.
History and Culture
Amsterdam's a fairly new city by Dutch standards — which means it dates back "only" to the 14th century — and a famously cosmopolitan one too, cultivating an atmosphere of religious and intellectual tolerance. It weathered the storm of the Second World War to emerge with a thriving city center, modernized public facilities, and large-scale efforts to rehabilitate economically depressed neighborhoods. Perhaps unsurprisingly, your present-day Amsterdammer exhibits a healthy blend of resilience, pride, skepticism, and a marked appreciation for an uninhibited good time.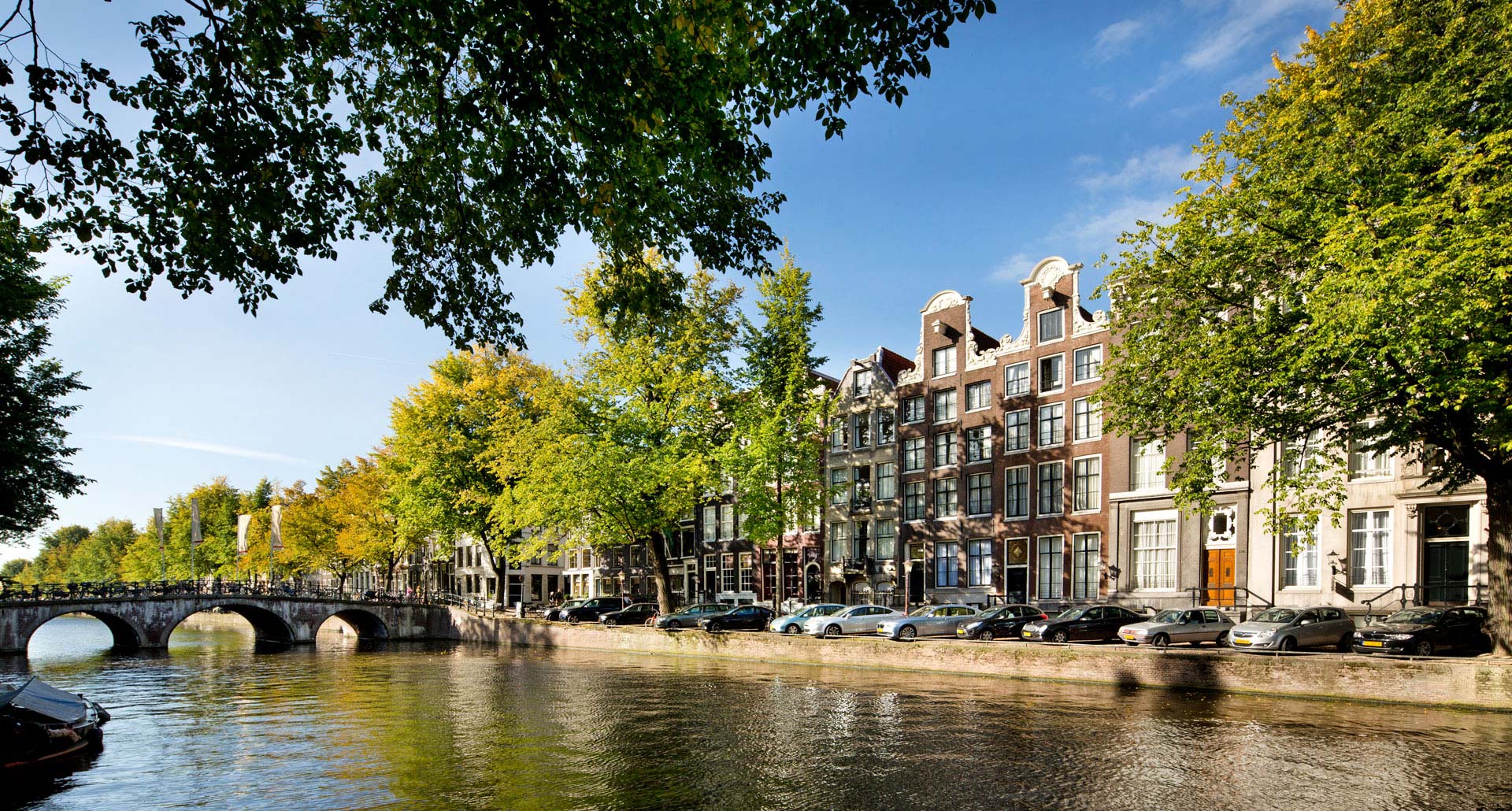 Terrain and Architecture
You can absorb quite a bit of Amsterdam's historical character just walking around, thanks to the old city's glorious array of Dutch Renaissance, Baroque, and neo-Gothic architectural styles. As urban planning goes, Amsterdam's the original success story, a dense, populous city with plenty of green, breathable space. That's helped by that famous network of 165 canals, which divide the city into 90 islands, united by over 1,200 bridges.
Amsterdam-Centrum comprises the historic old city and its immediate surroundings inside the grachtengordel ("canal belt"). To the south, past the museum district, De Pijp and Amsterdam-Zuid gradually transition from bohemian street bustle to the city's suit-clad financial core. Amsterdam-West progresses in hipness from Oud to Nieuw, predictably, while clever urban redevelopment in Amsterdam-Oost has made it a hotbed of culinary and architectural trends.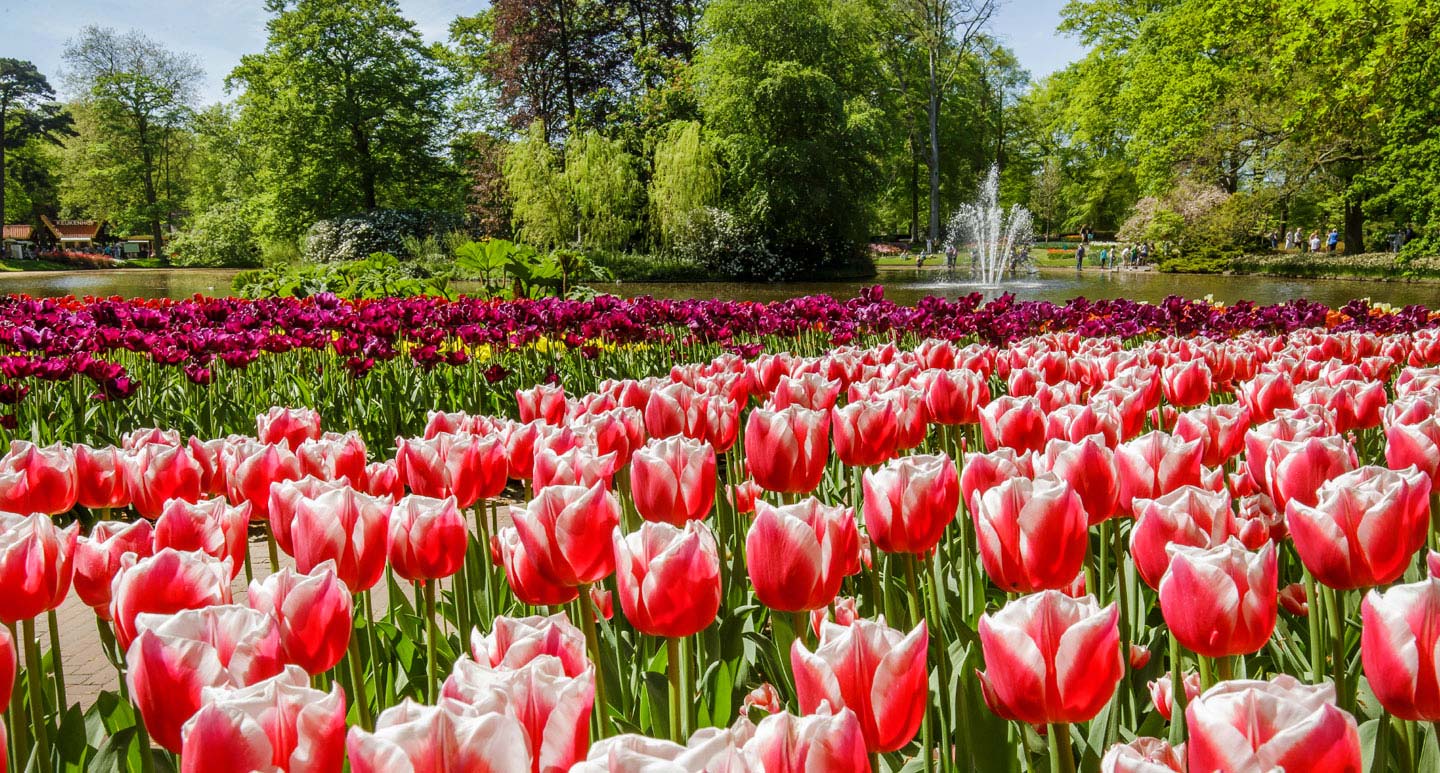 Ideal itinerary?
The "now" in Be Here Now? Springtime flowers, of course, best experienced at the original and great Keukenhof, perhaps the world's finest flower garden, with a staggering 800 varieties of tulips. And, because man cannot live on flowers alone, make time for De Kas, the epitome of farm-to-table dining set appropriately within a working greenhouse. Or, try the DIY version by perusing one of the city's legendary open-air markets, followed by a picnic on the lush, expansive grounds of Vondelpark.
Pro Tips
Be sure to put some time in at a bruin café — historic, neighborly, candlelit operations good for a frothy beer or hot cocoa; Cafe 't Smalle does the trick nicely. NB: the Dutch "café" translates roughly to the English "pub," serving coffee, local fare, and some sort of alcohol in an environment designed to cater to the day drinker, happy-hour enthusiast, or anyone in search of quintessential gezelligheid.
We particularly recommend the Jordaan for its upmarket eateries, retail outlets, and galleries. And what's a trip to the Netherlands without stopping by De Gooyer, the country's largest wooden windmill, conveniently located next to the incredible Brouwerij 't IJ brewery.
Zoku Amsterdam
Centrum
Elsewhere, Zoku's "the end of the hotel room" slogan might seem premature, but here it's liberating: this is loft living perfected, down to the smallest detail. Clever demarcations of space give subtle cues to purpose — cook, work, create, entertain, sleep — without submitting to cubicle despotism or a complete lack of boundaries. You'll want to stay more than the one night, especially to explore the similarly vitalized public spaces.
Pulitzer Amsterdam
Centrum
Canal frontage situates you squarely in sight of the city's timelessly charming topography. Bike rentals and in-room repair kits gently nudge you towards a wheels-on-the-pavement approach. Signature suites manage to seamlessly incorporate museum-worthy collections of arts or antiques into their quirky-comfy interiors. It's the best of Amsterdam all in one tidy package.
Canal House
Centrum
Of course, many of us don't limit ourselves to only old-fashioned Dutch design; clean lines, geometric precision, and furniture with character surely deserve a place in the conversation. Canal Houses synthesize these seemingly opposed Low Country discourses, inarguably contemporary yet grounded in Amsterdam's heritage of fine craftsmanship and architectural longevity. Proof positive that renovation doesn't necessarily mean loss of character.
Volkshotel
Amsterdam East
This former headquarters of de Volkskrant, affectionately dubbed "the White Swan," now welcomes volks of every stripe into its open-layout, deliciously mod arms. It's a Renaissance Man of a hotel, artfully shifting from guest lodging to entrepreneurial workspace to foodie sanctuary, all corralled together under an inspiring concrete-and-newsprint design philosophy. An excellent reason to experiment with one's own hotel philosophy: why not cap off a business call with a classical quartet in the basement or an extended rooftop hot-tub session?
Lloyd Hotel
Amsterdam East
Reinvention of space is a major Amsterdam theme, to be sure, and Lloyd fits the bill perfectly: once a prison, now a historic landmark, it's a fascinating counterpoint to the Eastern Docklands' vivid façades, all the more appropriate in a city which makes room for the bucking as easily as the trend. A refreshing variety of room types accommodate all manner of visitors, equally welcoming to the adventurous suit and the lone-wolf rockstar. And anyone can appreciate the ingenious, well-calibrated layouts, perfectly engineered to maximize ambience no matter the room size.
Sir Adam Hotel
Amsterdam North
And now for something completely different: Sir Adam — consummate showman, tastemaker, and mostly imaginary figurehead of SIR's Amsterdam outpost — now makes his home across eight floors of the A'DAM Tower in the burgeoning Overhoeks neighborhood. It's a vertical outlier for Amsterdam, which you won't mind at all given the views; turn the gaze inward and you'll find a poster child for industrial-chic aesthetics, in every way a perfect match for the bubbling froth of nightclubs and galleries at street level. Dig in.
Hotel de Hallen
Amsterdam West
Oud-West is no slouch, as Amsterdam neighborhoods go, as amply evidenced by this converted 1901 tram station — could it get any more picturesque? Sure, the Jordaan might be rolling in expat cred, but there's no denying de Hallen's evocative urban interplay between brick, steel, glass, and concrete. If that isn't enough of a draw, Foodhallen will be for its upmarket, Insta-approved smorgasbord.
The Dylan Amsterdam
The Canal Belt
The Dylan is classical balance incarnate, tempering rustic texture and a verdant garden with just enough design whimsy, all electrified by an enviable location right in the Canal Belt. You, your mother, and your grandmother will each find an irresistible aspect, and you'll all be right. Don't skip dinner at Vinkeles, which entails Michelin-starred French fine dining in a singular sunken dining room.
Conservatorium Hotel Amsterdam
Museumplein & Vondelpark
They mean it literally: this used to be the Sweelinck Conservatorium, and though modernizing renovations have swept in in the meantime, the original's lofted public spaces and massive windows still inspire just as keenly. Short of sleepover gimmickry, you can't exactly go to sleep inside a museum, but this may very well be the next best thing.
Private Mansions
The Old Center
And to silence once and for all any concerns that Amsterdam has lost its beating, eclectic heart, take a long and wistful look at Private Mansions' operatic interiors. It isn't hard at all to believe that these spaces once comprised a 15th-century convent, long on character as they are, though the transition from street level can be deliciously jarring. You feel as if you could blink and never find such a hotel again.