A
partment sharing, far from signifying the end of the hotel business, has instead changed it for the better. Hoteliers have learned a thing or two from this new, low-maintenance style of traveling, and these days you don't have to choose between a conventional hotel and a totally self-serve apartment-share. These hotels offer the privacy and the chill residential style of a standalone apartment along with the service, comforts, and professional hospitality of a boutique hotel. You can't lose.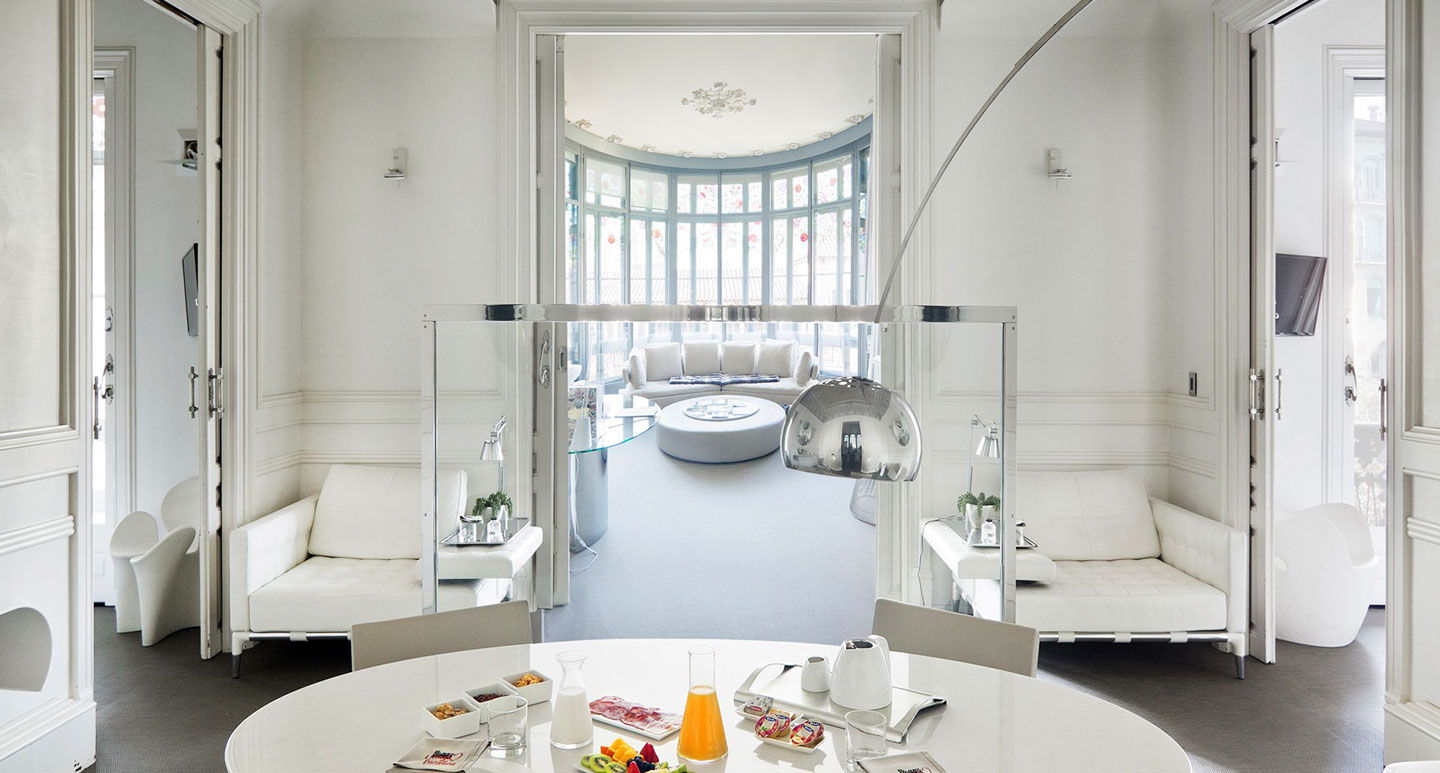 Barcelona, Spain
El Palauet Living Barcelona
Somehow the florid Baroque ornaments and clean contemporary furnishings have struck a deal at El Palauet; we're sure your personal assistant can speak more on that unlikely union when they guide you through the impressive design and tech features of your two-bedroom suite. There's living and then there's living.
Hong Kong
The Jervois
Everything's vertical in Hong Kong, and the Jervois is no exception. Hyper-contemporary metropolitan visual cues abound, from the floor-to-ceiling corner windows to the frenzy of opulent marble in the bathrooms. It's the epitome of frictionless, bleeding-edge minimalism, no surface unconsidered, utmost privacy guaranteed.
Brooklyn, New York
The Box House Hotel
NYC's apartments are typically affordable or livable, but rarely both. Somehow this converted Greenpoint door factory hits the sweet spot. The postcard sunset views of Manhattan are a refresher course in the virtues of crossing the East River — not to mention big windows and high ceilings — and the décor is stylish and self-aware.
Check rates →
Berlin, Germany
Gorki Apartments
This repurposed 19th-century Mitte beauty contains enough vintage accents to tide you over for any length of stay. And the neighborhood, these days, is as hip as can be — right down to the semi-ironic Russian café that handles the hotel's breakfast.
Los Angeles, California
Palihouse Santa Monica
The folks at Pali may have something of a formula going, but that's not a bad thing when it entails divinely comfortable bedding, vivid Malibu tile, and all the space you could ask for. In L.A., of all places, it's refreshing to see so tasteful and bohemian an affair mere blocks from the beach. Why yes, coffee by the fireplace sounds lovely.
Sydney, Australia
Adge Boutique Apartment Hotel
In a neighborhood that places it some distance from Sydney's crowded waterfront, ADGE operates with a bit more nuance, a bit less intrusiveness, and buckets of Surry Hills charm. These apartments are sleek, stylish, and exceedingly well-appointed, with full kitchens, in-house laundry, and open-plan living and dining rooms.
London, England
Europa House Apartments
Here you'll find yourself rather farther west than most of our London hotels, but the neighborhood provides ample reason to skip the hip East End. These are true, multi-room apartments, complete with kitchens. Add in a private garden with a playground, warm wooden furnishings, and complimentary milk and cookies on arrival for the very picture of Maida Vale homesteading.
Rome, Italy
Casacau
CasaCau's remarkable in many ways, not least because it's neighbors with an unassuming monument called the Trevi Fountain. These folks have managed to appoint a handful of arty, individualized apartments right in the middle of the bustle, decked out in calming pastels and cozy exposed beams. And you've got your dining connections lined up already — the proprietors own a pair of excellent restaurants elsewhere in town….
Lisbon, Portugal
The Lisbonaire Apartments
For a certain type of traveler, the Lisbonaire Apartments check all the aesthetic boxes: a healthy serving of mid-century Modernist architecture, an endearing typographical theme, and sunny blonde wood in every direction. Who are we kidding — we're very much that type, and we'd be fools to pass up a colorful joint like this within such close proximity to downtown Lisbon and the Bairro Alto.
Rio de Janeiro, Brazil
La Suite by Dussol Rio de Janeiro
Here's how you do Rio: situate yourself next to one of the less-trampled beaches (Joatinga), grab one of seven color-themed rooms in this deliriously luxe terrace, and drink in views of Sugarloaf and the ocean from your own balcony. Case closed, we're done here, see you next time.